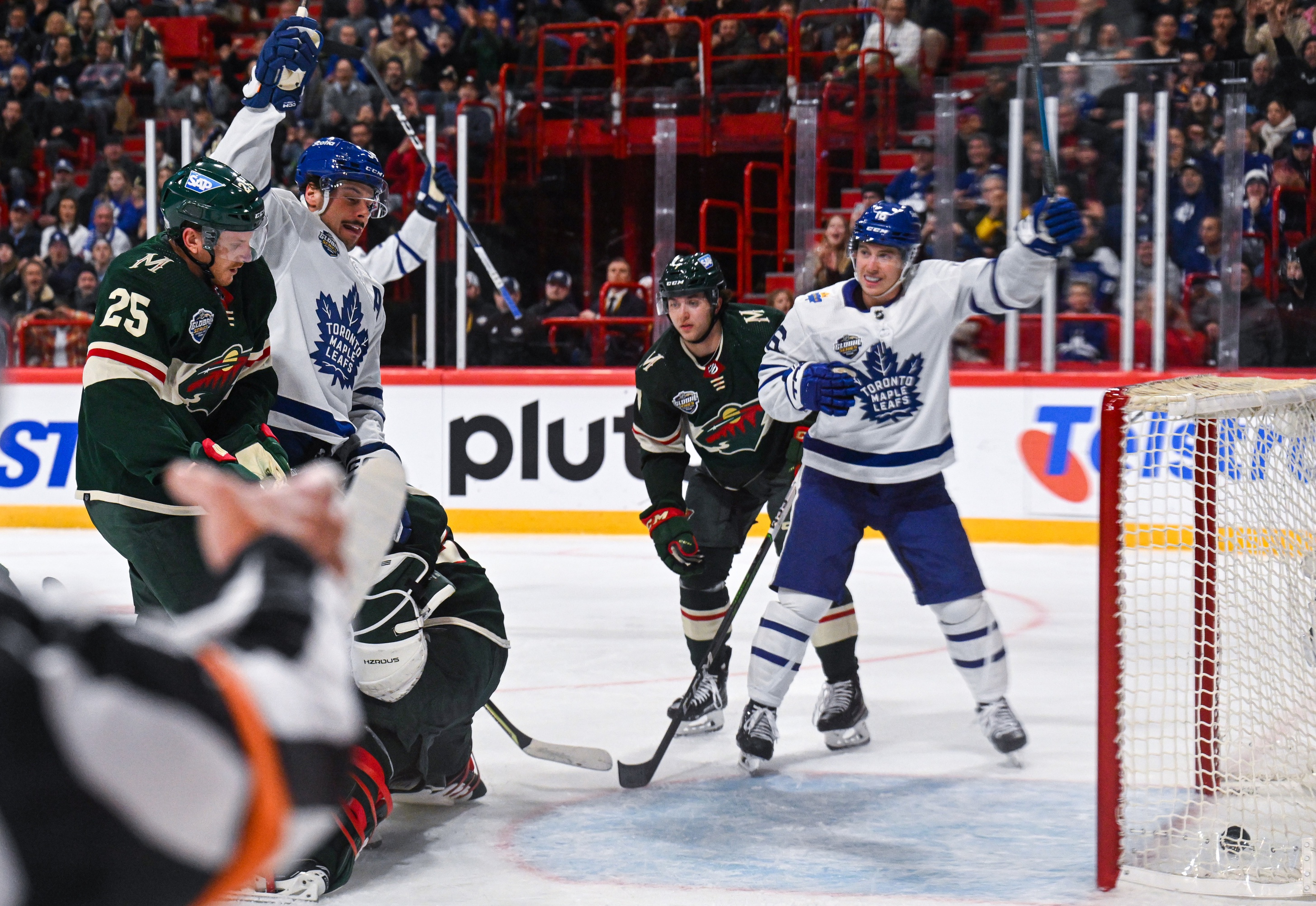 Image courtesy of © Per Haljestam - USA TODAY Sports
The Minnesota Wild's trip to Stockholm was a homecoming for many of their players. Joel Eriksson Ek, Jonas Brodin, Marcus Johansson, Filip Gustavsson, and Jesper Wallstedt are from Sweden. Mats Zuccarello is from Oslo, Norway, which is six hours from Stockholm by car and train-connected. Marco Rossi's hometown in Feldkirch, Austria, is a two-and-a-half-hour flight away. And to top it off, Kirill Kaprizov's parents and brother flew in from Russia to watch him play.
It stands to reason that going to Sweden would be a reprieve in a challenging season, right? The Dallas Stars blew the Wild out 8-3 on Sunday, November 12 – their last game before leaving the country. They'd take in the sights and have some team bonding abroad. Friends and family would get to see some of the European players live. 
"Who said we're there to have fun?" Kaprizov asked rhetorically last Wednesday.
Wait. Come again?
"We're here for four points," Bill Guerin told fans during a meet and greet after their Wednesday practice. "Don't hesitate to tell the players when you meet them."
The Wild left Stockholm with just two points. They lost to the Ottawa Senators 1-1 in a shootout on Saturday, and the Toronto Maple Leafs beat them 4-3 in overtime on Sunday morning. The Senators game often felt sleepy, fitting for a low-scoring contest against a .500 team. But the 7:00 am CT game against Toronto was more exciting. Minnesota scored first, but the Maple Leafs led 2-1 entering the first intermission. 
Morgan Rielly made it 3-1 four minutes into the third period. But the Wild battled back, tying it 3-3 before William Nylander won it in overtime. Minnesota would have had a different feeling on the long flight home had they stolen that game. And the opportunities were there in both contests. Still, their losses in Sweden are part of a larger team trend, and it's a little odd that management wasn't using the trip overseas to reset the locker room's mood. The players needed to take the practices and games seriously, but why couldn't they have a little fun?
Minnesota has lost five straight games and nine of their last 11. Their most recent regulation win was over the New York Islanders on November 7. They beat the New York Rangers in a shootout three days before that, but their last home regulation win was against the Edmonton Oilers on October 24. Their next game is on Friday against the Colorado Avalanche in St. Paul. After that, six of their next eight games are on the road. Even accounting for the travel, Sweden was an opportunity for a reprieve. Instead, it turned out to be anything but that.
So, where do the Wild go from here? By signing aging veterans to expensive long-term contracts, they have turned their roster into an immovable object. Kaprizov and Matt Boldy have been quiet, which hasn't helped. Kaprizov should find success skating next to Rossi and Zuccarello; Rossi has played well this year, and Zuccarello knows how to set him up. However, Minnesota shut Kaprizov down for "maintenance" before leaving for Sweden, meaning his health may suddenly be a concern. 
Boldy may be a victim of roster construction. Dean Evason has elevated Rossi to the first line, but he likes using Joel Eriksson Ek on the third line. That left Boldy with Freddy Gaudreau, a hybrid winger and Minnesota's fourth-best center, and an aging Johansson. Evason has occasionally paired Kaprizov and Boldy on the first line, which should be a boost for Boldy. However, it means the Wild end up with a wonky and ineffective second line. Like last year, Evason often ends up leaving Boldy on an island, making it difficult for him to produce. Boldy is a special player, but he needs more around him to be at his best.
The Wild may eventually move on from Evason, given that many teams that enter a season with high expectations fire their coach during a slump. Part of the fanbase had already turned on Evason after Dallas eliminated Minnesota in the first round last year. Craig Berube outcoached him in the St. Louis Blues series two years ago, and Peter DeBoer got the better of him last year. Evason hasn't had much postseason success at any stage of his coaching career. He had a 1-12 record with the Milwaukee Admirals in the AHL and a 10-24 mark in the WHL. 
The Wild's early-season slump may be enough to garner a change. Edmonton fired Jay Woodcroft on November 12 after a 3-9-1 start. They're 2-1-0 since. Pat Maroon was on his hometown Blues when they sunk to last place in the NHL on January 3, 2019. St. Louis fired Mike Yeo later that year and rallied to win the Stanley Cup. Minnesota may get a temporary boost from a coaching change, but it's hard to see that propelling them to contender status. Their flaws go beyond coaching.
It was always perplexing why the Wild went all in on a flawed roster in the offseason. The league had already buried them in cap hell after they bought Zach Parise and Ryan Suter out. Why wouldn't they use this time to cycle through their farm system and discover who should be part of their future? Instead, they attempted to build a contender with limited cap space. Now, they're in a slump without a clear way out. The least they could have done is try to make the Sweden trip an emotional reset.
1