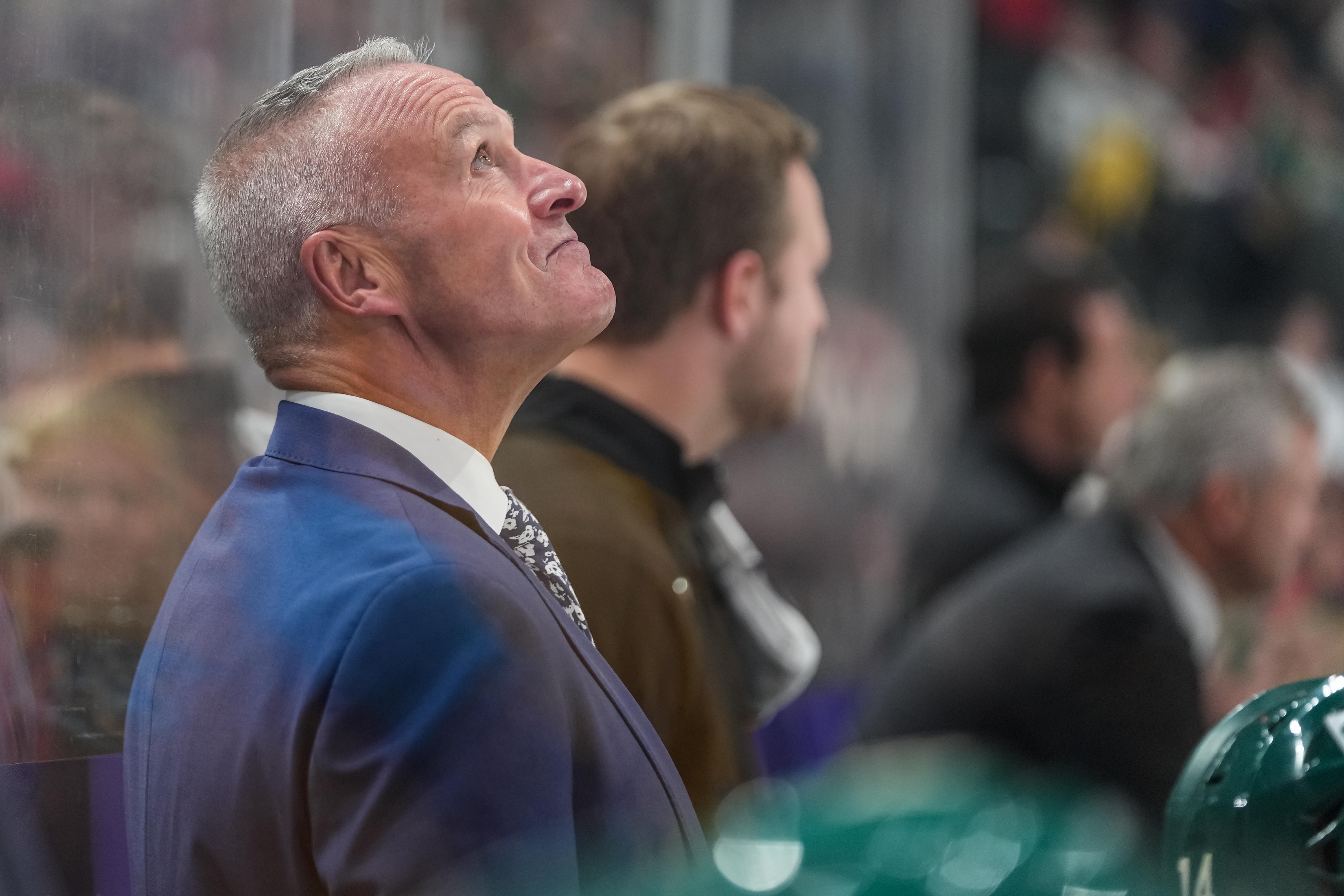 Image courtesy of © Brace Hemmelgarn - USA TODAY Sports
The Minnesota Wild's excuses and hopes of getting back on track are running out. Writing off a sluggish start for the team with two straight 100-point seasons was easy until this past weekend, with major absences from Jared Spurgeon and Matt Boldy. In anticipation of the former's return, Bill Guerin went in to fix their defensive woes last Wednesday. In moving out Calen Addison for Zach Bogosian, he sent a message to his team in a roundabout way: go back to how you're supposed to play.
"I don't need 70 games to figure out what we need," said Guerin, explaining to the media why he was so aggressive as to pull off the first significant trades of the year. "We're giving up chances and we needed some size, some heaviness.... We need to be able to defend, and that's what Zach can bring to the table."
Bogosian made his Wild debut on Thursday night against the New York Rangers, with Spurgeon making his season debut the following night against the Buffalo Sabres. The twin infusions of hulking, 6-foot-3, 231-pound Bogosian, and all-world defender Spurgeon were supposed to spark the team. Instead, Wild fans witnessed three straight losses, including Sunday's 8-3 meltdown, where they surrendered seven special teams goals.
There are few clean hands in the Minnesota Wild's 5-8-2 start. They are three points out of a playoff spot despite having one or two games in hand on the rest of the Central Division. But the enormity of the Wild's collapse highlights the flaws upon which Guerin's front office built this team. 
Last year, the Wild defended hard and grinded it out for every point. Guerin built the core of the team on younger scorers like Kirill Kaprizov, Boldy, and Joel Eriksson Ek. But that core isn't the present orientation of this team, nor its future. The Wild were at a crossroads this past summer. Would they prioritize their wealth of prospects, committing to developing its prospects, even if it meant a step back? Or would they commit to squeezing wins out of a roster that has $15 million fewer dollars than the rest of the league to work with?
In other words, did Minnesota want to play a long-term game or chase short-term success? Any coach in the NHL would choose the latter. It's not because they're unwise or short-sighted but because the job demands success in the here and now. They prioritize veteran experience and perceived reliability because young players make mistakes. Mistakes can lead to losses, and losses will lead to a coach losing their job.
A general manager and their staff often have much more leeway than their coaches. They can enact a longer-term plan, even if it involves short-term pain. Having signed an extension and secured a promotion to President of Hockey Operations over the summer, Guerin has the job security to withstand a step back. 
A front office that thinks about the big picture must counter the short-term pressure for a coach to win. The Wild seemed to be doing that, amassing their prospect pool with an infusion of talent poised to make an impact this season. But that was a mere illusion. Instead, the Wild gave long-term extensions to veteran role players like Mats Zuccarello, Marcus Foligno, Freddy Gaudreau, Marcus Johansson, and Ryan Hartman. 
Not only did that mean that chasing short-term success would be the path Minnesota is embarking on. But it somehow made the short-term priorities of stability and veteran experience into the team's long-term vision. A long-term plan that reflects a changing NHL should involve passing the torch to skilled youngsters like Danila Yurov, Marat Khusnutdinov, and Riley Heidt. Instead, those spots might be blocked off for years to come by these long-term contracts for aging depth players.
That's bad enough for a long-term outlook for the franchise. But even worse is that sometimes you try squeezing wins out of a roster, and there's nothing left. You can't bury the Wild yet, but their season is in danger of proving that the squad that posted back-to-back 100-point seasons is out of tricks.
The solution? Last week, it was more short-term, coach-like thinking from the GM. Out goes Addison, a puck-moving 23-year-old with a track record of putting up strong numbers on the power play. In comes Bogosian. The Wild could've easily moved or waived Jon Merrill (31) or Dakota Mermis (29) to create room for Bogosian. But both players are older and perceived as more dependable. Instead, they sacrificed the younger, learning-on-the-job Addison.
An organization thinking longer-term would easily choose to keep Addison and try developing him into a solid third-pairing defenseman with power play responsibility. Even if it doesn't work out, why not wait and see? The reward is so much greater than the risk... unless you're trying to squeeze every win you can out of the team.
The Wild are committed to doing so for the next three to five years, though, so there's no sense backtracking. Instead, Minnesota identified a player in Bogosian with veteran experience and grit. They were not very concerned with whether he was among the worst players in the NHL. That sort of trade-off is very familiar to Wild fans at this point in Guerin's tenure. 
Guerin took over the Wild before the 2019-20 season. Here are the 25 worst players in the NHL over that span, according to Evolving Hockey's Standings Points Above Replacement (SPAR):

You'll see that the Wild went out and acquired four of these players in just over four years: Nic Deslauriers, Rem Pitlick, Ryan Reaves, and now Bogosian. Pitlick sticks out as being different from the group because he was a flier the Wild took on a young, skilled player. The rest are players whom coaches love for their grit. However, they are among the greatest contributors to losing in the NHL and have been for some time.
Trading Addison for Bogosian might not be the root cause of the Wild's three-game losing streak. But it was hard not to see Minnesota's top power play get benched for fourth-liners after surrendering two short-handed goals on Sunday and not think of Guerin dismissing Addison's contributions, saying, "Our power play needs are being kind of fulfilled in other areas." It's similarly difficult to look at Bogosian's play (controlling just 44.8% of the expected goal share over three games) and conclude he was what Minnesota needed. 
The Wild have 67 games to get their act together and make the playoffs. If so, Minnesota will accomplish the goal of not taking a step back from last season. But while the Wild can turn the ship around this season, thinking like a coach has already affected the outlook of the team's long-term vision. As these mistakes pile up, it'll get harder and more challenging to alter the greater trajectory of the franchise.
3

1