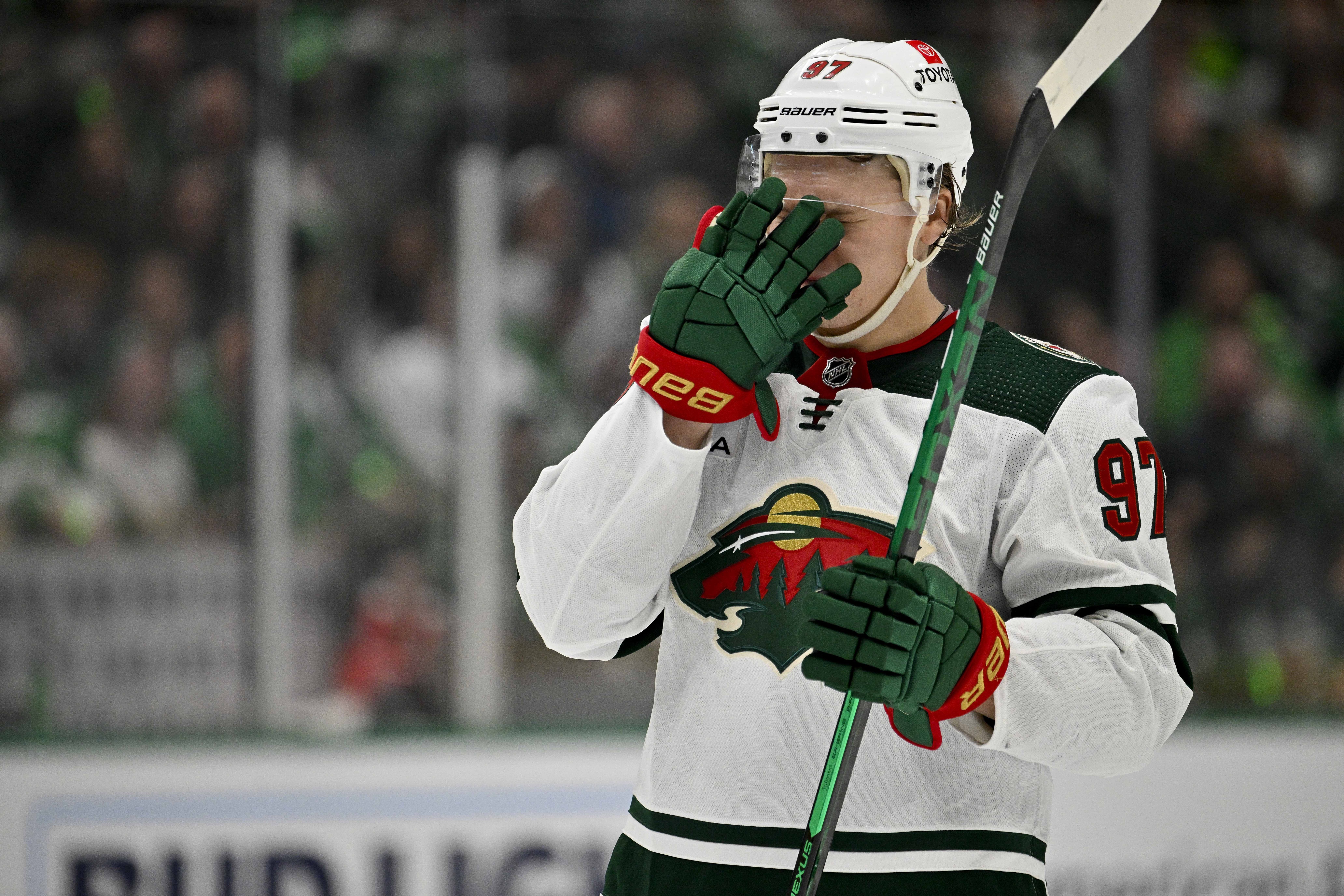 Image courtesy of Jerome Miron-USA Today Sports
Let's face it: 2023 was the Minnesota Wild's best shot.
Well, maybe that's not true. 2022 was their best shot, coming off a season with 113 points and their last year of Kevin Fiala. But after they dropped that opportunity in six playoff games, 2023 was the next best thing.
Minnesota lost Fiala. But as a consolation prize, they solved their biggest weakness in goaltending. Filip Gustavsson arrived, and his .930 goaltending helped the sometimes-limping (metaphorically and physically) Wild into the playoffs. 
Now, after a nearly-identical six-game field trip for Minnesota to see what playoff hockey looks like before going home for the spring, we can confidently say this team's best shot isn't next year. And it's not the year after that. It's sad to say, but once that all happens, it's rebuild time.
That might seem like an overreaction, since you can point to things that went wrong, like the ill-timed injury to Joel Eriksson Ek. Maybe you can talk yourself into thinking all the Wild need is another kick at the playoff can and some health. But the fact is, a lot of things went really right for this league-mandated shoestring-budget team. Stuff they just can't count on happening again.
Like Gustavsson's .930 goaltending, for example. Gustavsson can be very good next year, don't get us wrong. But only four goalies in history have had that kind of season twice. Could he still be a .920 goalie, even? Absolutely. But we just saw in the playoffs what happens when this team gets .920 goaltending: they went 2-3 against the Dallas Stars with Gustavsson in net.
The Wild are already working with small margins, and next year's team will almost certainly be a step back in talent. Not only does the torture machine known as the Zach Parise and Ryan Suter buyouts ratchet up to nearly $15 million of dead cap hit, second contracts for Matt Boldy ($7 million cap hit next year) and the unsigned, but surely well-compensated Gustavsson digs into that flexibility further.
That small but significant wiggle room that general manager Bill Guerin enjoyed was used to bring in key contributors in the second half to bolster a floundering offense. Marcus Johansson turned out to give the Wild the best stretch of hockey he's played in five years, maybe even for the rest of his career. Gustav Nyquist came off the injured list and put up 10 points in nine games.
Those moves turned out great, and better than they'd likely produced if they came back next year. That's if they come back, with such a tight salary cap situation. There's also no ability to do such a trade-deadline makeover next year, either. 
Minnesota can't try to run it back. It's not going to work. They're going to need massive leaps from a prospect pool the Guerin/Dean Evason combination doesn't look ready to trust. They'll need another great year from Gustavsson. The Wild showed their roster construction under the buyout weight is a Jenga tower of health, and you simply can't count on everyone being healthy for the playoffs.
These are prime conditions for a rebuild. There's even an obvious target date to come out of it. In summer of 2025, approximately $13 million of those buyout penalties come off the books, and they can have the breathing room to fill out a roster. Take two years off, focus on development, don't worry about wins and losses, and get this team ready for the 2025-26 season.
There's just one problem there, and he wears the No. 97.
Minnesota's long-term plan depends on Kirill Kaprizov. It just does. Nobody in the NHL wins without a major star player, and Kaprizov is arguably the only one to come to St. Paul in 20-plus years of existence. The hope is the Matt Boldys, Marco Rossis, Jesper Wallstedts, and more will fill out the roster and compliment Kaprizov into a long-term contender.
The Wild need Kaprizov to extend his contract to have that light at the end of the tunnel, and a rebuild is probably the worst way to go about it. Free agents in the NHL have different priorities. Some value winning above all else, some take the money, and others prioritize playing near home.
Minnesota will have the money to throw at Kaprizov, but so will a lot of other teams. It's possible that by the time Kaprizov controls his desitny with a full no-move clause in July 2024, he'll have had five years to develop ties to Minnesota. Will it be enough to keep him in the State of Hockey? Maybe, and maybe not. We have no way of knowing now.
It's fair to expect that Kaprizov will want to win, though. And he hasn't done that in three years in Minnesota. You can give him grief, perhaps, for this postseason and against the Vegas Golden Knights two years ago. But last year, he had a once-in-a-career postseason, and the Wild couldn't build a good enough team for it to translate into anything.
It's hard to see his outlook being any better on this team's chances to win after two seasons of mediocrity or rebuilding. He'll be 28 in two years, heading into the last year of his contract. Is he going to be sold enough on the plan to commit to the end of his productive years in St. Paul? It's at least a question.
So, what are the Wild to do? Run it back, and likely frustrate Kaprizov because he has to carry a team that doesn't have the ability to help him out? Or rebuild, and ask him to spend two prime years as a Rick Nash-type on a theoretically on-the-rise but losing team, only to risk losing him just as you're planning on getting momentum?
The circumstances say the Wild are a rebuilding team. Kaprizov's presence means they have a win-now window. The two are at odds with each other, if not completely irreconcilable.
On paper, the solution to make this make sense is to trade Kaprizov. Without him, there's no short-term pull to be good. Boldy and Eriksson Ek are building blocks under contract long-term. The rest of the roster is mostly made of solid veterans you could flip for a good price, at least on paper. 
But that is also a future too terrible to contemplate.
It's virtually impossible to "win" trades where you're sending away a star player. Those packages never quite get the haul the player in their prime is worth. Look at the Jack Eichel trade. Even with his injury, we're talking about a center who was a top-10, arguably top-5 player at his position, in his prime. Eichel is proving it in the playoffs with Vegas now.
The Eichel package gave the Buffalo Sabres Alex Tuch, Peyton Krebs, and a first-round pick that became Noah Östlund. All nice players; Tuch in particular is underrated. But none of them are going to become a franchise centerpiece.
Jakob Chychrun is another player that comes to mind. The Arizona Coyotes asked for the world for a young, cost-controlled No. 1 defenseman. They ended up with a top-5 protected pick (admittedly, a good asset) and two second-rounders.
Even the Fiala trade, which is working out reasonably well, is looking light on Fiala-caliber players. Brock Faber looked fantastic for his age in the playoffs, but what is his destiny? Is it a No. 1 defenseman? Or is it more of a Jonas Brodin-type, who is brilliant in his own way, a necessary component of a good team, but not quite as impactful as a Fiala-type scorer?
On top of that, how do you sell your fan base on hope when, three, four, or five years after finally getting the best player in your franchise's history, he's gone? What plan exists after that? He is the plan. There's no reason to believe the Wild can just get another Kaprizov. You might as well move this team to Houston and start a new franchise over again in 20 years. I hear those expansion drafts are real friendly nowadays.
Last year at this time, we said it only got harder from here. The heat's cranked up tenfold now. The Wild enter their next two years with no playoff series wins in their last eight years, a whole lot of questions, and no elegant solutions. It stinks, because the fans deserve so much better. But the next two years run the risk of being bleaker than even the most devastating playoff losses.