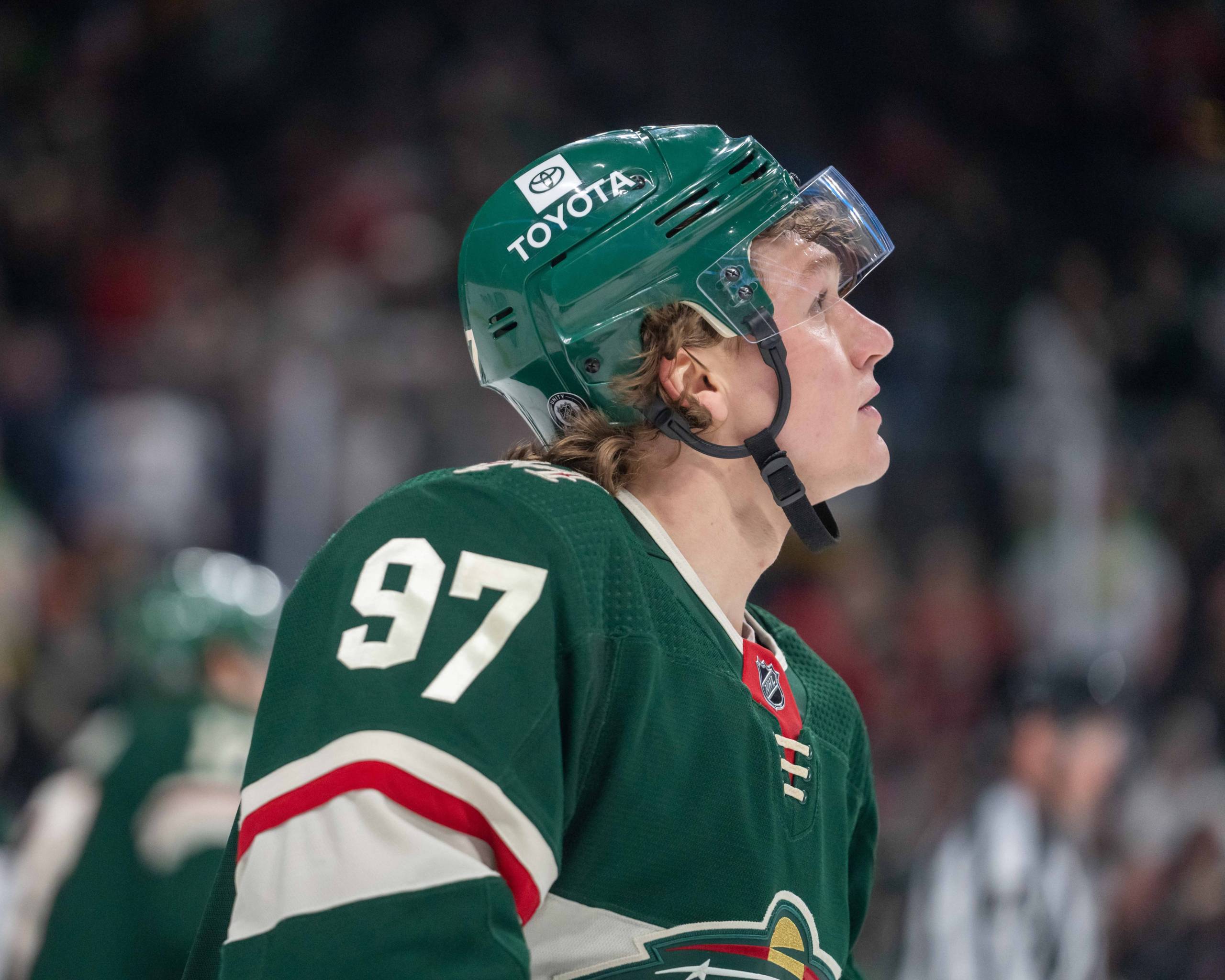 The monumental disbelief and disappointment of the best Minnesota Wild team ever racking up a first-round playoff loss will fade. Not completely, as this spring's loss, like 2017, is the kind that haunts a fanbase for a while. But as summer approaches, there'll be a turn towards optimism.
After all, the Wild put up 113 points this season. How far away can they be? They have a superstar in his prime in Kirill Kaprizov and a player looking to make another sophomore splash in Matt Boldy. On top of that, they have a wave of young, talented prospects waiting in the wings!
There'll be a time and place to write about that stuff. 10K Rinks will dig into all that this offseason. But the time and place to do so isn't today.
There are only two takeaways after the Wild turned a 2-1 series lead into an embarrassing 5-1 elimination loss in Game 6:
1) This was Minnesota's best shot at a Stanley Cup for the next four years.
2) They blew it.
You can say that's a harsh assessment. Yes, the Wild played a 109-point team in the first round. Sure, the playoffs are often random and subject to freakish outcomes. And again, there are the above reasons for optimism.
Don't fool yourself, though. This was the easiest, cleanest, most simple shot at a legitimate playoff run the Wild were going to get. From here on out, the already-painful handcuffs from the Zach Parise and Ryan Suter buyouts only click tighter.
Those buyouts were arguably a necessary evil to plant the seeds of culture change. But there was another reason Bill Guerin swallowed two poison pills last summer: They couldn't field a roster with those contracts.
The Wild saddled themselves with $4.75 million in salary cap penalties with the buyouts, but that actually represents over $10 million of savings on the $15.1 million price tag they both came with. Next year, those penalties rise to 12.75 million and increase to $14.75 million for the final two years. Remember, too, that no cap magic to create relief is possible. Those penalties are ironclad.
If the Wild had difficulties fielding a cap-compliant roster this year, what will the following seasons look like?
It's absolutely going to cost them Kevin Fiala. Big decisions can't be made on small samples. Still, no one on Earth is more likely to weigh the frustration of a three-point, 16 penalty-minute playoff performance over Fiala's 85 regular-season points than Dean Evason. Even in the best of times, their strained relationship was palpable.
That will become a source of optimism this summer. Losing Fiala will stink, folks will say, but imagine the return in draft picks and prospects he'll fetch! It's true, his trade stock went way up this season. But here's a reality check: Fiala was tied for 22nd in the league in points. What draft pick is replacing that production in three years?
How many players have scored 85 points or more within three years of being drafted? Six, since the salary cap era started in 2005-06. Those players are Sidney Crosby, Alex Ovechkin, Evgeni Malkin, Steven Stamkos, Connor McDavid, and Mathew Barzal. Four of those players went first overall.
So even if the Wild hit a home run and somehow pry the second overall pick away from New Jersey, that pick's odds of replacing Fiala's 85 points are... astronomically low.
Minnesota needs their players to have career years to make up for that absence. The problem? A lot of them already posted career years this season. Will they all repeat them?
Is 34-year-old Mats Zuccarello going to have another 79-point season? Can Ryan Hartman replicate the 34 goals he scored this year? Can Marcus Foligno continue to be a 40-point player? How about Freddy Gaudreau, once his running mate Fiala is gone?
Maybe one, or even two, will keep that going forward. But all of them? Not likely!
So that leaves the team's vaunted prospect pool to fill in the voids. The question is: Can they? Or at least, can they do it within three years? Who knows? Boldy was able to make an immediate impact this year. But other than him, the Wild's top prospects have no NHL experience.
Calen Addison leads the bunch, with 21 games (including playoffs), with only 15 coming this past year. Marco Rossi's cup of coffee was a total of two games. That's not much time to get a sense for the league, which means their growing pains will come next year. They may last even longer. Even great players like Fiala and Joel Eriksson Ek didn't break out until around age-24.
And those are just the question marks that are new. The Wild have a goalie problem that they haven't been able to and can't afford to solve. Do they return to Cam Talbot, who they clearly didn't trust in the playoffs? Did Marc-Andre Fleury's .906 playoff save percentage sour the team on bringing him back?
Here's another question: Does it matter? Fleury will be 38 and Talbot will be 35, and age isn't exactly a friend to the guys patrolling the crease. Neither is inexperience, which means that as talented as Jesper Wallstedt is, the odds of him making a franchise-changing impact before turning 23 are small. Only 11 goalies in the cap era even started 50-plus games through age-22.
No one wants to be a doomer, but look at how perfectly everything aligned for the Wild. They had a bonafide superstar performance from Kaprizov. An offense that scored the fifth-most goals in the league. A still-effective veteran core that melded perfectly with top young players in their primes. A trade to get a Hall of Fame goalie that, just last season, piloted his team to within two wins of a Stanley Cup Final.
And now, it's over, and those pieces aren't coming together again. Not in the same way, and not for the next three years. If this seemingly-charmed season wasn't the year, it's just too difficult to see how any of the next three are. That's the tough reality the State of Hockey will have an entire, early summer to sit with.