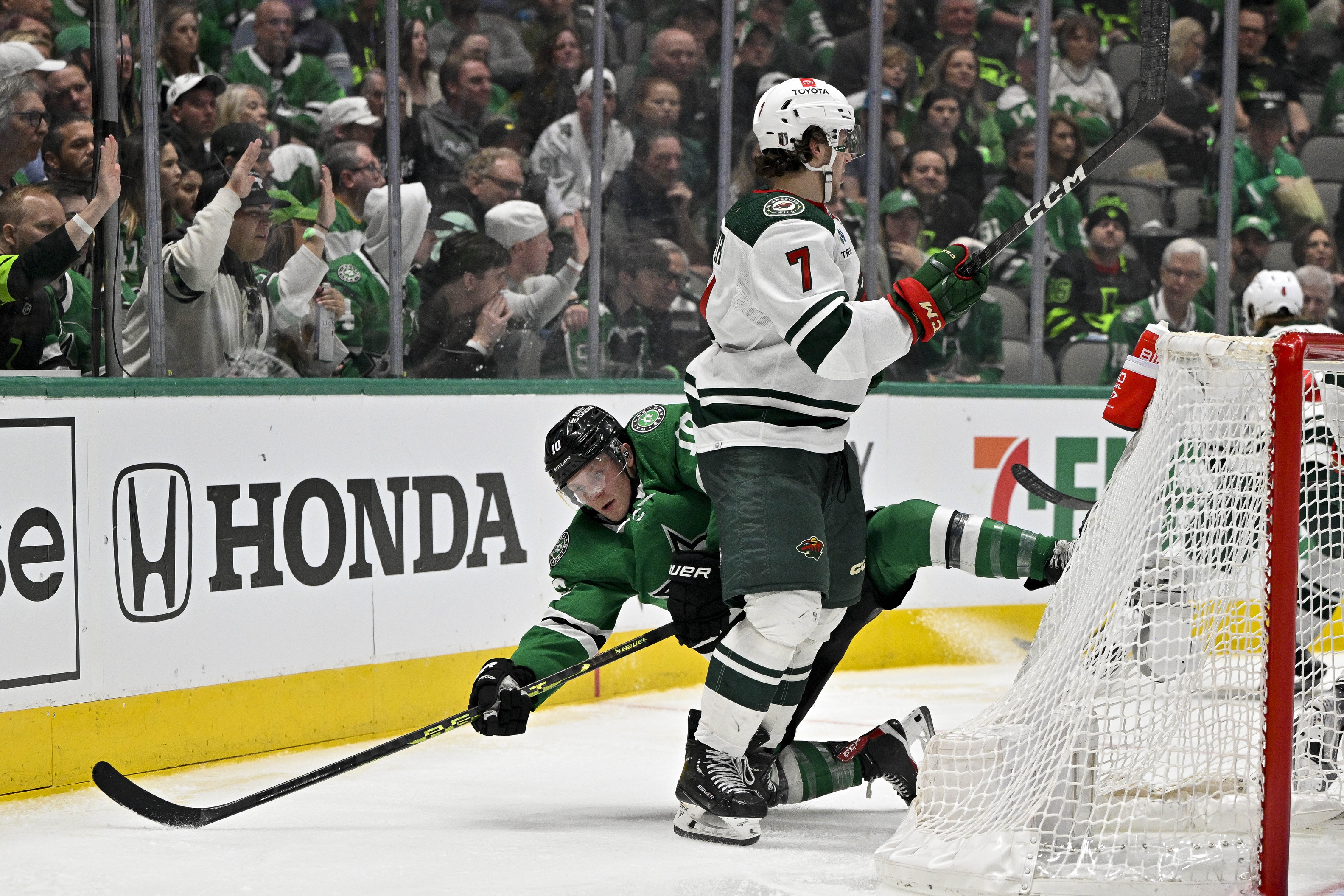 Image courtesy of Jerome Miron-USA Today Sports
When the Minnesota Wild rolled out their playoff tune-up lineup in games against the St. Louis Blues and Winnipeg Jets, Brock Faber wasn't in there. Why would he be? Faber was days removed from the NCAA Frozen Four tournament, playing against the Quinnipiac Bobcats and Canisius Golden Griffins.
Good college programs? Absolutely. But jumping straight from there to an NHL playoff race? Take off your maroon-and-gold colored glasses and get a grip. It was a much better idea to get his feet wet against a Chicago Blackhawks team playing for Connor Bedard's magic ping-pong balls.
Turns out, common sense was wrong, and your most rabid Golden Gopher pajama-wearing friends were right. Nine days after the NCAA Championship game, and exactly one week after skating his rookie lap in Chicago, Faber jumped in skates-first to the Stanley Cup Playoffs. Last night's playoff debut was just his third NHL game.
Talk about pressure. The Wild were on the road against the hated Dallas Stars, a team loaded with skilled, tough forwards. Stars coach Pete DeBoer controlled the match-ups, and despite being on his fourth team in the last decade, he's no dummy.
DeBoer has two Cup Finals appearances as a coach, with three more trips to the Conference Finals. He may wear out his welcome, but he knows how to win. When a coach like that sees a two-game veteran on defense across the ice in the playoffs, he's going to test him. And a two-overtime Game 1 is going to provide plenty of opportunities to do so.
Incredibly, the 20-year-old rookie to end all rookies passed. To be clear, we're not talking about a prospect with no pedigree. Faber was the prized prospect Minnesota pried from the Los Angeles Kings in the Kevin Fiala trade. The front office, media members, and yes, your friends, have spent the last year raving about his defense, hockey sense, and poise. 
It's not that Faber didn't have this kind of play in him. It just is ridiculous to expect any rookie to translate that on the ice so quickly for like, normal games. Trying to say what he was going up against sounds unhinged, especially when you say it with the gravitas the situation demands.
Game 1 of the Stanley Cup Playoffs! After two games! Two games where the toughest forwards he saw were Mark Jankowski and a version of Jonathan Toews that was practically walking to the mailbox to deliver his retirement papers!
But there was Faber, on the ice for 17:58 last night, not looking out of place at all. It shouldn't be possible.
It is, though. And he not only acquitted himself, but had a really good showing in as insane a set of circumstances as you can concoct. 
It's hard to look at a box score and see what Faber did for Minnesota last night. He had no shots, and watching Ryan Hartman's game-winning goal shows that Faber and defense partner Jon Merrill were just coming onto the ice for a change when a broken Stars zone exit somehow found its way onto Hartman's stick in front of Jake Oettinger. Textbook example of why plus/minus isn't always reliable.
Look beyond the box score, though, and you'll see Faber's full impact. With Faber on the ice at even-strength, Minnesota generated 0.96 expected goals, and conceded just 0.22. He controlled 81.1% of the expected goal share. Again, this is on the road, where coach Dean Evason can only shelter the rookie so much.
Part of this is due to the sheer amount of shots both he and Merrill blocked. Merrill got credit for stopping five Stars shots, while Faber notched three. Of course, this includes what was certainly the biggest blocked shot of the night in double overtime. Mason Marchment is going to be haunted by visions of Faber's outstretched stick for years to come.
There's not a list of "Biggest Blocked Shots in Franchise History" at the ready, but this stands out as the most important one since Mikael Granlund blocked multiple Colorado Avalanche shots in Game 4 of the first round in 2014. Without those blocks, Minnesota may not ever have evened that series and advanced to the second round.
And without this Brock, Minnesota is almost certainly down 1-0 in this series, instead of stealing home-ice advantage. Not that Dallas deserved to be robbed, it's not like they ever stole anything from the State of Hockey.
In all seriousness, Faber's block swings things back in the Wild's favor. They entered the series with about a 32-to-39% chance of winning, depending on whose projections you used. Spotting Minnesota brings things much closer to 50/50 odds. Maybe even better — in Micah Blake McCurdy of Hockey Viz's estimation, the Wild jumped from 38% odds to win the series to 55%. 
It might be even more impactful than that, though. Joel Eriksson Ek skated with the team with no restrictions before Monday's game for the first time since suffering a week-to-week injury. Winning Game 1 ensures that if he completes his Terminator-like recovery and draws into the lineup Wednesday, or even in Game 3, it won't be with Minnesota in a 0-1 or 0-2 hole.
Are there things to nitpick with Faber's play? It's open to interpretation. Generally, if you block a lot of shots, you don't have the puck very often, and Dallas out-attempted Minnesota 22-15 with Faber on the ice. As spectacular as Faber's block on Marchment was, if he doesn't drift so far toward Merrill's side, wouldn't he be in a better, less desperate position to make a more routine block?
Maybe? But also: Who cares? Mistakes are going to happen for a rookie defenseman, and the Stars aren't exactly the Boston University Terriers. Whatever attempts he allowed, he had the presence of mind, poise, and skills to stop them from hurting his team. That not only, but especially, includes Marchment's shot.
Furthermore, Faber and Merrill snuffed out any pucks the Stars dared to get in the middle of the slot or in front of the net. Minnesota's defensemen are renowned for keeping shots to the outside, and on Monday, Faber showed that he can do that, too. Look at where Dallas' shots came from.

Very generously, that's three unblocked attempts from the slot, with a combined 11.5% chance of going in the net. That's it. IT wasn't like DeBoer was feeding Faber cupcakes. Look at who made the shots against Faber: Miro Heiskanen, Jamie Benn, Tyler Seguin, Ty Dellandrea. Faber also had blocked shots against Marchment and the feared Jason Robertson. 
And again, Faber showed he can handle it one week out of college, with only two meaningless NHL games of experience under his belt.
Maybe we shouldn't be surprised that he can handle the pressure. Faber's no stranger to the bright lights and biggest games. The Frozen Four is a massive spot. So are the Olympic Games, even without NHL players, where Faber took a leading role for Team USA. Speaking of Team USA, Faber was their dedicated shutdown defenseman as they won World Junior Gold in 2020.
But as big as those spots were, this was a different level altogether, with a sizable jump in competition. It shouldn't be possible for a 20-year-old to perform this well in this spot. He did, though. Minnesota coveted Faber last summer because they thought, despite his lack of offensive numbers, his skating, defensive instincts, and poise were downright special.
Three games into his career, Faber's proving them right, and the Wild are already reaping the rewards.
Blocked shot, box score data from NHL play-by-play. All other data via Evolving Hockey unless otherwise noted.
1