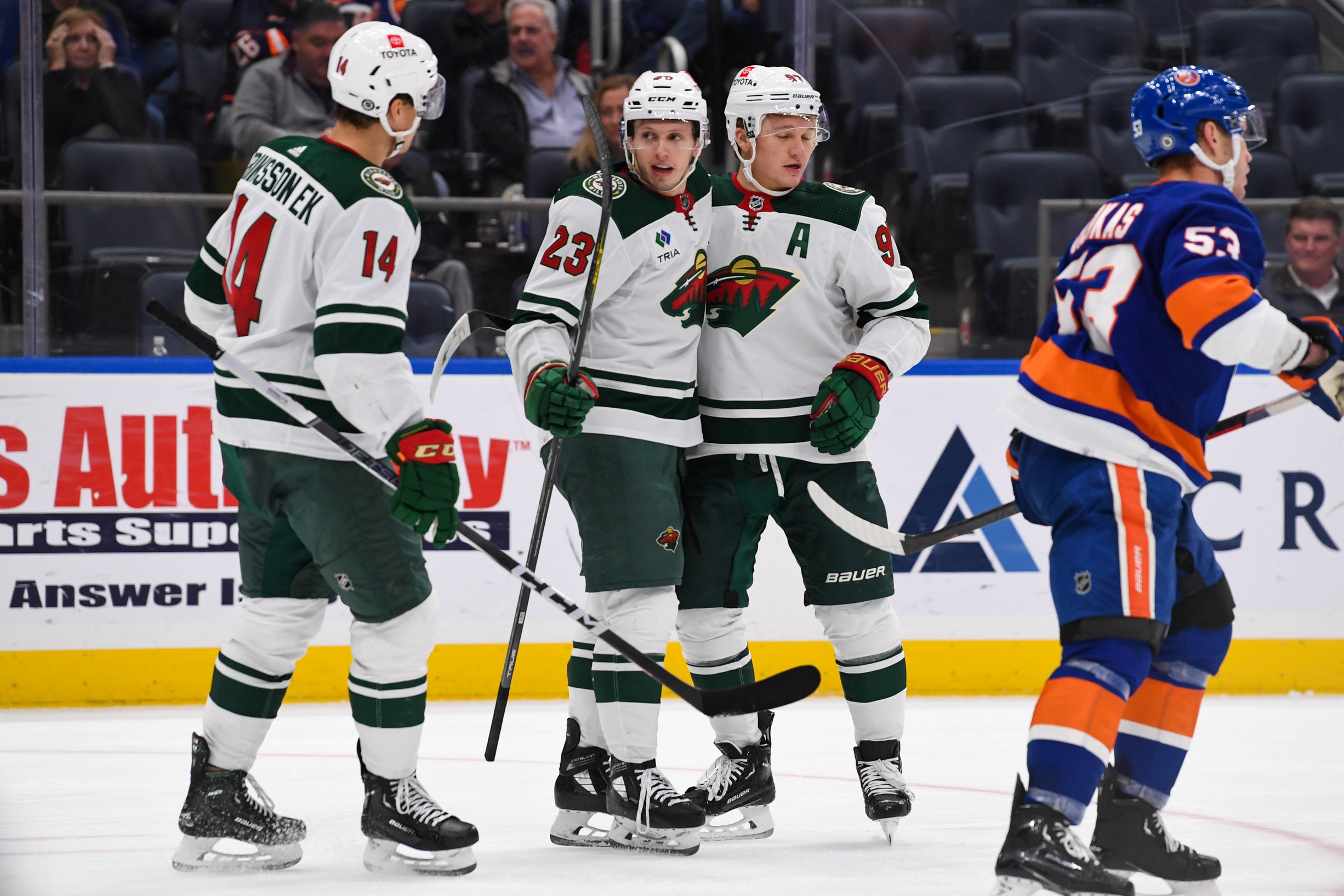 Image courtesy of Dennis Schneidler-USA TODAY Sports
A traffic jam when you're already late
A "No Smoking" sign on your cigarette break
It's like ten thousand spoons
When all you need is a knife
It's getting the center depth of my dreams
But nothing else goes quite right

And isn't it ironic?
Don't you think?
Those completely untouched lyrics from Alanis Morissette's hit '90s anthem sure hit home for Minnesota Wild fans. The first 15 games of the season have been exactly like rain on their wedding day after a 5-8-2 start. But the height of irony is that this is all happening when the Wild have seemingly fixed their greatest flaw: a lack of center depth.
As the hockey adage goes, great teams are built down the middle, and the Wild's biggest strength so far has been their center play. It's just coming at a time when the wingers have fallen off, their penalty kill is sabotaging them every game, and their goaltenders are playing the '80s-style hockey their GM wishes the rest of their squad would play.
But those centers? Hell yeah. The Wild are rocking that part of their depth chart. Joel Eriksson Ek, Ryan Hartman, and Marco Rossi are forming a three-headed monster at the top of the lineup. Of Minnesota's 49 goals to start the season, the trio has scored 20, with Eriksson Ek contributing eight, Hartman seven, and Rossi five.
Soon Wild fans are going to say, Imagine what these guys could do with some scoring wingers...
Of course, players like Mats Zuccarello, Kirill Kaprizov, and Matt Boldy are getting points, racking up a combined 10 goals and 39 points in a combined 38 games. Most of the frustration of the slow start is being vented at the somewhat underwhelming starts of these players, but one must imagine that Kaprizov and Boldy will find a way to turn the scoring taps back on.
Until then, their top three centers are picking up the slack. While they can't quite drag a ship full of leaks into the safe harbor of a playoff spot, it isn't for lack of effort. Or production. Or driving play. 
Going off Evolving-Hockey's xStandings Points Above Replacement (xSPAR), the top three Wild players are all centers. The Wild have only 12 points in the standings, but four come from that triumvirate of pivots (1.6 from Eriksson Ek, 1.3 from Hartman, 1.1 for Rossi). No Wild fan who grew up watching No. 2 centers like Eric Belanger, Kyle Brodziak, and Matt Cullen need to be told that this would be the first time the Wild's top three players would play down the middle.
But the way their centers are currently out-performing history goes deeper and is much more absurd than that. We have xSPAR data running back to the 2007-08 season. In that time, only three centers have finished among the top three on the Wild in xSPAR. Eriksson Ek did it once in 2020-21, with Eric Staal joining the club in 2017-18 and Mikko Koivu in 2012-13. That's it. In 16 seasons, Minnesota's had a center be one of their top three players only three times.
The Wild have a chance of matching that this year.
Not only are Eriksson Ek, Hartman, and Rossi a dramatic 180 from their entire history, but it's a massive shift from last year. Last season, Minnesota's top three centers by xSPAR were Sam Steel (1.5 xSPAR), Eriksson Ek (1.2), and Hartman (1.0). Add that up, and they got 3.7 SPAR, or less value than what they're getting from their three best centers through 15 games this year.
The biggest reason for these centers standing out is that they're one of few players that are actually driving offense on the club. Hartman is driving the bus at even strength the most of the three, Eriksson Ek's underlying numbers on the power play (to say nothing of his four goals) rate as among the top-10 in the NHL, and Rossi combines pushing play at even-strength and both drawing and avoiding penalties.
It's the height of Minnesota Sports frustration that the Wild would have this kind of center depth in a year where everything else falls apart around the middle. As things stand in terms of xSPAR, only two teams have three centers who've contributed one xSPAR or greater: Minnesota, of course, and the 11-3-1 Dallas Stars, who you may remember from humiliating the Wild last week.
Even in terms of more traditional stats, the Wild's centers are punching alongside the league's heavyweights. Minnesota is one of seven teams that have three centers with five or more goals. The rest are the Carolina Hurricanes, Colorado Avalanche, the Stars (the only team with four), the Detroit Red Wings, the Nashville Predators, and the Tampa Bay Lightning. The Predators are with the Wild near the basement of the league. The remaining five teams are all currently occupying a playoff position, with the Avs, Bolts, Canes, and Stars all on the NHL consensus shortlist for Stanley Cup Contenders. 
We can take some good news from all this: If the goaltending shapes up, if the defense can get solidified, and if Kaprizov and Boldy can start filling the net again, the Wild may just finally have the center depth to make a deep run in the playoffs. As it stands, though, Minnesota enters the weekend in Stockholm six points out of a playoff spot and is in danger of being non-factors by Thanksgiving.
All we can say is, Who would've thought? It figures.
1