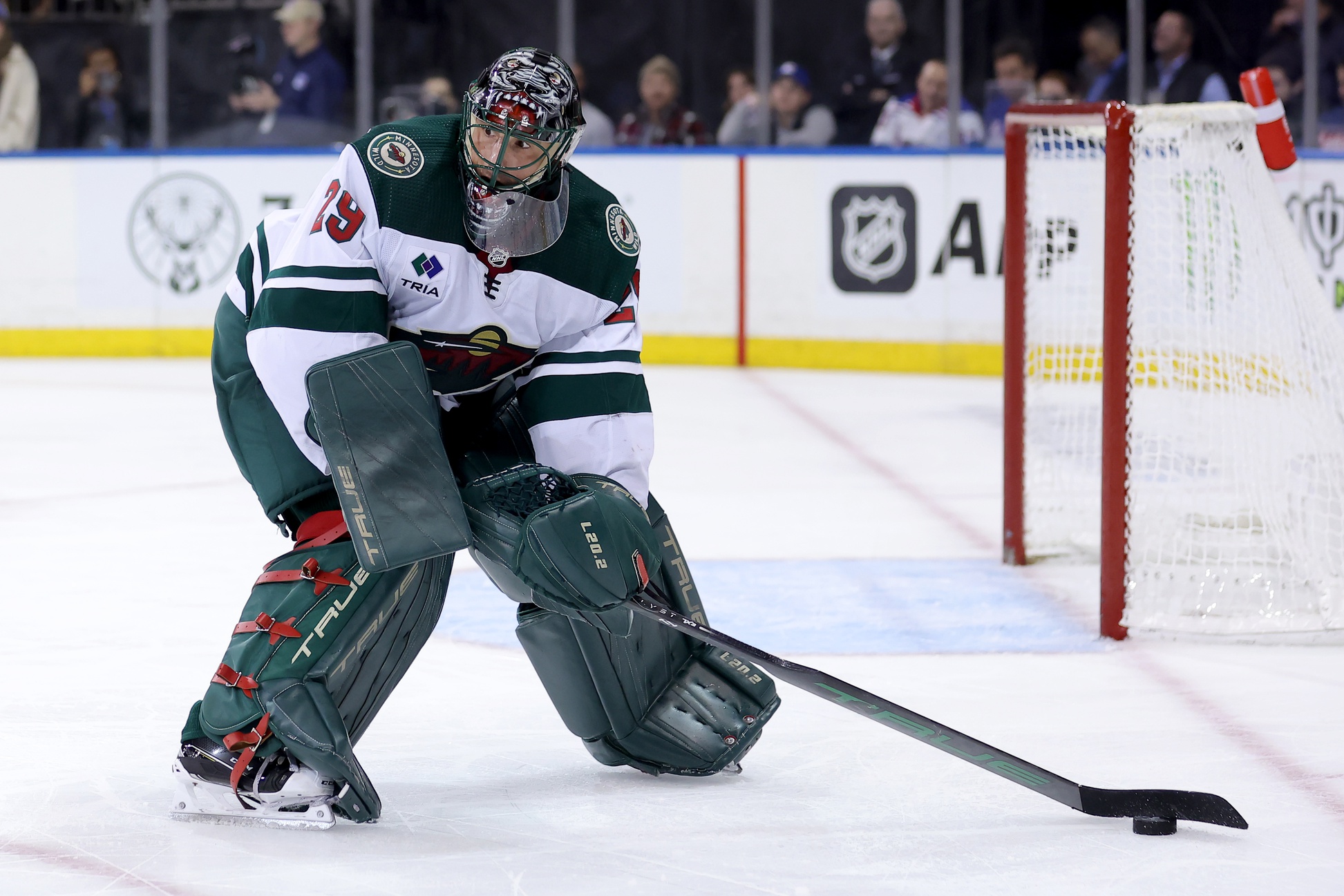 Image courtesy of © Brad Penner - USA TODAY Sports
In the opening scene of the movie The Prestige, Michael Caine's character explains the basic structure of a magic trick: 
Act I: The Pledge, in which the magician "shows you something ordinary -- for example, a deck of cards, a bird, or a man." Perhaps an NHL goaltender. 
Act II: The Turn, in which the magician takes the ordinary something and makes it do something extraordinary. For example, perhaps it disappears. 
Act III: The Prestige, in which the magician restores that ordinary something to its original state. 
Minnesota's goaltending was magic last season. But this season, all they've performed is the disappearing act. As Caine's character explains of a simple disappearing act, "You wouldn't clap yet because making something disappear isn't enough. You have to bring it back. That's why every magic trick has a third act -- the hardest part." 
Last year, Filip Gustavsson performed well enough to enter the Vezina conversation. Dean Evason is trying to make that version of Gustavsson reappear in his native Sweden this weekend. 
By the numbers, there's no doubt Minnesota's goaltending has been truly awful. But it becomes ugly when you look at raw save percentage and analytics designed to account for shot difficulty. Minnesota has the fifth-worst even-strength goaltending by MoneyPuck's Save% Above Expected metric. 
Sitting at 5-8-2, things could be even rockier if not for Minnesota's unsustainable 11.29% shooting percentage at 5-on-5 (fourth-best in the league). And yet, Evason's latest comments were more critical of his highly-paid offensive weapons rather than the goaltenders or even the defense.
Most of the time, coaches won't criticize their goaltenders in the media. Hockey is a team game, and that can give the team a scapegoat, removing accountability from the other players. For that reason, coaches' actions speak louder than words. 
If Evason wanted to light a fire under the goaltenders, he could have brought reigning AHL Player of the Week Jesper Wallstedt along on the trip to Sweden. Wallstedt is a Swedish native after all. Originally from Västerås, Sweden, he played junior hockey there before spending most of his professional career in the Swedish Hockey League. 
Instead of trying to press his goaltenders, Evason shuffled the lines. Evason usually avoids the lineup blender, but he has scrambled the forward groupings three times in less than two weeks. Each time, there's been a clear purpose to the move. 
First, in the middle of the November 2 game against the New Jersey Devils, Evason promoted Matt Boldy and Marco Rossi to Kirill Kaprizov's line. It was an effort to spark Kaprizov and Boldy and also to recognize Rossi's start to the season. 
This was a short-lived experiment, mainly because the Marcus Johansson-Joel Eriksson Ek-Mats Zuccarello second line looks like the island of misfit toys. This lineup is also terrible on the road, where the Wild's opponents can dictate matchups. Teams could deploy their best checking forwards and defensive defensemen, forcing the bottom of Minnesota's lineup to carry the scoring load. 
That changed the second lineup, where Evason reunited Boldy and Johansson. He also created a line of elite checking forwards in Maroon-Eriksson Ek-Foligno (the MEENO line). 
The objective here is also obvious: It forced the opposing teams to pick their poison between checking Kaprizov's line or the Boldy-Rossi-Johansson combination. Unfortunately, that wasn't enough to beat the Buffalo Sabres, and the Dallas Stars shelled Minnesota two nights later at home despite the MEENO line's elite matchup capabilities. 
There is plenty of blame to go around against the Stars. But when the other team scores eight goals, there's enough to include the goaltenders. Additionally, no hockey coach expects his offensive stars to out-score an eight-goal calamity -- that's a team problem. You can't blame a few guys for the six minors and one major penalty the Wild took that night. 
Evason knows that. Still, he wants to see more scoring. "You get paid to score goals, score goals," he said. "You look at our board, and if you go top-six, bottom-six forwards, most of the bottom-six forwards are getting it done." That makes little sense -- unless you note the new lines in Sweden. 
Evason made this change the day after the Dallas Disaster, with Kaprizov reportedly out for maintenance. That means Evason was thinking about these changes shortly before or after his comments about the top-six forwards. 
That lineup is the most high-octane offensive combination the Wild can conjure. The team's hottest scorer, Marco Rossi, complements the Kaprizov-Zuccarelo show. If the other coaches decide to defend that with their best checkers, the second line is perhaps more dangerous. 

Compare it to Kaprizov's line from last year. Boldly-Eriksson Ek-Johansson was the team's second-best two-way line by xG% per MoneyPuck.com. The table above shows they controlled 57.2% of scoring chance danger based on shot danger. They were also the third-most dangerous line by xG per hour, which measures total offensive danger and ignores scoring chances-against. The only other combinations were Kaprizov-Hartman-Zuccarello and Kaprizov-Steel-Zuccarello. In short, Evason has turned the top two lines into the most effective offensive unit possible. 
Of course, there's no way he expects this change to cure for eight goals-against in a losing effort. There's not enough money in the world to pay a guy to score enough goals to overcome an eight-goal night. Minnesota needs to improve its team defense and get better goaltending to recover from this skid. 
Look behind the curtain, and this lineup change clarifies Evason's plan. He simply wants to boost his goaltenders' confidence. It's a two-part approach: 
Don't tear them down in the media. 
Spark offensive support. 
It's a good plan. When goalies are going through a rough patch, it's much easier to get out of a slump by winning 5-3 rather than sweating out a goaltending battle. 
The Wild's changes should make for some exciting hockey this weekend in Sweden. Not only will Minnesota feature Swedish players Gustavsson, Eriksson Ek, and Johansson, but they've aligned the team to score as much as possible. Hopefully, that offense can support a team turnaround. 
With any luck, there could be some magic in net as well. 
1