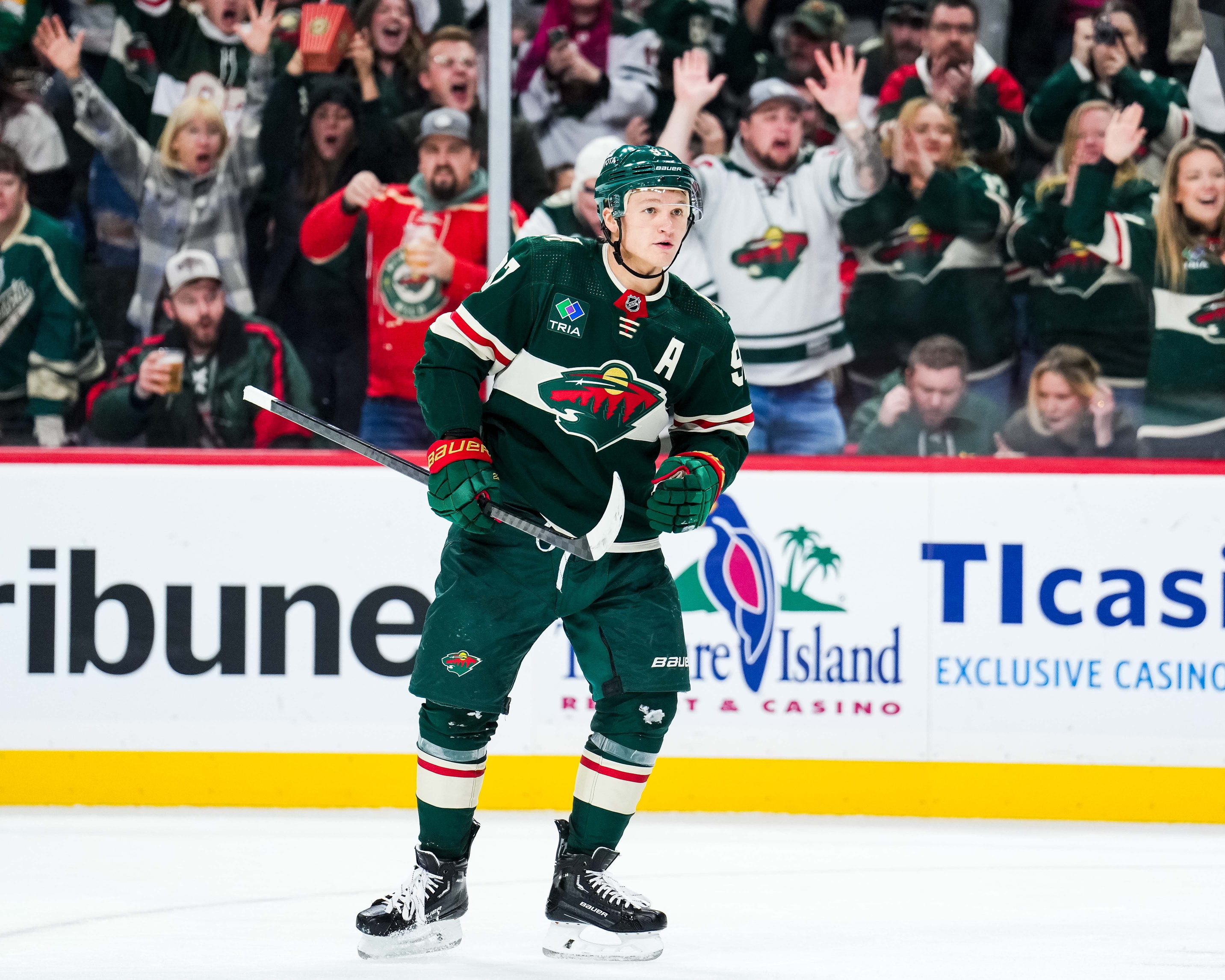 Image courtesy of © Brace Hemmelgarn - USA TODAY Sports
It isn't a secret that the Minnesota Wild have been atrocious defensively this season. They've allowed 64 goals, the second-most over their first 15 games. However, they have also scored the eighth most (50) entering Tuesday's action. 
On the surface, it would appear that offense hasn't been an issue. Just about any NHL team would be more than happy with scoring goals at the eighth-highest clip in the league. However, watching the games, you'll see that the offense leaves much to be desired nightly. 
That's because the Wild offense begins and ends with Kirill Kaprizov. On the surface, he appears to be performing adequately, with exactly 15 points in 15 games. That point-per-game average is adequate if you're a borderline top-35 or top-40 player. However, it's a bit lackluster for a top-15 or borderline top-10 player. It may sound greedy to be disappointed that a player "only" averages a point per game, but Kaprizov has set a lofty standard he has failed to meet this year. 
Wanting more production from your superstar player who's only playing like an above-average forward is simple enough until you break out the magnifying glass. Kaprizov is an exceptionally well-rounded player who can snipe tight windows and make improbable passes. Kaprizov is more likely to create a play than finish one. However, he isn't finishing whatsoever five-on-five. He only has a single goal at even-strength through 15 games.
It's not like his shots aren't getting through. A whopping 62% of his shot attempts are unblocked (as measured by Fenwick), which is 22nd in the league among forwards. Additionally, he's third in the NHL in overall shot attempts and ninth in shots on goal. 
It's not like he isn't getting opportunities to produce. Kaprizov leads the NHL in ice time (320 minutes), tying Mitch Marner of the Toronto Maple Leafs. Leading the league in playing time and only coming up with a single even-strength goal is far below Karpizov's standards. Especially when 22.2% of Kaprizov's shifts start in the offensive zone (24th most frequent among forwards that have played 230 minutes of ice time). 
But those opportunities aren't converting to goals. Kaprizov has a -3.2 Goals Above Shooting Talent, a MoneyPuck metric, which is fifth-worst in the league, and far below Kaprizov's true talent level. Goals Above Shooting Talent measures a player's ability to score goals over the average player. Kaprizov is in the negative by multiple goals, painting a clear picture of how lacking his scoring has been this season.
As if a lack of production relative to his status as the face of the franchise wasn't enough, Kaprizov turns the puck over at a detrimental rate. His 14 giveaways rank 8th most in the NHL among forwards this season. Plus/minus never tells the entire story, but these giveaways certainly share some correlation with Kaprizov's dreadful showing in that stat. Out of 718 qualifying skaters, Kaprizov ranks 703rd with a minus-11. 
But there is a reason that Kaprizov can turn it around after a slow start. Given his pedigree and NHL track record, Kaprizov, 26, isn't going to decline as he enters his prime. With his elite-of-the-elite skill level, it's a safe bet to say that at some point in the next couple of weeks, he will bounce back to "The Thrill." 
With the volume of shots he's putting on net, he should eventually have a five-on-five scoring breakthrough. The first line is frequently in the offensive zone, applying pressure against the defense. With Zuccarello leading the team in scoring with 16 points (23rd across the NHL) and Ryan Hartman also contributing as a scorer with seven goals (second on the team to Joel Eriksson Ek's eight), the first line may be sputtering. However, the magic still could be in there.
Kaprizov will eventually turn it on. It's just a matter of when. Dean Evason is currently holding him out of practice for "maintenance." That's much needed because Kirill has been on the receiving (and giving sometimes) end of physical play, in addition to leading NHL forwards in ice time. 
A minor injury alone shouldn't be holding Kaprizov back to this degree. However, the Wild are wise to lighten his workload while he tries to find his scoring touch. You have to play through a slump to get out of the other side, but nothing good will come from playing injured. However, now seems like a perfect time to get him some rest. The Dallas Stars drubbed the Wild 8-3 on Sunday, and Minnesota doesn't play again until Sunday in Sweden. That game against the Ottawa Senators is the first half of a back-to-back. They will drop the puck against the Maple Leafs less than 24 hours later.
In a perfect world, Kaprizov sits a game or two out, comes back, and returns to form. We may not be seeing vintage "The Thrill" currently, but Wild fans know very well that he can show up at any moment. 
2