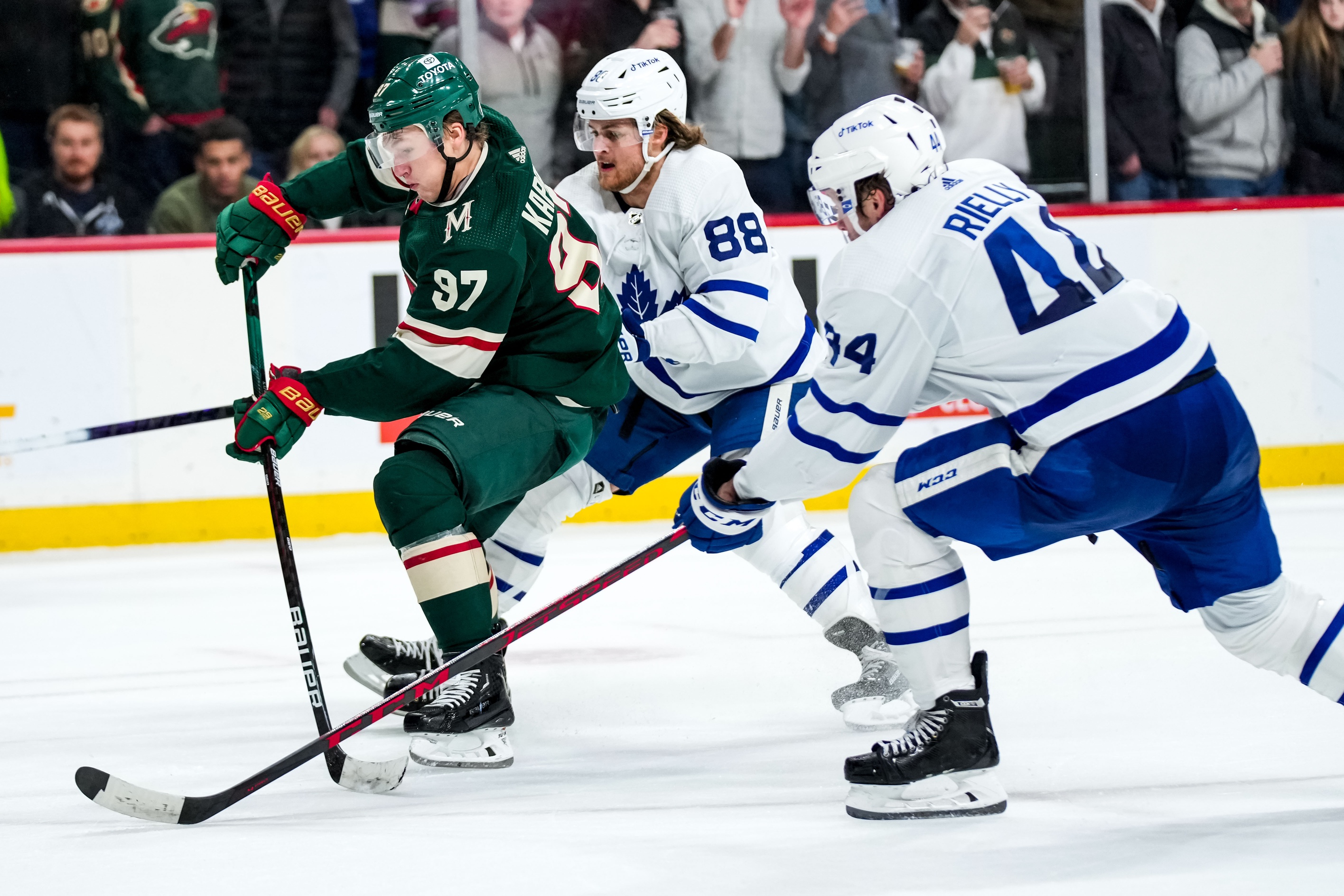 Image courtesy of Brace Hemmelgam-USA Today Sports
Stop it. Don't even think about it. Don't even think about thinking about it. It ain't gonna happen. The Minnesota Wild are not going to ship off any core pieces this off-season. 
Shane Seney of NHL Trade Rumors posted an article that upset some people on the sacred scribe site of Twitter. Seney proposed that the Wild should trade their best center, Joel Eriksson Ek, to the Toronto Maple Leafs for star winger William Nylander.
Now, I would love to add Willy to the Wild. He's coming off back-to-back 80-point seasons, including a career-high 87 in 2022-23. Oh yeah, and he potted 40 goals and has scored 35 per 82 games over the past four seasons. He would be a long-term running mate for Kirill Kaprizov and is getting paid just under $7 million for the 2023-24 season. If the Wild really wanted to, they could make that work. But it's just not happening. 
Kaprizov, Eriksson Ek, Jared Spurgeon, Jonas Brodin, and Matt Boldy are not playing anywhere else but Minnesota at the start of next year.
Seney believes the Wild can afford to move Eriksson Ek because they have Sam Steel, Ryan Hartman, and Freddy Gaudreau. But anyone who watched Minnesota last year knows none of those guys are bona fide top-line centers. It would be a franchise-altering mistake if the Wild traded their only legit top-six center and one of the best two-way centers in the league. It would be like throwing the bucket you're using to bail water out of a slowly sinking ship. 
What would a better William Nylander trade offer look like? That is a conversation for another day.  The Wild have repeatedly proven that they are not the kind of organization to make a risky trade for a star player. They've made small minor trades and signings but nothing that has been a real risk.
Trading Cam Talbot last summer was not really a risk. They took a low-stakes gamble on Filip Gustavsson, and it worked out splendidly. Trading away Jason Zucker was a good trade that netted some solid assets in Addison and top defensive prospect Carson Lambos. 
Trading of Kevin Fiala was not a big swing, it was the opposite. The Wild shipped away a star offensive player because they were dumping their money into depth players. The Wild have not made a bold trade where the player they were acquiring was the headliner in the deal since arguably, Jason Pominville over a decade ago.
That leads to the next point. The Wild have repeatedly shown that they prioritize depth players over opening up money for big-time players. For example, re-signing and acquiring guys like Gaudreau, Alex Goligoski, Ryan Reaves, and Jon Merrill. Those guys are important depth players, but Minnesota could replace them with players on more affordable contracts. 
The Wild have the number one prospect pool, according to The Athletic's Scott Wheeler and that's for a reason, and they have mostly kept it intact. Bill Guerin hasn't traded any of Minnesota's top prospects or futures since taking over in 2019. The team clearly prioritizes the prospects that they have. 
They do also have a bit of a cap space problem. The Wild don't have the cap space to sign anyone to a mega-contract. Even if they were to trade Eriksson Ek, who has a $5 million cap hit, they would still have limited funds to bring back their goalie and other depth pieces. 
The Wild made a few trades at the deadline, but none carried any real risk. They spent just a couple of mid-round picks, some not even from this year or next, and a disgruntled player in Jordan Greenway. However, Minnesota received a similar return in the likes of Marcus Johansson, Gustav Nyquist, Oskar Sundqvist, and John Klingberg. Proven commodities that are not unknown and do not provide a ton of risk to the acquiring team.  
The Wild did not go after Jack Eichel. They did not go after Matthew Tkachuk. Nor did they pursue Erik Karlsson. Timo Meier? No way. Not saying that they should have, but definitely saying they were not going to. 
Maybe the Wild have something to learn from the two teams in the Stanley Cup Final. The Vegas Golden Knights and Florida Panthers' best players were both skating for other teams at the beginning of last year. 
Minnesota's biggest offseason storyline is going to be whether they re-sign all of their bottom-six depth and if they trade a depth defenseman prospect. It's not going to be a trade for Nylander (Though hey, here's an open invitation for Wild management to prove me wrong).
Wild management isn't going to take a big risk. This is not a team to sacrifice prospects or significant futures. The Wild are a self-sabotaged, cap-strapped squad. They are not a team to make a rash big-money decision and worry about the financial consequences later. What kind of team are they? One of 30 who get to play golf in June and watch a Stanley Cup Final featuring two big trade headliners from the comfort of the couch. 
All stats and data via HockeyDB and CapFriendly.
1