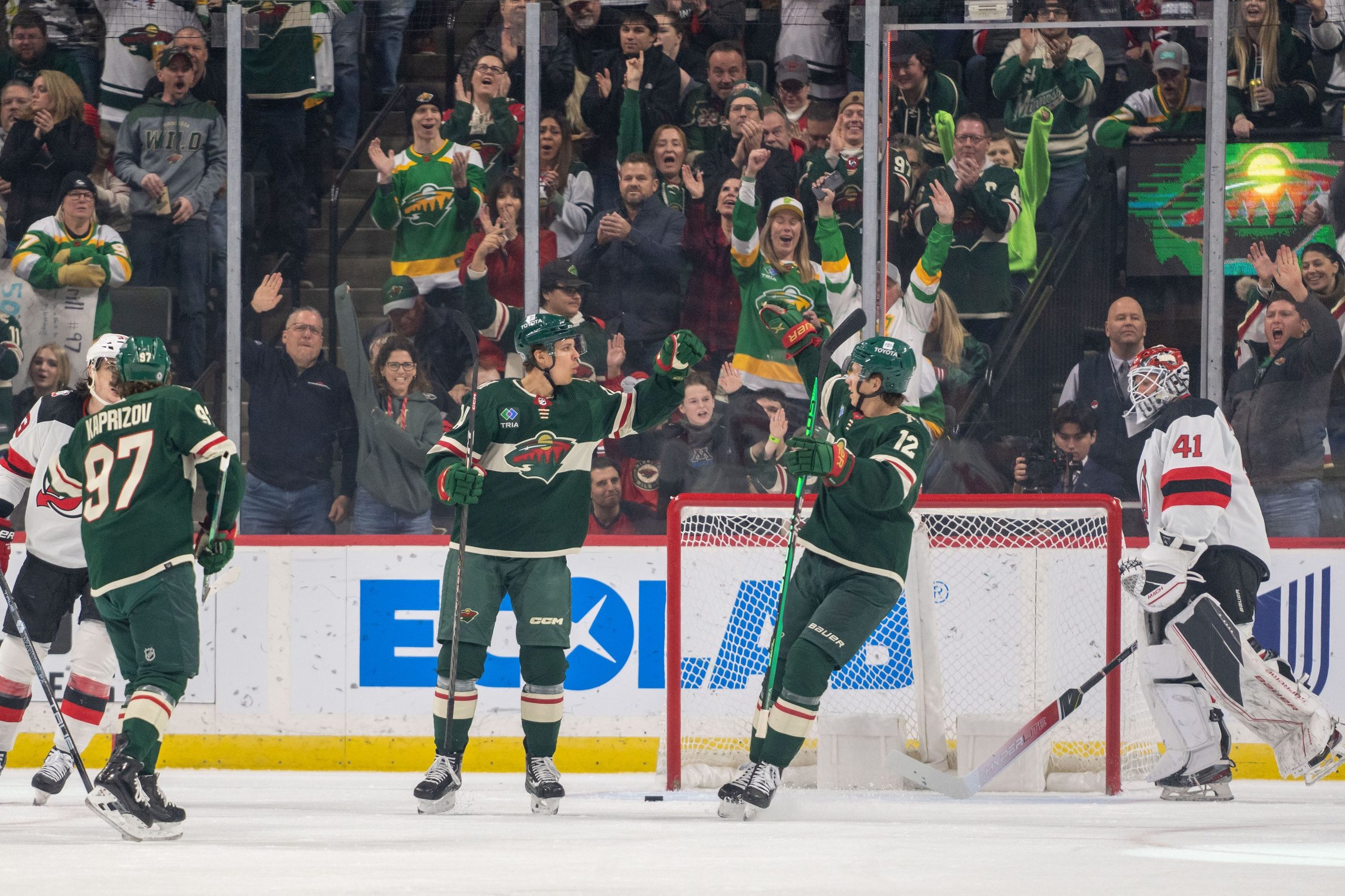 'Throughout the NHL, if you're a center who breaks out offensively, you tend to get an offensive role. Think of Sean Couturier in Philadelphia. Once he started filling the net, he went from a third-line defensive role to skating alongside stars Claude Giroux and Jakub Voracek. Heck, even think about William Karlsson. His offensive breakout wasn't nearly as durable as Couturier's, and he's still skating with skilled players in Jonathan Marchessault and Reilly Smith.
On most teams, Joel Eriksson Ek would probably have scored a role as Kirill Kaprizov's personal center two years ago. His breakout came in the COVID-shortened 2020-21 season, where he scored 19 goals in 56 games. He followed it up the following year with 26 in 77 contests.
Yet, he stayed on a grinding line with Marcus Foligno and Jordan Greenway. While Kaprizov, Kevin Fiala, and Matt Boldy spent almost all of that time looking for established pivots, keeping Eriksson Ek on a shutdown line was logical. For one, that line produced offensively, out-scoring opponents by a whopping 46-15 in 2020-21 and 2021-22. No line in hockey was turning the momentum in their team's favor like Eriksson Ek's did.
Eriksson Ek was so dominant on that line that it allowed Dean Evason to "spread the wealth" throughout the lineup. With Kaprizov on one line, Fiala and Boldy on another, and Eriksson Ek on his own line, that's an offense-driving scorer on the ice for about 80% of a team's 5-on-5 minutes.
But after two years of the "GREEF" line appearing like it would have to be pried from Evason's cold, dead hands, it looks like the Wild are holding a pillow in those same hands, looking to smother the beloved shutdown line.
Not only is Evason breaking up the line out of desperation, but the persistent Jordan Greenway trade rumors also threaten to make it impossible to put it together again.
The line is making themselves inessential with how they've played. They're currently getting outscored 7-9. Worse yet, they aren't crashing the net with the reckless abandon they're accustomed to. They're not cycling the puck in the offensive zone for days, and Foligno and Greenway aren't skilled enough to thrive without creating that kind of havoc in the crease.
It took the fall of the GREEF line to make it happen, but Minnesota is finally giving Eriksson Ek a linemate with high-end skill.
In Evason's most recent lineup changes, he elevated Boldy to Eriksson Ek's line. It's a beautiful match on paper. Boldy brings the size of a Foligno (6'2") and trades that physicality for incredible hands, and being nearly impossible to knock off the puck. Boldy can play a meat-and-potatoes game where he fires the puck at a goalie and fishes for rebounds for Eriksson Ek to clean up. Or he can skate around the offensive zone and platter a pass to Eriksson Ek at the net front.
It's a move that had to be made for both Eriksson Ek and Boldy.  Boldy's two most common linemates have a grand total of ten 5-on-5 goals this year. Eriksson Ek's two most common linemates have only five. They can each drive their own line, but if no one else wants to go on a ride with them, what's the point?
Besides, Eriksson Ek deserves the opportunity to get a Giroux or Voracek of his own along the wing. Over the last three years, almost no one has taken more dangerous shots than him.
From the start of the 2021-22 season to today, Eriksson Ek's shots have generated 67.6 expected goals, which ranks 26th in the league. Being sandwiched between Brayden Point and Joe Pavelski is pretty great company. Some of that is due to his durability, but Eriksson Ek's elite rank doesn't make him a mere compiler. During that time, he's tied for 34th in expected goals per hour with 1.20. That rate of generating xG matches Jason Robertson, Steven Stamkos, and Tyler Toffoli, which is pretty impressive.
That number gets even more impressive when you consider how much time he spends killing penalties. Eriksson Ek is 15th among all forwards in penalty kill minutes over the past few seasons, and many of the top expected goals generators don't play when shorthanded. This means that Eriksson Ek has his numbers brought down from being on the penalty kill.
Take those minutes away, and he's in the elite of the elite tier of generating scoring chances. When counting just his even strength and power play minutes, he's registering 1.32 xG per hour. That puts him tied for 16th in the NHL with Brendan Gallagher. David Pastrnak sits just ahead of him, and William Nylander is behind him.
Despite his linemates' struggles, he's taken that to another level this season. Eriksson Ek entered Saturday with 1.48 expected goals per hour in all situations. Even including his shorthanded time, that's tied for 16th in the NHL with Nylander and Connor McDavid. Erikkson Ek is already at 20 goals, is on pace for 32, and is doing so despite getting fairly unlucky. He's got those 20 goals on 24.5 xG, meaning he "should" be in the league's Top-20. We suppose the Top-50 is a solid consolation prize.
Now with Boldy at 5-on-5, Eriksson Ek has an opportunity to be more dangerous than ever. And mind you, this is a two-way center enjoying a career year. Kaprizov's brilliance overshadows him, but Eriksson Ek now has 44 points in 52 games. Over an 82-game pace, he's on track for 69 points, his nicest season by a 20-point margin.
Think about that for a second. Despite some mild bad luck and terrible seasons from his linemates, Eriksson Ek has the same amount of points as star centers like Trevor Zegras, Dylan Larkin, and Anze Kopitar. Even with the team spiraling out of control, you can't blame Eriksson Ek, who is trying his best to carry the team with six goals and 11 points in the last 10 games. If Boldy can unlock the next level in Eriksson Ek's game, and vice versa, the Wild might finally have something to work with here.