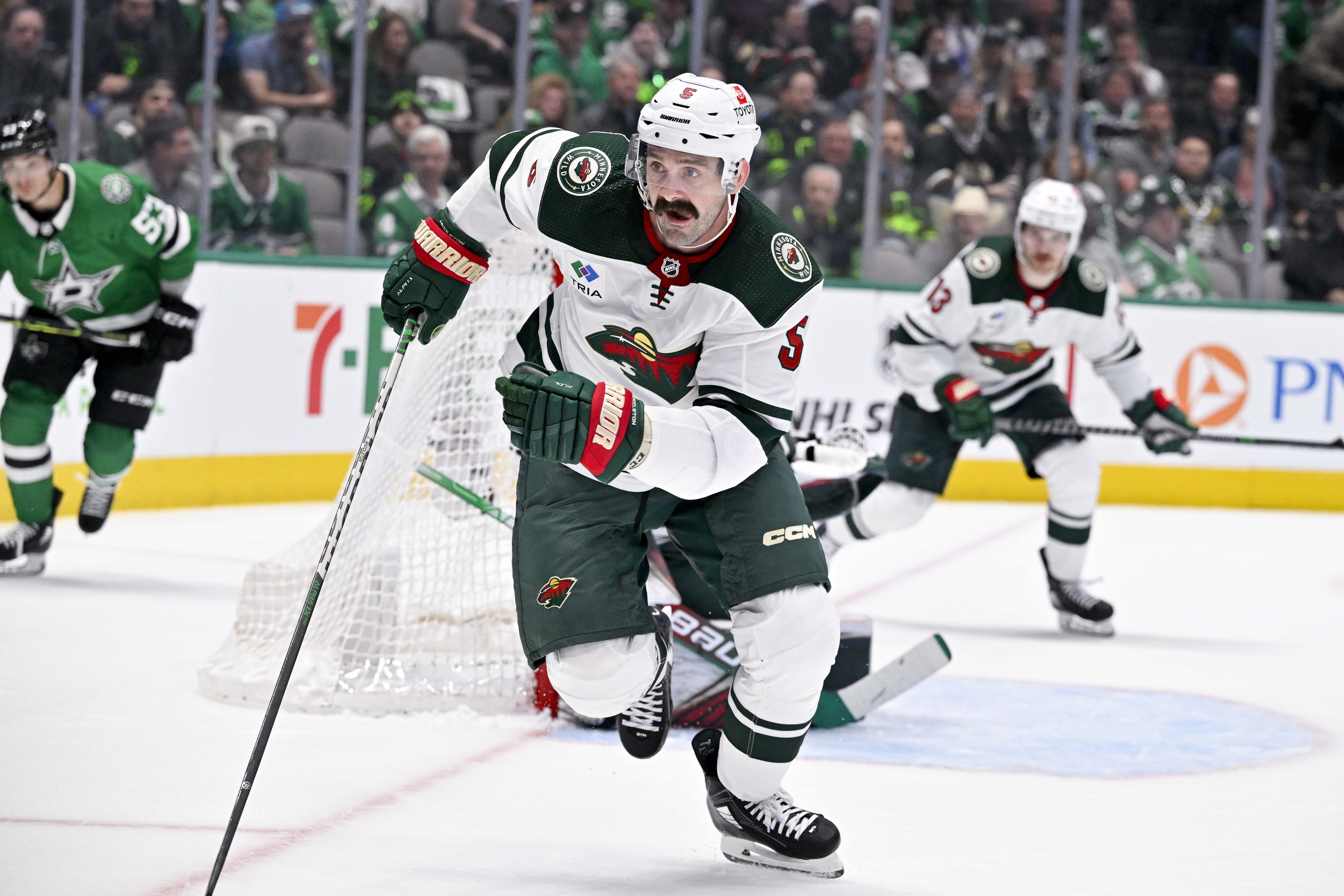 Image courtesy of Jerome Miron-USA Today Sports
For one shining year, it looked like the Minnesota Wild could escape the mushy middle. In the 2021-22 season, the Wild had Kirill Kaprizov and Kevin Fiala to go with a solid underdog supporting cast of forwards and stout defense. Kaprizov and Fiala led their squad to a 113-point season. It wasn't enough to get past the first round, but Minnesota's point total was fifth in the NHL that year.
Reality hit a year later, though. The Wild traded Fiala, and they couldn't replace him internally, which sank Minnesota back to the NHL's mushy middle. Not good enough to be expected to contend, but not bad enough to get into the draft lottery.
Worse yet, it's hard to see how they get out of it next season. Or rather, the only way out is down. But when you've got Kaprizov, Matt Boldy, Joel Eriksson Ek, Jared Spurgeon, and Jonas Brodin anchoring a team, your floor can only be so low. Especially if the Wild bring back Filip Gustavsson, who tracks as being a solid goaltender, even if he doesn't put up another .930 save percentage. 
The worst of the Zach Parise/Ryan Suter buyout penalties has arrived, with nearly $15 million of dead cap anchoring the front office's options. Might Minnesota want to bring in a tall, physical defenseman on the left side like Carson Soucy? You could see it, except Evolving-Hockey projects his next deal to come in at three years and a $2.59 million cap hit. That's way too much! 
Maybe the Wild could bet on Sean Monahan being able to stay healthy this season after he put up 17 points in 25 games for Montreal. What?! At a $2.14 million projection on a one-year deal?! Do you think Bill Guerin works at the Cap Space Factory? 
No, Minnesota's not shopping in the bargain bin this offseason. They're going all-out freegan this summer, foraging for mushrooms and dumpster diving. Get ready to see the Wild extend warm welcomes to the likes of 36-year-old Justin Braun (one-year, $972K projection), fellow tricenarian Erik Johnson (one-year, $956K). Perhaps a gently-used 35-year-old Nick Foligno (one-year, $887K)?
That is unless Minnesota can do something, anything, to generate cap space. It'd be a great idea to do so, except that it's virtually impossible.
As it is, Minnesota has 15 contracts signed for NHLers next season, leaving them with $8.23 million in precious cap room. The good news is that they can easily bump that up to 17 players with Marco Rossi and Brock Faber almost surely locks to step into a roster spot.
Those two making the roster on Entry-Level Contracts puts their cap room down to $6.45 million, but it's basically impossible to fill two roster spots at a much cheaper rate. The league minimum next season will be $775K, so the absolute minimum cap space those remaining six roster spots can take up leaves them with about $1.8 million of spare cap space to throw around.
That's just not enough to bring in... well, virtually anyone. So what can Minnesota do?
This is where things get worse. Generally speaking, the Wild's contracts fall into one of two buckets:
1) Players with partial or full no-trade protection.
2) Players whose removal would send the roster tumbling like a Jenga tower.
The Wild enter next season with only six players making an Average Annual Value above $3.5 million. Kaprizov ($9M), Spurgeon ($7.58M), Boldy ($7M), Mats Zuccarello ($6M), Brodin ($6M), and Eriksson Ek ($5.25M). Which one of those guys would anyone trade?
The more obvious candidate is Zuccarello, who is entering his age-36 season and will be in the final season of his contract. He's a movable asset, at least in theory. But in practice? Yeah, that's a different story.
First of all, Zuccarello has a 10-team No-Trade Clause, which means he can pick 10 teams to block a trade to this summer. If he wants, Zuccarello can veto a trade to virtually any team that will have cap space this summer. Teams like the Columbus Blue Jackets, Detroit Red Wings, and Arizona Coyotes might have the room and will to add him, but Zuccarello and his agent know this.
Furthermore, they can read a depth chart, and know which teams aren't interested in a right winger. Or, hey, they choose to allow trades to unpalatable destinations. Does Guerin want to ship Zuccarello to the Colorado Avalanche, who'd be looking for a Gabriel Landeskog replacement in their top six? Or does the front office want to see him finding chemistry with Connor Bedard with the Chicago Blackhawks? Probably not, right?
There are a lot of ways Zuccarello can be strategic about this, and that's not even considering his relationship with Kaprizov, and what trading Zuccarello could say for the Russian star's future in Minnesota.
As for Spurgeon, who turns 34 in November, and Brodin, who will be 30 this summer, they don't need to be nearly as strategic. They wield full No-Move Clauses next summer.
They're also two players who'd be much, much harder to replace this offseason, even if the Wild could get either to waive their NMCs. Whatever you think of Faber and Calen Addison, are either of those guys going to be Spurgeon? Probably not even if you were able to merge their games into one player. What about Brodin? The fact is, either of them is a much better option than any defenseman on the free agent market.
Forget about trading Kaprizov, Boldy, or Eriksson Ek, too. If you trade any of them, you might as well trade all of them and tear things down to the studs. 
Minnesota's then down to just moving small salaries, all at $3.5 million or less. But even that list is littered with players with trade protections. Marc-Andre Fleury ($3.5M) and Alex Goligoski ($2M) both rock a full NMC, and Marcus Johansson ($2M) has a full NTC. Freddy Gaudreau ($2.1M) only has a 15-team NTC, but his five-year term is probably an NMC in itself for a depth player.
If you're keeping score at home, that's about $15 million in cap space, $21 million dedicated to three building block forwards, and $29 million dedicated to players with trade protection. Add it up, and that's $65 million of an $83.5 million salary cap that's all but unmovable. When your team's base level of flexibility is like $18 million, that's a rough spot to be in.
So what salaries are movable? The Wild are down to just four players that have $1M-plus salaries and no trade protections: Marcus Foligno ($3.1M), Jake Middleton ($2.45), Ryan Hartman ($1.7M), and Jon Merrill ($1.2M). 
Again, which of those players can the Wild afford to lose? Foligno's probably the obvious candidate, coming off a down year. But he's also an alternate captain whose leadership is valued in the Wild locker room. Losing him also shaves off a big part of the physical identity Guerin and Dean Evason pride themselves on.
Even more so for Middleton, their rare source of blueline beef. Middleton might even be slightly overpaid for what he brings, but there's a reason the Wild bit that bullet: They've got no one else to bring size to the defense corps. Without the 6'3" Middleton, the biggest defenseman the Wild have will be... no joke, 6'1" Brodin. Prospects like Daemon Hunt (6'0"), Ryan O'Rourke (6'0"), and Carson Lambos (6'1") aren't going to help in that department, either.
Hartman is next up. Even in a step back from his 34-goal, 65-point season, he was still 75th in the NHL in cost per point, with Minnesota paying just $1.7M for 37 points in 59 games. If you get rid of him, fine. But who's coming in that's replacing that production? 
And if Guerin manages to offload Merrill this offseason, congrats... they've given themselves $425K of flexibility when weighed against a minimum salary.
Even the Wild's tradeable players are in the mushy middle. They don't make enough money for meaningful relief, and too valuable to the team to give up in the first place. It's going to be fascinating to see if Minnesota does do anything to free up the cap room necessary to do more than try to maintain the team they had last season. If they do something more than that, it's going to have to be a seismic shift for the Wild. There's just no other way.