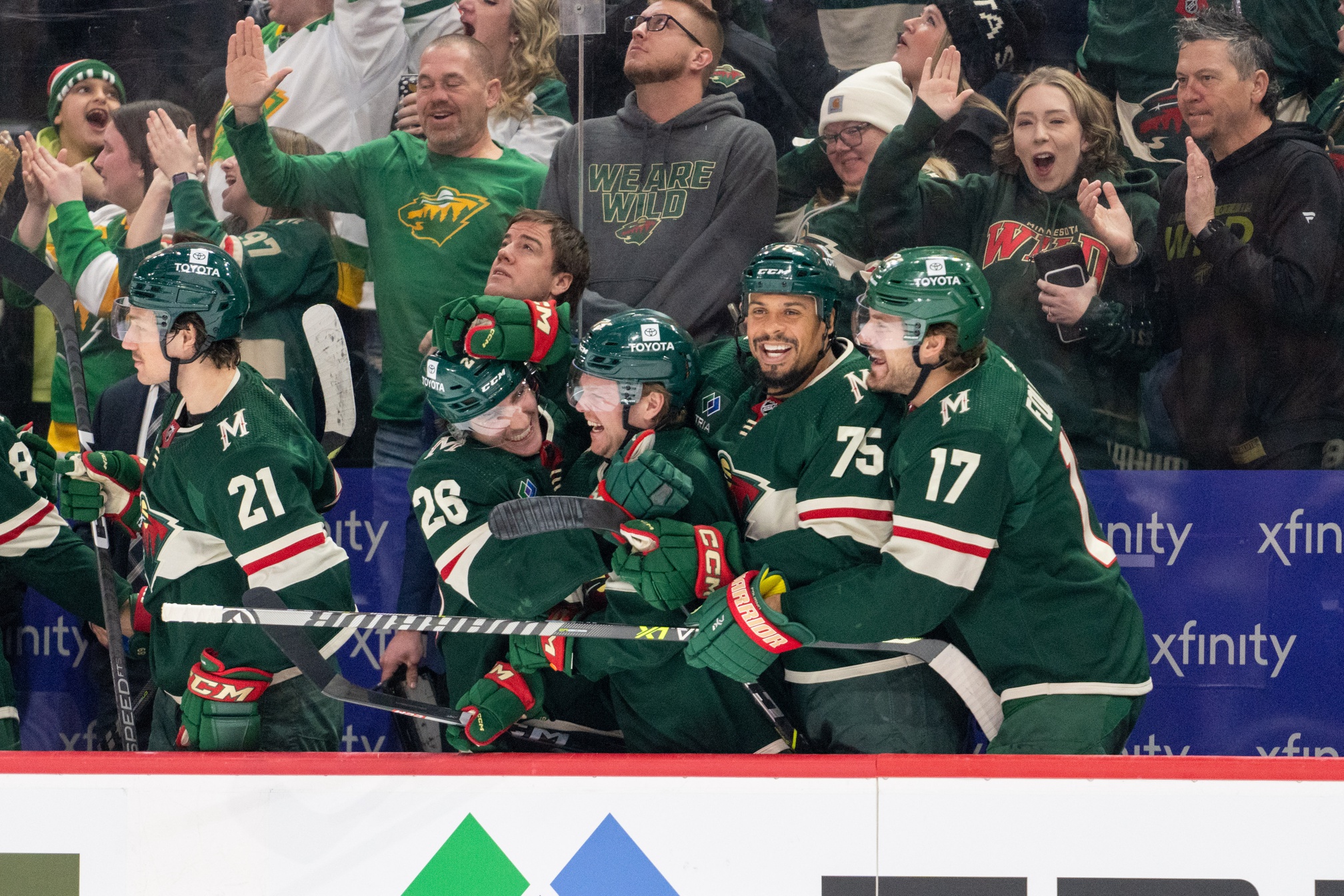 Image courtesy of Matt Blewett-USA Today Sports
One of the biggest contributors to the Minnesota Wild's recent success is their locker room atmosphere. While that idea is frequently mocked by some fans, the truth is that the off-ice chemistry translates onto the ice. Their team-first mentality is an important all-around factor from the players all the way up to the general manager. So what happens now that multiple "locker room" guys may exit the team during the offseason?
One thing to remember is that cohesiveness off of the ice is important. Like most other workplaces, players will want to play more with teammates they get along with. It's hard to win a Stanley Cup, much less a game, if players can't stand the guys they share the ice with.
It isn't hard to pick out the locker room leaders for the Wild. They're the boisterous motivators who aren't afraid to be loud and goofy. The players who are always inviting others to loosen up and join the crowd. They're the first ones to invite the new guys into a conversation. This summer, Bill Guerin will need to take that into account when he puzzles through who to re-sign.
Matt Dumba will arguably be the biggest loss for the locker room. He's been wearing the A for a few years as an outward symbol of his leadership. But fans don't need the patch to figure that out. When Kirill Kaprizov first came over from Russia, Dumba was one of the first teammates to welcome him to hang out during the off-season. He was patient through language barriers to make sure Kaprizov felt comfortable and had a friend. He even coined the nickname "Dolla Dolla Bill Kirill."
Dumba is the most likely player to sign with a different team this off-season due to the looming dead cap space. And it's a shame because Dumba is an authentic player who has never backed down from something he thinks is right. Whether that's standing up for his teammates on the ice or working to advance diversity in the hockey world as a whole, Dumba is the first to make his voice heard. 
Ryan Reaves is another player entering free agency. Critics are quick to point to his faults. He's not as fast as other skaters, he doesn't put up many points, and no one wants to fight the big man anymore. But Reaves is a great example of someone who brings a lot to the locker room, which is part of the reason why Guerin traded for him back in November. Not only is he a big personality who is always willing to lighten the mood, but he's got years of experience under his belt. 
Reaves is also a great example of someone who is willing to do almost anything to stay effective and stay in the league. As the NHL has gotten less physical and added more speed, Reaves has talked about how he's changed up his offseason training. Instead of only hitting the weight room to beef up, he's now working on speed and endurance on the ice.
Young players can learn a lot from him about what it takes to play in the NHL season after season. Reaves continually shows how grateful he is that his career is still going, especially despite the lack of fighting opportunities.
Marcus Foligno still has another season left on his contract, but his name has been thrown around as a possible trade candidate. As the other person who sports the A, Foligno is known for his leadership. He's been spotted inviting rookies out for dinner while on the road to help them feel comfortable. 
Foligno is a great example of someone who can ride the roller coaster of emotions during a hockey season, especially in the playoffs. After having a career-best season in 2021-2022, he came back and had a merely okay season during 2022-2023. He was very open about it and admitted how frustrated he was while remaining accountable for his play.
The playoffs were another place where Foligno struggled. Overall, the way he handled the many questionable penalties called against him was a great insight into how he is as a human. Foligno showed human emotions and, at times, let them get him too riled up. But again, he was willing to take the blame for the additional barrier they added to the Wild's post-season. Young players can look to Foligno as a great role model of someone who, at the end of the day, is a regular guy who happens to play professional hockey.
For each locker room guy the Wild loses in the off-season, someone will need to step in to take their place. The only problem is that while there are certainly younger players ready to step up and take a bigger role in the locker room, what will they bring to the locker room and what will be lost? While a lot of research over on-ice skills and stats goes into any trade or signing, the locker room aspect needs to be a part of Minnesota's consideration when deciding what kind of team to build for next season.
Thankfully, Guerin realizes that, as it's widely known that he likes "character and characters." Hopefully, the locker room during the upcoming season will have a mix of both.