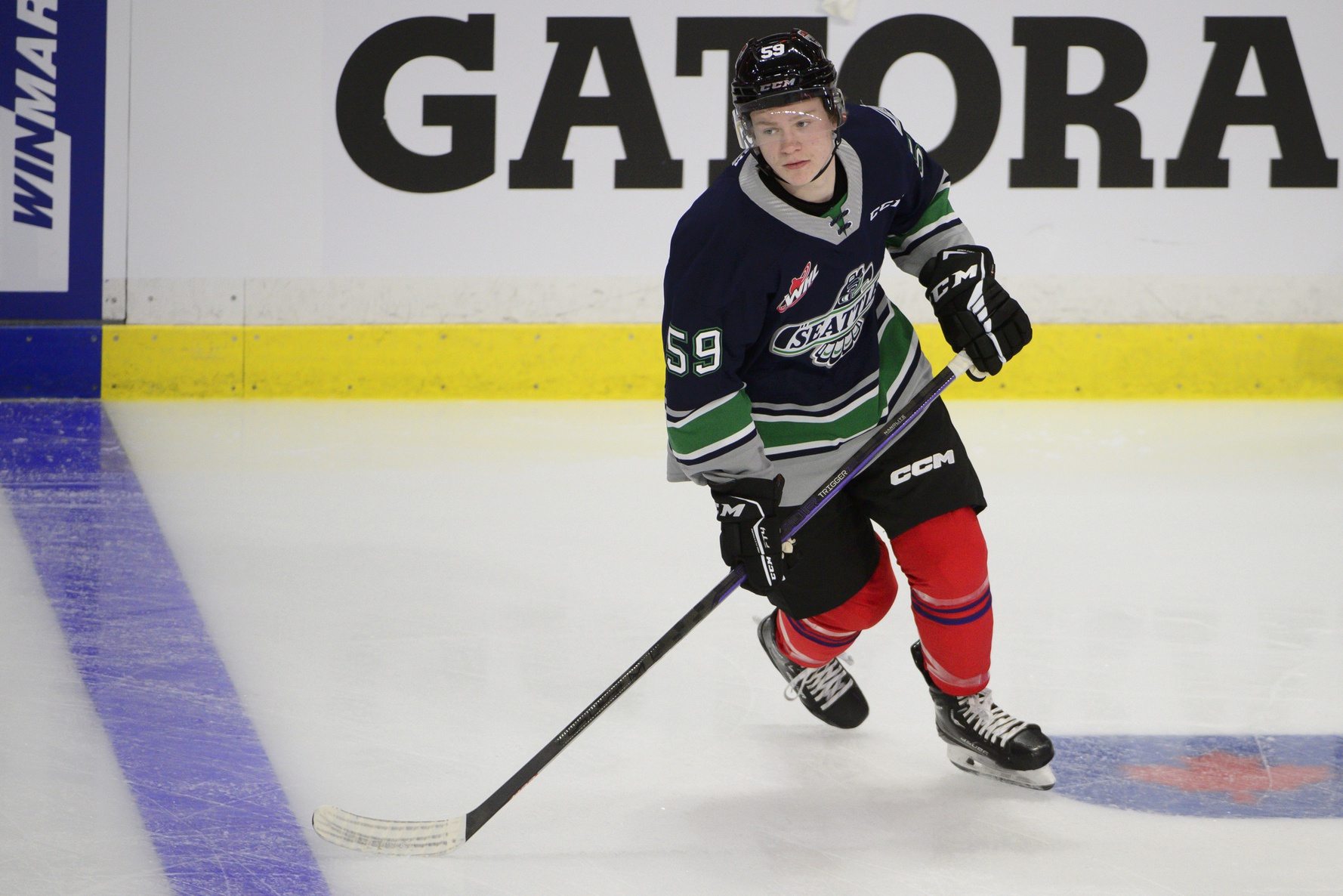 Image courtesy of © Anne-Marie Sorvin-USA TODAY Sports
The first round of the 2023 NHL Entry Draft has come and gone with the Minnesota Wild making their pick at 21st overall and selecting sizeable center Charlie Stramel from the University of Wisconsin with it.
Just because the first 32 names in the flashy first round have been selected does not mean that there isn't top-tier talent available. It is almost a cliché at this point to talk about how there are players who should get drafted higher than they eventually are. Plus, nowadays it is almost expected for at least one late-round pick in each draft to be wildly successful compared to the other picks taken in their round.
Who could those players be? We don't know for sure, but we gathered a bunch of names that we could see the Wild taking with their five remaining picks, which include two in the second round. 
C Gracyn Sawchyn
Sawchyn, a 5-foot-11 center from the WHL's Seattle Thunderbirds is someone real prospect nerds, especially those from Minnesota, should be familiar with. Before going to Seattle, Sawchyn played on the Under-17 National Program team; and before that, spent his time playing minor hockey at Shattuck-St. Mary's, seemingly on the path to take the collegiate route instead of play in the CHL, despite being born in Alberta.
He was ranked as high as 13th overall and as low as 90th this year. That wide variance might just be some pundits not being impressed by a point-per-game center in the WHL. But for Sawchyn, it really is what lies under the hood. He has excellent puck skills and has the top-end offensive awareness that cannot really be developed.
As for the mediocre point total, the Thunderbirds are an insanely deep team that won the WHL championship. Sawchyn was stuck on the third line and didn't get a whole lot of time on the power play, so that severely limited what he could do in his draft year.
The Wild own the 53rd and 64th overall picks in the second round. His name might be called before then. But if it isn't, they should really look at swiping Sawchyn up. Minnesota certainly loves to pick from the WHL anyways.
C Oscar Fisker Mølgaard
Okay we promise we're not just looking at centers. Fisker Mølgaard just feels like a Wild pick and he should be available in the second round. The 6-foot center is one of the few prospects not taken in the first round that had almost a full season of playing in the top men's division of professional hockey.
That experience can be crucial in a player's draft year and Mølgaard was a good enough junior player to earn a total of 41 games for the SHL's HV71, where he scored four goals and seven points. That total was good enough for second behind Leo Carlsson for points from a first-time draft-eligible skater in that league.
The production doesn't necessarily matter because he was a pure depth player, but Mølgaard is known for his skating above all else. He is as smooth as anyone taken beyond the first round. Mølgaard is a toolsy player, hyper aware of his surroundings, and someone who could be a key contributor in all three zones at the top level.
D Beau Akey
A defenseman! If the Wild want to diversify their 2023 draft profile and use one of their second-round picks on a blueliner, then I think Beau Akey from the OHL's Barrie Colts is a justifiable candidate.
Akey is one of the best skating defensemen in his draft class. Maybe not to the same level of a Dmitri Simashev or Tom Wallinder, but they were drafted in the top half of the first round for a reason. The 6-foot blueliner from Waterloo, Ont. is precise with his strides, explosive with others, and his mobility suits his game so well.
With other fleet-footed defensemen, it's expected that they use it for offense. Despite scoring 47 points in 66 games this year, Akey isn't all about the production. He uses his agility and ability to get around the ice at a rapid pace to have top-tier defensive coverage. Akey also can use his solid stick work to knock the puck off even the quickest of forwards.
Akey has the brain to do all of this and anticipate plays in his own end that some scouts are confident that his production will eventually explode if just given the chance to spend more of that brain power on the other end of the ice.
C Luca Pinelli
Pinelli is an interesting case. The Wild might not like the 5-foot-9 center from the OHL's Ottawa 67's (that sounds familiar, doesn't it?) as an option in the second round. But if he drops, he might end up being swiped up.
With no pick in the third or fourth round, the Wild have a large gap and might have to pick up any prospects that are falling. Because of his size, Pinelli might be one of them but he has been projected as high as the 37th best prospect in his class.
There is a fast pace to Pinelli's game, and he is often able to catch defenders much larger than him by surprise with some quick reactions and always thinking a step or two ahead of the play. He isn't afraid to attack any player that is on their heels and get along the boards to get the cycle going for his team. Pinelli might be a player who has excelled at the junior level because of things he can do in non-professional hockey, but he's worth a late-rounder if he's there.
LW/RW Alex Čiernik
Čiernik might not be available with the Wild's fifth-round pick. But in this scenario, we would love it if the Wild traded into the third round and selected this dude. A 5-foot-10 winger that played the majority of his draft year in the Allsvenskan (the men's second division in Sweden) against players older than him, the Slovakian is known for his skating -- that's a theme, here -- that is necessary at the top professional level with the slightly smaller frame that he has.
He has not developed a very physical game yet, because he is used to just being able to use that skating effectively to dodge everyone. However, that could be expected as he grows older.
Drafting Čiernik would be banking on his development because he is either staying over in European hockey for his entire career, or can make it out as a nice middle-six winger that plays in all three zones. A boom or bust.
D Rodwin Dionicio
Drafting over-age players might be the new draft strategy for some teams looking to take advantage of others looking at the year a player was born and tossing them aside with the preference for more upside. Defenseman Rodwin Dionicio was already passed by all 32 teams seven times last year. However, the New Jersey-born the 6-foot-2 defenseman who played his minor hockey in Switzerland should get selected this time around.
He's currently playing for the OHL's Windsor Spitfires and working his magic for them. He isn't the best skater -- despite having an obvious preference, that can be worked on -- but his offensive awareness and ability to manipulate puck coverage to work for his team is excellent. That's what earned him 43 points in 33 games as soon as he made the move to Windsor mid-season last year.
Dionicio doesn't get around the ice easily, but he's deceptive with his puck-handling and ability to pass the puck that sometimes it isn't an obvious hinderance.
For the Wild, they have opted to take more safe defensemen -- Daemon Hunt, Carson Lambos, Ryan O'Rourke -- with their top recent selections, but Dionicio can be a cool project for the development staff and he deserves a shot. If he ends up falling to the fifth round, it's a no-brainer.
RW Kasper Halttunen
Kasper Halttunen is a favorite because he is physical while being good at hockey. He might end up getting selected before the Wild pick in the second round because of it, but the Finnish player that spent 27 games playing in the top-division Liiga this past year is an interesting player.
He's physically great but his shot might even be better. There is a reason why for the Under-20 junior team this year -- before his call-up to the top division -- he scored 18 goals in 18 games.
Haltunnen is a physically mature player, standing at 6-foot-3, but can combine that with some very good offensive tools to be a potentially solid contributor in the NHL. The knock on him is that sometimes he can become tunnel-visioned with scoring goals, and when it doesn't come easy, he just keeps on rifling the puck and handing over possession. He's not someone with a whole lot of underlying interest and the tools to make it as a professional when the production isn't there. He can score goals and be a presence on the ice. But sometimes he's a negative player out there.
If everything comes together there is a great middle-six winger ripe for the taking that has an NHL body, but it might not be worth the risk for some in the second round. He feels like someone not willing to drop so if the Wild take a "safe" pick with their first second-rounder, Halttunen isn't a bad option with their second.
There is just so much talent still on the board, and we'll see Bill Guerin and his team make five more selections before the day is over, barring any trades.