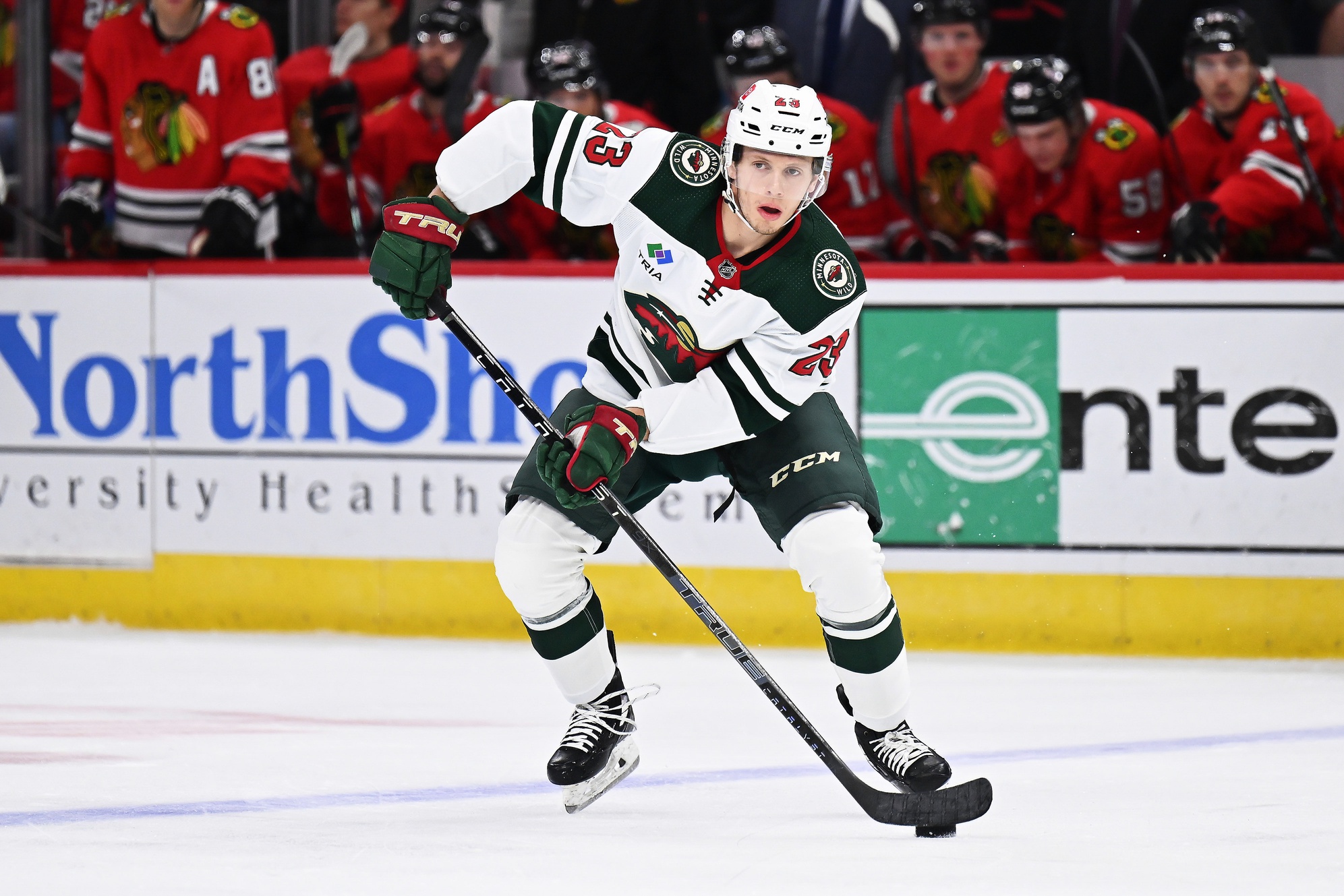 Image courtesy of Jamie Sabau-USA TODAY Sports
Hockey Wilderness is counting down the Minnesota Wild's Top-10 Prospects, as voted by our staff. Today, we give you everything you need to know about our No. 3 prospect, Marco Rossi.
These annual rankings are generally a time of hype and optimism. Everyone on our list so far is a good prospect, with potential to maybe even be really good, if not great. We look at these rankings and pencil out a future lineup that includes most, if not all, of these young players.
Statistically, that's not going to happen. Obviously, some will pan out. Maybe even most of them. But even highly-touted prospects don't quite make it, and a farm system rarely delivers on 100% of its promise. That reality does little to temper the good vibes train. Why would it? It's summer, and the future is inherently exciting.
Marco Rossi is probably the only exception to this rule. The 2020 No. 9 overall pick has many in the State of Hockey bailing on him like they do with Pronto Pups the day the State Fair ends. Last season, he was fighting it out with Jesper Wallstedt as the Minnesota Wild's top prospect. Now, he just barely avoided getting bumped down to fifth place in our voting.
What made people forget about the two-way promise that made him a first-round pick? How could there be so much pessimism surrounding a center? You know, the thing the Wild have desperately needed since forever. Rossi put up 104 points in 116 AHL games before turning 22. Why would there even be noises about the team souring on him and potential trades involving him this summer?
The answer amounts to 21 career NHL games. Granted, he scored one point in those games. But we're talking about fewer than 270 career minutes spread over two seasons. Dudes like Pontus Aberg, Kyle Rau, and Tyson Jost have gotten more run with this club recently.
That simply shouldn't have happened. Not for a kid this skilled, not for a team that needed an influx of talent at center. Rossi should have gotten more of an NHL opportunity. Remember, the Wild started the season with Rossi on the roster, only to start showing hesitancy to play him by Game 2. That happened all while Minnesota demoted Ryan Hartman from being Kirill Kaprizov's center and giving an audition to Freddy Gaudreau before Sam Steel seized the job.
Yes, that's the same Steel Minnesota liked so much that they let him walk, despite costing their Central Division rivals, the Dallas Stars, $850K to sign.
Enough is enough. The Wild already invested a sizable chunk of their future in Rossi taking over the No. 1 Center role. They opted not to trade him for futures, essentially recycling a first-round pick, this summer. Potential centers in Marat Khusnutdinov and Danila Yurov could be pushing for a center role as soon as next year. Minnesota has to see what he can do in between Kaprizov and Mats Zuccarello.
The question is: Are they willing to do it? 
In a KFAN town hall Dan Barreiro hosted on August 15, Barreiro pressed Bill Guerin on that very question. Doesn't it make sense to commit to Rossi in that spot and find out what you have in him?
"If you're looking at it from any other seat than mine or Dean [Evason's], yeah, that sounds great. Just commit to it and stay with it! OK, great," said Guerin. "When Zuccarello and Kaprizov come walking in your office, what are you gonna say now? Or when he can't do it yet, and he has zero confidence, and he comes walking in your office, what are you gonna do now?"
Uh-oh.
Look, it's the offseason, and Guerin doesn't make that call. We understand that he can't make a hard commitment and promise a player a prime roster spot out of training camp. But combined with how the Wild have treated him before, this reads as going beyond a standard non-committal answer.
Look, we ask our guys to compete, Guerin could have easily said. Spots are there for our players to take, and we want them to take those jobs, like Matt Boldy did two years ago, and like Brock Faber did in the playoffs. We know he's been working hard this summer, but that's up to him to finish the job in training camp.
Something like that might have been a canned answer or standard GM-speak. But that boring response would at least give Rossi a vote of confidence that yes, he can win the job, and a challenge to take it.
Instead, what does he lead with? What if he fails? What if his teammates buck against it? Is he going to break?
It almost reads like fear, which has seemed to be the thing holding Rossi back from opportunities over the past two years. At first, caution was warranted. When he came back from his bout of myocarditis, there was a logic to making sure he could handle the rigors of a full season of hockey. It was unfortunate that the team so desperately needed his services, but you can at least understand why the Wild didn't bring him up in 2021-22.
But he was an afterthought from mid-October on last year, and that read as fear. Not just the coaches seemingly worrying that a rookie mistake might mess things up instead of the perceived steady hands of Hartman, Gaudreau, and Steel. But also, for a fanbase increasingly guarding themselves against the shoe dropping on a top prospect. What if he's Luke Kunin, or James Sheppard, or Zack Phillips? Should the Wild have grabbed Player X instead in 2020?
It's August. Every team is 0-0-0, and no player will average below a point per game for almost two more months. Why lead with fear now? Especially because the cautious mentality is something Rossi himself is working to eradicate from his mind. Back in June, he told The Athletic's Joe Smith that he deleted his social media? Why?
"It was too much for me," Rossi explained. "You see all the comments. Then you start thinking, 'What if? What if?' That's not good."
Rossi has fought long COVID and worked his way back to professional hockey. He finished top-two in scoring for his AHL club while earning an "A" on his chest as a 21-year-old. Those are impressive accomplishments, and yet, he still has so much more to overcome.
That hill to climb threatens to overshadow his talent, which is notable. In his first AHL season, he started strong and faded down the stretch. Last season, the opposite happened. The Iowa Wild made him their workhorse, and he dragged a depleted squad into the playoffs. He scored 11 of his 16 goals en route to 35 points in his final 35 games. Rossi even added two points in two Calder Cup playoff contests.
But it sounds like Rossi is ready to break through the noise and shine this fall. Through all this, he's done what the team has asked of him. He built on his game and worked at changing his mindset on the ice in Des Moines. The Wild asked Rossi to stay in the United States rather than going home to Austria to work on his strength and skating. He's done it, no complaints. Anything he feels will help him make the team, he's game for.
"This is my time," he told Smith back in June. "I know I can make it." You'd like to see the organization and the fanbase have more confidence in the top prospect, but it appears that Rossi has vanquished the fear. Maybe that's all that matters. 
2

1