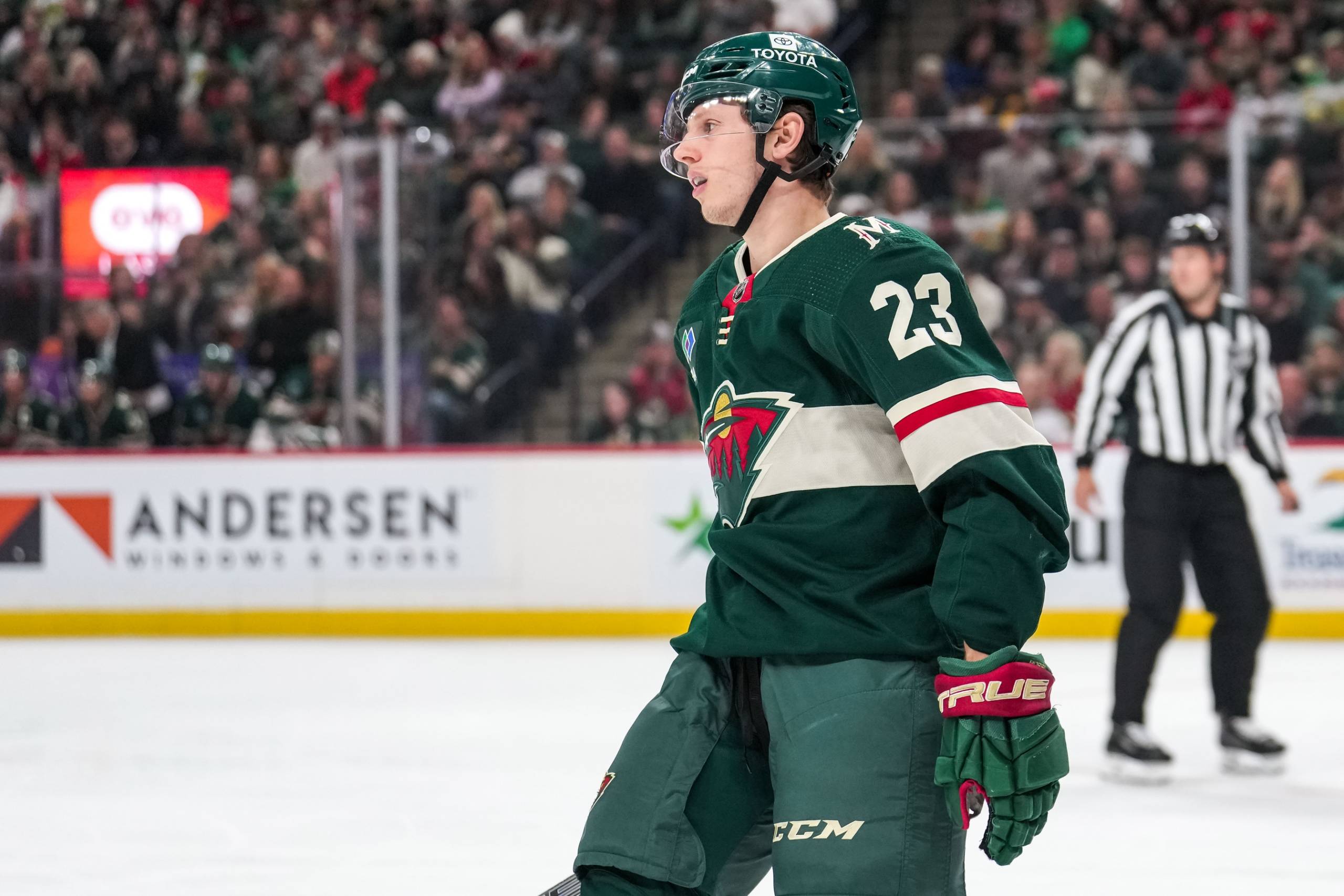 We're just two games into the season, and we must address Marco Rossi's playing time once again. The push and pull arguments over his deployment are well documented at 10K Rinks. Were the Wild creating issues for themselves by putting Rossi, the No. 9 overall pick in 2020 who led the preseason with 9 points, on the fourth line? Or was this a necessary confidence-building step for a kid with a ton of pressure on him?
One-hundred-and-twenty minutes into the season, we already have our answer. The Wild's first two games, a 7-3 loss to the New York Rangers followed by a 7-6 defeat at Kevin Fiala's Los Angeles Kings, have been disastrous. In both games, Rossi was a complete afterthought.
And apparently, he's an afterthought for tonight's game against the Colorado Avalanche. The Minnesota Wild called up Mason Shaw, whose insertion into the Wild lineup positioned Rossi as a healthy scratch. A practice-time injury to Mats Zuccarello may put him in. But the fact is that we're already talking about scratching the guy who is their future at center.
Let's review how we got here so quickly. In the Rangers game, Rossi played just 10:24 minutes on the fourth-line alongside Connor Dewar and Brandon Duhaime. That includes under eight minutes of 5-on-5 playing time. It's an unusually small amount for Dean Evason, who deployed his fourth line much more often last season.
It's hard to read too much into one game. After all, the Wild were down big, it was Opening Night, and 10:24 is fairly typical ice time for a fourth-liner. But combine that with Saturday night's game, and it's clear something is up. Rossi got just 4:33 of playing time. That includes only two shifts in the second period and two shifts in the third.
What did Evason have to say about that usage of the top prospect? Not much, or at least not much that made sense.
Remember, Evason is a coach who not only denies matchups dictating his lineups (except in extreme situations, like having Jonas Brodin shadow a player like Connor McDavid). He's almost militant in never implying that he has any sort of hierarchy within his lines. It's not Evason-like to concede he even has a fourth line, let alone that they can't play against anyone.
Saturday wasn't even a case where the top lines were rolling so well that Evason had to lean on them. Ryan Hartman's play has been so awful through two games that Evason replaced him on Kirill Kaprizov and Zuccarello's line. It seemed like a natural opportunity to put Rossi, who scored a goal and assist in Hartman's spot during a preseason game, in an elevated role with nothing to lose.
Instead, they swapped Freddy Gaudreau into that spot. In doing so, he took apart his combination with Matt Boldy and Sam Steel, which has probably been their best 5-on-5 line through two games. Again, this feels not-at-all Evason-like. When something works for Evason, he sticks to it. He never changes up the so-called GREEF line, for example. Boldy and Gaudreau are fixtures in this lineup.
Except, apparently, when the alternative is putting Rossi at the top of the lineup.
Sure, you, can point out that Rossi's stats aren't great on the fourth line. He has no points, one shot attempt, took a penalty, and opponents have out-attempted him 4-12 at even-strength.
At the same time, we're talking about less than 15 minutes of game action over two games. Simply put, this is not a role that the Wild have been preparing Rossi for at any level. Last season, the mandate for Rossi was to get as many minutes as possible in the AHL. We're talking Top-6 deployment, with a steady diet of power play and short-handed time.
In the preseason, Rossi may not have always skated with the most talent, but he still got those types of minutes. Rossi was fourth among Wild forwards in averaging 12:46 a night, with three minutes of power play time and another minute of penalty killing thrown on top of that. That allowed Rossi to get into a rhythm during these games, which was undoubtedly part of his success.
How do you get any sort of rhythm when the actual time between your shifts might be 45 minutes? Are Dewar or Duhaime, who have a combined 23 points in 119 NHL games, going to provide the necessary spark to help a rookie along? No. The Wild aren't putting Rossi in a position to succeed, and the way things played out was entirely predictable. 10K Rinks has the receipts!
It's not like the rest of the team is playing great hockey. Again, Hartman has been bad enough to get demoted two games after a 34-goal season. Tyson Jost is replacing Hartman in a top-line role tonight, and he struggled in two games with possession monsters Joel Eriksson Ek and Marcus Foligno. What indicates that he's more ready for that spot than Rossi, who's had far less opportunity than Jost?
As frustrating as it was to see a Cup-contending Wild team put Rossi on the shelf last season, at least there was a logic to it. You might not like not going all-in to protect your cap situation three years from now, but having Rossi on an ELC in 2024-25 is a tangible benefit.
What's infuriating about Rossi's handling now is that it doesn't make any sense. Is there a benefit to playing Rossi so sparingly that you're scratching him before the season is a week old?
Heck, even if the Wild made this development plan with an eye on shuttling Rossi to the AHL for some more seasoning, this is a pointless exercise. Sure, no fans would be happy to see Rossi in Des Moines. But wouldn't having him start there and wait for a spot to open be preferable to this potentially confidence-killing exercise?
Obviously, there's time for this to play out, time for Rossi to get more minutes and even find his way into a big role. But in the meantime, the Wild are 0-2, and fan morale is down enough to the point where the Xcel faithful booed their goalie on the second night of the season. Those same fans may have also felt frustrated from watching Fiala, their second-leading scorer last year, pants them to the tune of three points in their first meeting after Minnesota decided they didn't want him.
This season has been low on success and excitement so far. For the moment, Evason and the Wild are determining the best solution for both doesn't involve the talented Rossi leading the way or even taking on any real role. Worse yet, they're opening the door to the type of scrutiny and pressure that starting on the fourth line was supposed to help him avoid.
It'd be one thing if this development path was helping Minnesota win or was even helping Rossi improve. Instead, it seems to be holding both parties back. Evason found tons of success by trusting Kaprizov and Boldy to make plays and to give them the tools to do so. To get the team and his top prospect back on track, he has to find it within himself to do the same for Rossi.