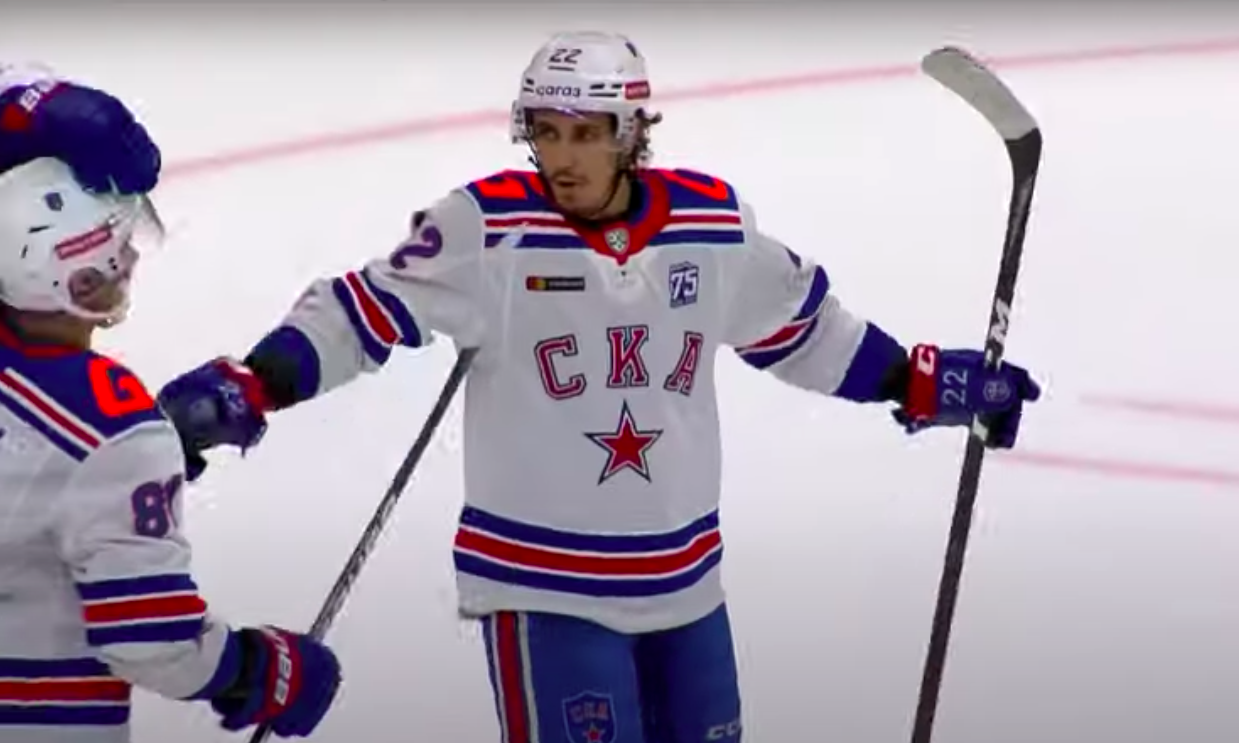 Image courtesy of KHL YouTube screenshot
Hockey Wilderness is counting down the Minnesota Wild's Top-10 Prospects, as voted by our staff. Today, we give you everything you need to know about our No. 4 prospect, Marat Khusnutdinov.
This story starts off with a thank you to a former Hockey Wilderness Top Prospect, 2016 first-round pick Luke Kunin.
The Wild shipped off their solid-but-stagnating player out of the University of Wisconsin in a trade that got them Nick Bonino, a second, and a third-round pick. They packaged that third-rounder with a fifth-round pick to trade up for Daemon Hunt, the No. 9 prospect in this series. 
That's not who this story is about, though. Because -- that second-rounder? Yeah, he's pretty darn good. 
If you don't already know who Marat Khusnutdinov is, well, now may be the time to tune in. 
Khusnutdinov recorded 11 goals and 41 points in 63 games as a 20-year-old in the second-best league in the world. While that may not seem that incredible, his 2022-23 season stands as the fourth-best point total by a 20-year-old in KHL history. We're talking better than the likes of Pavel Buchnevich, Artemi Panarin, and even the Thrill himself: Kirill Kaprizov. 
He was the most productive U-23 player in the KHL as a 20-year-old. The KHL named him Prospect of the Week back in early February. He even broke a record that was held by Kaprizov and Evgeny Kuznetsov. Both of those famous Russians had 25 assists in their age-20 seasons. Khusnutdiov smashed that record by notching 30. He outperformed his age group, and the year above him, and the year above them. The Russian doesn't just play bigger than his size, he plays bigger than his age.
Speaking of size, he comes in at 5-foot-9, 165 lbs. But you'd never know it by the way he plays. He never stops working, playing like a grinder in dirty areas and around the net. He might occasionally get beaten physically, but still plays with a fiery ferocity. 
Khusnutdinov is an animal in the defensive zone. He is active with his stick and his hands and forces turnovers fairly routinely. His Hockey IQ really shows through in his defensive game, which certainly helps him as he plays center for SKA St. Petersburg. 
"Khusnutdinov has good overall skill and an engine that's always ramped up," says The Athletic's Scott Wheeler, "engaging himself in the play and making quick decisions from A to B to move the puck, track the play and make quick, small skill plays in between."
The Russian speedster is a fantastic transition player, which he demonstrated at the junior level and in international competitions with the Russian team. Khusnutdinov does a fantastic job at carrying the puck from zone to zone, a one-man breakout machine whether that's with his unreal vision or his skating ability. 
"He's effective, he's talented," Wheeler continues, "he can skate and he's going to battle to compensate for his deficiencies. That's a good player."
Khusnutdinov's shot is not booming, but crucially, it's quick and fast. The puck won't be glued to his stick, but his hands are still filthy. He's a complete player, performing well in almost all aspects of the game. You could say his size is a weakness, except that hasn't held him back at any level. 
He's also getting a ton of practice in the faceoff dot. He averaged more than 10 faceoffs per game last year and won 350 of his 671 draws (52.2%). That's a huge workload for a kid who can't legally purchase alcohol in the U.S. No center on the Wild turned in a positive faceoff percentage last season, so Khusnutdinov might eventually be Minnesota's go-to option.
There's also another crucial aspect to consider: the vibes. The young Russian is an infectious personality that is a positive force in the locker room. Look how much fun he's having.
Khusnutdinov's teammates certainly enjoy his presence with how he plays on the ice and how hard he works. He's been picked to wear a letter for his junior team and his KHL squad. His attitude does not go unnoticed by his coaches or teammates. 
The centerman should get top-line minutes this season with SKA, which will be great for his development. He has a chance to bolster his reputation and break some more records. 
SKA won't just give Khusnutdinov big minutes. They'll give him big minutes with one of the KHL's best teams. They were in the Conference Finals last season, and they could be in for a better year with the development of Matvei Michkov, the Philadelphia Flyers' top prospect. So, the Wild may not get him until the end of the KHL playoffs, around late April. That would line up with the first round of the NHL playoffs, and it's unlikely Minnesota would debut a prospect in the middle of a playoff series. 
But really, who knows? They might have done it last year when Joel Eriksson Ek was injured if they'd had the chance.
Most likely, though, Khusnutdinov will be entering his age-22 season when he finally is ready to make his NHL debut. Assuming Khusnutdinov puts up similar numbers this next year in the KHL, going to Des Moines for AHL minutes might not help him much.
Luckily for him, the Wild may have some spots opening up. Ryan Hartman, Mats Zuccarello, and Marcus Foligno all having expiring contracts. Minnesota could re-sign any or all three of these players. But with Khusnutdiov and other prospects on the way, the Wild may choose to save some money and let their veterans walk. 
So if Khusnutdinov can find his way onto the NHL roster, where would he fit? 
It's hard not to look at Khusnutdinov's game and not think about Mats Zuccarello. They are small, crafty players who excel in passing the puck. Kaprizov and Zuccarello have been so close, but having a fellow Russian skating alongside him might ease Kaprizov into a post-Zuccarello world. If Khusnutdinov lines up next to his fellow countrymen, he could be playing center or wing. Khusnutdinov's game is pretty versatile and plays well at either position. 
That means he's also an interesting candidate to replace Hartman in the top-six. The Wild need a find a way to save money on players next season, and probably beyond. This is one way to do it. Hartman is certainly in line for a raise, and Minnesota may not be able .  
Khusnutdinov's rugged playstyle should intrigue Dean Evason, which may mean he won't be as hesitant to play Khusnutdinov as he has been with other rookies. It helps that the young Russian will also be on the older side. At age-22 and with almost three full years of professional play under his belt, the learning curve will not be as steep for him.
Giving Khusnutdinov the chance to play next to his fellow countryman could launch him to immediate success in the NHL. He has the skills to integrate himself well into Minnesota's lineup. His two-way game and defensive ability are good enough to fill Ryan Hartman's spot. And if they ask him to approximate the passing and vision of Zuccarello? It doesn't look like that will be a problem. 
Khusnutdinov has a plethora of skills that have made him an effective KHL player, which should translate to the NHL right away. From his Hockey IQ and vision to his effortless defense, Khusnutdiov has what it takes to take a starring role in Minnesota. If he keeps it up and improves on his glorious campaign from last year, the spot in the lineup will probably be waiting for him here.
All he has to do is take it. 
All stats and data via HockeyDB, Evolving-Hockey, CapFriendly, and QuantHockey unless otherwise noted.
4