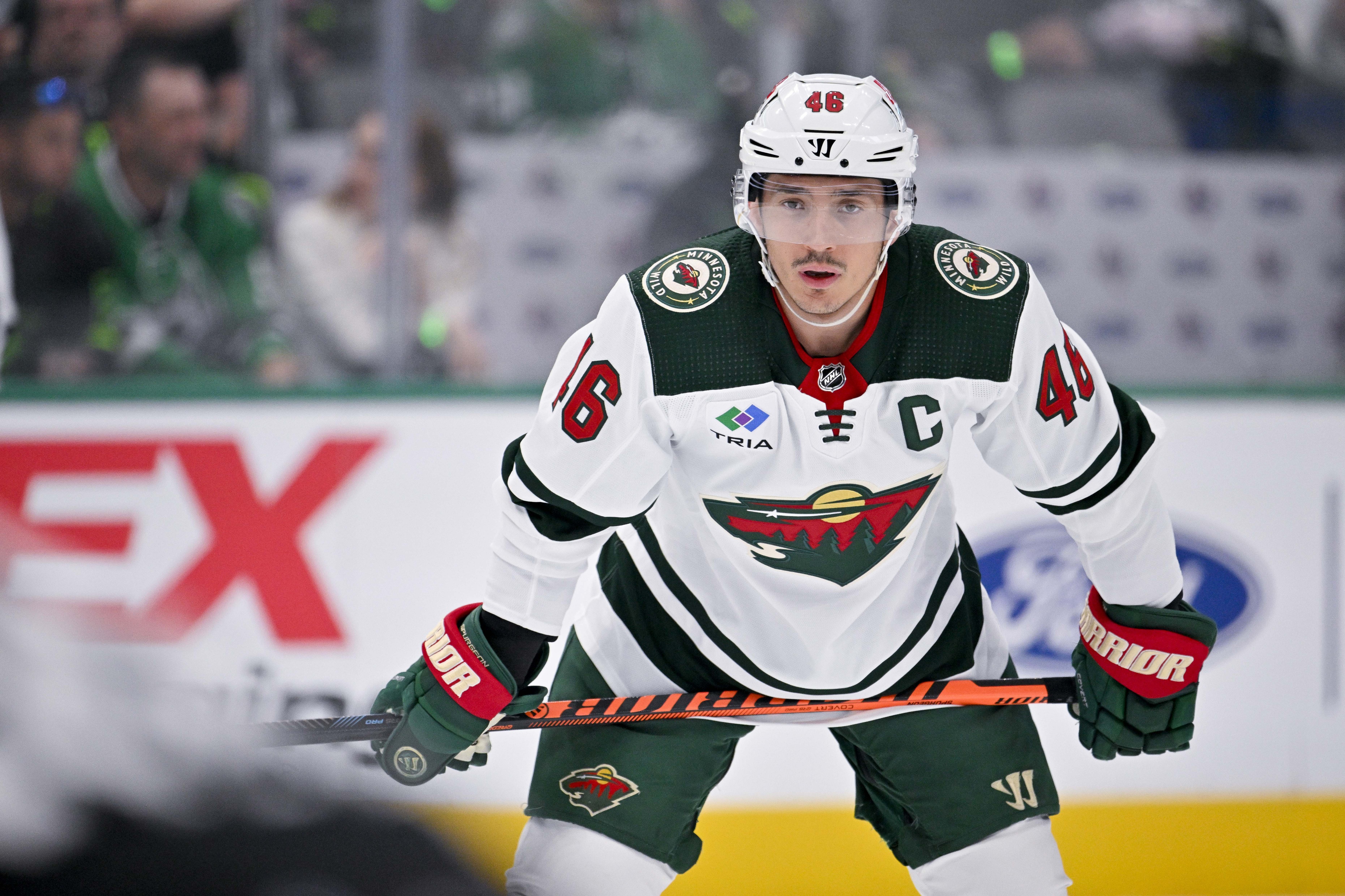 Image courtesy of © Jerome Miron-USA TODAY Sports
Hockey Wilderness is counting down the Minnesota Wild's Top-10 Prospects, as voted by our staff. Today, we give you everything you need to know about our No. 9 prospect, Daemon Hunt.
It was mid-March of this past season. Kirill Kaprizov was scheduled to come back from his lower-body injury soon, but the Minnesota Wild were clinging tightly to red-hot goaltending to keep their playoff positioning alive. The offense wasn't completely anemic, but outside of Matt Boldy's scoring streak, the Wild were struggling to control games.
At the same time, top prospect Marco Rossi was in the midst of his most successful stretch of hockey as a pro. He was scoring at will for the AHL Iowa Wild, and the idea of a Rossi call up to help spark the St. Paul team began circulating.
As I had done the year before, I decided it was time for a middle-of-the-season film review on how Rossi was progressing. And while watching a handful of games, Rossi certainly stood out. But there was another, less heralded prospect who I couldn't stop noticing. I kept training my eyes to No. 23 in white as part of my assigned project, but a big, rangy No. 52 kept distracting me.
In his first full season as a pro, Daemon Hunt sure didn't look out of place in the AHL last year. As a result, his impressive rookie campaign has vaulted him to his first appearance in the Hockey Wilderness Top-10 Prospects list. In fact, his style of play and progression as a defender could make a world of a difference for the Wild's suddenly aging captain.
It's hard to believe, but long-time blue line pillar Jared Spurgeon, turns 34 in the first half of the NHL season this year. While the diminutive right-hander continues to play at a high level, history suggests that his play will begin to decline at some point during the final four years of his contract. And while Jake Middleton creates a serviceable tandem now, at some point, Spurgeon will need a defensive partner who can shoulder some of the heavy workload he currently carries. It sure seems like Hunt could be that guy.
Through his prime, Spurgeon has been nothing short of spectacular. Where he lacks in size, he more than makes up for in a combination of elite skating and intelligence. While his point totals have limited his chances at a Norris Trophy through his career, his ability to defend, along with his impact in the transition game, has made him an elite level defender for almost a decade.
But as Father Time zones in and eventually catches up to Spurgeon, he will need a defensive partner who can mirror some of those same characteristics. Again, Middleton is a fine partner now, but only because Spurgeon shoulders so much of the offensive and transitional responsibility bestowed upon that pair. What happens if the latter begins to show signs of slowing down? The Wild will need to insert either a prospect or free agent to help insulate some of Spurgeon's decline.
Insert: Hunt, Minnesota's third-round pick in 2020.
Hunt's game has evolved drastically over the past few years since they drafted him. After all, third-round picks are rarely polished and NHL-ready. But his talent was evident when Hunt began his WHL career with the Moose Jaw Warriors. While the point totals were not quite there, his above average-to-elite skating and physical style when engaged with an opponent led to him becoming a mainstay in the lineup.
The stats weren't eye popping through his first two years in juniors (35 points in 85 games), but that didn't stop the Wild from trading up to select him in the third round in 2020. Since then, Hunt's game has elevated to another level. Over his last two seasons in juniors, Hunt became a true two-way player. Not only was he shutting opponents down on a top pairing with eventual 12th overall pick in Denton Mateychuk, Hunt became an offensive force, as evidenced by his 57 points in 69 games.
Some could be justified in claiming his late junior success was due to playing alongside Mateychuk, a top talent. But when you watch Hunt closely, it becomes very apparent he is buoyed by an above average defensive partner, not carried. There is a distinction. And Hunt carried that success into his first year as a pro in Iowa last year.
Just as he did as a junior in Canada, Hunt didn't immediately blow the doors off the AHL with his point totals. He only secured 11 points in 59 games. But his all-around game and offensive potential was still noticeable.
Below is the play where Hunt made me almost fall out of my chair in excitement this past year when I was trying to evaluate his teammate, Rossi. It's plays like this which jump off the screen and make any coach drool at the impact Hunt could one day have on an NHL club.
That's not an outlier in his game. Hunt remains a work in progress in becoming a complete defenseman, but the tools are clearly there. He is already a fantastic skater with an above-average shot. His defensive game is also progressing, and he already possesses that Bill Guerin "f- you" to his game.
For those reasons, it's easy to project Hunt as the type of defenseman who could complement an aging Spurgeon in a year or two. As the Wild captain enters the latter years of his career, there is no doubt he will remain a valuable part of Minnesota's plans. Middleton works nicely with him now. But eventually Spurgeon will likely need a partner who can take on the burden of quickly retrieving pucks from corners, jump-starting the transition game, and climbing to join offensive rushes.
If Hunt can continue progressing as a puck-moving defenseman, it can allow Spurgeon to slide into more and more of a defense-oriented, stay-at-home defenseman role as he captains the Wild through their true contention window years. Hunt may be No. 9 in our prospect list, but his eventual role could be so much more impactful to the Wild and their franchise icon than that ranking suggests.
5