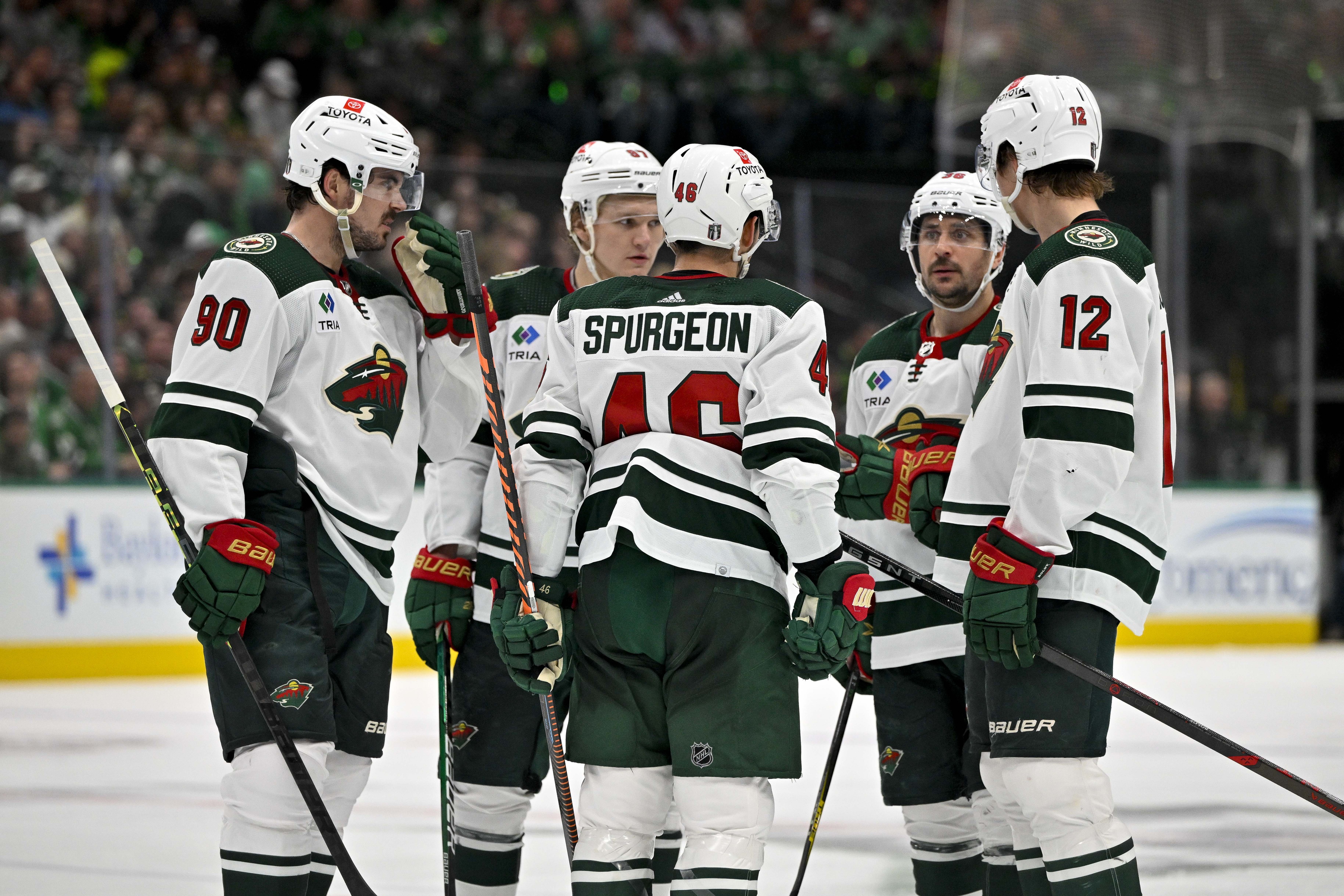 Image courtesy of © Jerome Miron-USA TODAY Sports
Most of the offseason chatter surrounding the Minnesota Wild is about the free agents they could sign. With so many contracts expiring, fans seem to have a sense of urgency. While everyone waits for news of a new player they've signed, let's keep in mind the core players that the Wild already has under contract. The salary cap is obviously an issue, but Minnesota has been strategic about who they sign to longer contracts, and it's strengthened the core of the team.
Minnesota's longest contract belongs to Matt Boldy. He made big news with the seven-year, $49 million deal he signed in January. Boldy's superstar skills and his young age (22) mean he's probably got much more untapped potential. There will be growing pains, as we learned in the playoffs. But there will also be times of amazing playmaking, like the 14-goal, 21-point performance he put up in the 15 games following Kirill Kaprizov's injury.
Joel Eriksson Ek, 26, has six more years left on his contract and is one of the most important players on the team due to his jack-of-all-trades playstyle. Not only does Eriksson Ek play on both special teams as well as being one of the first players tapped to play 3-on-3 during overtime, but he's also maturing into a great center. While his faceoff percentage started in the low 40s early in his career, it was 49.4% last year. That still isn't great, but he's shown steady improvement. In his 7 NHL seasons, Eriksson Ek has improved his faceoff percentage every year. 
When Freddy Gaudreau signed a five-year extension this season, there were mixed reviews. Sometimes it's hard to see Gaudreau's contributions because he's a quiet player. But that's the point. The roles he takes on are usually overshadowed by Boldy's flashy play. While everyone watches Boldy set up around the net, Gaudreau plays an important defensive game that goes unnoticed. The same can't be said about shootouts. Gaudreau emerged last year as the team's ringer, much to everyone's surprise. His contribution to the team has steadily grown thanks to his dependable consistency.
Jonas Brodin has Minnesota's other five-year contract. It isn't hard to see why he's a core player. One of the best shutdown defenders in the league, Brodin can keep up with even some of the fastest forwards even while skating backward. Combine that with his outstanding ability to read plays, and he's one of the most underrated defensemen in the league. The Wild have five more years with him. While he may be playing with a new partner next season, it shouldn't affect his game.
The team captain, Jared Spurgeon, has four years left on his deal. While broadcasters tend to focus on his small stature, he plays a significant role in the top defensive pairing and the locker room. Spurgeon is a strong defensive player who usually quarterbacks one of the power play units. He's also a great role model, showing that hard work can negate some of the knocks a player can get for things such as short stature.
Kaprizov owns the shortest-term deal within the core group of players. That doesn't necessarily mean that Kaprizov will be team-shopping after this contract expires, but it is a shorter-term deal to get through the salary cap crunch with a bigger deal waiting for him on the other side. And does there even need to be an explanation as to why he's an essential part of the Wild's core? If there does, just watch one of his highlight reels.
The Wild have signed these six players at least through the 2025-26 season. They represent a strong core that Bill Guerin is using as his foundation while he builds out the team. Two superstar goal-scorers, two jack-of-all-trade centers, and two of the best defensemen make up the roster's long-term nucleus. Minnesota's core is incredibly strong and will continue to be if they continue to give out long-term contracts to important players.
2

1