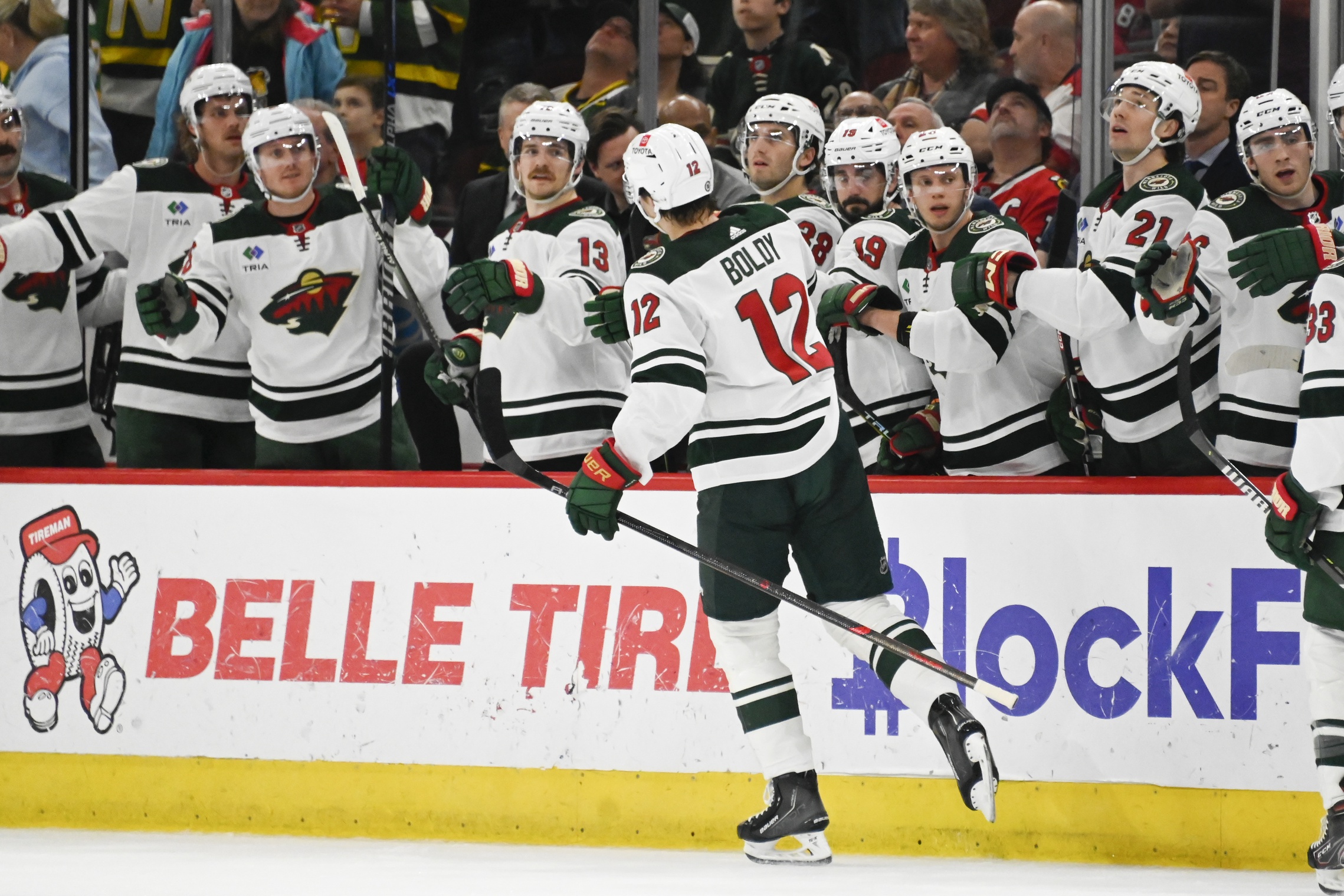 Image courtesy of Matt Marton-USA Today Sports
Matt Boldy started out with a little trouble in the scoring department. Then he found his way intermittently onto the score sheet. In the third act of the season, he flew high with multiple points a game. Finally, he disappeared in the playoffs. Whiplash from his rollercoaster season left some fans disappointed with his performance, especially with how things played out in the most crucial games.
Fortunately, Boldy seems committed to put in the work over the off-season to learn and mature in his game.
Boldy has created a few headlines over his year-and-a-half in the NHL. He scored a goal in his debut and became one of only four Wild players to have a hat trick in their rookie year. Last season, he took up the scoring mantle when Kirill Kaprizov was out and even managed two games with hat tricks to really turn things up a notch. That's great, but also contributes to high expectations, leading to disappointment when we see what happened in the postseason.
From the first game that Boldy played, he's shown his star power and maturity on the ice. That's notable for a player who's still only 22. Despite that, he can be considered somewhat inexperienced, and it shows because he still has development to do.
The games he spent in the NHL during his rookie year revealed one of his weaknesses: His strength. Boldy is tall (6'2"), but he still had trouble battling some of the beefy defensemen. Things that may have come easily for him at lower levels of hockey weren't going to work against some of the NHL's sizeable defensemen. So during the off-season, Boldy put in the work in the gym and came back noticeably more muscular. And it paid off. He was more willing to take on more of those board battles, even if it's not fully there yet.
The fact that Boldy is willing to use constructive feedback and put in the true work he needs to during the off-season shows how dedicated he is to his development. There are aspects to his game that still need work, and he is mature enough to realize that and act upon it. 
But it became evident after his first full season in the NHL that Boldy needs to become more consistent. For the entire season, it seemed like the Boldy scoring machine was either on or off. He still ended up with 31 goals, but it was easy for fans to get frustrated during the long stretches when the pucks weren't going into the net. That was doubly true during the dry spells he had after signing his big contract.
One common mistake younger players seem to make is the tendency to defer to older teammates on the ice. Instead of taking the shot in high-pressure situations, they pass to a more experienced player. Boldy is no different. Just by using the eye test, it was easy to see him deferring more whenever he was in his slumps, as opposed to being assertive when he was bringing in the points. It looked like that might change after Kaprizov got injured, but those same problems came back during the playoffs. He needs to gain more confidence in himself so that he feels comfortable taking the shots when he has a lane.
While Boldy's new big-boy contract seemed to spur on some great play by him, it might have also led to his down times. Coming into the playoffs, there was plenty of pressure on the team. The added scrutiny that comes with the new $49 million contract might have affected his play. This is speculation, of course. But putting the off-season between him and the contract signing might put any niggling doubt that he can live up to it to bed, even if it is subconscious.
When it comes down to it, Boldy is a star player. That's shown both on the stat sheet and in his drive to improve himself during the off-season. When training camp rolls around next season, it should not be a surprise if Boldy shows that he is ready to take things to the next level.
3