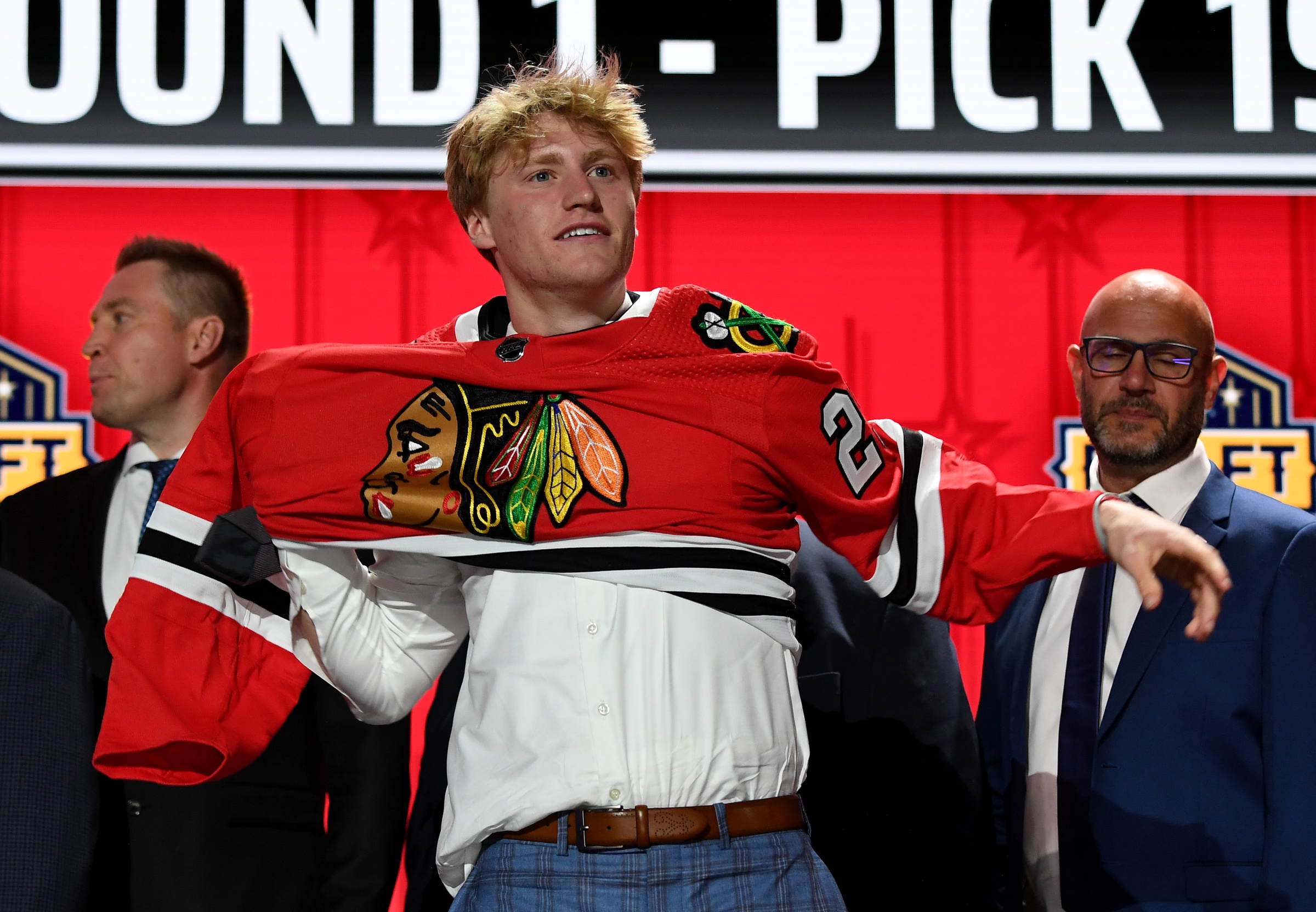 Image courtesy of Christopher Hanewinc-USA TODAY Sports
There weren't many draft-day trades this year. Many of them were teams trying to find a slight edge, and none were blockbusters. For example, the Tampa Bay Lightning got the 37th overall pick from the Montreal Canadiens via the Colorado Avalanche, and the Columbus Blue Jackets acquired the final pick in the draft from the Vegas Golden Knights. The Minnesota Wild took six players, three of them locals, but the lack of draft-day trades may have prevented them from grabbing the first Minnesotan off the board. And it could haunt them in the future.
Experts had Oliver Moore projected to be taken anywhere from fifth to 20th overall in this year's draft, settling near Pick 12. However, Moore dropped precipitously close to Minnesota's range. The Chicago Blackhawks took Moore, who grew up in Mounds View and attended Totino-Grace, at 19th overall. The Wild took Rosemount's Charlie Stramel two picks after that. Later, they took Hermantown's Aaron Poink at 149 and Edina's James Clark at 213. But Moore is a US National Development Team player who offers the most upside of the Minnesotans. Now he's in Chicago. Will he and Connor Bedard eventually bedevil the Wild?
Minnesota's goal in the draft isn't to localize their roster. It's to build a contending team, and a big part of that is player development.  They have one of the league's deepest talent pools. Their issue was turning top prospects like Calen Addison and Marco Rossi into reliable NHL players. That means that Director of Amateur Scouting Judd Brackett is doing his job, but the coaching staff needs to get that talent to manifest in St. Paul. Brackett and his staff targeted size in this year's draft, selecting two big centers with their first two selections. But they might have been able to grab Moore with their left hand and Stramel with their right as they fell – if only the other teams were willing to trade with them.
It would have been tricky to trade up for Moore. The Winnipeg Jets owned Pick 18, one ahead of Chicago. The Wild would likely have had to trade up to 17 to avoid making a trade within the division, and the cost of moving up increases with each pick. Moore could turn into a star in Chicago, making him the proverbial one that got away. But it can also be counterproductive to load up division rivals with draft picks or other trade assets. Teams that trade down typically receive the most value. Furthermore, the NHL's draft is less certain than in other sports, given that the players are younger and less ready for the highest level. That has to be part of why Minnesota took three centers, to get as many chances to yield an NHL center as possible.
The Wild may have reached for Stramel, given his college production. Stramel had five goals and seven assists in 33 games at the University of Wisconsin last year. However, the Badgers had a down year, and Stramel had 22 points in 26 games with the U18 National Development Team the year before. He may not be a pure goal scorer, but he's shown he's capable of getting points against good competition. And college production isn't everything. Matt Boldy only scored 20 goals in 57 games at Boston College, and he had 31 goals with the Wild last year. But Stramel's lack of production caused his stock to drop, and Minnesota may have been able to move back and still get him – if only they had a trade partner.
Looking at the draft purely through a partition lens, the Wild did well this year. Never before had they taken three Minnesota-born players, and previous GMs were reluctant to take them in general. Doug Risenbrough mostly eschewed local players. However, he used Minnesota's first-round pick on A.J. Thelen in 2004. Thelen grew up in Savage and played for Shattuck-St. Mary's and the US National Development team. He spent two years at Michigan State before they dismissed him for rules infractions and landed in the WHL. However, Thelen spent most of his career in the ECHL, only played in 10 AHL games, and never reached the NHL. 
Chuck Fletcher drafted more Minnesotans during his career but never took three local players in one draft. In 2009, he used his first-round pick on Eden Prarie defenseman Nick Leddy, who's had a solid career so far. However, Fletcher dealt Leddy and Kim Johnsson to Chicago for Cam Barker, a lopsided trade. Like Leddy, Moore may become a reliable contributor for the rival Blackhawks. But failing to trade up for Moore is less of a sin than trading Leddy for Barker, who played a season-and-a-half in Minnesota and was out of the league by 26.
It was disappointing for many fans to see Moore go to Chicago at 19, two spots ahead of where the Wild picked. But Minnesota landed three quality local players and addressed their need for size up the middle. Many pundits have panned the Wild for drafting for need rather than taking the best player available at each spot. However, given the nature of player development in the NHL, it will be a while before we know if their strategy paid off. By then, we'll also know if Moore became a star, the one that got away in a draft where Minnesota took three other players from their backyard.