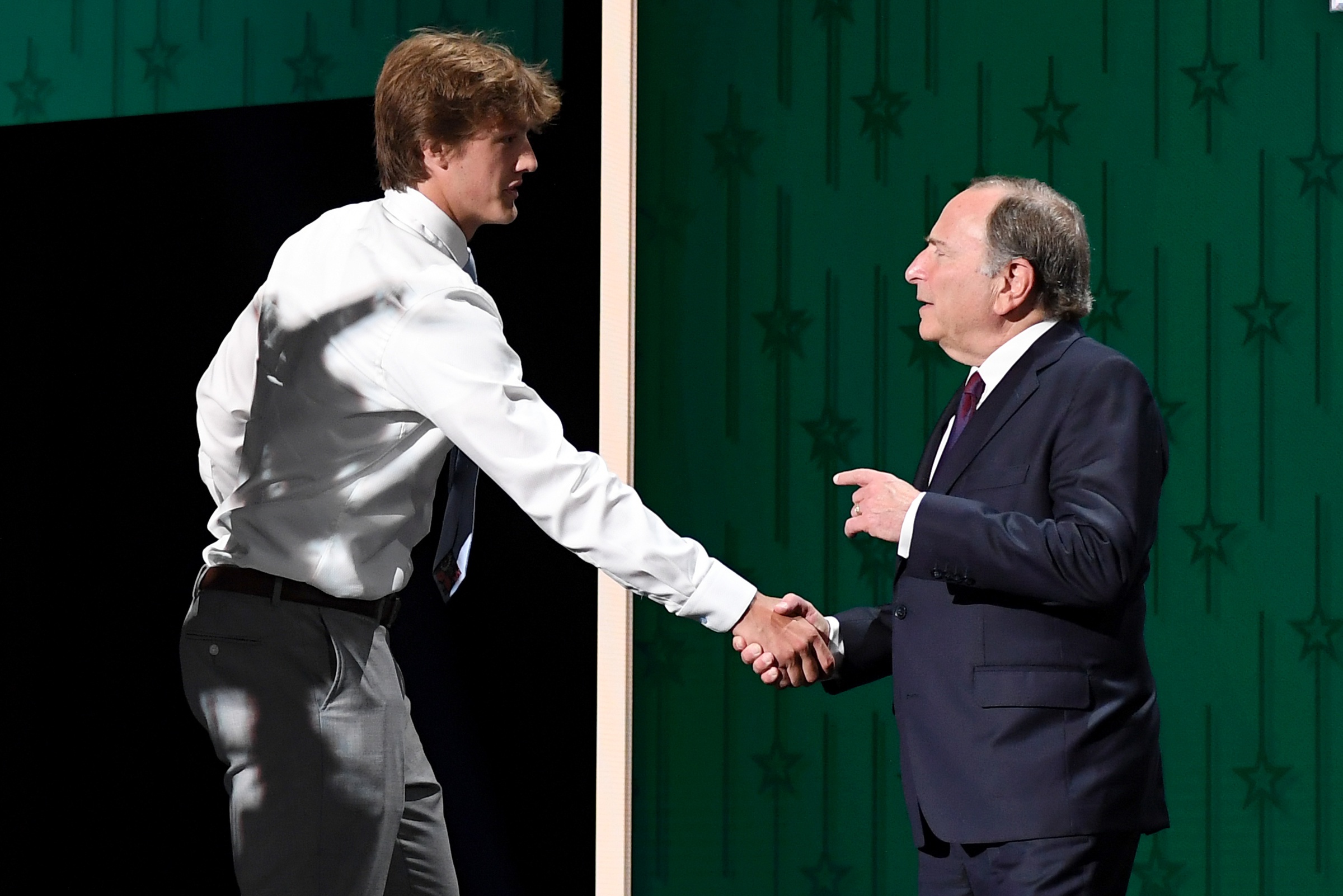 Image courtesy of Christopher Hanewinckel-USA TODAY Sports
It wasn't hard to guess what the Minnesota Wild were going to do at the first night of the 2023 NHL Draft. True, few pundits had Wisconsin Badger center Charlie Stramel being the pick at 21st overall, but a player like him? Indeed. The Wild pipeline is loaded at wing and at defense, and has a little bit of everything. What did they need?
The answer is obvious: help down the middle. They might have been fine rolling with Marco Rossi, Joel Eriksson Ek, and Marat Khusnutdinov in the future. But this last season brought up the question of what happens if things go wrong. If Rossi doesn't become a top-six center, or if Khusnutdinov has to shift to the wing, there's not really much in the way of a backup plan.
So everyone in the State of Hockey expected Minnesota to go center, and with their two top prospects being 5-foot-9, most figured size would be a factor. Stramel fits that big center prototype.
What's the issue with taking Stramel, then? It's the view that he's no one's idea of a franchise-changer that fans dream of with a first-round pick, particularly one from this deep draft class. It's much easier to get excited for someone with electric talent than it is for a "safe" two-way player like Stramel, who is generally seen as a reach.
There were other big centers still on the board, some with far more upside. Why did Minnesota pass on Jaidyn Clark, for example, who The Athletic's Corey Pronman described as "a tall right shot who skates well and has very good offensive skills... Clark isn't just skill, though, as he uses his big body... leaning into opponents and landing big hits." Or what about Elias Grundström, who Ryan Kennedy of The Hockey News called "big, mean, and skilled?" There's also Tye Tyler, another big center Sportsnet's Sam Cosentino says "will impose his will on opponents."
It might sound crazy, but there are two good reasons the Wild passed on those names for Stramel. The first is: I made those names up. 
The second is arguably just as important: Those are scouts describing Stramel before last season.
Pronman and Kennedy both ranked Stramel eighth in the 2023 Draft class before the season last fall, Kennedy had him tenth, and Cosentino put him at 11th. The talent in this draft didn't take anyone by surprise. Before the season, many folks liked Stramel over names that went much higher last night.
A tough year for a reeling Badgers squad plummeted Stramel's draft stock. Far from the days of Cole Caufield and Alex Turcotte playing in Mad Town, Wisconsin had little elite talent to pair with Stramel. Even worse, the Badgers played with, according to Elite Prospects, "almost no structure." It's hard to succeed in that bad of a situation.
Still, five goals and 12 points in 33 NCAA games is brutal. Even considering the circumstances, you have to wonder if a first-round pick should've produced more. It's also a bit of a red flag to hear Director of Amateur Scouting Judd Brackett talk openly about how they passed on more skilled players on draft night, even if it is true that it's difficult to get large adult centers.
But if you wanted Minnesota to make a high-risk, high-reward pick at the draft, congrats. That's the risk. What's the reward?
Stramel was highly touted for a reason, and no, it wasn't just because he was listed at 6-foot-3. Pronman ranked Stramel as the player with the 22nd-highest upside in the draft earlier in June, saying: "This is a guy who was on [the number one power play] the prior season on a loaded US NTDP forward group. He has a history of scoring, to go with his great size, skating, and physicality."
If his freshman season was simply a throwaway year, a product of being in the worst possible situation at the worst time, we're not talking about a "safe" pick anymore. If Stramel's skills blossom in a better situation, this can be the big, skilled center Wild fans have been clamoring for since...ever?
Even outlets that are considerably lower on Stramel than Pronman acknowledge the potential that's there. FC Hockey, who had him ranked 61st in this class has this to say in their Draft Guide, "A smooth, powerful skater, he accelerates quickly and possesses solid top speed, making him a threat in transition and effective forechecker... with a hard shot and quick release."
There are more smart people in Pronman's camp as being high on him as well. In an EP Rinkside roundtable where scouts dished their 2023 Draft Hot Takes, J.D. Burke went out on a big limb for the big center. "Stramel is going to play so damn well as a sophomore that he'll be a consensus top-10 pick by this time next year in 2023 redrafts."
It's hot, indeed, according to consensus, but like Pronman, Burke points to Stramel's track record to make a compelling case. "Every single part of his pre-draft profile right up to playing at Wisconsin as a true freshman is sterling. We're talking about about a point a game on the NDTP U-18 squad as a draft-minus-one [player]... these are really damn good numbers, usually indicative of high offensive talent."
To whom can we compare that draft-minus-one production? In terms of playstyle and numbers, the obvious comparison (especially for a best-case scenario) is Brady Tkachuk. Stramel and Tkachuk both played for the US U-18 National Team and in the USHL on the US Junior team while being virtually the same age at the time. In total between those two teams, Stramel scored 0.40 goals and 0.88 points per game. Tkachuk scored 0.44 goals and 0.91 points per game.

Both players were seen as 200-foot power forwards with questionable offensive upside, even if Tkachuk had a more successful (though not mind-blowing) freshman season at Boston College in his draft year. But like Stramel, Tkachuk embraced his power forward game, got to the net, and unleashed scoring chances. It wasn't Matthew Tkachuk's unique, otherworldly skill set, but it played in the NHL from the jump.
At age-23, he just finished a 35-goal, 83-point campaign. No one remembers that the hockey world declared the Ottawa Senators selected him at No. 4 overall in 2018 a glaring reach.
Now, "Brady Tkachuk, but a center" is obviously the best-case scenario, and it's not likely Stramel (or most any prospect in this class) will reach those heights. It is, in fact, more likely that Stramel will top out as a middle-six forward somewhere between the Joel Eriksson Ek and Marcus Foligno range. His physical attributes and gritty style should translate to being that kind of player fairly easily.
But just because the Wild might knock this pick into the outfield for a single doesn't mean they didn't make a home run swing here. The Wild could have a 6-foot-3 power center on their hands that has the speed to create headaches for opponents and the hands and shot that can play in the top-six. That's the dream, and if the Wild have that, they'll be circling the bases in a few years.
3