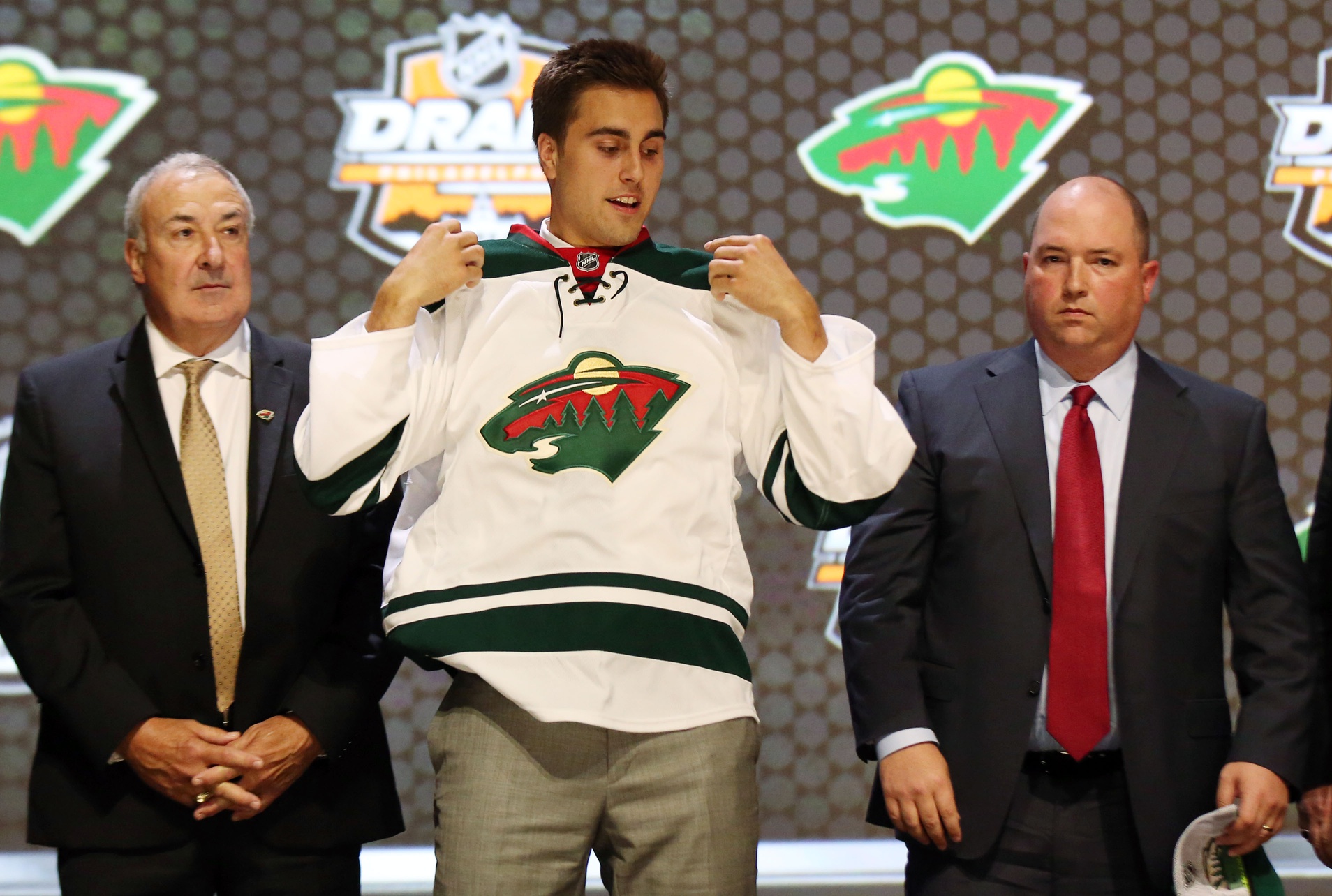 Image courtesy of Bill Streicher - USA Today Sports
Inside your State of Hockey, there are two Minnesota Wilds. There's the one that has the Bill Guerin/Dean Evason identity. Guerin was a 6'2" power forward who scored 25 goals eight times and racked up 100-plus penalty minutes in nine seasons. However, Evason played at only 5'10", but he was a tough customer in his own right, cracking the 100 PIM barrier in four of 13 seasons.
That big, gritty version of the Wild can be seen in players like Joel Eriksson Ek, Ryan Hartman, and Marcus Foligno. All those players are known for being tough and have scored 20-plus goals recently. Add players like Ryan Reaves, Brandon Duhaime, Jake Middleton, and Matt Dumba who are also unafraid to drop the gloves and mix it up, and you'll see why Minnesota has a reputation as a bruising team.
Then there are Minnesota's actual engines who don't really fit that mold. Eriksson Ek is a member of that core, but his power stands out among the rest of the group. For players like Kirill Kaprizov, Jared Spurgeon, Mats Zuccarello, and Jonas Brodin, they get by not on strength and size, but skill and hockey IQ. Even 6'2" Matt Boldy caught criticism for being too much of a finesse player in the playoffs. 
Look at the height chart, and you'll see that Kaprizov, Spurgeon, and Zuccarello are listed at 5'9" or lower. Looking at how the Wild draft, this is also shaping up to be the way of the future.
Minnesota's twin hopes at center, Marco Rossi and Marat Khusnutdinov, are both listed at 5'9". The Wild are apparently so concerned with the former's strength that they may trade him this summer. Khusnutdinov doesn't have those concerns, but he's also about 18 months away from Wild fans seeing him in action in the NHL. Will he thrive instantly like Kaprizov? It's a tall order to fill, even without any questions about being undersized.
You can add St. Cloud Huskies defenseman Jack Peart and skilled OHL winger Hunter Haight to the list of smaller prospects the Wild spent high draft picks to grab. Both are listed at 5'11". Even when the Wild have gone bigger, they're still not particularly big. Danila Yurov, Carson Lambos, and Ryan O'Rourke are both 6'1". Liam Öhgren looks like he has a chance to be a more physical forward and is still only 6'0".
Minnesota has three picks in the first 64 selections of the 2023 NHL Draft. Is this the year for them to focus on adding size to their prospect pool?
If so, this might be the draft to do it in. In a very loaded draft class, Corey Pronman of The Athletic has 15 prospects in his top-32 rankings that are listed at 6'2" or higher. His compatriot, Scott Wheeler, has only 10 such prospects in that range. But going off their evaluations, about 33 to 48% of first-round caliber prospects will give the Wild some beef. 
The question is: What might Minnesota be sacrificing by focusing on size? There's an opportunity cost to almost every draft pick, and getting a player with one set of attributes means that you're leaving something else on the table. And there's a reason why players like Rossi, Khusnutdinov, and Haight fell to the Wild: The league still undervalues undersized players. No doubt, some extremely talented but smaller youngsters will be available for the Wild to pick at 21st overall.
Will it be worth it to pass on these players in favor of bulking up? Hockey Prospecting has 18 players in this draft class as having a 30% chance or greater to become a star player. Notably, just four of them are 6'2" or above: Adam Fantilli, Matthew Wood, David Reinbacher, and Samuel Honzek.
Fantilli and Reinbacher might go in the top five picks, and they certainly won't fall down to the Wild's range. As for Wood and Honzek? It's within the realm of possibility, but most mock drafts have those players gone in the teens. 
If that holds, Minnesota's going to have to debate between bringing a player with more size, or bringing in a player whose production suggests they have more potential. There's not going to be much getting around it.
For example, it's very possible that on defense, the Wild might have a chance to take a big swing on 5'10" Mikhail Gulyayev, who is a smart puck-moving defenseman with huge numbers in the MHL, or someone like Dmitri Simashev, a smooth-skating 6'4" defenseman who fits Minnesota's need for size on the blueline.
Who do you pick?

If the Wild scouts favor Simashev and hit it big, that's a huge win for them. You can imagine someone like Simashev becoming a Colton Parayko-type, using his length and speed to control the game in his own end. But on the other hand, Gulyayev's statistical profile looks like the next Scott Niedermayer, while Simashev's stats suggest he'll become some guy you've never heard of.
The same dynamic happens with forwards, at least in the situation the Wild are likely to face. Look at someone like the Kelowna Rockets' Andrew Cristall, who has the 5'10" knock to go with a reputation for not being a great skater. Other than that, he's an incredible prospect, with skills for days and an elite hockey brain.
And yes, he also proved it on the ice, potting a ridiculous 39 goals and 97 points in 54 games. That production is incredible. Only two WHL players had more points per game than Cristall last season: Connor Bedard and top prospect (and fellow short king) Logan Stankoven. But we will absolutely see players who profile much worse statistically go higher in the draft. 
Take fellow draft-eligible prospect and WHLer Nate Danielson. By no means is Danielson a bad prospect. In fact, you may well see buzz for the Wild to grab, and maybe even trade up for him. He's a 6'2" center who skates very well and had a very solid 33 goals and 78 points for the Brandon Wheat Kings. In a typical draft, he might look like exactly the kind of prospect the Wild should hope to get at 21.

But we're not in a normal draft. The depth of this class guarantees the Wild many quality options, some that might even persist until late in the second round, where Minnesota has two picks. That depth also presents director of amateur scouting Judd Brackett with a unique opportunity to get a player with massive upside at 21st overall... as long as he can stomach ensuring that the team's prospect pool remains full of undersized but talented players.
Looking at Brackett's tendencies, he sure seems to lean toward the players who put up big numbers, even if it means sacrificing size. It's worked so far in building up that Wild talent pool. It will be interesting to see if that continues, or if they feel the need to gamble on bigger prospects while leaving perhaps more skilled, smaller players on the table.
1

1