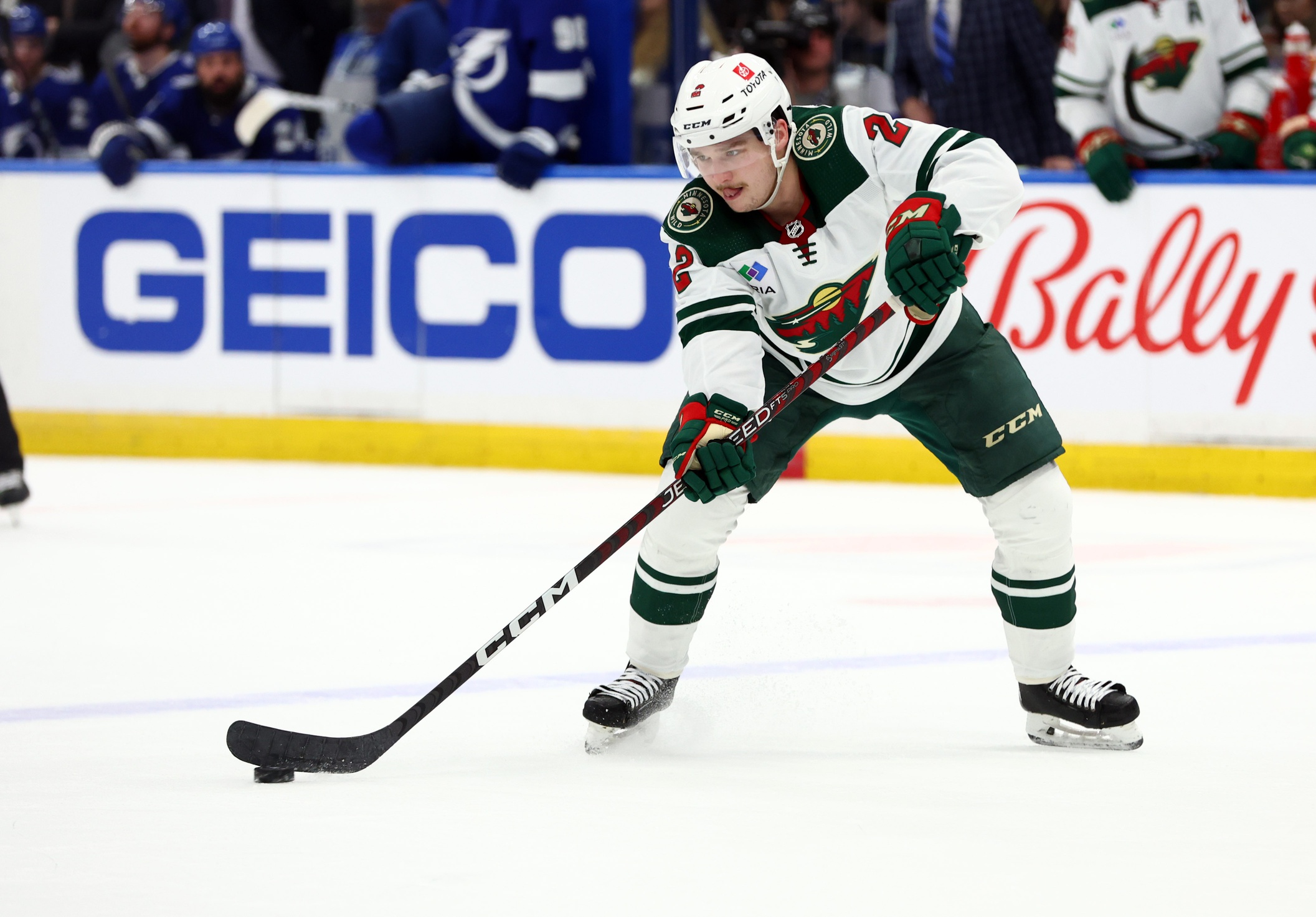 Image courtesy of Kim Klement-USA TODAY Sports
The Minnesota Wild have only one piece remaining to their offseason puzzle: Calen Addison. In the span of about a year, Addison went from being rumored to be the odd man out of the Wild's future, to running their power play, to being a healthy scratch for John Klingberg, to rumored trade bait again. After those remarkable twists and turns, Addison's current status as an RFA needing a contract is remarkably ordinary.
The calendar is about to flip to September, and rosters are pretty set. So, too, is the range of salaries Addison could get on his next deal. Assuming Marco Rossi and Brock Faber make the roster, and there are no unforeseen shake-ups, the Wild have $1,643,079 in cap space remaining. Addison can make no more than that, and no less than the league minimum of $775K for this upcoming season.
A gap of less than $900K isn't that large in the grand scheme of things, but it's also everything. The Wild are, presumably, going to want that number as close to the league minimum as possible. It's not out of character for a team to want to pay a player as little as humanly possible, but there's a greater urgency for Minnesota to do this with Addison. 
Every dollar the Wild pay Addison is a dollar they don't have to play with the rest of the season. Signing Addison to the league minimum would allow the team to, say, carry a full 23-player roster (but only if that 23rd player is also at the league minimum). They will probably not use that flexibility as often as possible. However, any breathing room means they'll have an easier time navigating injuries, or not running over the cap with rookie bonuses.
It's easy for people who aren't in Addison's skates and managing our actual careers to say that Addison should just take one for the team and sign a low deal to help them out. But isn't quite so easy for Addison. Evolving-Hockey projects a one-year pact for Addison to come in at around $1.05 million. $275K isn't much for Kirill Kaprizov or Matt "49 Sheets" Boldy. For Addison, it probably is, as it represents about 20% of his estimated career earnings on the table.
It's further complicated by his demotion. The Wild bringing in Klingberg to run the power play had a secondary effect of putting a cap on Addison's point totals. Addison scored 29 points in 62 games last season. Presuming that pace would hold up over 80 games, he'd be coming off a 37-point year. Points are the biggest driver of salary in the NHL, so what little earning power Addison has was deflated by the move.
Maybe it wouldn't have mattered, as Addison has zero leverage but his presence. He hasn't played enough games to be eligible for arbitration and is therefore unable to be presented with an offer sheet. The only right he has under the CBA is to say "no" to any contract he doesn't want.
Addison seems happy to be with the Wild. He's trained with Minnesota's coaches over the offseason -- a pretty unusual thing for an unsigned player -- and participated in team activities, like Minnesota Wild night at Target Field earlier this week. That at least signals it's a mere matter of time before he and the team come to some sort of middle ground.
The reason for that, and perhaps even the reason the Addison trade rumors haven't come to fruition despite the smoke is simple: They need each other too much. Minnesota is desperate for a power-play quarterback, and Addison is looking to put himself back on the map. Both parties offer the solution to the others' problems; Addison with his skill, and the Wild with a prime opportunity.
Addison is now 23, and he's part of a 2018 defensive draft class that has already seen moving and shaking, particularly for the offensive defensemen. Worse yet, very few of these moves are working out. The New Jersey Devils traded Ty Smith (17th overall) to the division-rival Pittsburgh Penguins -- who sent him to Wilkes-Barre Scranton. Erik Karlsson is in the fold now, meaning Smith isn't running a power play anytime soon.
Going further down the list, Ryan Merkley (21st) went from San Jose to Colorado (the AHL's Barracuda and Eagles, respectively) at the trade deadline, and Merkley's now in the KHL. Filip Johansson (24th) is nominally in the Vancouver Canucks system, but he spent all but three games in Sweden last year. Nicolas Beaudin (27th) is now with his second team, and in the AHL. Nils Lundkvist (28th) and Alexander Romanov (39th) are already on their second teams and not scoring much, with 16 and 22 points last year, respectively.
Among these high-profile 2018 Draft defensemen, only Rasmus Sandin (29th, by the Toronto Maple Leafs) has taken advantage of being in a position to succeed with a new team. He has 15 points in 19 games with the Washington Capitals. For most of these other players, there wasn't a golden opportunity with their new squads.
That means the only real shot Addison can count on is the one in front of him, and it's there for the taking. He'll have a tough time competing for even-strength minutes, with Jared Spurgeon and Faber ahead of him. That might not matter so much, because it'll allow Addison to get more sheltered minutes with Spurgeon and Faber taking on the toughest assignments. However, that was also the case last year, and Addison still got demoted.
He'll need to tread water at even-strength (perhaps not such an easy task with Jon Merrill and Alex Goligoski as his partners) while quarterbacking the power play to a high level again. His power play skills combined with the team talent should be able to push him to 40 points in a full season. There are 31 defensemen who have put up a 40-point season at age-23 or under in the past decade. Only Will Butcher played himself out of the league. If he can get that kind of production, he'll probably find a place in someone's top-four defense unit.
Maybe even the Wild's. Their need for a power play quarterback isn't going away anytime soon. Even a strong season should lead to a contract that gives them bang for the buck on Addison. If the team sees an Addison that can contribute in more game scenarios than 5-on-4 or 5-on-3, why wouldn't they want him for the next wave of Wild hockey?
Anything can happen going forward, but for now, neither is in a position to do much else but work things out in short order. Addison and the Wild need each other too much for this deal to not get done.
1