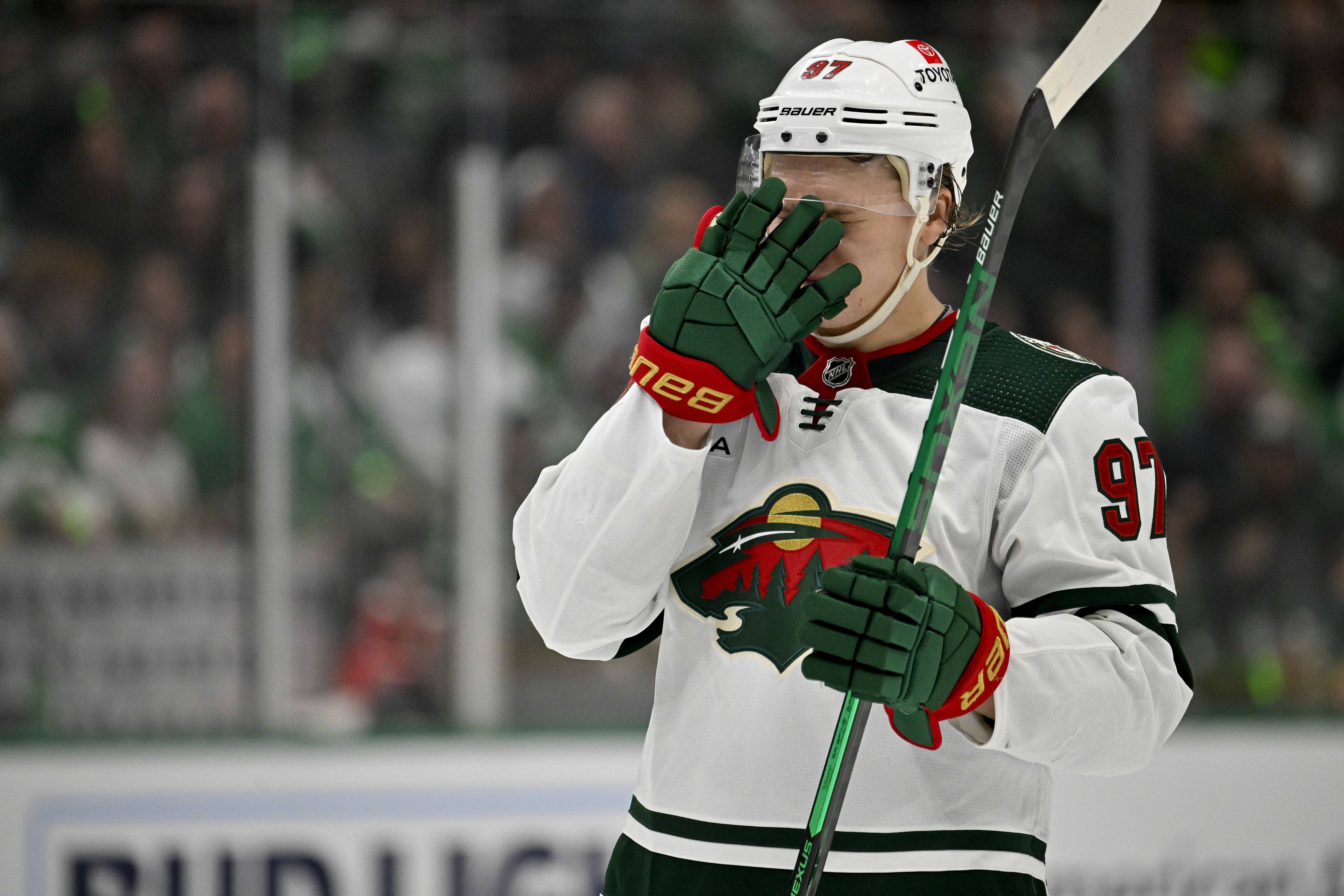 Image courtesy of © Jerome Miron-USA TODAY Sports
Your daily dose of Wild news, along with other interesting stories from around the NHL.
We don't really want to re-live that game.
Game 2 on Wednesday night proved to be a failure for the Minnesota Wild to the tune of 7-3 and they are now heading back to St. Paul with the series tied 1-1. It isn't the most disappointing thing you could imagine, and we are sure that a good portion of us would have taken this result before the puck dropped for Game 1.
But still, it is about the opportunity that was in front of them and it wasn't taken advantage of. Imagine the Minnesota Wild being able to head back home up by two games over the favorites? What a joy this Thursday morning would have been. Instead, we are dragging out feet around as we wait for Friday's Game 3 and hope that the home crowd pushes the team further and they don't make the mistakes they made on Wednesday.
Everyone will be pointing the finger at the decision to start Marc-Andre Fleury over phenom Filip Gustavsson, after the young Swede stood on his head for 90 minutes on Monday, but it goes beyond that. Mats Zuccarello puts it pretty pointedly.
The Wild had a clear opportunity. Down 4-1 about 12 minutes into the second period, Marcus Johansson and Frederick Gaudreau scored goals just 11 seconds apart and the Wild were in reach of tying the game. In fact, shortly after Matt Boldy had a breakaway chance but the play was called offside -- and head coach Dean Evason said the replays looked like it was onside, oops. That was their chance. Even if it remained 4-3 after 40 minutes, Minnesota could have done something.
Instead, the four remaining minutes of the middle frame, Dallas notched two more goals to put the result way out of reach. Even with 20 minutes left, the Stars just closed their blue line down and nothing really happened for both teams to keep the result.
The positive person inside all of us can scream all they want that it is a fair result and the even play is what we kind of expected. There was an opportunity but the Wild just didn't perform like they could; instead they performed like we have seen them perform way too often in the last couple of months.
That's Wild
Off the trail...
After laying out Lightning blueliner Erik Cernak in Game 1, Leafs winger Michael Bunting has been suspended for three games. [The Hockey News]
In even more surprising news, the Boston Bruins lost pretty darn badly to the Florida Panthers and the series is tied. [ESPN]
Another big loss for a contender, as the Carolina Hurricanes' Teuvo Teravainen suffers a broken hand and he's out for at least the rest of the series against the New York Islanders. Maybe there is a surgery that heals bones in a couple weeks. [Daily Faceoff]