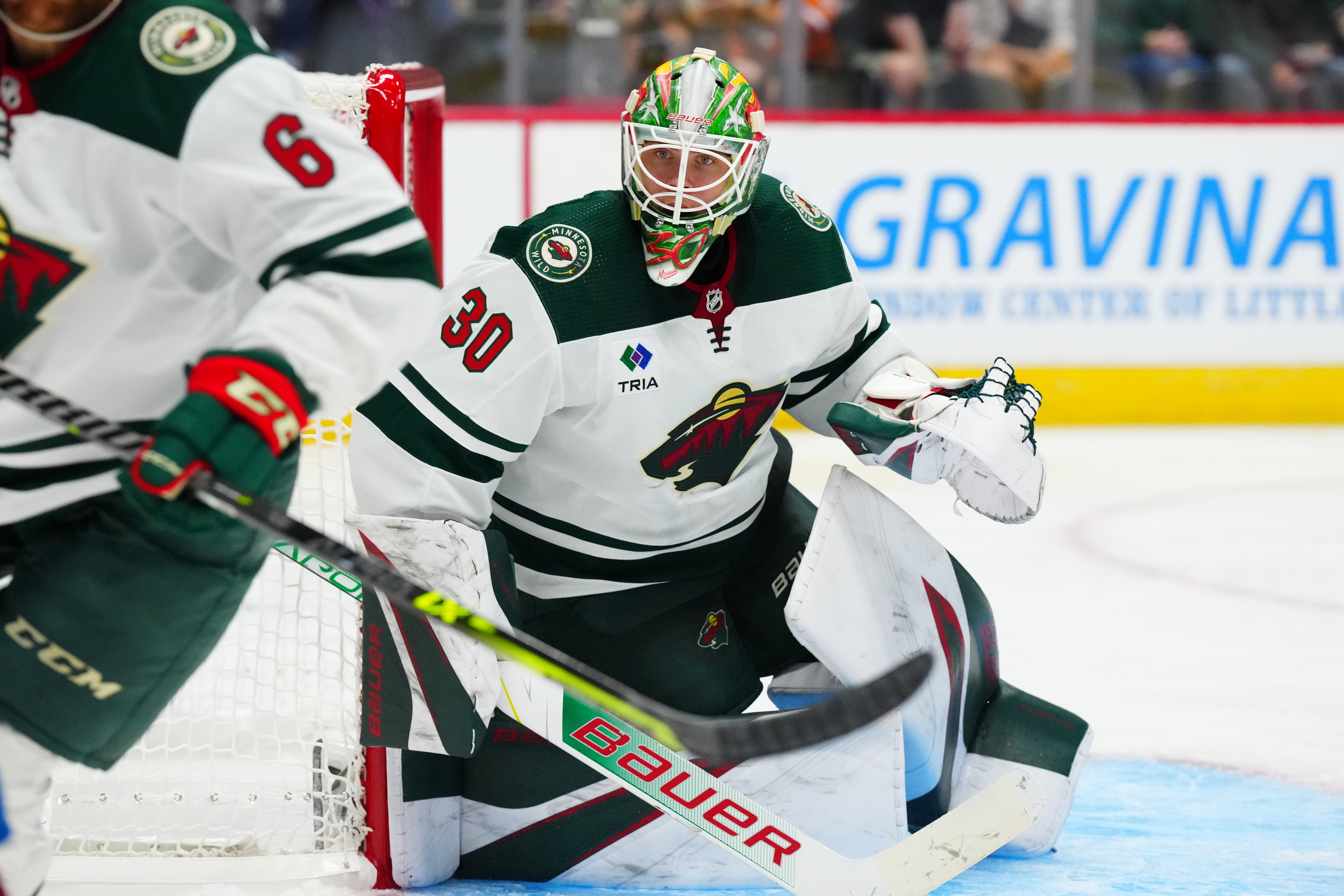 Image courtesy of © Ron Chenoy-USA TODAY Sports
The Minnesota Wild have the worst goaltending in the NHL. It's not just an opinion some have, but right now, statistically, this team has the worst goaltending in the entire league.
So much ink has been spilled about the Edmonton Oilers' suffering in between the pipes. Jack Campbell not being able to even be an AHL netminder right now, and Stuart Skinner not playing up to what people projected him as. But -- and not to sound like a broken record -- Minnesota's own tandem of young solid goalie and veteran, is failing them.
Going by MoneyPuck's Goals Saved Above Expected -- essentially just weighing how difficult a shot should be and if the goaltender allows it or not -- Filip Gustavsson has the second-worst in the NHL, and Marc-Andre Fleury has the fifth-worst. Not even the terrible Oilers have a combination this bad. For them, they do have the worst overall in Skinner, but Campbell is sitting at 10th-worst (mainly because he was sent down after playing just five games, but hell with logic, we're upset).
Clearly, things aren't going well with this tandem. They just lost 8-3 to the Dallas Stars and have only earned four points in their last nine games. That is a 0.222 points percentage. That is horrible.
Other things are going wrong as well, but the other positions don't have one of the best prospects in all of hockey and potentially the best goaltender outside of the NHL, knocking on the door.
Jesper Wallstedt is absolutely killing it in the AHL. The 20-year-old (who turns 21 on Tuesday; Happy Birthday Jesper!), has a 2.01 goals against average and a .932 save percentage through eight games with AHL Iowa. He has already spent a boatload of time playing against men in the SHL and at international tournaments, and has been so consistently dominant.
With all that being said, is it time for Wallstedt's chance to give this team a chance to win? It doesn't even have to be for long, but just for Fleury and Gustavsson to reset and rest for a couple games. Especially with the team on their way to Wallstedt's native Sweden and most likely bringing him along as a cap-free third goaltender over the Atlantic. Just let him make his debut in his home country -- a completely unique situation for any young European NHL prospect.
That's Wild
Calen Addison is gone, but that doesn't mean we can't think about him. The young defenseman was so uniquely himself and was certainly a fan favorite. [Hockey Wilderness]
Dakota Mermis is finally getting his chance to consistently play in the NHL and it kicks ass. [Hockey Wilderness]
We can blame the goaltending, but also the penalty kill allowing five shorthanded goals against the Stars was not good. A recap of Sunday afternoon's disaster. [The Hockey News]
Off the trail...
The Edmonton Oilers pulled the trigger. Head coach Jay Woodcroft and one of his assistants are gone, and in comes Connor McDavid's former coach from when he was playing in the OHL. Just make him happy! So, what's next for Edmonton? [ESPN]
Former Philadelphia Flyers netminder Roman Cechmanek passed away at age 52. [Yahoo Sports]
Avalanche's Pavel Francouz is out for the rest of the season. Goaltending is cursed around the league, we swear. [NHL dot com]