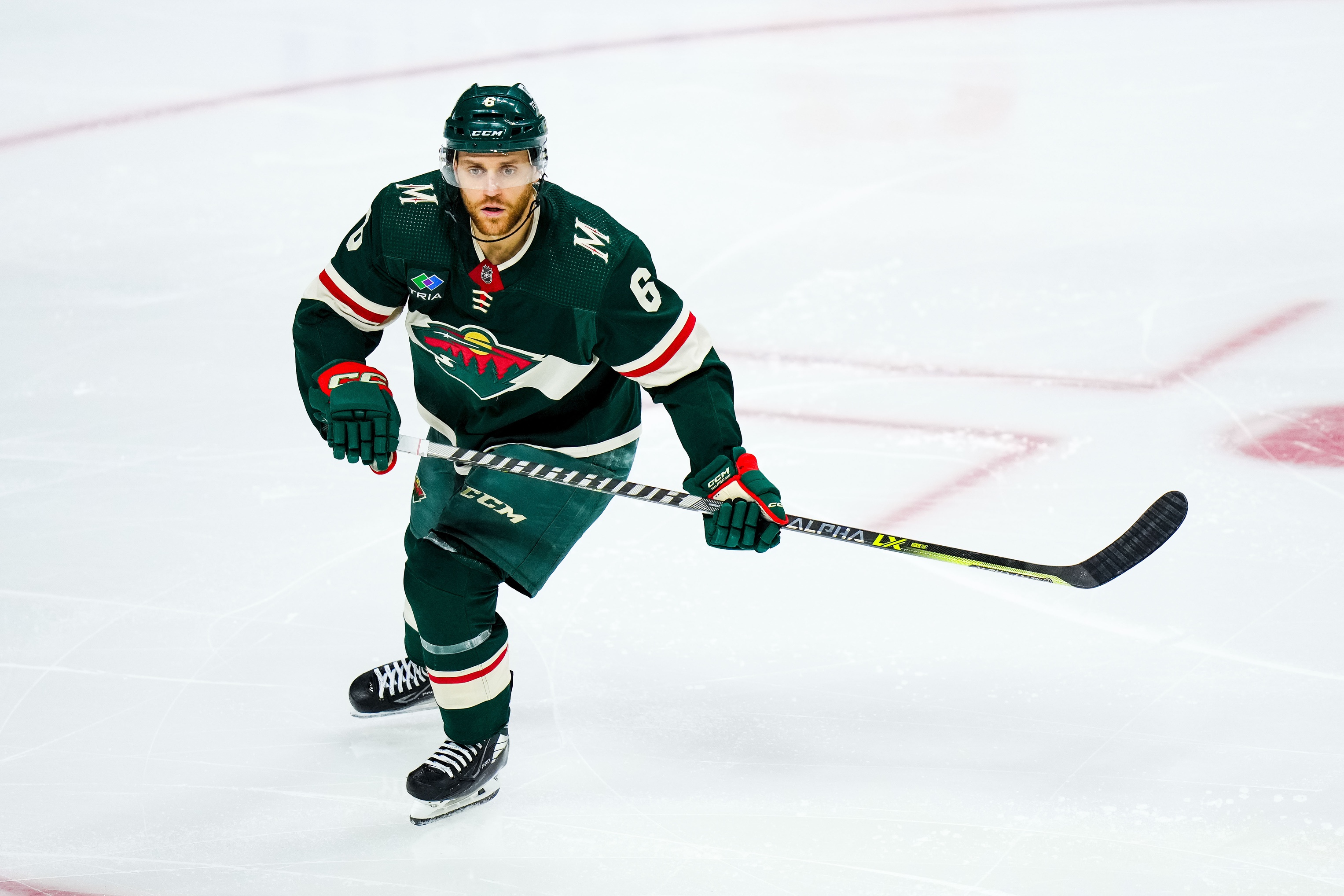 Image courtesy of © Brace Hemmelgarn - USA TODAY Sports
The Minnesota Wild have started their season without captain and veteran defenseman Jared Spurgeon. Then, just two games into the season, Alex Goligoski went out with an injury. The Wild were down two defensemen and needed a call-up from the AHL. 
In steps Dakota Mermis. 
Before the start of this season, the 29-year-old was a journeyman defenseman who had spent almost all of his time playing in the AHL. Entering this year, Mermis had only played in 27 NHL games with three different teams since the 2017-18 season. In those games, he produced just four points. 
Mermis has been in the Wild organization since the 2020-21 season when he signed as a free agent. He spent the greater part of two seasons in the AHL playing for the Iowa Wild as he suited up in 122 games and new head coach Brett McLean named Mermis team captain this season. The Wild organization expected the savvy veteran to lead the group of young defensemen in Iowa, like Carson Lambos, David Spacek, and Kyle Masters, but injuries changed their plans and forced Mermis up to the NHL.
Mermis has already played the most games in a single NHL season of his career (11) this year and looks to be in line for a lot more. The Wild recently decided to scratch Jon Merrill in favor of Mermis, potentially meaning he already is thought of more highly than ever before by the Wild coaching staff.
When Jared Spurgeon returns from injury, the Wild's top-four will already be set with the captain next to Jake Middleton and Jonas Brodin and Brock Faber solidifying the all-situations pairing. That leaves the spot next to newcomer Zach Bogosian open. Mermis seems to have (for now) beaten out Merrill for that spot, if we're reading the current depth charts correctly. 
The Wild also were impressed enough with Mermis's play that they felt comfortable trading Calen Addison. With Spurgeon returning to the lineup soon, the Wild wanted Mermis in the lineup over Addison. While Mermis isn't as good offensively as Addison, he's not all that bad. Mermis has put up some solid numbers in his time in the NHL with the Wild this season. Five points in 11 games while potting two goals is nothing to scoff at. 
Has Mermis done enough to warrant Minnesota's front office and coaching staff's confidence in him? 
In an average of 14 and a half minutes a night, Mermis has been… meh. He is fourth amongst regular defensemen in GF% at 48.66%. He sits at fifth on the team at an even lower 42.37% in expected goals. Mermis seems to be producing goals at a lower-than-average rate, while the stats indicate he'd be producing at an even lower rate. The St. Louis native's possession metrics are similar to his scoring stats. His shot attempt for percentage at 5-on-5 on the season is also below average, at 47.67%. Mermis is playing defense when he's on the ice a little more often than he's not. 
In terms of goals allowed per hour, Mermis ranks third on the team at 3.38 GA/60. That's not bad for the career AHLer. Mermis is also fourth on the team in shots allowed per hour at 33.45, which is not necessarily good. Overall, Mermis is a just-fine defender who's been better than the Wild's defensemen they have exposed so far this season. 
Mermis has broken from his typical marks when supplementing Minnesota's offense on the stat sheet. So far in this stint in the NHL, Mermis has a surprising five points in 11 games with a pair of goals to his name. As outlined above, his underlying numbers don't support this uptick in his offense game. But puck luck has been on his side for now. 
In the 27 games he'd played previously, Mermis scored at a pace of 0.15 points per game. This season? 0.45 points. That's a 12-point pace versus a 37-point pace over a full 82-game season. Mermis is having things go his way on the score sheet this season, and it's getting him noticed. Maybe he hasn't changed much. It could just be that he's been fortunate and generating more chances. We're not exactly sure what Mermis is doing differently with the puck this time, but the 29-year-old is producing. 
Mermis has spent most of his time with Middleton, who has been one of the worst defenders on the team without Spurgeon. In the 70 minutes that the Mermis-Middleton pair has played, they are third-worst on the team in goals against at 3.3 and expected goals against per hour at 2.81. Minnesota's poor goaltending makes up for that gap. 
Between being paired with Middleton and having suspect goaltending, Mermis's numbers are solid compared to reasonable expectations for a career AHLer up to this point. Mermis is not necessarily driving winning for the Wild, nor is he being a drag on the defense. Mermis is simply a steady bottom-four presence. 
It's not often that AHL guys get an extended look at NHL playing time at 29 years old. Mermis got that opportunity and ran with it. Enough so that the Wild felt comfortable offloading a player in Addison who operated in a similar capacity. Mermis stuck with it over the years, and now it seems like he'll stick.
All stats and data via Evolving Hockey, HockeyDB, Natural Stat Trick, and MoneyPuck.com.