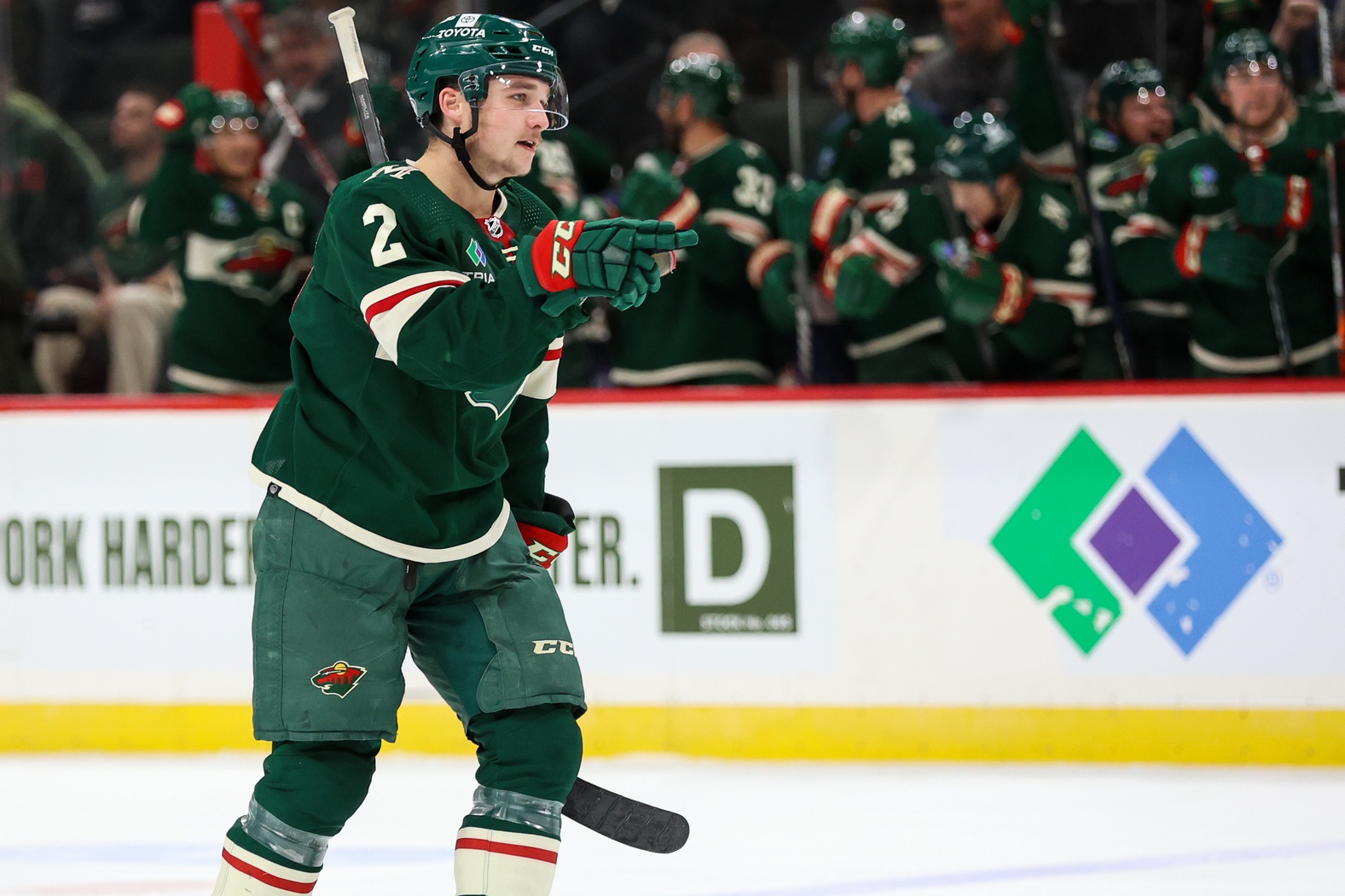 Image courtesy of © Matt Krohn - USA TODAY Sports
We are gathered here today to eulogize Calen Addison, one of the best emotional support third-pair defensemen the Minnesota Wild have had in recent years. He didn't die; the Wild just traded him to the San Jose Sharks. So we are here to remember what Addison brought to the team in his short, 92-game career in Minnesota.
Despite being a rookie, Addison was a founding member of the Tarps Off Club. Just the other day at the outdoor practice in St. Louis Park, the players walked onto the ice without jerseys. Addison and his fellow Tarps Off member Jake Middleton walked together, providing emotional support to each other as they proceeded to the ice half-naked. 
Addison was known for his eccentric style. There was never a year that Addison didn't change his hairstyle or facial hair, usually drastically. He started baby-faced with a pompadour semblance at the NHL Combine. Addison let his curly hair grow long. A few years later, it was almost shoulder-length, and he paired it with his now standard pencil-thin mustache. Then, he surprisingly buzzed his head in 2022-23. Addison always kept fans guessing on his new look. 
But now, Addison is in San Jose, and a whole new fan base can fall in love with his aesthetic. Minnesota fans must realize that even though the team and the front office love to have characters in the locker room like Addison, they also might not fit long-term. 
Emotional support players must be allowed to leave the nest, no matter how painful. Just like those suburban wine mom word signs say, "There are two things we should give our children (favorite players): one is roots, and the other is wings." He put down roots in Minnesota, but the Wild have now placed him on an airplane to California. 
Addison isn't the first, nor will he be the last. Matt Dumba leaving was especially hard because he'd been with the Wild for so long. Ryan Reaves filled our hearts as the Santa Claus to Kirill Kaprizov's Christmas elf. However, he also left for a better contract. Even some of the short-term players grow on fans and are hard to part with. Oskar Sundqvist was only with the Wild for a few months, but fans were still sad when he signed with the St. Louis Blues again during the summer.
Bill Guerin loves character and characters. That makes for a tight team that truly supports each other on and off the ice. But character isn't always enough. Guerin seems to know when a player needs a change of scenery to spark something in their game. Last season, he traded Jordan Greenway at the deadline. Greenway has been having a great season with the Buffalo Sabres now. Hopefully, Addison will do the same in San Jose. Heck, the Sharks won the first game that Addison played with them. Coincidence? Yes, probably. But still.
Now is the time to pick a different emotional support player. The Wild have several to choose from, including both the Deweys and Brock Faber (a rare combination of outstanding player and off-the-charts lovability). It is important to remember that no matter what, there is never a guarantee that the player will stay with the Wild. New emotional support players are coming along all of the time. Fans only need to look down the line into the Wild's farm system for up-and-coming players.
Don't fear. The Wild locker room will always contain characters for fans to latch on to.
2