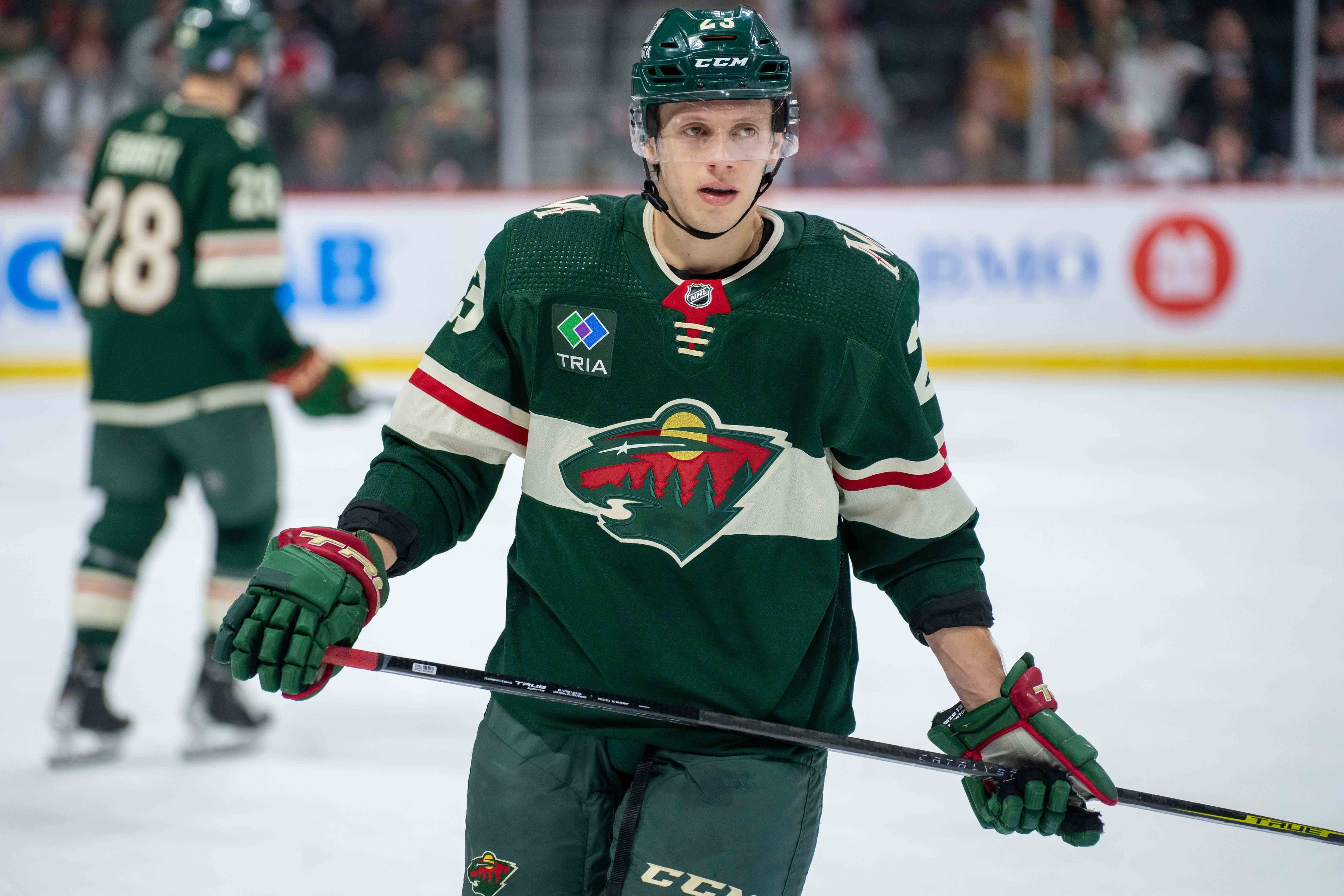 Image courtesy of © Matt Blewett-USA TODAY Sports
Your daily dose of Wild news, along with other interesting stories from around the NHL.
The Minnesota Wild did what a lot of Wild fans wanted all year long this weekend. They recalled center Marco Rossi after he just keeps on putting up points and continues to be a two-way performer in the AHL.
It was for an unfortunate reason -- Joel Eriksson Ek going down with an injury that will keep him out week-to-week -- but we can still be happy to see one of the Wild's top prospects hopefully solidify his position in the NHL. That is only if he actually plays, though. Because with the game that Sam Steel played on Saturday and how he has looked generally in the last couple weeks, removing him from the lineup might be hard for head coach Dean Evason.
We don't think that Rossi was brought in just to sit up in the press box, because it's not like they're going to be heading on a massive road trip where they need the extra bodies. There are three games left in the season. Monday in Chicago, Tuesday against the Jets, and then they go play their finale against the Predators in Nashville. Then it's the playoffs, so the lineup decisions only matter more.
We would hope that Rossi gets to play right away on Monday, to then get in a regular NHL rhythm and be ready for Game 1 of the first round. Although, we have been let down when we want some young guys to play, before.
And speaking of young guys, Brock Faber is now a part of the team and his role or availability to play is in question as well. He just played for the national championship and with Jared Spurgeon, Matt Dumba, and John Klingberg all healthy on the right side of the blue line, there is not an obvious hole that needs to be filled. It's much more tricky to see Faber get in on the action, but if the Wild believe he's a talent that can change the game more than a Jon Merrill or Alex Goligoski, then maybe they will work with some pairings and see who wants to go to the left.
We just want to see the future of this team get some opportunities, but will they?
That's Wild
One of the big questions with Kirill Kaprizov coming back is if Matt Boldy's production will now be slowing down. He's still red-hot but now the offensive load is going to be spread more evenly at the top of this lineup. [Hockey Wilderness]
Gustav Nyquist made his Wild debut on Saturday, over a month after he was acquired by Minnesota at the trade deadline. He earned two assists and looked generally impressive in a depth scoring role. [Pioneer Press]
The Wild reached 100 points with the 5-3 win over the St. Louis Blues on Saturday, but how does that shakedown in the standings? Well, the Colorado Avalanche won their game against the Anaheim Ducks last night and now all three of the Dallas Stars, Avs, and Wild have three games remaining. Colorado is up top with 104 points, Dallas has 102, and Minnesota has 100. So, the pressure is on for the Wild to win those three remaining games. The Stars currently have the tiebreaker over the other two teams, but the Wild could have the advantage over the Avalanche if they tied in points. Everything is still so open with three games left.
Off the trail...
Alex Lyon is saving the Florida Panthers' season and sometimes it takes a guy coming out of nowhere to just win a bunch of games for you and lift you into the playoffs. [Yahoo Sports]
Wayne Simmonds has been able to play just 20 games for the Toronto Maple Leafs this season. He has been shuttled back and forth between the AHL and NHL, and used as some cap-clearing transaction for the Leafs to make some moves throughout the year. Is this signaling his final season in the NHL? Are we ready to say goodbye? [The Hockey News]
We love a little chaos, don't we? Former Vancouver Canucks captain Bo Horvat was asked about the hometown New York Islanders crowd as they push for the playoffs and the centerman just had to say it was "a lot better than Vancouver." [Sportsnet]