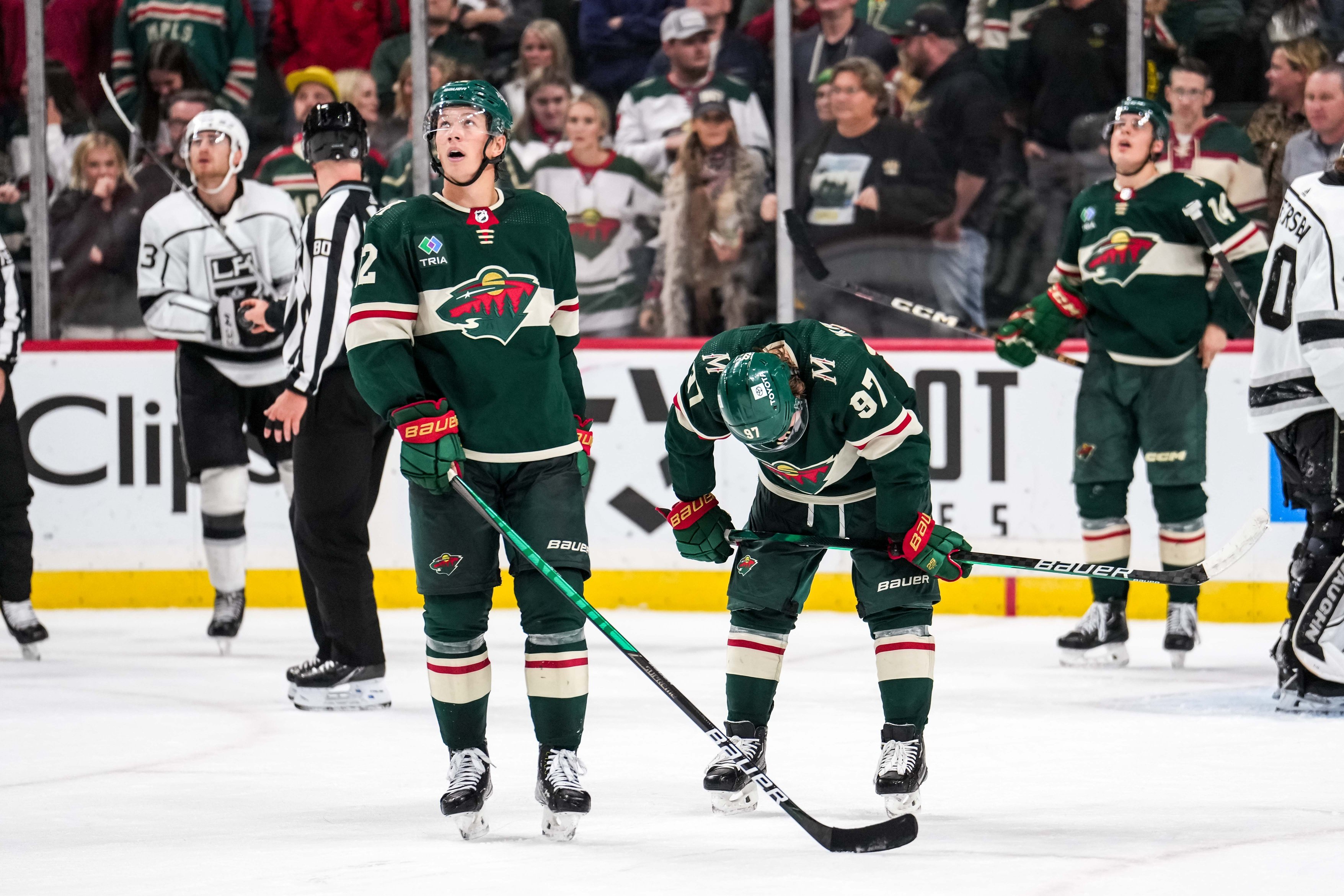 Image courtesy of Photo Credit: Brace Hemmelgarn-USA Today Sports
Can Matt Boldy possibly keep up this production if he's no longer "The Guy"?
It's easy to conclude that the Minnesota Wild's secondary scoring improved because of Kirill Kaprizov's absence. That the team was too dependent on one player, and they only learned how productive they could be once he was gone. Suddenly, a potentially season-ending injury had galvanized the rest of the team to rally in his absence.
In reality, the Wild almost certainly were going to make the playoffs regardless of if they regressed without Kaprizov. Furthermore, Kaprizov suffered his injury on March 8, and the trade deadline was March 3. At first, it didn't look like they did enough to improve the team meaningfully. They couldn't land Brock Boeser, and Marcus Johansson was ineffective in his first stint in Minnesota. John Klingberg rounded out the Top-4 defensemen nicely but reduced Calen Addison's role.
Instead, Bill Guerin's deadline moves shook something loose in the team. Trading Jordan Greenway allowed Dean Evason to break up the GREEF line. He moved Joel Eriksson Ek to the second line, pairing him with Boldy and Johansson. Boldy's production spiked as a result. He went from a goalless February to scoring 12 in March. That has little to do with Kaprizov's presence, except that he got more attention from the opponent's top D-pairings. Still, Boldy has become a 30-goal scorer in his second year and is leading Minnesota's best line.
Kaprizov's return shouldn't negatively impact Boldy. Ideally, opponents will have to split their focus between Kaprizov and Boldy's lines, freeing Boldy to score more. But will his line be as effective without Eriksson Ek? Kaprizov and Mats Zuccarello have been productive without a bona fide Top-6 center. But that's because Zuccarello is a great playmaker, and Kaprizov is a special scorer. Zuccarello's play has dropped off without Kaprizov, partially because Ryan Hartman, a versatile glue guy, is Minnesota's No. 1 center.
Will the Wild move Frederick Gaudreau or Sam Steel into a Top-6 center position again? They've played most of the season without a true Top-6 center on either of the top two lines because Evason had Eriksson Ek on the third line. That probably stifled some of the top line's production, but Kaprizov and Zuccarello have always elevated the center they've played with. Conversely, Boldy struggled this year after the Wild traded Kevin Fiala and didn't put a Top-6 center on his line.
The other solution is the call Marco Rossi up. Rossi started the season with the Wild but has been in the minors since mid-November. Despite his improved play, Minnesota has been reluctant to call their top center prospect up because they don't want to put too much pressure on him. However, failure to do so may impact Boldy's production as the Wild enter the playoffs. It's a Sofie's choice of their own creation. They could have worked him into the lineup earlier. Instead, Minnesota must either thrust Rossi into a prominent role at the most crucial part of the year or potentially watch Boldy's production drop.
Eriksson Ek has long been a vital player in Minnesota. Early in his career, his defense helped anchor the penalty kill and any line he played on. Then, he added offense to his game at age 24 and became a viable Top-6 center. The Wild overcame Kaprizov's absence, but they were aided by the trade deadline and because Evason put Eriksson Ek on Boldy's line. Rossi seems capable of being a Top-6 center, but he can't completely replace Erikson Ek. And if Minnesota chooses not to call him up, they're putting Boldy with a center who could hurt his production.
It's kind of strange that everyone was waiting for Kaprizov to come back so we could see Boldy and Kaprizov together. They've been on the same team for most of the season. But because of the odd construction of this team, which lacked a second Top-6 center and a complementary winger for Boldy, it feels novel. Therefore, it's a shame Eriksson Ek got hurt right as Kaprizov was tracking to return.
Boldy's production may drop off once Karpizov is back, but it has little to do with Kaprizov. It's more that the Wild kept their only true Top-6 center on the third line all year, their best center prospect in the minors, and traded Fiala. Kaprizov will never hold Minnesota back so long as he continues to be the transcendent player he is. Still, it would be nice to see Kaprizov and Boldy productive simultaneously, especially in the playoffs.