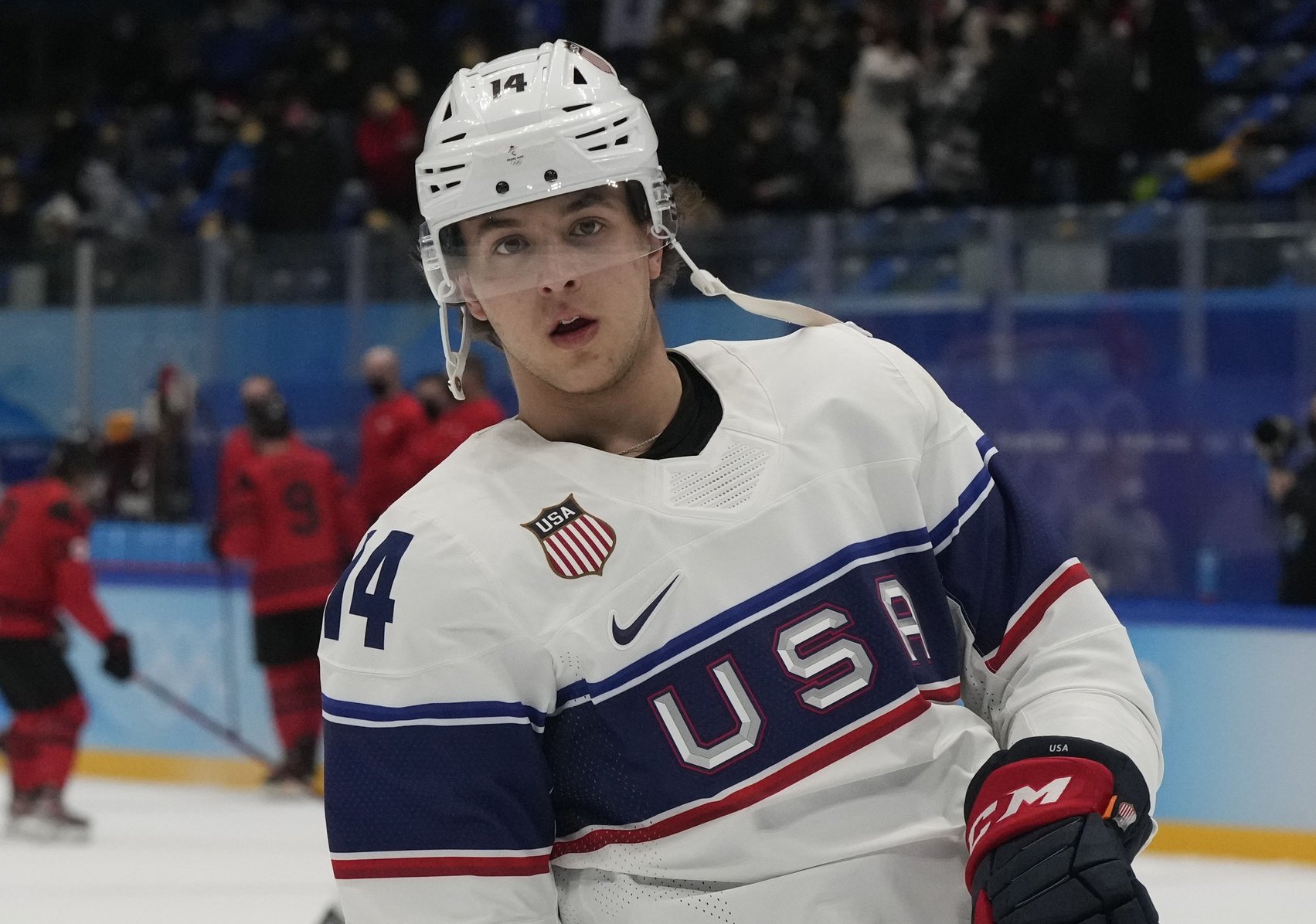 Image courtesy of © George Walker IV-USA TODAY Sports
Hours after suffering a heartbreaking defeat in the NCAA championship game, the Wild's top defenseman prospect signs his rookie deal.
There is at least some good coming out of the Gophers losing the national title in overtime on Saturday night.
Announced by the team on Sunday morning, the Minnesota Wild have signed top collegiate defenseman Brock Faber to a three-year, entry-level contract that will begin this season and go through the 2024-25 campaign.
According to the team, the 20-year-old blueliner will be joining the Wild in Chicago, as they prepare to face the Blackhawks on Monday. He will be wearing the No. 7 for the Wild.
Through his three years with the Gophers, Faber totaled seven goals and 53 points in 97 games. He finished his college career as captain of his team during a campaign where he was able to score four goals and 27 points in 38 games. The Maple Grove, Minn. native isn't known for his all-out offensive ability, but as one of the best two-way defenseman in college hockey that is hyper mobile and agile around the ice.
The Wild originally acquired the defenseman as part of the package from the Los Angeles Kings for winger Kevin Fiala last summer. He was drafted 45th overall by the Kings in 2020.
Faber was crowned the Big Ten Defensive Player of the Year twice and has many more accolades that we probably cannot fit in here. 
With just three games remaining for the Wild this season and the race for the top spot in the Central Division still going on, Faber getting a game in and making his NHL debut is questionable. The Wild sit two points back of the division-leading Colorado Avalanche and have played one more game than the reigning Stanley Cup champions. So, where and who the Wild will be facing in the first round of the playoffs is still to be determined.
Unless he shocks head coach Dean Evason and his staff during practice this week and they decide that he is a better option on that bottom pairing than Jon Merrill or Alex Goligoski, then we might just seem him solidify his spot. The only question that remains -- in that scenario -- is handedness as Faber is right-handed and with Jared Spurgeon, Matt Dumba, and Klingberg all solidifying their spot among the six, the likelihood of Faber playing regularly this season and in the playoffs is dramatically reduced.
Either way, it is exciting to have a crucial piece for the continued success of this team arrive and potentially step on the ice in the last few games of the season.