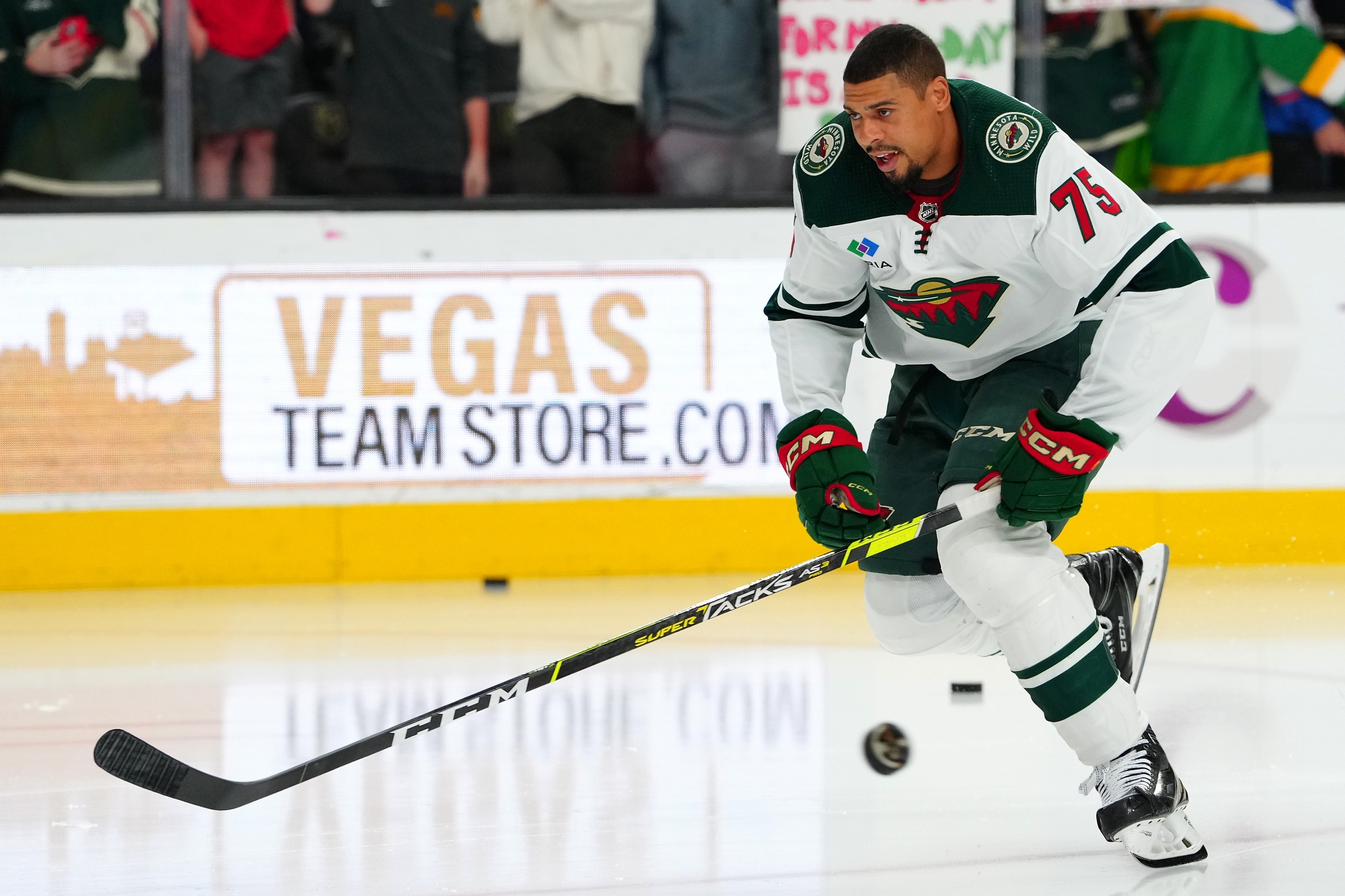 Image courtesy of Stephen R. Sylvanie-USA TODAY Sports
How much would you pay someone to save your season? 
Some version of that question had to be on the minds of many in the State of Hockey, and probably some high up in the Minnesota Wild's decision-making apparatus. When the Wild traded for Ryan Reaves on November 23 last year, they were floundering at an 8-8-2 record. 
A big reason, according to Bill Guerin, was they didn't have what Reaves brought. "He's a big personality," he told NHL.com. "I think right now, that's something our team really needs... and I think he definitely supplies it."
Many argue the proof is evident in what happened next. The Wild went on a 13-5 run once Reaves stepped into the lineup, and he became a staple on the fourth line for the rest of the season. Minnesota went from an 82-point pace to a second-straight 100-point season.
So obviously, you bring the free agent back, right? Especially since it wouldn't cost much money. 
But, no. Reaves wanted a three-year deal from the Wild (they reportedly offered just two), and he was right that he'd get it on the open market. He went to the Toronto Maple Leafs on Sunday for three years at just a $1.35 million cap hit.
It's an easy decision to criticize, if you believe Reaves was the secret sauce that got the Wild back on track.
Was that actually the case, though? It feels like the Wild not going three years on Reaves suggests not. Or at the very least, that it can't be duplicated over the long-term, or that what he brings won't outweigh his shortcomings in other areas until his age-39 season.
This isn't to say bringing energy to the locker room is valueless. A long NHL season has inevitable doldrums and funks from which it's difficult to break out. It's easier to go to work at any job, not just a hockey rink, where the environment is enjoyable. It's a clear point of emphasis with Guerin and the front office, and has been from Day 1.
Is Reaves the only player who could do that? No. And does a player need to bring other things to the table, as well. Absolutely.
To be fair to Reaves, the renowned enforcer wasn't a drag on the Wild this past season. He provided just enough offense at even-strength to be worth 1.1 Standings Points Above Replacement, according to Evolving-Hockey. However, it was just the third time in his career that he gave that to a team. And even that's only if you don't count his below-replacement performance for the New York Rangers.

That kind of stuff just doesn't get better for a 37-year-old. And for as much as he brings to the locker room, the biggest reason to have Reaves on the team showed itself to not work last year.
With the Wild having a smaller team, many have wanted Minnesota to employ an enforcer like Reaves for years. The Wild got a Reaves-type in Nic Deslauriers, which ended up working out poorly. Maybe it was just because they got the Shasta version of Reaves. This time Guerin traded for Coca-Cola Classic. Reaves' reputation for being a deterrent was so great that few in the NHL were even brave enough to take them on. The thinking was, if opponents didn't want to answer to Reaves, they'd be on their best behavior.
That demonstrably did not work out.
6-foot-7 giant Logan Stanley fell on 5-foot-9 Kirill Kaprizov, taking him out for weeks and reducing his effectiveness in the playoffs. Reaves' response? Nothing. He didn't deter Stanley from touching their superstar, and he didn't dish out any consequence for doing so.
This continued in the playoffs, where Reaves was helpless to stop the Dallas Stars from taking liberties with the Wild throughout their six-game set. This includes Ryan Suter in particular hacking away at Kaprizov with such intensity that you'd have thought the Russian superstar said something truly awful, like that Suter should play on the second power play unit.
The idea is that giant, physical players like Reaves are what get you through the playoffs. The Wild played the gritty identity that they wanted, with Reaves being a key part of that, and the result was the same: Out in the first round, in the same six games the skilled, high-flying Wild of 2021-22.
And again, if he's not that deterrent for other teams, and definitely not that in the playoffs at age-36, how is that going to be better at 37, let alone 39?
Good for Reaves getting what's his. $4.05 million is a nice payday for him. But be glad that Toronto is paying that, and not Guerin. The Wild have been bitten by signing aging veterans for more term than they should, and that will likely happen again. In this case, however, they made the right choice in walking away.
3