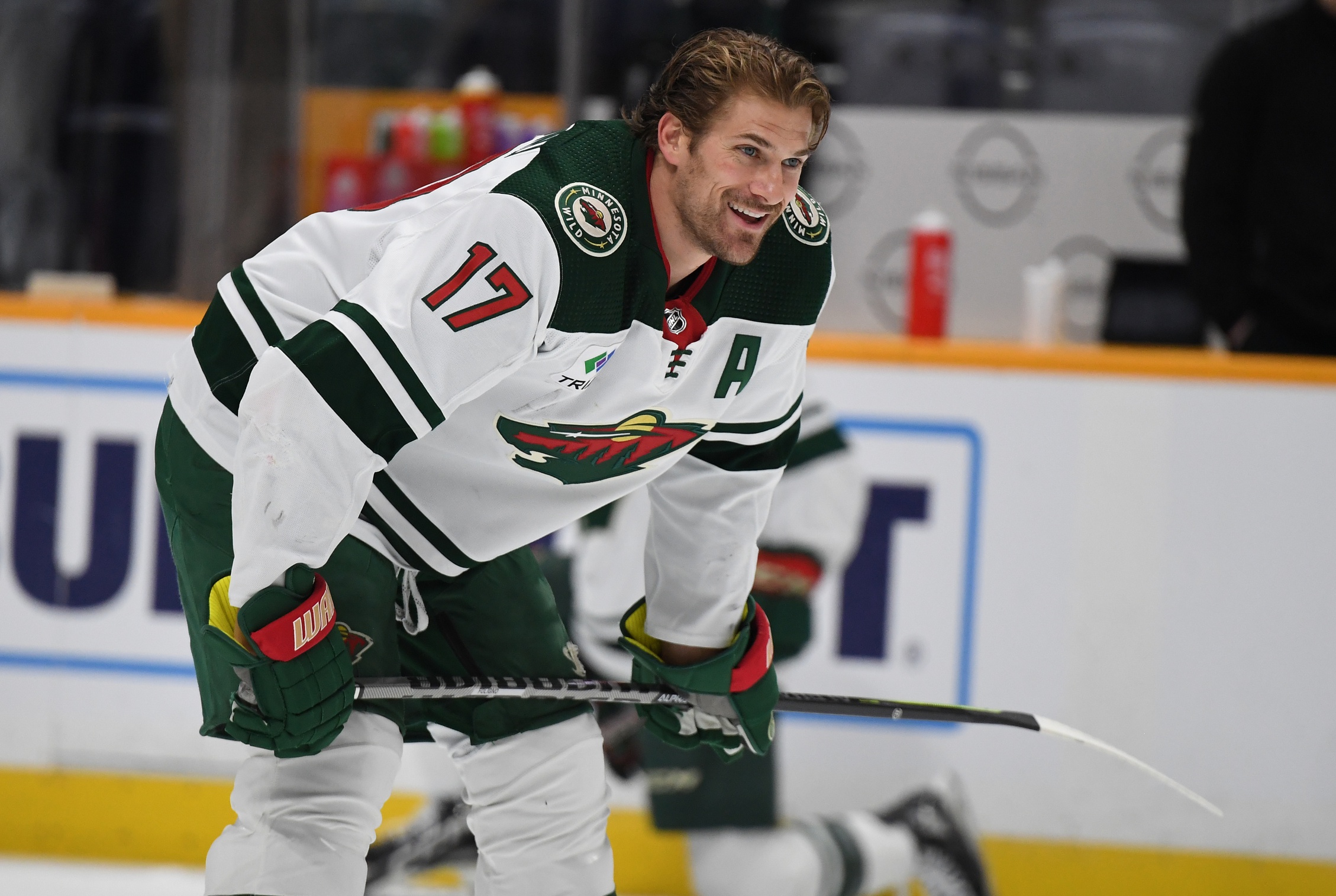 Image courtesy of Christopher Hanewinc-USA Today Sports
The Minnesota Wild have many difficult decisions ahead of them this summer because of their financial situation. The Zach Parise and Ryan Suter buyouts have left them with just over $9 million to spend with a long checklist to complete in a short time period.
The Wild have their hands full between Filip Gustavsson needing a raise after a breakout season and four RFAs in Calen Addison, Brandon Duhaime, Mason Shaw, and Sam Steel all needing new contracts. That doesn't even include Minnesota's UFAs: Gustav Nyquist, Oskar Sundqvist, Ryan Reaves, John Klingberg, and Matt Dumba. However, many, if not all of them, are not expected to return.
So, the Wild have a tricky landscape to navigate this summer, especially if they're trying to upgrade their roster after another disappointing playoff ending. But with some of Minnesota's highest-paid players controlling their fate with no-move clause protection, there are few trades the team can realistically make to offload money that will help alleviate their current financial climate.
But the Wild could easily trade Marcus Foligno, who is entering the final year of his contract that pays him $3.1 million annually. 
Foligno had a polarizing playoff performance. He only had one goal and 35 penalty minutes, including a game-altering misconduct occurring minutes into Game 5. Foligno committed eight infractions in all, which, with one team already in the Stanley Cup Final, is still tied for fifth in the playoffs right now. What's more, his 5.76 penalties per hour rate in the playoffs is the highest in the league among players with more than three games played. 
There are some mitigating factors, though. League officials communicated that neither of Foligno's two penalties in Game 4 should have been called, nor should he have been assessed a five-minute major and game misconduct in Game 5. Regardless, Foligno had a tough postseason, which also summed up his body of work in the regular season.
After scoring a career-high 23 goals and 42 points in 2021-22, Foligno finished this past season with only seven goals and 21 points – back to around his career average. Furthermore, Foligno veered off course from his usual defensive stalwart reputation. His 2.56 on-ice expected goals (xG) against per 60 at 5-on-5 was tied for 154th among forwards who played at least 500 minutes. That was about three-quarters of an xG higher than his 2021-22 rate.
While his scoring finished around where he's been his entire career, it's easily Foligno's most disappointing season with the Wild. Not just because of his fall from grace offensively, but because he played his worst defensive season – the very element of his game that drives his value since he arrived in Minnesota. 
That raises a major question: Which version of Foligno will the Wild see in the 2023-24 season? That is, assuming he isn't moved.
It's difficult to believe that Foligno, who is entering a contract year, won't rebound after a tough season. The 31-year-old dealt with injuries and didn't play like his usual self. Plus, coming to grips with regressing after scoring the sixth-most goals on the team a year before has got to be hard mentally. On the bright side, what seemed like an-all time low season for Foligno still saw him make a slightly positive impact, registering 0.3 Wins Above Replacement.
It's challenging to predict what Foligno's production, both offensively and defensively, will look like next season. But one has to be optimistic about a player who has succeeded in his current role. 
Ultimately, the Wild likely are going to have to do something just to field a team because their cap situation is gloomy. But they can't afford to trade Foligno, even if it gives them a little more wiggle room.
The Wild don't have another player like him, a top defensive forward in the league who can make an impact both offensively and with his bone-and-glass-shattering hits. He embodies the team's defensive, hard-to-play-against identity. Losing Foligno means losing that completely.
He has epitomized consistency in a checking-line role like nobody else during his tenure in Minnesota. Frankly, he might be a one-of-a-kind role player in the league when he's at his best.
Foligno ranked No. 1 league-wide between 2017-18 to 2021-22 among forwards with 23.5 even-strength defensive goals above replacement. And here's his on-ice xG against rates at 5-on-5, along with his ranking among forwards who played a minimum of 500 minutes from each season:
2017-18 – 1.76 (4th)
2018-19 – 1.57 (1st)
2019-20 – 1.66 (2nd)
2020-21 – 1.59 (1st)*
2021-22 – 1.78 (2nd)
The Wild need Foligno's presence. Think of the Wild as a clothing brand. Foligno is part of the fabric, and his energy coupled with his physical play is unmatched on the team. 
Taking a chance that Foligno rebounds is worth it. He's one of those players who stands as irreplaceable, with few, and maybe none, like him in the league. And he's more valuable than what the Wild would do with $3.1 million trading him would save.
All Data Via Evolving-Hockey, Natural Stat Trick, Hockey Reference, and CapFriendly.
*Foligno played just 459 minutes in a shortened season
1