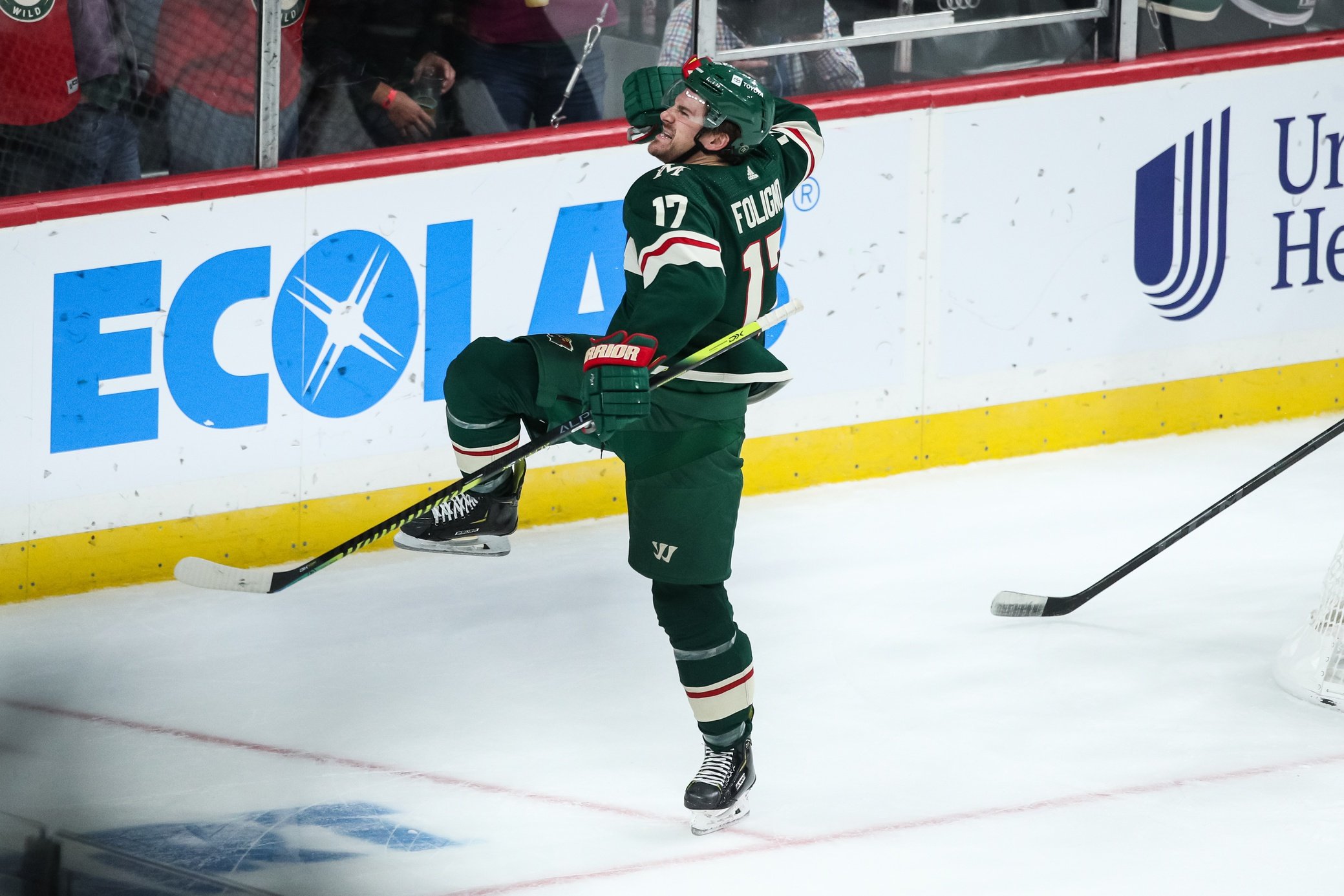 The Minnesota Wild have a specific role for Marcus Foligno. They deploy him to play a physical, hard-nosed forechecking game with superior defensive play and game-altering fights. Every team has some version of this player. Adam Lowry on the Winnipeg Jets, for example.
Foligno is a rare talent, and nobody plays their role better than him in the league. He's become more than just a fourth-line grinder with his defensive prowess and legitimate offensive production.
That was evident last season, and perhaps it came with some extra motivation after being awarded a three-year contract extension at the beginning of the 2020-21 campaign. This season, the Wild chose Foligno to be an alternate captain along with Matt Dumba. It was an easy choice because he is a vocal leader on and off the ice.
The 30-year-old winger had a career year, posting 11 goals and 26 points in 39 games. His 1.21 goals per hour and 2.77 points per hour were the 25th and 13th best, respectively, at 5-on-5 league-wide. It paints an astonishing picture as Foligno was producing at a top-line rate despite being a traditional fourth-liner.
Foligno continues to carry a heavy load, too, facing "elite" competition 24.5 percent of his ice time, according to PuckIQ. Tough competition is part of his modus operandi, though. He was paired with Joel Eriksson Ek and Jordan Greenway, forming a formidable line this past season.
It wasn't just his flashy point totals either; he was an incredible finisher. His 27.5 shooting percentage was a career-high, and he scored six goals above expected based on the shot quality according to Hockey-Viz's finishing visuals. The Wild shot at a 15.2 percent clip with Foligno on the ice at 5-on-5. The Wild also controlled 56.32 percent of the expected goals with him on the ice.
Given his age and past production, it was a red flag, hinting that there could be some expected regression this season.
However, Foligno continues to do the unexpected once again.
Through seven games, he has been a two-way monster. In this small sample size to begin the season, he has continued to deliver and prove why he is the best role player in the league.
Foligno has four points through six games, including a game-winning goal with 7.2 seconds left to seal the deal against the Anaheim Ducks. Likewise, he won a crucial game-changing fight against Brenden Dillon against the Jets. Furthermore, the Wild have controlled play at 5-on-5 with him on the ice. Foligno has a 64.4 expected goals for percentage.
With his current trajectory, it doesn't appear Foligno is going to slow down anytime soon. He has continued to be one of the best two-way forwards in the league.
Since arriving in Minnesota in 2017-18, Foligno ranks 12th among forwards in wins above replacement (WAR) per hour. Only upper-echelon players, like Connor McDavid and Nathan MacKinnon, rank ahead of him. It's clear how valuable he is to the Wild; he's in company with the league's best.

While his offensive production hasn't always been present like last season, his defensive game was at the top of the league from 2018-20. While the emergence of his offensive game makes him even more dangerous, his defensive prowess is his focal point and an essential facet of his role.
Another critical element of his role is his significant penalty-killing duties. He is a mainstay on the Wild's penalty kill and has been the best, most consistent PKer on the team. Over that same three-year span, only five players bested Foligno's 3.9 shorthanded goals above replacement.
During that stretch, his 9.8 defensive goals above replacement were the best in the league. He was undoubtedly deserving of Selke votes as the league's best defensive forward during that time; something was able to garner when it came to voting this past season.
If the NHL had an award for the best role player, Foligno would run away with it. He masters his role and does everything the Wild need him to do. With two years remaining on an affordable contract, it has become evident that he is irreplaceable when considering everything he brings to the table.
All Data Via Evolving-Hockey, Natural Stat Trick & Hockey-Reference.