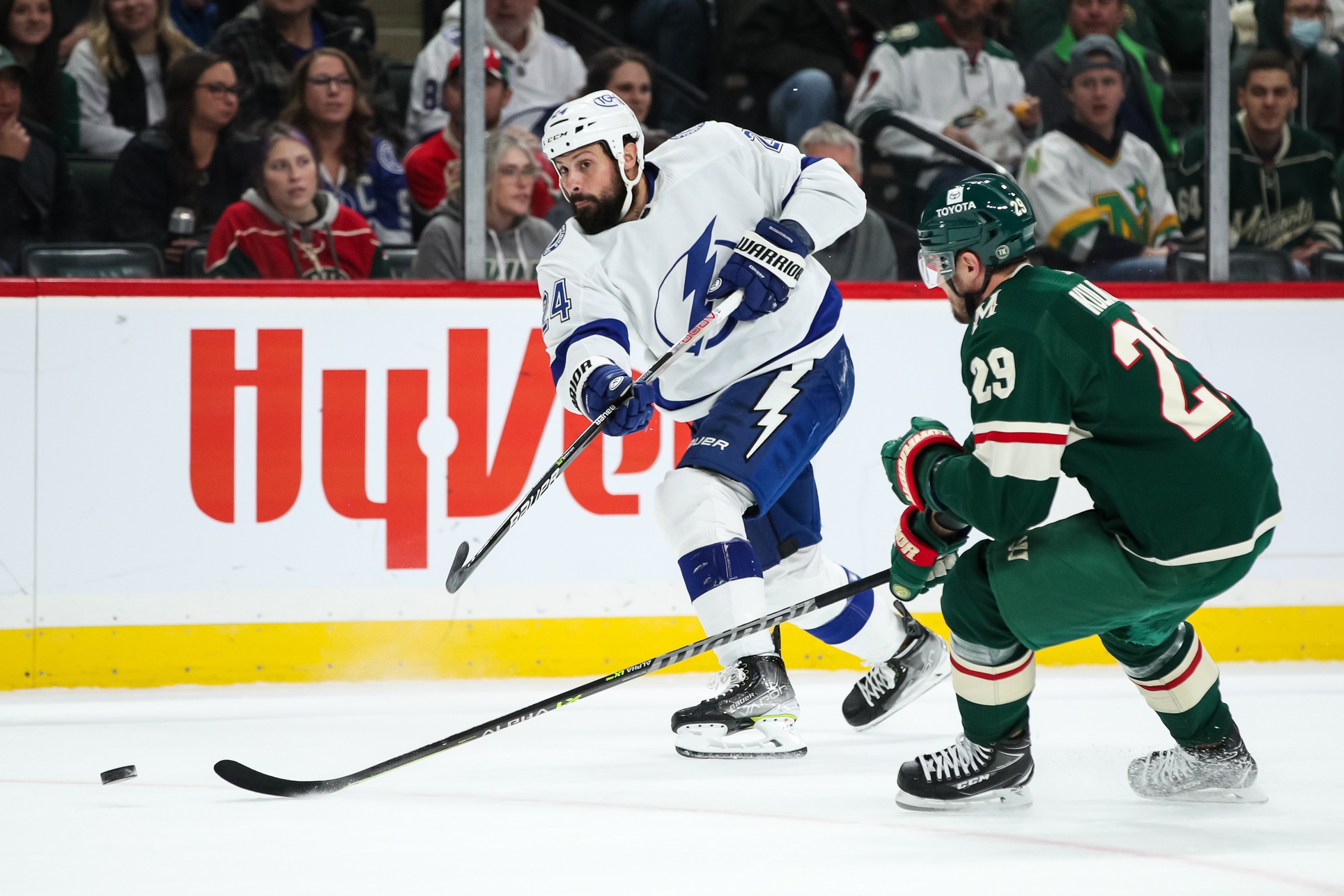 Image courtesy of David Berding-USA Today Sports
The gritty, veteran-laden Minnesota Wild are stumbling to a 5-5-2 start this season. Alarmingly, despite the premium the team has put on keeping their hardest-working and grittiest players, the team hasn't consistently shown those qualities so far. They're giving up scoring chances much too easily, contributing to the second-highest goals against rate at 5-on-5 in the NHL.
What's the solution? There's only one way: Bill Guerin had to get the Wild more grit. Enter Zach Bogosian, the 33-year-old, 6-foot-3 defenseman who stepped in after Minnesota flipped 23-year-old puck-mover Calen Addison to the San Jose Sharks.
The top of Bogosian's Hockey Reference page checks a lot of boxes for what the Wild are looking for. They want more size on the blueline? Check. They want a veteran? Wow, look at this, he's got almost 800 games of experience. They want A Winner? Check this box out, it says "1x Cup Winner." You can't say it's not there!

"[Bogosian's] bigger. He's heavier," Guerin told the media over Zoom after the trade on Wednesday. "The experience, not just playing in the league, but winning and being on a championship team... I just think that's something we need to improve upon."
Bogosian's time in Minnesota is going to be linked to the Addison trade, and that's probably fair. After all, the Wild moved Addison to free up the roster and salary cap space to bring Bogosian in. It didn't have to be this way. The Wild could have put Jon Merrill or Dakota Mermis on waivers and accomplished the same thing.
It's not a great look to tout a bright future and give up on a skilled, productive young defenseman to bring in a much older, short-term fix. That's going to make bringing in Bogosian seem worse than it is.
The thing is, bringing in Bogosian in the first place is a mistake, even when completely divorced from the Addison situation.
It should be noted that the Wild's cap situation gives them limited options. Their moves have to be dollar-in, dollar-out, essentially, because of their being perilously close to the cap. Size on the blueline is always at a premium, and importing that quality on the cheap in November is going to be difficult.
Even with the understanding that the baseline for talent will be lower for this kind of player, historically, bringing in Bogosian is not worth doing.
A player with limitations offensively and in transition can still be useful if they are able to defend well and clear the front of the net. From Jake Middleton, to Merrill, to Dmitry Kulikov, all the way back to Nick Seeler and Nate Prosser, Wild fans are familiar with this type of player. You accept what they can't do because of their specialized skills, even if those aren't glorified.
That's not the kind of player Bogosian is. He's big, yes. He'll put up hit and blocked shot numbers. But when it comes to playing effective defense? Limiting chances to the front of the net? Protecting his goalies? That's not who he is. It never has been.
On the bottom of this chart from HockeyViz, we can see where Bogosian is most likely to give up shots. At both 5-on-5 (left) and the penalty kill (right), we see that he gives up high-danger chances at a significantly higher rate than the NHL average.

A fanbase that has seen Jonas Brodin and Jared Spurgeon shut down the middle for over a decade doesn't need anyone to explain that defending is much more about size. How well can you skate? How well can you anticipate what the offense is going to do? Bogosian's toolkit has never translated to strong defense at any stop in his career, whether for bottom-of-the-barrel teams like the Buffalo Sabres and Atlanta/Winnipeg ThrasherJets, or top contenders like the Lightning and Toronto Maple Leafs.
We could point out that Bogosian has been a below-replacement level player in terms of Evolving-Hockey's Standings Points Above Replacement for eight of his 15 NHL seasons. That measure of overall impact is damning enough, but the real horror show is when you isolate his defensive impact.
Bogosian's defense has only been above replacement level in two of his 15 seasons. The years in question were 2014-15, the year the Jets traded him to the Sabres, and 2017-18 when he played only 18 games for Buffalo. That's it. Every other year, he's been a worse defender than your average AHL call-up.
His longevity and consistency mean his defense ranks fourth-worst in the Analytics Era (2007-08 to today). Only Keith Yandle, Jack Johnson, and Tony DeAngelo have a bigger negative career impact on that side of the puck. Bogosian's defense alone has cost his teams about 10 SPAR over his career, or a little more than a point per 82-game season.
This is merely over his entire career. We haven't gotten into his 30-something years, where he's been in decline with Lightning. Here's how he's fared compared to the league average in the past three seasons:

It's hard to get a better environment for someone like Bogosian. He's spent the past three seasons playing sheltered minutes, including with both high-profile defensemen like Victor Hedman and Mikhail Sergachev and effective defenders in T.J. Brodie and Travis Dermott. All of his time in those three seasons were for true championship-caliber teams. His penalty kill responsibilities were even relatively light.
And in an ideal assignment, Bogosian stumbled instead of shining. Over the past two seasons, he cost Tampa Bay about 4.3 points in the standings. His defense was atrocious, bleeding high-danger chances in both years, as seen below:

Again, this was on a top team with the luxury of loaded rosters capable of putting up 100 points in their sleep, and only needed to play him in a part-time role which exposed him to around 15 minutes a night with few special teams duties.
The Wild are a point behind the Arizona Coyotes for the last Wild Card spot. They have a hole to dig out of, and their trust in the bottom of their defensive depth chart is non-existent. Minnesota will likely count on Bogosian to play crucial penalty kill minutes and harder defensive assignments. Even if Spurgeon's return keeps him around the 15-minute per night mark, without Addison, Minnesota is one injury away from having to play Bogosian as a top-four defenseman. 
The Wild wanted to double down on the old-school identity they aspire to and play their typical hard-working, physical style. But Minnesota's identity isn't just about muscle and grit; it's about converting that into either scoring or preventing goals.
Getting Bogosian to solve their defensive woes (barring an unforeseen improvement from a 33-year-old) fights counter to the identity that they're trying to preserve. Bogosian is being asked to do a job that, historically, he can not do. Guerin and the Wild depending on Bogosian to perform in a shutdown role feels more like throwing grit at their problems than it does a rational solution. 
All data via Evolving-Hockey unless otherwise specified.
1

1