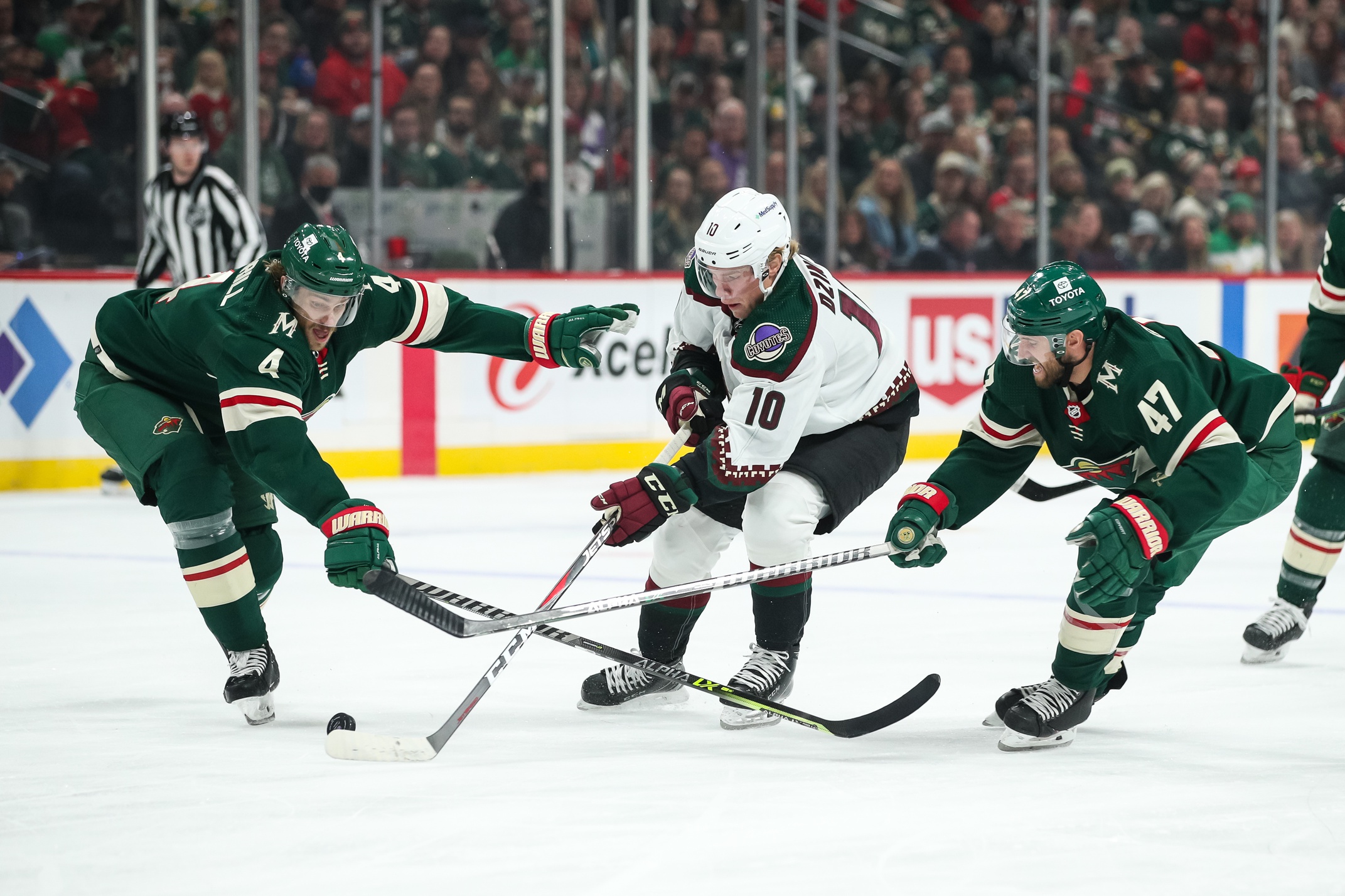 Image courtesy of David Berding-USA Today Sports
The Minnesota Wild's roster is, for all intents and purposes, locked in stone as the team enters training camp. The Wild's CapFriendly page features 12 signed forwards, and those are the odds-on favorites to start the season. Their defense features five veteran defensemen, with rookie Brock Faber destined to lock down a sixth spot, and unsigned Calen Addison figuring to enter the mix. Jesper Wallstedt won't displace either Filip Gustavsson or Marc-Andre Fleury, barring injuries.
You can never say "never." But as much as Vinni Lettieri, Adam Beckman, and Sammy Walker may be hungry to take a spot, someone would have to either get injured or underwhelm mightily for them to make the opening day roster.
At least at forward. When you look at Minnesota's defense unit, you start to see the potential for a shake-up. "Faber and five vets" has a ring of job security to it, and the Wild are unlikely to touch the top-four of Jared Spurgeon, Jonas Brodin, Jake Middleton, and Faber. But the bottom of that defense corps might not be quite as locked in as the rest of the roster.
Addison's spot has the most obvious potential for a shake-up, at least right now. Addison brings skills to the table that the Wild need. However, as long as he's out of the fold, that spot is technically up for grabs. Even if he is back, it's likely he'll have a spot in the lineup. But is it a certainty? Addison lost his job last season, despite his prodigious power play production, so could he play himself out of the preseason lineup if he disappoints?
The good news for Addison is that the Wild won't be able to bring in a John Klingberg-type veteran to take his spot. They simply can't afford it. But the question would then become: Did the Wild see an opportunity to add Klingberg, who happened to displace Addison? Or did the Wild decide they'd displace Addison, then happen to stumble on an opportunity in Klingberg?
Minnesota kept Addison's rights over the winter, which suggests it might have been the former. But if it's the latter, then Addison may need to watch over his shoulder when he gets to training camp.
Then there is Jon Merrill and Alex Goligoski, the two veterans competing for bottom-pairing spots. Both veteran defensemen found themselves outside of the lineup in last year's playoffs. Merrill went to the bench after Game 2 of the Wild's six-game set with the Dallas Stars, and Goligoski missed the entire series. 
Are either of them a lock to make the roster this year?
Both players are coming off difficult seasons following strong 2021-22 campaigns. After an uncharacteristically strong offensive season, Merrill reverted back to what he's always been: a defense-first defenseman. While at his peak, Merrill was a borderline elite stay-at-home defenseman, he was only above-average in that regard last year. That defense helped him stay in the lineup for 73 games last year, but it made his complete lack of offense much more glaring. Doubly so when compared to the season before it.

Goligoski's decline was more steep, both offensively and defensively. Goligoski had ranked in the 90th percentile among defensemen in terms of offensive impact during the 2021-22 season, then fell all the way down to the bottom-third of the league. There are two explanations for this drop: age and Spurgeon.
Spurgeon was Goligoski's running mate until the Wild acquired Middleton to ride shotgun with Spurgeon. Goligoski spent about half of his 5-on-5 minutes with Spurgeon that year. Even though Spurgeon was hurt for a good portion of the year, he was still an elite defenseman, so it makes sense that Goligoski would thrive. The duo took 70.3% of the goal share and 58.0% of the expected goals when together at 5-on-5.
That wasn't the case last year. When Goligoski drew into the lineup, he spent less than 10% of his minutes with Spurgeon and about half of them alongside Matt Dumba. Though the two were able to put up 53.8% of the expected goals share, they only scored 43.3% of the goals when together. The eye test was also not at all kind to Goligoski, who is now entering his age-38 season.
Both Merrill and Goligoski are under contract, which offers some security. Merrill has two years remaining on his deal, but waiving him and sending him to Iowa would bury nearly his entire cap hit. Goligoski's no-move clause gives him much more security over where he goes. But if the Wild continue to dwindle his playing time this season, does he become open to waiving it? What if it becomes clear during training camp that he's seventh, or even eighth in the pecking order?
Of course, none of this matters unless there are solid options waiting in the wings to steal a third-pairing gig. The bad news for this veteran duo is: there are. Carson Lambos got a long look from the Wild last season, when he participated in training camp at 19. They even kept him for an extra preseason game as a reward for impressing the team so much. He will be entering pro hockey this year, but he's another year older and stronger.
Daemon Hunt had a rookie season in Iowa that doesn't look great on paper (two goals and 11 points in 59 games), but the Wild are high on the 21-year-old blueliner with a mean streak. You can see flashes of greatness when you break down his tape, as Hockey Wilderness' Justin Wiggins did last month. David Spacek and Kyle Masters are also making their pro debuts, and while they're longer shots, you can't rule either out of making a push for the big club.
The Wild are big on stability, and those signs point to the status quo winning out in the preseason. The best guess is that Addison, Goligoski, and Merrill will be on the roster on Opening Night, barring injuries. But there is enough intrigue present on the blueline that makes that jockeying for fifth, sixth, and seventh defensemen spots the thing to keep a close eye on during training camp.
All stats via Evolving-Hockey unless otherwise stated.
2