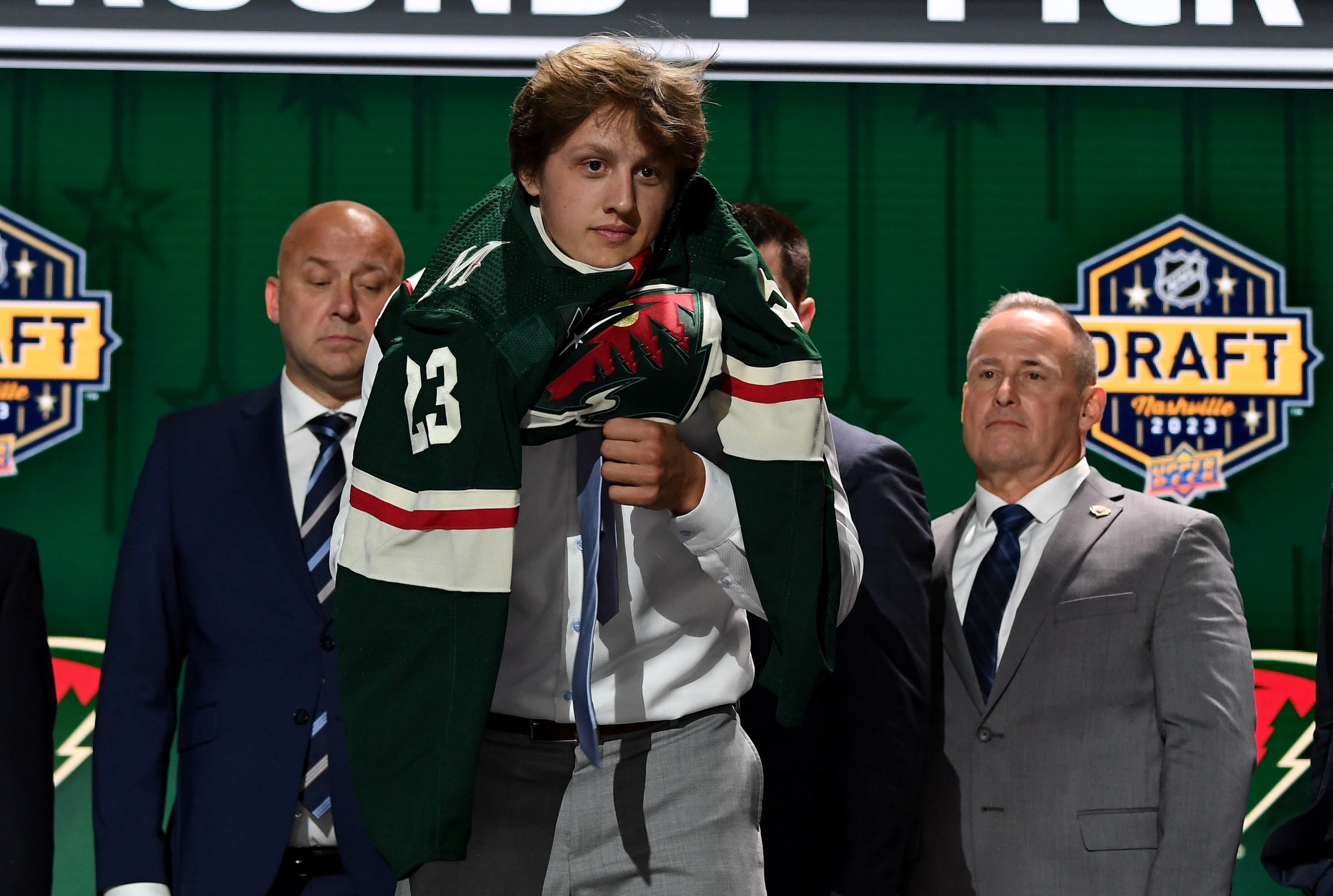 Image courtesy of © Christopher Hanewinc-USA TODAY Sports
The Minnesota Wild showed their hand in this year's draft. Bill Guerin and Director of Amateur Scouting Judd Brackett didn't hide that they wanted big centers, selecting true centers with each of their first three picks. Minnesota's 2023 draft capital was very top-heavy, with three selections in the first two rounds and no picks in Rounds 3 or 4. To use their first-rounder and both second-rounders was to go all in fixing the team's glaring center problem. 
The Wild organization and public scouting agencies consider Minnesota's prospect pool among the strongest in the league. The front office leaned on the strength of their pool, which shaped the team's draft strategy. Guerin telegraphed his strategy in an interview with The Athletic, saying, "This might be the year we can pick position-specific or try to fill a need because we do have quite a few prospects now." 
Enter three new center-ice prospects. 
There's a strong argument that a deep prospect pool opens the door to drafting the best player available. Guerin kiboshed this in the same interview, though, saying, "I think if we were going to do a high-risk, high reward, we'd need maybe multiple first-round picks. I don't think there's necessarily any need to do that." It's been clear for some time that Guerin wants to cultivate its prospect pool until a legitimate Stanley Cup window opens. 
Most championship contenders home-brew high-octane scorers like Mikko Rantanen or freakishly toolsy defensemen like Victor Hedman. Other front offices build champions using shrewd asset management: The re-tooled 2017 Pittsburgh Penguins and the 2023 Vegas Golden Knights come to mind. If one considers the prospect pool a liquid asset, the most important aspect of the prospect pool may be depth. 
Imagine negotiating a trade and opening the door to prospects joining the fray. If you were a hockey executive managing a prospect pool that's not only exciting but also deep at all positions, how can your trade partner leverage their own prospect pool in the trade? In other words, teams who eliminate positional needs in their prospect pool improve negotiating power of that prospect pool. 
So, how did Minnesota use this draft not only to add quality prospects but also to improve its negotiating position? They drafted a hockey scout's dream in Charlie Stramel, a culture fit in Rasmus Kumpulainen, and an analytical darling in Riley Heidt. No matter who comes calling, it's easy to convince them that the Wild are happy with their center pipeline. 
What's interesting about this strategy is that it bucks a trend of new-age Wild drafts. In the past, analytical models and those who put stock into them have lauded draft classes under Bill Guerin and Judd Brackett. The 2023 Wild draft saw the team take traditional prospects with its top two picks. Both are exceptional athletes who come ready-made at NHL size. Stramel, in particular, jumps out of the gym: 
On the other hand, neither Stramel nor Kumpulainen has tangible scoring output. HockeyProspecting.com models minor-league scoring using a metric called NHL Equivalency (NHLe), which approximates goal- and assist-scoring numbers to NHL points based on how difficult it is to score the level of each minor league. 
Prospects who "hit" typically improve their scoring output by about 20 to 30% each year. That means that those with better scoring numbers in junior hockey out-pace their non-producing peers exponentially. Minnesota is betting on both of these guys to play a complete 200-foot game. For Kumpulainen, this is especially true because he's never been particularly impressive on the scoresheet.

Every team's draft class lives and dies by the team's first selection. In selecting Stramel, Minnesota may be in that position more than any other franchise for 2023. Brackett is as analytically inclined as NHL scouts come, but he couldn't help but look at Stramel with scout's eyes. "Charlie is physically. To be honest, he's a freak," Brackett said. "This is someone who finished in the top five in five different categories at the combine. Measured 6-3, 222 pounds already, and it's not all power with him. He was top five in some categories that were jumping in athleticism. When you watch him move, he's truly an athlete." 
There's no question that Stramel has NHL tools, but Minnesota is betting on those tools like a gambler going all-in on a single number on a roulette wheel. If Stramel ever cracks the first or second line, he'll need to drive NHL offense in a way he's never done in the NCAA. Given the state of the University of Wisconsin's men's hockey program last year, that remains a distinct possibility. 
Riley Heidt fits the analytically-inclined mold of past drafts, but the Wild waited until pick 64 to select him. If you view draft prospects as assets, Minnesota has diversified its bonds in Heidt. As exciting as Stramel's 2021-22 USNTDP season was, Heidt matched it that year and blew it away in 2022-23. From an analytical perspective, it's incredibly encouraging that Heidt did all of this when he was five months younger than Stramel.

Minnesota's front office had a good sense of his value among other NHL GMs, and Guerin was vocal about working the phones ahead of this year's draft. Most public mock drafts showed Heidt would be selected no later than pick 40. 

According to Prasanth Iyer's prediction, which is based on the real draft slot at which prospects have been selected in the past versus high-profile public mock drafts, Heidt had only a 35% chance to slip past the first round. His draft slot compared to the publicly available opinion of his play was nothing short of anomalous. On the other hand, Brackett was ecstatic to pick Heidt up at the end of the second round. According to Guerin, "Judd was doing backflips."
Minnesota's 2023 draft was an instructive reminder that teams have access to more information than the public. As exciting as Heidt was coming into this year, and as exciting a prospect as he remains, 31 teams passed on him twice. The Wild's hockey ops shrewdly waited on him, which inspires confidence in the Stramel and Kumpulainen picks. However, it implies warts within Heidt's game that need to be ironed out as much as the offensive side of the other two center prospects. Minnesota's renewed commitment to its development system meshes with this to paint a much richer picture of drafting and development. 
Taken together, all of this is encouraging. After curating a deep prospect pool, Minnesota's front office leveraged it to reach on premium positions. While the 2023 class taken alone may look a bit funny, rest assured that it fits into the larger plan for a Stanley Cup parade on 7th Street.
2