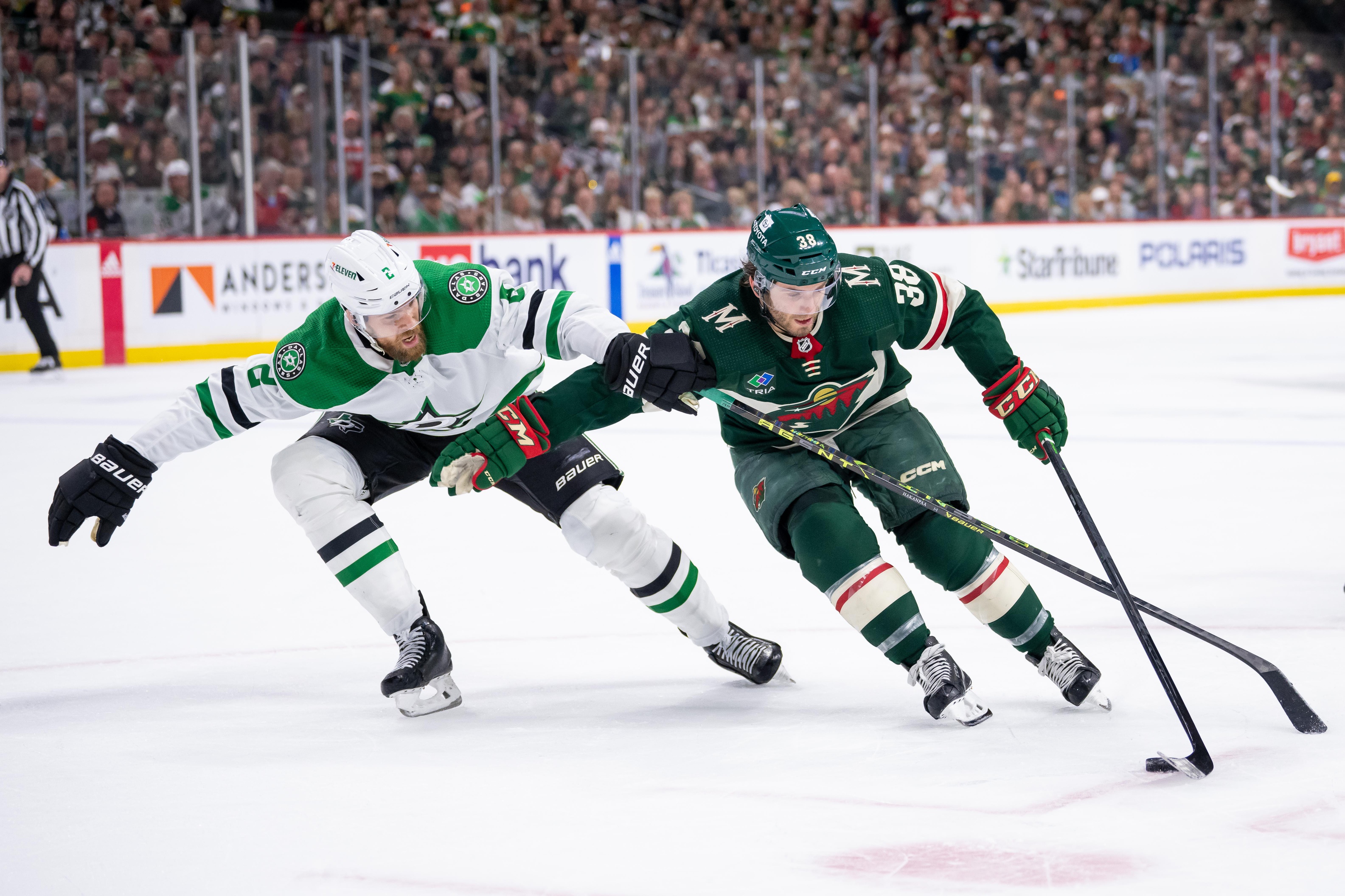 Image courtesy of Brad Rempel-USA Today Sports
No one can say anything other than that Ryan Hartman took full advantage of a rare opportunity. After bouncing around the NHL, getting traded from the Chicago Blackhawks to the Nashville Predators, the Philadelphia Flyers, and Dallas Stars (where he never played), Hartman was a rare 25-year-old journeyman when he signed with the Minnesota Wild.
Through the first two years, he more or less looked the part, scoring 16 goals and 42 points in 120 games while mostly playing third-line minutes.
We know what happened next. In 2021-22, the Wild needed someone, anyone, to anchor their dynamic duo of Kirill Kaprizov and Mats Zuccarello. Hartman did it, and performed better than anyone could've imagined. Over the past two years, he scored 49 goals and 102 points in 141 games. That's nearly as many career goals (58) and points (131) as he'd had in his 365-game career before his new home at the intersection of Kaprizov Ave. and Zuccarello Court.
Altogether, that's 29 goals and 60 points over an 82-game pace since Hartman seized his opportunity. Even last year, his 82-game pace was 21 goals and 51 points. That's pretty good, and he probably gets more flak than he should for the job he's done as the Wild's de facto No. 1 Center.
But if the Wild are truly aiming to build a long-term winner, they will not go into the season with Hartman on the top line again.
The math is this simple: If Hartman is on the top line, there's no room for Marco Rossi in the top-six. Dean Evason long used Eriksson Ek as a checking-line center despite showing potential for more offensive responsibility. Last year, with 61 points in 78 games, Eriksson Ek showed without a shadow of a doubt that he belonged in the top-six. Guerin and Evason broke up Eriksson Ek's checking line, which Evason called his security blanket, permanently when they traded Jordan Greenway to the Buffalo Sabres.
There's little chance of a reunion with Marcus Foligno on the third line, not after Foligno's seven-goal season, nor the hot streak Boldy went on with Eriksson Ek stabilizing him. So where does Rossi play if Hartman is in between Kaprizov and Zuccarello?
That'd be on the third line, at the very most. Who'd be his wingers? Most likely, he'd line up alongside Foligno and Freddy Gaudreau. Rossi's generally a playmaker, and there aren't a lot of candidates for the "finisher" role outside of Minnesota's top-six. And unless someone like Adam Beckman or Sammy Walker can emerge as that threat, Rossi might once again be set up for an underwhelming season.
Thus far, the Wild brass' attitude towards Rossi is something like this guy needs to earn the biggest opportunities and work his way up. It can be an appealing sentiment, as it's fair to someone like Hartman, who did work his way up from a bottom-six role to where he's at today.
But that's entirely too idealistic for what the situation demands. The fact is the Wild have invested a ton in Rossi. They picked him ninth overall in 2020. They put in two years of AHL development and premium minutes into him. Minnesota might well have had a chance to trade Rossi and recoup draft capital if they were disaffected with him, and they didn't. Another year of struggling will drive that price down by next summer. It's too late to pull the ripcord and get solid value for him.
A not-insignificant percentage of the Wild's hopes and dreams rests on Rossi's shoulders. It's time to see what he can do. If Minnesota kicks the can down the road another year in favor of Hartman, it signals that they aren't prioritizing their future like they should.
It sounds harsh towards Hartman, but it has little to do with him. You can argue that Hartman on top of the lineup gives Minnesota the best chance to return to the playoffs next year. Over the past two seasons, Hartman's given the Wild 4.7 Standings Points Above Replacement. That's sixth on the team, behind Kaprizov, Jared Spurgeon, Matt Boldy, Joel Eriksson Ek, and Zuccarello.
The problem is, is that going to be the best thing for the organization long-term? After the Wild were eliminated from the first round, Guerin told the public that a first-round playoff win wasn't his goal, if it didn't lead to a Stanley Cup. Extrapolate that point further: Is sacrificing a top prospect's long-term development to chase a playoff spot in a year most agree is outside Minnesota's competitive window?
Besides, Hartman has one year remaining on his three-year deal which carries an incredibly team-friendly $1.7 million cap hit. He's going to be due for a raise next summer, and he deserves it. He's shown he can play down the middle and be productive.
Are the Wild going to pay for that raise, though? You can't rule it out. We've seen Bill Guerin want to keep the band together as much as possible. Minnesota will also have more cap space to play with next offseason, especially if the cap goes up, despite still having nearly $15 million in buyout penalties to reckon with.
They probably shouldn't, though. Hartman's next deal will kick in when he turns 30 years old, which is a big red flag for pretty much any free agent. And with the first wave of this great Wild farm system kicking in, these kids have to play somewhere.
That includes Rossi. The Wild can hand him the keys to a top-six spot next summer, after a potential Hartman departure, but that'd be unwise to wait so long. Rossi is their future (or at least, his progression is vital to it) and Hartman very likely isn't. The Wild need to give their young center a real shot to see if he can do the job they drafted him to do. Doing anything else with a top-six center spot would be a massive missed opportunity. 
2