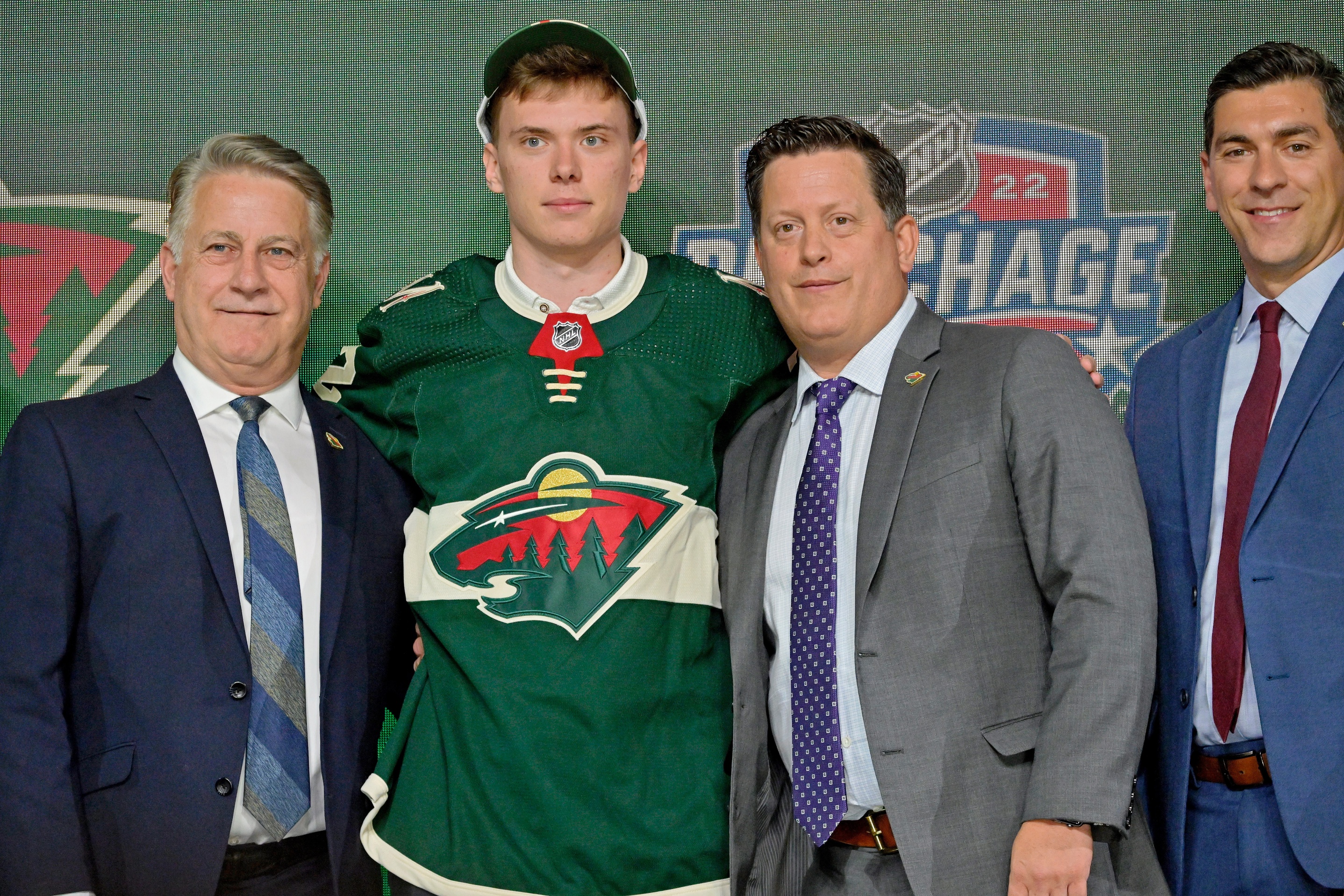 Image courtesy of Eric Bolte-USA TODAY Sports
After years of the Minnesota Wild trapped in the tough position between contending and pretending, they finally get good news. Great teams are most frequently built through the draft, and experts herald the 2023 Draft classes as one of the best we've ever seen. It's a unique opportunity, so how should the Wild approach this one? 
It's very simple: Get value.
Minnesota will be breaking their recent trend of having multiple first-round picks, with just one crack at the first round for the first time in three years. They'll select 21st overall, but they also have a pair of second-rounders to play with, receiving the Vegas Golden Knights' pick from the Buffalo Sabers in Jordan Greenway. Since Vegas won the Cup, it'll be at the end of the second round, but a second-rounder is a second-rounder.
We've seen the Wild get tremendous value from players who have fallen in the draft in recent years. Minnesota's director of amateur scouting, Judd Brackett, is great at acquiring value from players slipping in the draft. He's done it in every draft since the Wild hired him four years ago. 
2020
The Wild had just one first-round pick and still managed to snag a pair of falling prospects in this draft. Marco Rossi was in contention to be a top-five pick, potentially the third-overall selection. All of the national scouting sources had him rated as no lower than ninth. The Austrian center was an elite 120-point producer with Ottawa in the OHL. But teams were worried about his height (5'9"), and he slid to Minnesota at No. 9. The results weren't there in his shot at the NHL last year, but at age-21, there is still hope for Rossi and plenty of time for him to turn it around. 
Minnesota also drafted another skilled, short player, this time one who dropped out of the first round. Scouts probably shied away from Russian phenom Marat Khusnutdinov due to his size (5'9") and the ever-present Russian factor. As the hands of time have spun, however, that pick is looking tremendous for the Wild. Khusnutdinov just enjoyed a breakout season, one that stacks up well against some of the best Under-21 for a KHL player. 
2021
Again, Brackett scooped up two players who fell in the draft. Major scouting sites like McKeen's and TSN had Jesper Wallstedt as the 16th overall pick, if not higher, in that draft. The Detroit Red Wings took a different goalie, Sebastian Cossa, at 15th overall. Then the Wild traded up two spots (from 22 to 20) to get immense value for Wallstedt, one of the elite goalie prospects in recent memory. 
Six picks later Brackett drafted Carson Lambos, who was once in contention for the first-overall pick. However, Lambos suffered an injury in his draft year that hurt his draft stock tremendously. Most major public scouting services had Lambos in the top-20. The Wild got him at 26, and now he's a standout defensive prospect in their top-ranked system.
2022
In NBA Jam terminology, Brackett was on fire, getting tremendous value in his third consecutive draft. While Liam Öhgren was seen as a safer pick, the 19th overall pick was around where most draft pundits expected him to go. But Danila Yurov should have been long gone by pick 24. The Russian forward was seen by many scouting agencies as a fringe top-ten pick, with some scouts having him as high as seventh in last year's class. The Russian factor no doubt played a large part in this fall, but other GMs' losses became Brackett's gain. If not for his bold decision (not to mention the added security that came from trading for Pick 19), there's no way Minnesota would've landed a player with Yurov's skills and stats at 24th overall. 
2023
What we've learned is that Minnesota can't stay put. The Wild have benefitted from moving around on draft night in each of the past three years. They swung a draft day trade involving Luke Kunin which led to drafting Khusnutdinov, they made a minor move to grab Wallstedt, and they banked an extra first-rounder before the draft to feel good about rolling the dice on Yurov. They know how to get value in the draft. 
The Wild need to be flexible once again, and they can benefit from either trading up or down. If the right player starts slipping down the boards, Minnesota should be aggressive in getting that player, whether it's Matvei Michkov, Oliver Moore, or any other consensus top-10 pick that starts tumbling down the boards. They can move either or both of their second-round picks to do that, or even trade back into the late-first/high-second round.
But on the other hand, if there are plenty of good players available at 21, why not trade back and try to get even more picks in this deep draft? With how much talent is on the table, someone is bound to fall. If moving back can pick up another second-rounder to play with, why not? Giving Brackett more ammo to try and add to the already-loaded prospect pool has been a winning strategy so far. 
Brackett has repeatedly proven that he knows how to navigate the draft. When the moment to capitalize and wring out some extra value arises, the Wild shouldn't hesitate to accommodate him. 
All stats and data via HockeyDB, CapFriendly, and Elite Prospects unless otherwise noted.
2