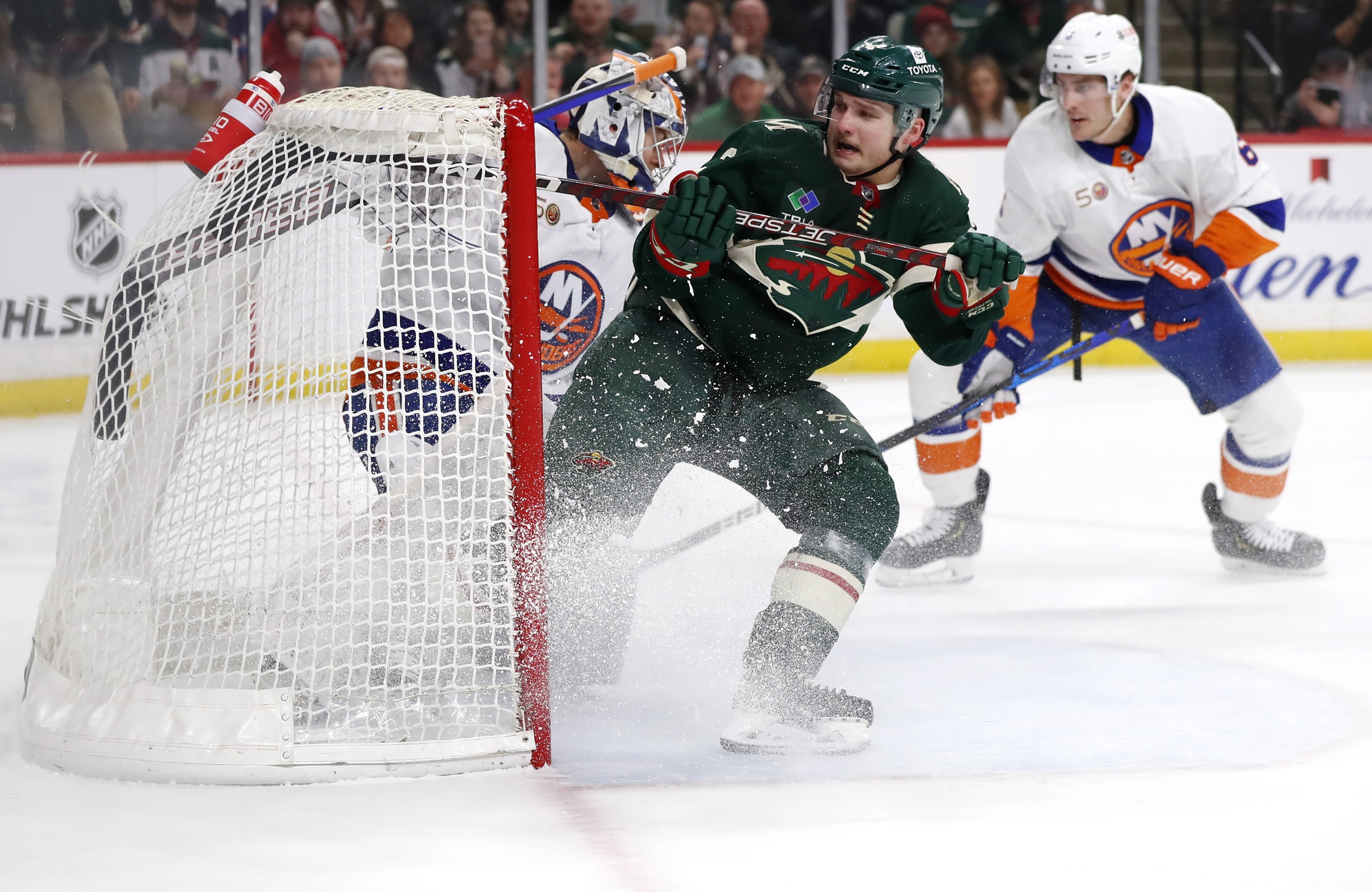 Image courtesy of Bruce Fedyck-USA Today Sports
We're very excited about the Minnesota Wild's prospect pool at Hockey Wilderness. How could we not be? They've got at least one public-facing scout who ranks their system as the best in the NHL. Hockey Prospecting's statistical model puts them second only to the Columbus Blue Jackets. 
But that doesn't mean there aren't any holes in the system that the Wild should address at this month's draft. The Wild have three picks in the first two rounds of the draft, sitting at 21st, 53rd, and either 63rd or 64th overall. Those are some solid pieces to bolster the prospect pool.
What does Minnesota need to address, though? The sentiment in the State of Hockey probably leans towards grabbing a center. It's easy to see why. The Dallas Stars bounced the Wild in the first round after once again starting a rag-tag group of centers like Ryan Hartman and Freddy Gaudreau in the playoffs. Having Joel Eriksson Ek is great, but the less the team needs to rely on him to be a No. 1 option, the better.
On the other hand, they might have some long-term solutions in the system as it is. 2020 second-round pick Marat Khusnutdinov is eligible to arrive next summer, and after putting up 41 points in 63 games at age-20, he looks like someone who should be able to step right into the top-9. His speed and tenacity are impressive.
And had their first-round pick in 2020, Marco Rossi, played in the KHL, or SHL, or heck, even a full AHL season, Wild fans might be just as pumped for him. A rough 19 games as an introduction to the NHL soured some Wild fans (and maybe the organization) on him. However, 51 points in 53 games in the AHL for a 21-year-old who showed off a complete game is very impressive.
No team can ever have too many centers. But if Khusnutdinov and Rossi both hit, the Wild will have three centers under team control through at least Summer 2029. It's tough to hate that for a long-term plan.
So let's look at what's next on the list: defensemen. The Wild have high-upside wing options in Danila Yurov and Liam Öhgren, with solid depth in players like Adam Beckman, Sammy Walker, Vladislav Firstov, and Hunter Haight. But defensemen? That's probably the biggest weakness in Minnesota's system.
Granted, "weakness" is relative. The Wild have a group of defense prospects that is very deep. Director of Amateur Scouting Judd Brackett made it a focus to add an influx of defensive talent in addition to their stellar forward group. Since taking over in 2020, Brackett has taken Ryan O'Rourke, Carson Lambos, Jack Peart with picks in the first and second rounds.
Even better, he seems to have a bit of a knack for grabbing underrated defensemen later in the draft. Maybe none of Daemon Hunt (third-round, 2020), Kyle Masters (fourth-round, 2021), Ryan Healey (fourth-round, 2022), and David Spacek (fifth-round, 2022) never turn into anything. But they're already much more intriguing than their draft slots suggest, which is all you're looking for from late-round fliers.
But that high-end defenseman? The kind that can turn into a No. 1 option? That might not be there.
The Wild grabbed Lambos thinking he could be that player. At 6'1", he has decent size and is a very mobile skater, which is crucial for defensemen in today's NHL. His offensive instincts are good, as is his shot. The pieces are there for him to put together.
It's just that after two years of developing with the Winnipeg Ice, we haven't seen Lambos take The Leap yet. After putting up 47 points in 51 WHL games last season, he only scored just 48 in 61. Granted, he captained his team, and he took on more responsibility defensively. Still, you'd ideally like to see that translate into more scoring.

The bright side is that Lambos was a three-zone force in the WHL, according to tracking data from Mitchell Brown. He was a positive in the defensive zone, in what surely must be a big relief after getting benched in the World Juniors last summer. But maybe even more exciting, he excelled in transition, showing off his mobility. He was simply incredible at getting the puck in the offensive zone, an area Minnesota struggled mightily with last year.
But if Lambos doesn't become something like a 6'1" Jared Spurgeon, that might not be enough at the high end of the system.
Calen Addison looked like a power play wizard in the NHL last year, but the Wild weren't impressed with his even-strength play. So much so that they booted him for John Klingberg, an older version of Addison, though perhaps without the elite power play quarterbacking skills he used to have.
Klingberg is a veteran, and, in fairness, was probably better than his defensive gaffes made him appear, especially in the playoffs. But it's a concern that the Wild would invest in him and not give their top defense prospect minutes down the stretch. Rumors of an imminent trade still float around Addison.
Again, like Lambos, there's potential but with a big IF attached to addison. IF Addison can clean up his defense and move the puck up the ice at even-strength, maybe he can be a No. 1 defenseman the way Klingberg was in his prime. But again, there's an IF, and two if you count whether he'll be on the team next year.
Brock Faber showed he had the goods in the playoffs, but he's the polar opposite of Addison. Where Addison is all offense, the story of Faber's career is that he's given everything but that. He moves the puck well, defends even better, and is a great skater. We saw all those on display in the playoffs. Even when the two-regular-season game veteran of the NHL made mistakes, he had the speed and instincts to recover.
Faber took steps in his offensive game at the University of Minnesota this year, but realistically, the Wild are looking for him to be a top-4 defenseman who can control a game with his skating the way Jonas Brodin does. Expecting him to be a true No. 1 option is probably too much.
The Wild have a lot of lottery tickets. Hunt, Peart, Masters, and Spacek feel like good bets to be third-pairing defensemen, with a shot to be second-pair types. But if they could get that No. 1 to tie everything together, that'd be massive for a team that could already have their goaltending (Jesper Wallstedt) and forward groups largely set for the near future. 
So if the Wild's first-round pick doesn't have a "C" or even an "F" in front of their name, don't be surprised. Don't be upset, or feel like the Wild are ignoring crucial needs. Taking a defenseman would be anything but that.
1