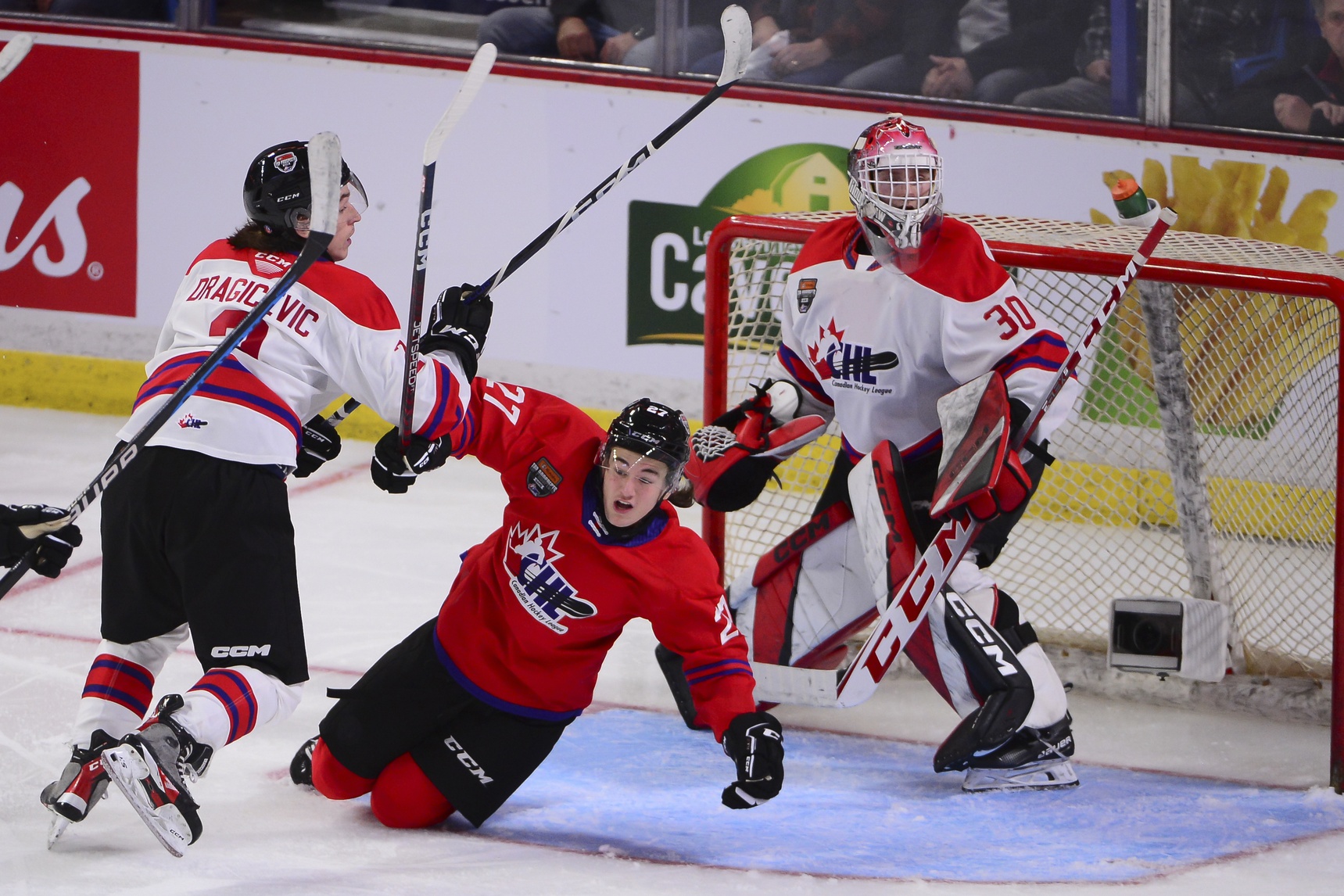 Image courtesy of Anne-Marie Sorvin-USA Today Sports
If you're wondering why the Minnesota Wild didn't trade up at last week's NHL Draft, the answer is simple: Nobody could. Not only were there zero trades in the first round, but there were only three trades at the draft altogether. Teams absolutely tried to move up the board, and failed.
The Nashville Predators couldn't parlay one of the world's best goalie prospects in Yaroslav Askarov, presumably with at least another first-round pick, to vault into the top-10. No one was moving up.
There was a clamor for the Wild to move up in a deep 2023 Draft to grab one of the top center prospects. A move into the Top-10 to grab the likes of Leo Carlsson, Adam Fantilli, Will Smith, Nate Danielson, or Dalibor Dvorsky was clearly never happening. But Brayden Yager, Sam Honzek, and Oliver Moore got picked in the mid-to-late teens, and it seems like it should've been possible for Minnesota to grab one of those guys.
Such a move would likely have required either one or both of their second-round picks to climb up the board. And as much as fans might have liked Yager, Honzek, or Moore, the State of Hockey should be relieved they didn't move up. Why? Because without Pick 64, their second second-round pick, they'd never have drafted Riley Heidt.
They probably shouldn't have been in a position to draft Heidt anyway, not on Day 2. According to Hockey Prospecting, which projects prospects based on their production, he was one of 17 players in this draft class who had a greater than 40% chance of turning into a star player. He was the second-to-last of those 17 to go off the board, with just the cement-footed Koehn Ziemmer falling further.
The draft is going to be the most optimistic time for prospect evaluations, and the word "steal" gets thrown around a lot. But Heidt might earn the title honestly. Heidt's 1.43 points per game in the WHL easily bests the draft-year paces of Mathew Barzal (1.30), Point (1.26), Brayden Schenn (1.26), and Dylan Cozens (1.24), who all turned into top-six NHL forwards. It's a stone's throw away from 2011 first-overall pick Ryan Nugent-Hopkins (1.54). 
It's not just the stats that impress with Heidt, but the skills, too. Elite Prospects called him "one of the rare triple-threat scorers in this draft, a player who can beat you with his hands, shot, and pass in equal measure." That well-rounded skill set and a surprising amount of Bill Guerin/Dean Evason jam earned Heidt a comparison to an "Angry Nick Schmaltz" by Elite Prospects.
Heidt may not have more than average speed, but it's not just straight-line skating that plays fast. His brain and quick passing keeps things moving. Per FC Hockey's Draft Guide: "Heidt excels at dictating pace, where his elite vision and ability to thread passes through tight windows are apparent. He has a keen understanding of how much power to put on his passes, enabling the recipient to easily corral the puck." 
The public sphere was higher on Heidt than NHL scouts were, clearly. Even so, Heidt had no business falling to Pick 64. Bob McKenzie's rankings, cultivated from the scouting community, had him ranked 32nd in this year's class. That's late-first/early-second-round territory. So why would he fall?
His power play production might have scared teams off a touch. It's not bad by any means to score 44 power play points, but when 45% of your total comes on the man advantage, that might not be quite as translatable as even-strength production.
On the other hand, Heidt is now in an organization that has excelled at even-strength and struggled on the power play. We're talking about a team so thin with power play talent that the likes of Freddy Gaudreau, Marcus Foligno, Ryan Hartman, and Sam Steel all spent a good chunk of time on the man advantage. If Heidt ends up with more power play utility than at 5-on-5, well, a power play goal counts the same as an even-strength one, no?
And this injection of skill never happens if the Wild managed to trade up in the draft. As disappointing as not making a splash may have been in the moment, it could pay off brilliantly down the road.
Put it this way: Who would you rather have today? Moore, or 21st overall Charlie Stramel plus Heidt? Let go of the attachment that my Hockey Wilderness colleagues have to Mounds View's Moore, and the answer is pretty simple: You'd want two shots at getting a center over one. Especially when, statistically, Moore and Heidt are a wash when it comes to becoming a star player, according to Hockey Prospecting.

Their production over the past two years puts them in a similar category of prospect. Strong, but not elite production, with a sizable leap from their draft-minus-one to draft year.Eric Staal, Brayden Point, Tim Stutzle, and Nicklas Backstrom were star players that looked like this when they were drafted.
You can quibble with the relative value of the prospects, based on their skills. There's a reason Moore went in the first round and Heidt almost dropped to the third. Moore has elite skating and speed, with a well-rounded but not elite skill set. Heidt's strengths lie in his brain, puckhandling, and vision, with skating that's just fine. Either can be an impact player, and either could not hit their potential, and no one would be particularly surprised.
You could say the tiebreaker between those two is that Moore's skating gives him utility as a speedy checking forward, no matter what else happens. That's probably correct, but the Wild also have that player in Stramel. In fact, Stramel's combination of size and skating might make him better suited for the role than Moore's skating. 
Ultimately, I'd be just as comfortable picking Heidt to blow up as a big-time producer as I would be for Moore. And two first-round caliber prospects are better than one. Sitting at Picks 21, 53 (where the Wild selected Rasmus Kumpulainen), and 64 may or may not work out in the long run. Still, there's no denying the value add that being able to bring in Heidt is for this organization.
4