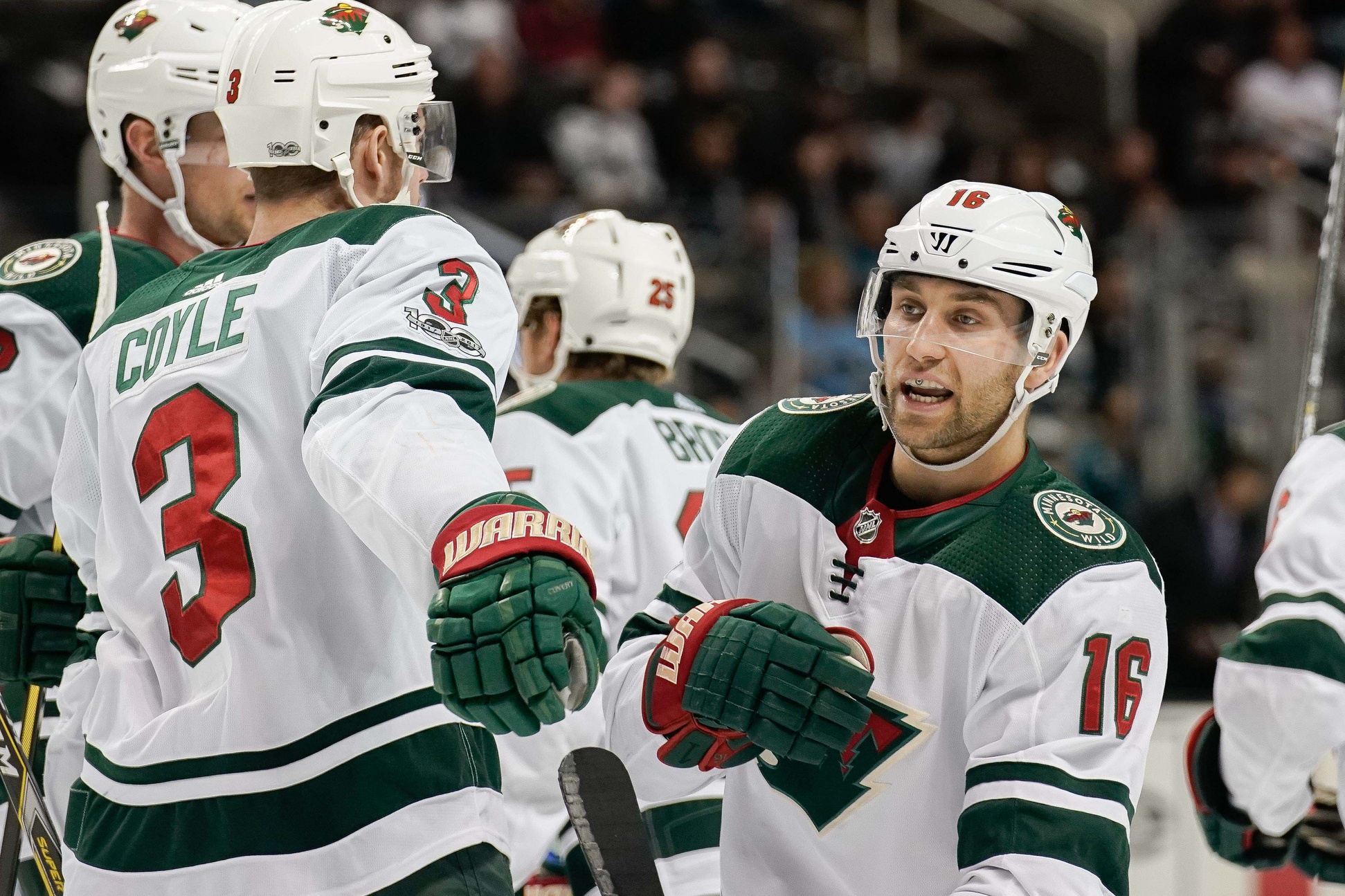 Image courtesy of © Stan Szeto - USA TODAY Sports
On May 21, 2018, the Minnesota Wild hired Paul Fenton as their new general manager. "He's the right person to deliver a Stanley Cup to the State of Hockey," they felt at the time.
Wild fans are familiar with Fenton's tumultuous tenure. The former Nashville Predators assistant GM made risky trades, and some people in the organization found him difficult to work with. Fourteen months later, Minnesota fired Fenton and hired Bill Guerin. 
The Wild were at a crossroads when they hired Fenton. He had taken over a team that had made the playoffs for six consecutive seasons. But they had no real "star" players to build around, and the team's mediocrity was starting to wear on fans. 
Fenton inherited a young forward core of Mikael Granlund, Charlie Coyle, Jason Zucker, and Nino Niederreiter. Those guys were now 25 to 27 years old. Ryan Suter, 33, was not getting any younger, and their two leading scorers, Zach Parise, and Eric Staal, were 33 and 34, respectively. Their captain, Mikko Koivu, was 35. Longtime goaltender Devan Dubnyk's play was also starting to decline as he entered his age-34 season.
They had to do something to change the narrative. 
Fenton made minor trades, but he didn't make any major changes to the core for a large part of the year. Most people have forgotten his first moves. For example, where were you when Pontus Åberg assisted on Eric Staal's go-ahead power-play goal in the second period against the Colorado Avalanche on a cloudy Wednesday in downtown Denver?
But on January 17th, 2019, Fenton started dismantling Chuck Fletcher's core. They traded Coyle, Nino, and Granlund in just over a month. The exodus had begun.
At first, it seemed like the Wild hadn't gotten fair value in all three of the "hockey trades" that Fenton made. Still, he had shaken up a flawed core. He made the roster younger. Fiala and Ryan Donato were 23 and poised for a breakout. Victor Rask was here too. But many of the team's key contributors were still old, and the youngsters in Luke Kunin, Jordan Greenway, and Joel Eriksson Ek were not developing into stars offensively yet. Minnesota seemed to be heading toward a rebuild. 
Or so we thought. 
Fenton doubled down and signed 31-year-old "lizard-like" Mats Zuccarello to a five-year deal. He almost made it worse, attempting to trade for Phil Kessel. The Zuccarello contract made the Wild roster even older and further reduced cap space. Adding Kessel would have magnified the effect. While they probably would have been competitive, it's unlikely they would have made any noise in the playoffs.
Fenton was trying to rebuild on the fly. He couldn't have done a full rebuild, given that he had Parise and Suter under long-term deals. Therefore, Fenton took on the quixotic task of making over the roster while trying to win. His vision for the team was flawed, but Fenton recognized that he needed to make changes to the young core. 
However, the former scout left some gifts that are paying dividends today. 
Hindsight is 20-20, but the trades Fenton made at the 2019 trade deadline don't look as bad now. If you look at the careers of how those players turned out, he had reason to believe that he had to remake the old core. 
Granlund's decline is a little shocking. The Pittsburgh Penguins included him as a cap dump in the Erik Karlsson trade, and he'll play his days out at the bottom of the fish bowl with the San Jose Sharks. After battling injuries, the Finn had a terrific stint with 53 assists and 64 points for the Predators in the 2021-22 season. But this past year, the forward was worse (36 points in 58 games) and then dreadful (one goal and four assists in 21 games) after Nashville traded him to Pittsburgh.
Granlund has two more years at a $5 million AAV. Only teams trying to get to the cap floor can take on his contract.
Similarly, Niederreiter has been a solid player. Still, he never really hit the peak that a former fifth-overall pick with a 57-point campaign at age 23 should hit. The Swiss winger never could reach that next level and become an elite offensive driver. He's a good player, don't get me wrong. But the Wild made the right bet on dumping Nino when they did. Victor Rask wasn't a great return. But they avoided signing Niederreiter to a massive contract. 
Charlie Coyle was the last of the big three who Fenton dealt. The former centerpiece in the Brent Burns trade is a similar player to Niederreiter. Coyle had his highest point total (56) as a 24-year-old in Minnesota. The Wild traded him to the Boston Bruins for Ryan Donato, who also did not deliver on the prospect hype. But similar to Nino, they avoided signing Coyle to a big extension. The Boston-born Coyle has not surpassed 50 points with the Bruins, and they signed him to a contract worth over $5 million a season. 
The crux of all three players is that the Wild sold high and still didn't get great value. All three players had their best seasons playing in front of crowds at the X, and none of the three, except for Granlund, delivered on the hype. They became productive NHL players but never developed into the stars that the State of Hockey hoped they would. 
It didn't look like Fenton got good value for each player at the time, and the Victor Rask trade still looks bad. But if you follow the paper trail on the other two, Fenton wasn't wrong to trade them. 
Let's start with Donato. Guerin traded the former Harvard star to the Sharks for a third-round pick. Then he used that pick in the draft day trade that landed Jesper Wallstedt, the best goalie prospect in the world. Guerin has also made trades that the fanbase is divided on. He sent Kevin Fiala to the Los Angeles Kings, which netted the Wild cap space, Brock Faber, Liam Öhgren, and the ability to take a swing on Danila Yurov. 
The Wild got their goalie they hope can be a reliable back-stopper for a decade, two top-six or even top-line forwards, and a reliable top-four defenseman. All of those dudes are among Minnesota's top-six prospects and could be incredibly valuable in the future.
While Fenton didn't get much value in his first draft, aside from Connor Dewar, he was able to turn his first two picks into prospects in the Wild system. Say goodbye to Filip Johansson and Jack McBain and hello to potential game-breakers Hunter Haight and Rieger Lorenz. 
In his second draft, Minnesota snagged Matt Boldy and Adam Beckman, two savvy draft-day decisions. Boldly is a mainstay in the Wild's top six, and Beckman is still trying to find his pathway into the league. But Beckman has been promising while he's in the NHL.
While Bill Guerin and Judd Brackett made the moves that benefitted the team, Paul Fenton gave them the pieces to do it. If Fenton kicked the door down on the roster construction, Billy G finished the job with a wrecking ball. Guerin fired Boudreau, traded Zucker and Staal, bought out Parise and Suter, and let Koivu walk into unrestricted free agency. 
Guerin was blessed to receive a franchise-altering superstar in Kirill Kaprizov and have him revitalize Zuccarello. Joel Eriksson Ek hit his stride, and Ryan Hartman was a brilliant free agent signing. Guerin has handled the retool much better than Fenton did. Fenton was a solid talent evaluator, but he didn't have the temperament to get the best offers for his players or manage a front office.
Fenton's tenure with the Wild was erratic and could have left them stuck in a place where they weren't contending or tanking. But he identified that he needed to break up the core, and he was wise to start breaking it down. Guerin and friends have continued that revamp, but they've done so with more discipline and guile. 
 While Paul Fenton had the right idea, he went about it wrong. Bad transactions and a disillusioned plan for the team signaled an identity crisis. There was no evidence of a plan for the future. Fenton took a pruner to the branches of the old core. Fenton should have just done what Guerin did…
Grabbed the ax.
1

1