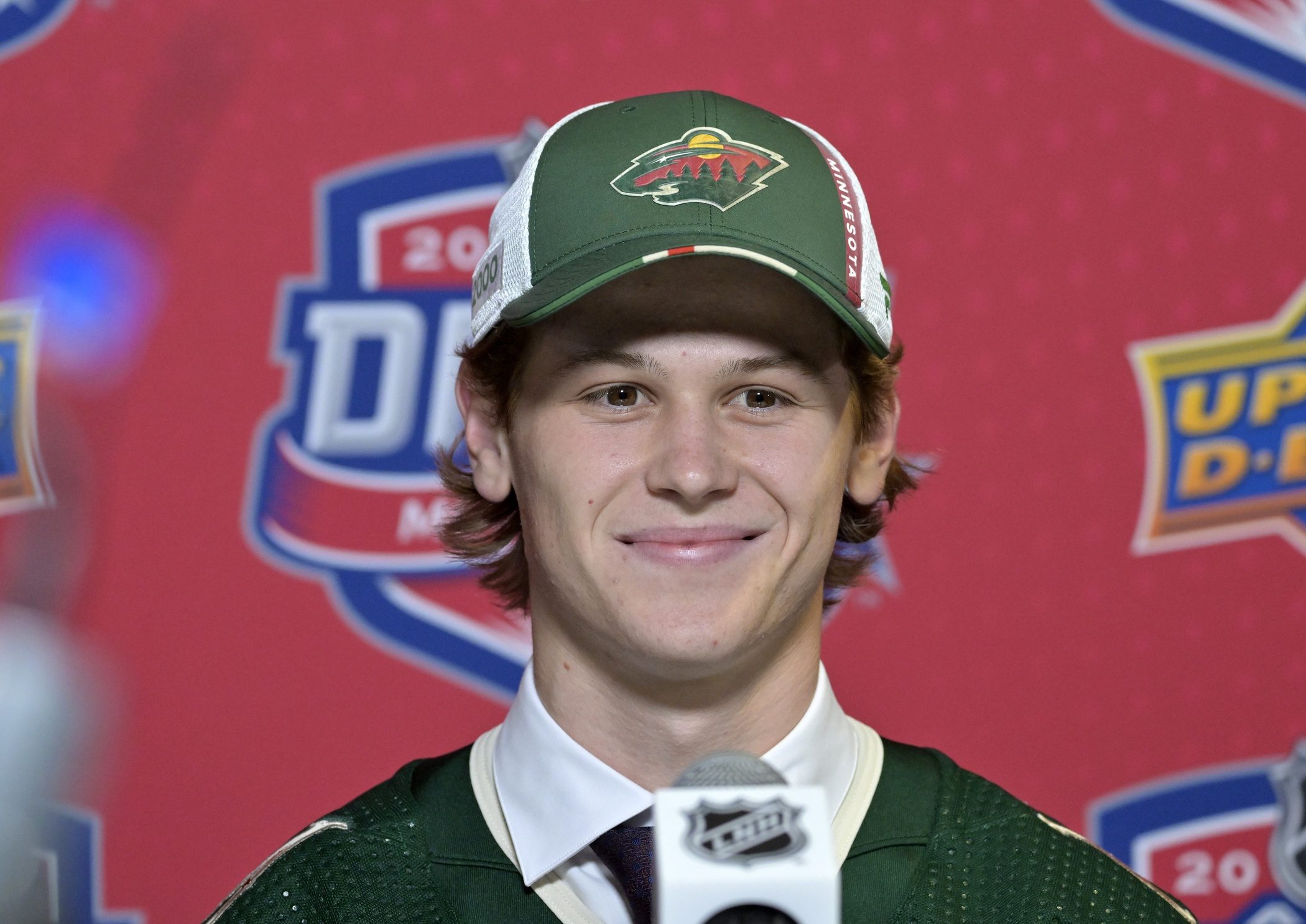 Oh, how a change of scenery can make a difference.
After 22 goals and 41 points last year in the OHL for the Barrie Colts, Hunter Haight was struggling mightily under immense expectations in his second full season in Barrie. He only had nine points through the first 20 games of the season and was a -14. Matt Boldy-in-college-type worry began to set in. Was Haight a bust of a pick already? Washed up at 18 years old and 20 games into his sophomore season?
Nah.
The Saginaw Spirit acquired his services, and Haight has exploded for 14 goals and 37 points in 34 games since that trade. His 1.09 points per game since the trade would slot him in at 46th in the OHL.
There was lots of talk by scouts, and draft gurus alike that Haight would be a first-round pick, if not an early day two pick. There was also no doubt he had the talent for it early on.
But COVID complications in the OHL negatively impacted his production. He was not able to play as many games and develop as any other prospect in any other year and it may have thrown off his development a bit.
Ultimately, the Minnesota Wild took Haight in the 2nd round (47th overall) last summer. Elite Prospects rated him as the 34th-best prospect in the 2022 draft. NHL Central Scouting had him 44th overall, and TSN's aggregate score had him at 64th
"Haight has breakout season written all over him for next year," The Athletic's Scott Wheeler wrote around draft time. "Things just didn't really come together in Barrie this season, and the respective seasons of their players all suffered as a result. But Haight's talents as an individual creator and finisher are real, and it feels like it's only a matter of time until he's filling the net in junior."
Haight's skills speak for themselves. He's got elite puck-handling ability. He can create, and his skills with the puck on his stick are almost unmatched among his age group.
Elite Prospects was bullish relative to other outlets on Haight during the draft process:
The clear-cut best of the lot is Haight's puck skills. You'll often see him use that handling ability in unexpected, creative ways to get around opponents, outmaneuvering them with deception at points and pure talent at others.
An advanced give-and-go game allows him to work past well-positioned defenders, repositioning himself to collect the return pass and continue his approach. And once Haight gets past the first layer of the defense, there's more than enough shooting and passing skill at his disposal to press his advantage to productive ends.
Those stick skills are on display in the clip below. He's able to use his stickhandling and skating ability to create scoring chances for others.
That's just a great move. He has a clear path to the net and uses his silky mitts to deke out the goalie and put this one where grandma hides the cookies.
Haight is in the right place at the right time and wires a howitzer past the goaltender, vanquishing the ghosts that haunted him in Barrie in the process.
The Wild must have seen enough from him this season because they signed him to an entry-level contract; he will still have two more years in the OHL to refine his game. This contract will only kick in once he makes his first pro season. That could be next year, if he plays 10 or more games with the Minnesota Wild. More likely, though, he will spend most, if not all of the season in juniors, triggering the ELC slide rule, which will push the start of the contract to 2024-25.
Haight just barely missed the cut of both 10K Rinks' Preseason Top-10 prospects, and Scott Wheeler's Top-15 rankings of the Wild's top-ranked prospect pool. Wheeler notes that he would have been on the list to start the year, but his cold start did not do him any favors. For what it's worth, he also projects Haight to rocket up the list in the years to come. The disappointing start to the year and the really good start of other players on that bubble contributed to his exclusion from this list.
Haight spent a brief time at Hockey Canada's National Junior Team Development Camp as he was a late addition due to an injury. He was also one of the highlights of the Wild's prospect development camp.
He looks to have that "game-breaking" ability from those clips that are reminiscent of the ones Kevin Fiala had. Now, ability is just that, ability, it doesn't mean he'll be a Fiala-type, or even close to it. Still, there are times when he kinda looks similar in certain areas. The highlights and clipable moments are there, but he needs to put it all together and become more consistent and really dominate at his age level before he can be considered in the upper echelon of Wild prospects.
Hockey Prospecting's model, which uses stats (converted to an NHL equivalent, or "NHLe") to project a prospect's potential, is not very friendly to Mr. Haight. Byron Bader's model just sees raw scoring, not Haight's skills, or even his post-Barrie breakout. In fact, his time with Saginaw gives him an NHLe of around 29, which gives him a similar look to Jordan Kyrou if he continues to break out.
[caption id=attachment_145338" align="alignnone" width="754]

Courtesy of Hockey Prospecting[/caption]
The argument for Haight, though, is that the eye test is going to have more to say than the stats, and Judd Brackett's staff clearly loves Haight's skills. Who wouldn't? Anyone watching him sees the potential oozing from him. The question is can he put it all together? Only time will tell, but the early returns in Saginaw are very promising. As a younger player in his draft class and missed development time due to COVID, there's potential to be more runway for Haight to improve.
Don't expect to see Haight in St. Paul or even in Iowa for a few years. But as you wait, don't be surprised to see him racking up point totals and refining his skills in the OHL. He's pretty much the stereotypical boom-or-bust pick, but if he hits, that's easily a Top-9 scoring winger and his full upside is limitless. In the meantime, Minnesota being eager to bring him into the organization to wait and see is a good sign.
All stats and data via Elite Prospects unless otherwise noted/special shoutout to SpokedZ on Twitter.