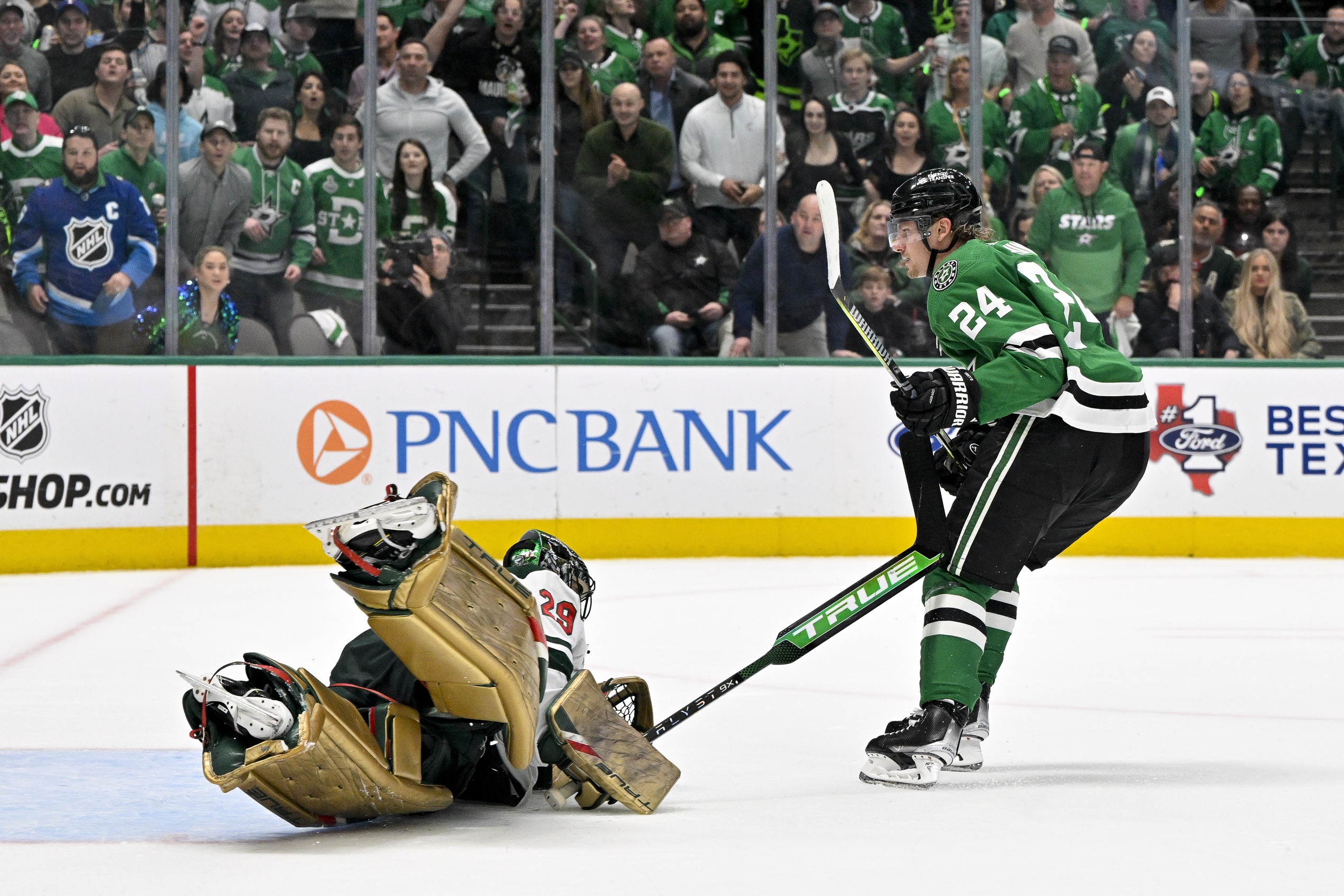 Image courtesy of Jerome Miron-USA Today Sports
Making decisions with high stakes is hard. Analyzing decisions when you don't have skin in the game is much easier. It's important to keep these things in mind occasionally. 
The NHL is a results-based league, one where millions of dollars, thousands of man hours worth of effort throughout the year, and jobs, are on the line. Everyone looks good when things go well. But for 15 of the 16 teams in the Stanley Cup Playoffs, it's going to end with some amount of media and fan scrutiny.
Not all of it will be fair, either. Coaches and players make mistakes, of course, but so do the teams that win. There are also times when what seems like a mistake came from a decision where there was no right answer.
The Minnesota Wild's goalie saga from last year's playoff is a good example. From Games 1 to 5, Marc-Andre Fleury was underwhelming against the St. Louis Blues. Many people still question why the Wild didn't go with Cam Talbot before Game 6. The answer? Talbot had a poor year despite a late surge and was weak in particular to the kind of offense St. Louis ran.
Dean Evason's decision to start Fleury for Game 2 on Wednesday wasn't a similar no-win situation. It wasn't a remarkably difficult decision. Filip Gustavsson was right there, coming off a 3-2 Game 1 win over the Dallas Stars where he stopped 51 of 53 shots in double overtime. What coach isn't going to turn to them for Game 2?
We found out last night. You can see how it might be clever. Dallas relies on Jake Oettinger as its clear No. 1 goalie. Stars coach Pete DeBoer is never in a million years going to turn to backup Scott Wedgewood. Maybe Oettinger would run down due to fatigue, and by keeping Gustavsson fresh, could there be a long-term advantage by going to a rotation?
Way too clever, it turns out. It blew up like a pair of ACME rocket boots in Minnesota's face for Game 2, a 7-3 loss where Fleury only stopped 24 of 31 shots. The loss underlines how bizarre of a decision that was, of course. But even independent of the result, the move just did not make sense.
Let's start here: No other coach would've made that decision in Evason's spot. How can we possibly know that? History.
Since the 2004-05 lockout through the start of this year's playoffs, there were 59 playoff games that went to two or more overtimes but didn't end the series. That is, games in which coaches on both sides had goalies playing for a very long time, and they had to decide whether to sit or start them in the next game.
How many of those winning coaches decided to turn away from the goalie that earned the decision? Just one. On April 15, 2015, Scott Darling came into the game in relief of Corey Crawford and stopped all 44 shots in a double overtime win in Game 1. Joel Quenneville returned to Crawford for Game 2.
Fatigue wasn't the factor driving the decision. Darling only played 67 minutes, a pretty standard OT workload. It was track record. You can say it was unfair to Darling, but he only had 13 starts in his career, and Crawford was one of the best goalies in the league at the time. Also, Quenneville won his third Stanley Cup that year, so it's hard to question him on hockey tactics.
Meanwhile, the Wild are still looking for their third playoff series win in two decades.
Heck, in 57 of the 59 cases, the coaches decided to give the net to the losing goalies, despite any fatigue concerns. Both those cases came in the 2020 COVID bubble playoffs, which was admittedly weird, and both goalies struggled in those losses. You can get why those coaches changed horses, especially in a summer hockey game coming off a five-month layover.
Now, every coach does it this way is not a very good reason to do something on its own. But what about when conventional wisdom and the data align against you? Because as Hockey Wilderness noted two weeks ago, the data was firmly against starting Fleury over Gustavsson.
What stat do you want to use? All of them point towards Gustavsson. Save percentage? Gustavsson second in the NHL with a .931 for the year. Fleury was tied with Alex Stalock for 19th at .908.
How about a stat that accounts for Minnesota playing good defense in front of them? Gustavsson finished seventh in the league in Goals Saved Above Expected (GSAx), between Andrei Vasilevskiy and Oettinger. Fleury was just barely in positive territory with 0.86 on the year, between Tristan Jarry and the aforementioned Talbot.
In terms of who got them to the postseason in the first place, Gustavsson gave Minnesota roughly 11 points in the standings. Meanwhile, Fleury was worth about four, per Evolving Hockey's Goalie Goals Above Replacement model.
Maybe Evason was just playing the matchups? That's not the case, either. Gustavsson was a stellar .935 goalie against playoff teams this season. Meanwhile, Fleury struggled big-time, putting up an abysmal .866 save percentage and was especially prone to the kind of gigantic blow-ups we saw in Game 2.
Against the Stars, Fleury allowed eight goals on 77 shots in two regular season games this year (.896). Do we even need to tell you that Gustavsson stopped 62 of 66 shots (.939) in his two meetings with Dallas?
Let's be honest, though, you don't even need all that information to make the decision to keep riding the "Gus Bus!" Fifty-one saves on 53 shots in Game 1 is also a pretty compelling argument for giving your best goalie the net in Game 2. 
But they didn't, and the Wild paid for it.
It's true Minnesota played a sloppier game than they did in Game 1. Fleury faced 10 shot attempts that had a 15% chance or greater of scoring. Gustavsson only faced five such chances on Monday, in significantly more minutes. Even considering that, though, Fleury didn't come close to rising to the occasion.
He finished the night with a GSAx of -3.41. The Wild defense gave up 3.59 expected goals, which isn't good, but paired with three goals, all Fleury had to do was steal 60% of a goal to force overtime. 
Would Gustavsson have done that? The answer is that we'll never know. However, we know that Gustavsson registered a GSAx of 0.60 or higher in 20 of his 37 starts. He stole 1.60 goals or more, enough to win the game outright, 11 times. Assuming that stays stable, we're talking about a 54% chance of forcing overtime and a 30% chance of winning without overtime, significantly higher odds than Fleury's season would indicate.
And, of course, it bears mentioning that Gustavsson registered 2.1 GSAx in Game 1. Repeating that would've sent Minnesota home to the Xcel Energy Center up 2-0. Maybe the Wild played worse. But even with solid, unspectacular goaltending, that win was within grasp.
Evason defended Fleury and his decision after the game. No coach is going to throw his goalie under the bus during a playoff series, but the way he defended the decision wasn't satisfying. "It's what we do, right?" Evason told the media. "We've done all year." 
Craig Berube made adjustments in last year's playoffs, while Evason lagged in doing so. It cost them the series. Rigidly sticking to what worked in the regular season, ignoring the context of being able to hide Fleury against weaker non-playoff teams, showed he's still reluctant to adapt his ways for the playoffs.
Worse yet, it punted on maximizing his potential to step on Dallas' throats and take two games from them at American Airlines Center. You could say that Minnesota was playing with house money, as P.K. Subban suggested in the ESPN studio show during the second intermission. After all, they won Game 1 on the road, meaning all they have to do to close out the series is win their home games.
If Evason believed it, he failed to learn another lesson from last year. There is no house money in the playoffs. You have one resource in a series that matters: Four losses. Spend them all, and you're out. You can't pencil in Ws for your home games and plan your series around that, you need to go for the kill.
The Wild failed to do this last year against the Blues. They dropped a chance to run up a 3-1 series lead against a team with practically two NHL defensemen. Instead, they went home for Game 5 with a tied series and home ice advantage. They lost in six games.
Minnesota won not one, but two games on the road against the Vegas Golden Knights, including a Game 1 overtime win. But that advantage vanished because those home games weren't in the bag, and they lost in seven.
The Wild haven't won a postseason series in eight years, despite seven bites at the apple. It's the wrong time to get cute. It's no time to go completely against coaching consensus, data, and logic. Gustavsson has been the biggest difference-maker for Minnesota all year. Until he proves otherwise, letting him sit on the bench is every bit as silly as stapling Kirill Kaprizov there.
The Wild can't afford to roll with Fleury again, and it's very possible that they couldn't even afford to do it this once. We'll know by the end of the series.
1