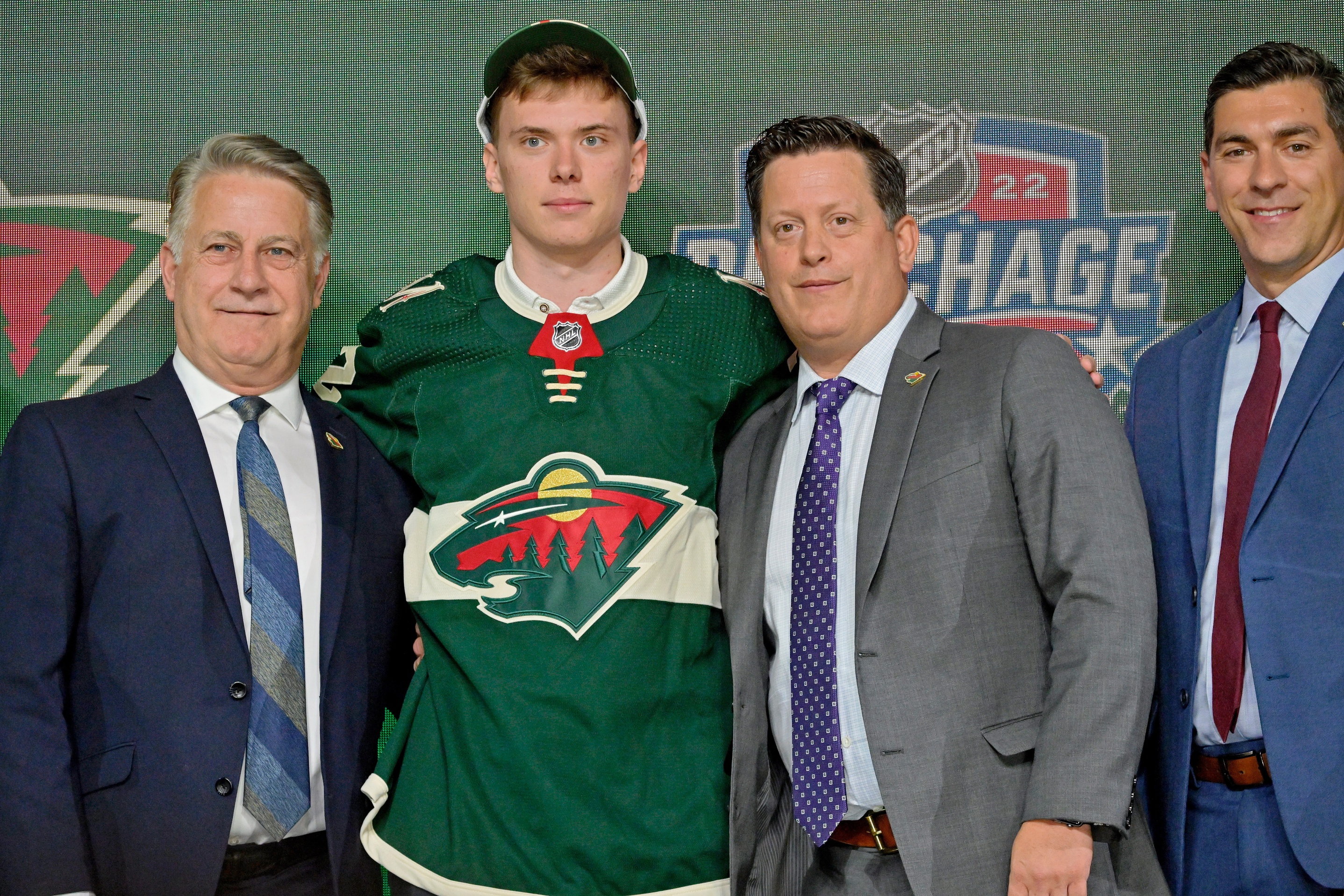 Image courtesy of Eric Bolte-USA TODAY Sports
Last year on Draft Day, we ran a seven-round mock draft for the Minnesota Wild, pinpointing players we felt could be good fits in St. Paul. We didn't nail down the Liam Öhgren/Danila Yurov first-round duo, but we pegged Servac Petrovsky as a potential pick. The Wild scooped him up in the sixth round, meaning we at least had some idea of what Minnesota might have been looking for in the draft.
Or it was pure dumb luck. Can we find a player the Wild will take for a second year in a row? We'll find out. Again, we're using the Draft Prospects Hockey draft simulator, which allows us to use Bob McKenzie's rankings. Since McKenzie's rankings are collected from the hockey world, they tend to line up the most with the actual draft order. We've also turned the randomness factor up slightly, though not as much as we did Monday, when we took a look at best-case scenarios.
With that all out of the way, let's go. One simulation. No do-overs, no trade-ups. We run the draft once and let the chips fall where they may.
Round 1, Pick 21
It's not ideal to gun for one position in the NHL Draft, but if you're going to do it, looking for the "Best Available Center" is probably the way to go. The Dallas Stars ousted the Wild in the playoffs last year partially because of their options down the middle. When Joe Pavelski left with injury, the Stars backfilled with Roope Hintz and Tyler Seguin, with Jamie Benn, Wyatt Johnston, and Radek Faska able to play the pivot as well.
Centers create options, so it's a good idea for Minnesota to focus on them, particularly when they've been rolling with Ryan Hartman and Freddy Gaudreau in their top-9. Unfortunately, a lot of our best-case centers are gone already. Oliver Moore went at 12th overall, followed by Brayden Yager at 16th. Also gone are Calum Ritchie and Otto Stenberg. McKenzie's best available player is a center, however, as 16th-ranked Nate Danielson is still available.
The Pick: Samuel Honzek, LW, Vancouver Giants (WHL)
We considered Danielson, a great skater, in this spot. Also, we had our eye on defenseman Mikhail Gulyayev and power winger Quentin Musty here, as well. In the end, we passed on them all to take Honzek for the upside potential. The plan is to convert the 6'3" winger to center full-time, feeling a strong belief that his good skating, great playmaking, and strong two-way play will translate to the role. 
We're already impressed with his 1.30 points per game as a WHL rookie, but he was trending even better before his calf got cut at the World Junior Championships. Before the injury, he scored 43 points in 31 games (1.39 per game), which would have put him at 17th in the WHL, in the range of top prospects like 2021 ninth-overall pick Dylan Guenther (1.45) and 2022 first-rounder Brad Lambert (1.46). Honzek feels like both a safe pick and a home-run swing.
Round 2, Pick 53
The plan initially was to grab a second center with this pick, but the board didn't cooperate with us. Gracyn Sawchyn -- who we pegged as a best-case scenario for this spot -- went at Pick 44. Oscar Fisker Mølgaard went with the following pick, and Riley Heidt and Charlie Stramel also went off the board. McKenzie's top players remaining were Jakub Dvorak (43), a physical 6'5" defenseman and Finnish winger Jesse Kiiskanen (48).
The Pick: Nick Lardis, LW, Hamilton Bulldogs (OHL)
We mentioned Dallas' Hintz a bit earlier, so who better to target with this pick than the player that reminds Elite Prospects of "Smaller Roope Hintz?" Nick Lardis exploded in the second half of last season after being traded to Hamilton, scoring 25 goals and 46 points in 33 games. That 1.39 per-game average would have put him somewhere between Musty (1.47) and Colby Barlow (1.34), both sure-fire first-rounders.
Lardis has wheels, with McKeen's Hockey calling him the second-fastest skater in the draft, and the seventh-best skater overall. And then there's his shot. Elite Prospects says of it, "No matter where the puck arrives, Lardis finds ways to slam it in the net. He can do so while sliding backward, rushing ahead, with his feet pointed away from the target, and with instant catch-and-release motions." Sounds a bit like Jason Zucker, and we'd be thrilled to get that in the second round.
Round 2, Pick 64
We started eyeing defense in this spot, but there are two major issues with going for a defenseman. One, the top talents are more or less off the board, and there weren't that many big names to begin with. The next problem is that the Wild don't really need to grab a defenseman for their system unless they've got top-pair potential. So it's back to another swing at a forward.
The Pick: Roman Kantserov, RW, Magnitogorsk (MHL)
Call us a sucker for players with superficial comparisons to Kirill Kaprizov, but who could blame us? Those similarities go beyond them both being 5'9" Russian wingers, their games have some eerie parallels. The Athletic's Scott Wheeler describes him as "A Knifing player who possesses one of the better releases in the draft and pairs it with quick, adjustable hands, borderline dynamic one-on-one skill, and an attack mentality."
FC Hockey points out something that screams "Kaprizov-Lite!" even louder. "Kantserov effectively uses his body and showcases strong mobility and edgework, allowing him to quickly pivot away from checks... and set up deceptive passing plays." We know that Judd Brackett isn't afraid to grab talented Russians, and neither are we. With this being Minnesota's third pick of this draft, Kantserov is a smart use of house money.
Which is good that we made hay while the sun was shining, because it's going to be a long 85 picks until the next pick at 149. Given the top names will all be off the board, our strategy is now to just look for players with interesting statistical profiles that are left over.
Round 5, Pick 149: Frantisek Dej, C, HC Modre Kridla Slovan (Slovakia2)
This pick is betting hard on two things. The first is the fact that it's hard to find a 6'4" center in the fifth round of the Draft. There has to be warts in a player's game to have that as the headline of your resume and to fall that far, and that's the case for Dej. Scouts don't think much of his skill set past his size, physicality, and skating. 
Still, none of that stopped him from putting up 21 points in 24 games against men in Slovakia's second league. It's the second Slovakian league, but being top-40 in points per game against men has to count for something, no? Dej is the pick, and even if he goes on to just be the Next Nico Sturm, that's A-OK.
Round 6, Pick 181: Gavyn Thoreson, RW, Andover (MN High)
Call this a bog-standard "One of Us" pick to pander to the hometown fans all you want. The former (Andover) Husky and future (St. Cloud State) Husky might surprise and prove himself to be more than a crowd-pleasing footnote.
Being listed at 5'8" is going to make Thoreson a hard "nope" for some teams. They might be right, and he might be too small to make it. If Thoreson has anything to say about it, though, he won't be stopped. Thoreson is one of those short players who doesn't translate to being as small as you'd think. Weighing 183 pounds, he's pretty stout and strong for his size.
Mitchell Brown of Elite Prospects marvels at length over Thoreson's strength in getting to the dirty areas, but it can just be summed up with "What a tank." McKeen's Hockey notes: "Even in the USHL, he was throwing the body and finding his way to the net." The USHL, by the way, was where he racked up 23 points in 23 games while showing proficiency in all three zones, proving that he has skills to match his motor. That's worth a flier in the sixth round.
Round 7, Pick 213: Nikita Ishimnikov, D, Avto Yekaterinburg (MHL)
Wow, seven rounds have passed, and we're only drafting our first defenseman? We'd better make it count, then. How about making another bet on a player who combines size and production in Ishimnikov?
For folks who want more size on the blueline, Ishimnikov's 6'3" frame brings at least a potential solution for that need. Though, he's known much more for being an offensive defenseman, with a big shot and aggressive approach being his calling cards. His skating is the biggest knock on him, and that can be the kiss of death for an NHL prospect, particularly one who presumably won't have Minnesota's coaches getting their hands on him anytime soon. But for a seventh-round pick, I figure I can do worse than a 6'3" defenseman whose 11 goals tied for third at his position in the MHL.
Now, how will things actually play out? We'll know, starting in a few hours.
1