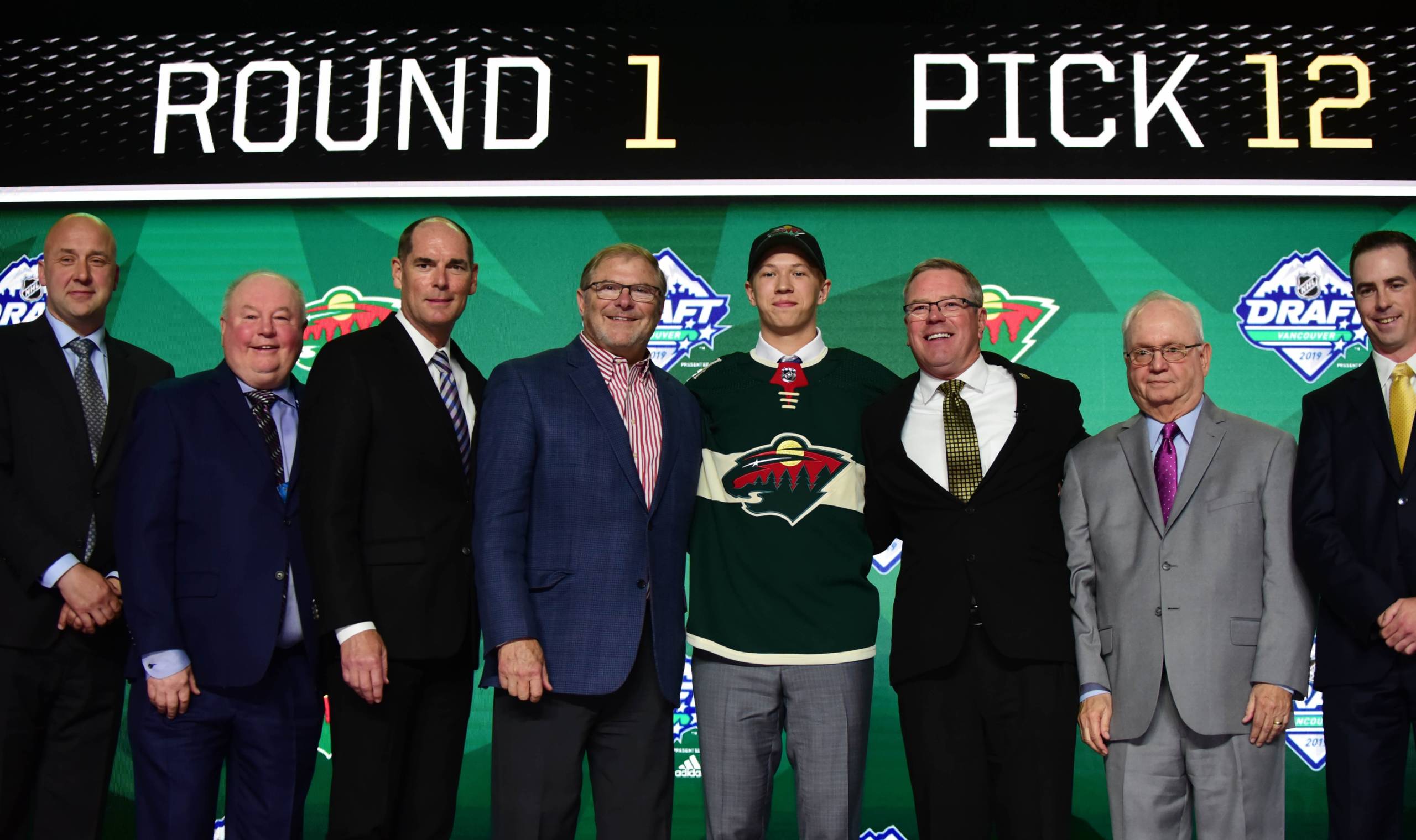 Today is the day! A huge day in the Minnesota Wild's history. They've only entered the Draft with two first-round picks twice. In 2006, they drafted James Sheppard, then spent one to acquire Pavol Demitra. The other time was last year when they hung onto both and landed Jesper Wallstedt and Carson Lambos. They did pick twice in 2011's first-round after trading Brent Burns, and they went one-for-two with Jonas Brodin and the forgotten Zack Phillips.
Now Minnesota's poised to draft four times in the first two rounds for the second time in history. The first was in 2010 when they snagged Mikael Granlund, Brett Bulmer, Johan Larsson (later traded for Jason Pominville), and Jason Zucker. It became the foundation of their next decade.
So what does today have in store for the Wild? It's hard to know, but we can make our best guesses this morning. We're running a mock draft on all eight Wild picks today, from Rounds 1 through 7. We're going to use a simulator that goes off Bob McKenzie's rankings. These are composites of the NHL scouting community, meaning they tend to be the most accurate. The simulator adds a randomness factor and considers team needs. We're gonna keep those right in the middle, to simulate surprise picks, but not get things too out there. We also won't assume trades.
With that said, let's go.
Round 1, Pick 19
Like most expect (though maybe not in that order), Juraj Slafkovsky, Shane Wright, and Logan Cooley are the first three off the board. Beyond that, a run of centers defines this draft. Potential pivots Cutter Gauthier, Matthew Savoie, and Jonathan Lekkerimäki go fifth, sixth, and eighth, respectively. Then Frank Nazar, Marco Kasper, Jimmy Snuggerud, Connor Geekie, and Jiri Kulich fly off the board with picks 12-16. According to McKenzie's board, the best player available is Pavel Mintyukov, a left defenseman, a position Minnesota doesn't need much of.
The Pick: Denton Mateychuk, LD, Moose Jaw Warriors (WHL)
That said, why did we go with a left defenseman in this spot? Mateychuk's upside is just far too high to pass on here. Outside of Lambos and Addison, there's not really any defenseman in Minnesota's deep pool that could become a Cale Makar or Quinn Hughes-esque foundational young defenseman. Mateychuk has that talent -- he pushes the pace of the game at breakneck speed. Mateychuk isn't a bad defender, but the Wild still have plenty of ability to support any missteps his puck-dominant, offensive style may create.
Simply put, taking Mateychuk at this spot puts an exclamation point on a deep pool of defensemen, and enables Minnesota to turn elsewhere for the rest of their draft.
Round 1, Pick 24
Another reason to take a defenseman in that spot was to secure the position and hope that a center falls five more spots. The bet paid off, as from picks 20 through 23, the only center that went was speedster Brad Lambert, whose horrendous lack of production in the Finnish Liiga raises a ton of red flags. So as luck would have it, the top player on McKenzie's board here is a center, with Noah Ostlund ranking 22nd overall on McKenzie's big board.
The Pick: Nathan Gaucher, C, Quebec Ramparts (QMJHL)
We passed on Östlund, however, to draft another center in Gaucher. The reason? Östlund's biggest concern revolves around how well he handles contact. That's not going to be a concern with Gaucher, who stands at 6'3", 207 lbs. and doesn't have much difference in his production compared to Östlund. Gaucher skates well for his size and plays what you can reasonably call Joel Eriksson Ek Hockey.
The bet we're taking here is that even if, out of Gaucher's top two Hockey Prospecting comparables, it's fine if he resembles Calle Jarnkrok more than Jeff Carter. Having Gauthier in the system ideally allows Eriksson Ek, who's under contract until 2029, to eventually move to a Top-6 role for the Wild behind Marco Rossi. As long as Gaucher can bring his game to the NHL, the Wild will get a top center out of this, whether it's him or Eriksson Ek.
Round 2, Pick 47
After playing things relatively safe at 24, we hoped the board would deliver us a massive swing at 47. Intriguing names like Filip Mesar (28th), Jagger Firkus (36th), and Alexander Perevalov (37th) didn't quite make it. Instead, we're going to take a swing on a player who went on a tear resembling Kevin Fiala's last year.
The Pick: David Goyette, C, Sudbury Wolves (OHL)
Center Cameron Lund was the top-ranked prospect on McKenzie's big board (43), but Goyette isn't far behind at 45. His overall production doesn't hint much at stardom, with Hockey Prospecting giving him a 15% chance of stardom, comparing him to Charlie Coyle. But we're going to bet on his second-half surge, rather than his full-season pace of 1.11 points per game.
Elite Prospects notes that in his final 41 games, he scored 29 goals and 54 points. Suddenly, that's 1.32 points per game, on par with OHL alums like Max Domi (1.36), Sean Monahan (1.35), and Gabriel Landeskog (1.25) in their draft years.
The Athletic's Scott Wheeler, who ranks him 20th, calls him a "beautiful, effortless skater who catches and handles pucks with ease at speed." Sounds a bit like a player Minnesota might be trying to replace. Goyette has the elite hands, playmaking, and transition game that has the potential to spur him to those heights, with a chance to stick down the middle. Not too bad for a second-rounder.
Round 2, Pick 56
We're still hunting for upside in Round 2. No major targets have flown off our board yet, leaving us to consider many players we had an eye on for Pick 47. A high-risk, high-reward defenseman out of Sweden, Elias Salomonsson, is McKenzie's highest-ranked player (53). Potential star forward Gleb Trikozov is also here, and his outstanding playmaking profile intrigues, as well.
The Pick: Adam Sykora, LW (Slovakia)
We straddled the line of safety and upside with Sykora, a winger out of Slovakia. He's a great skater who plays much bigger than his 5'10" frame suggests, crashing the net, and getting involved in the physical stuff. Elite Prospects' Draft Guide in particular says "His ability to instantly recover his balance makes him look almost elastic at times."
As one of the younger players in the draft, he has a lot of runway to address his biggest question: his upside. But his skills rate decently, and his production in the Slovakian league against men is very encouraging, which makes him stick out on Hockey Prospecting's model. At pick 56, we get a player with a 32% chance of stardom, per the model, tied for ninth in the draft with no-doubt first-rounders Lekkerimäki and Joakim Kemell.
Round 3, Pick 89
Another wait that saw my targets vanish. Trikozov went with pick 65. Kirill Dolzhenkov, a 6'6" winger loaded with skill if he can fix his skating, was off the board with the next pick. Marco Rossi didn't get a chance to play with his childhood next door neighbor, as Vinzenz Rohrer went to the Dallas Stars at 83. Two picks later, skilled Russian winger Viktor Neuchev was gone, too. So what's left?
The Pick: Jordan Dumais, RW, Halifax Mooseheads (QMJHL)
In Round 3, we land a player who torched the Q, scoring 109 points, including 39 goals. NHL types might have a hard time gambling on a 5'9" player with average-ish skating, but hey, it's the third round. Dumais works smart enough and hard enough to overcome his flaws in juniors and creates space for others while being strong in transition and on defense.
Round 4, Pick 121
The Pick: Servác Petrovsky, C, Owen Sound Attack (OHL)
We had our eye on drafting the token Minnesotan here, but Hermantown's Zam Plante came off three picks prior. No worries, though, as we grab Petrovsky, a Slovakian-born center playing in the OHL. He had a strong showing in his first year, with 28 goals and 54 points in 65 games, followed by a 2-4-6 line in seven playoff games. He's small but a stout two-way player with a decent shot and moves the puck out of his own zone efficiently. Happy to take a flier on players who have that skill set.
Round 5, Pick 153
The Pick: Cedrick Guindon, C, Owen Sound Attack (OHL)
At this point, we're making bets on production pretty much exclusively. Not only is Guindon the sixth Canadian Junior player in our seven picks so far, but he's also the second center from Owen Sound in a row. Guindon is a smart player who shot the puck a ton and was rewarded with 30 goals in 68 games. Another strong two-way guy, it feels like he could easily develop into a Connor Dewar-type player. You need those players in your organization, too, and if he picks up more skill with development, look out.
Round 6, Pick 185
The Pick: Alexander Smolin, G, Stainye Lisy Magnitogorsk (MHL)
With defense and forward well-addressed, for our last pick, we're going to grab the best available goalie. Outside of Jesper Wallstedt, the Wild are still relatively thin in net. Sure, Wallstedt should be a star. But if he's not, do we want to rely on Hunter Jones or Dereck Baribeau?
So we're going with Smolin, who put up a .938 save percentage in the MHL, second in the league last year. Russia's been a goaltending factory in recent years. While 6'1" isn't massive for a goalie, recent Russian products Igor Shesterkin (6'1") and Ilya Sorokin (6'2") have shown they can make it work. With this pick, Minnesota can start building some depth behind Wallstedt.
Final Thoughts
The most encouraging part of this mock draft is that despite the board not really going our way, Minnesota picks up some intriguing prospects in this draft. The Wild didn't get a top center like Nazar or Kasper to fall to them. There was not an opportunistic tumble down the board delivering us prospects like Firkus in Round 2, or Trikozov or Neuchev in Round 3.
So instead, we made do with what we had, which led us to landing Mateychuk, a dynamic defenseman with exciting potential. I'm still torn about taking Gaucher at 24 over someone like Mesar, but getting a bigger player who is a good bet to stick at center allowed me to take gambles later. Goyette, Sykora, and Dumais were opportune picks, and I don't really care if they play down the middle in the NHL, with Rossi and Eriksson Ek on the NHL Depth Chart, and Gaucher and Khusnutdinov in the pipeline.
And even with the board not working our way, this haul represents a tremendous output for the Wild. According to Hockey Prospecting, the combined probabilities of these players should result in 1.81 stars (with Mateychuk leading the way with a 57% chance), and 4.01 NHLers. Anything close to that will be incredible for the State of Hockey.