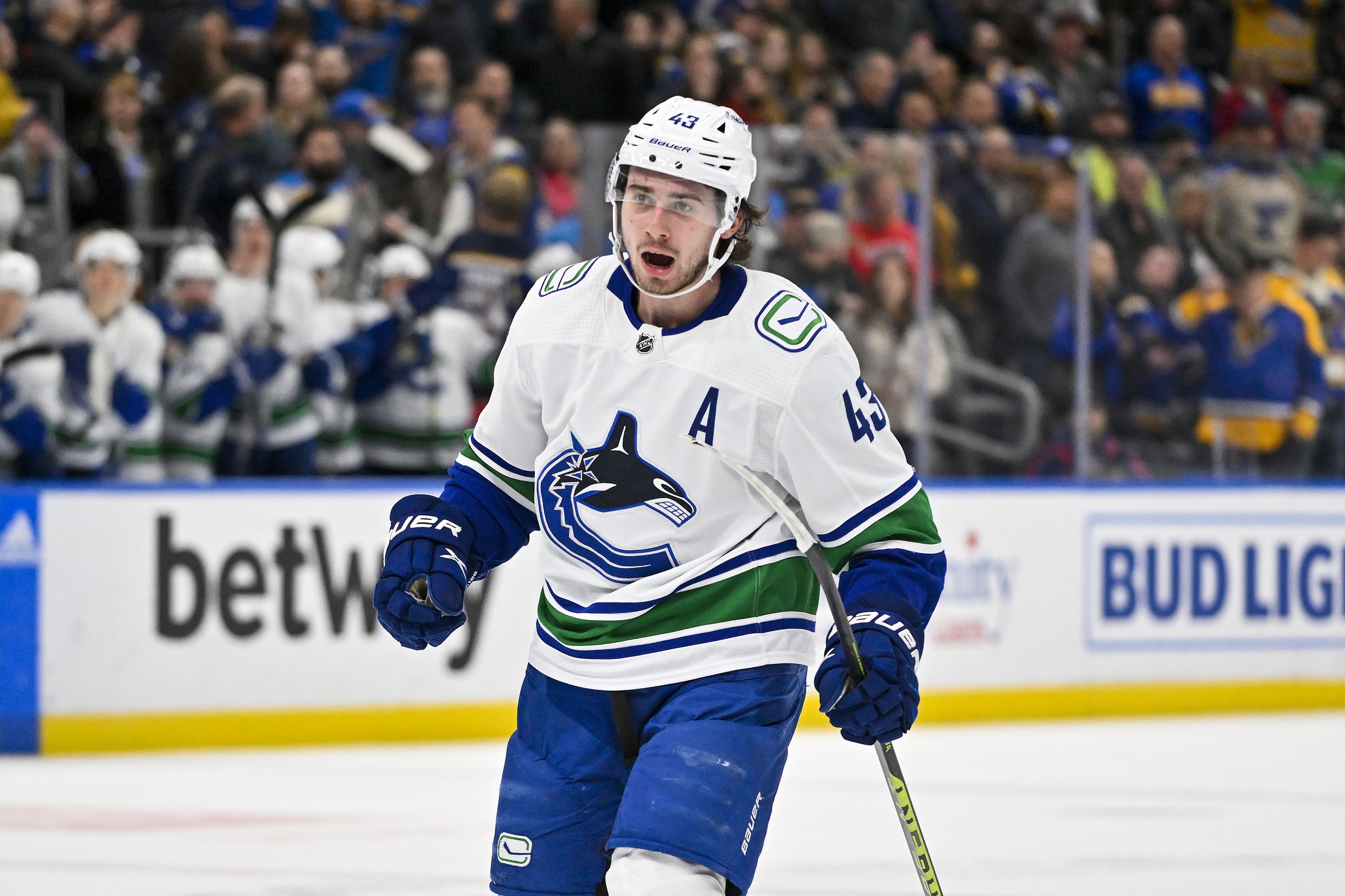 All due respect to the likes of Brock Boeser and Nils Hoglander, there are two feathers in Judd Brackett's cap he used to make a name for himself. Before a falling out with then-Vancouver Canucks GM Jim Benning landed him the job as the Minnesota Wild's Director of Amateur Scouting, there were two reasons why Wild fans were excited to land him: Elias Pettersson and Quinn Hughes.
There's a case for these two picks being among the best of the Analytics Era. Since the 2007 Draft, Pettersson is 11th in the NHL with 29.4 Standings Points Above Replacement (SPAR) through age-24. That's impressive enough, but then you remember he has just 325 NHL games due to COVID stoppages. On a per-minute basis, he's second in the NHL, behind only Connor McDavid.
Hughes ranks 16th among defensemen in SPAR through age-23 with 13.3. He also happens to be one of the biggest offensive forces on the blueline for decades. Through age-23, Hughes has 241 points, the 13th-most of any defenseman in history. The 12 players above them? It's Bobby Orr and 11 guys from the '70s and '80s. 
Best of all, Brackett got these players without draft lottery luck. Vancouver landed Pettersson with the fifth pick of the 2017 Draft, and Hughes seventh overall in 2018. The Wild got Brackett hoping he could do the same thing in Minnesota.
And maybe he can land a Hughes-type defenseman this year in Mikhail Gulyayev.
Making a comparison between Gulyayev and Hughes is almost too easy. They entered the draft as highly-touted offensive defensemen prospects. Both of them play the left side of the defense. They have virtually identical frames, as Gulyayev is listed at 5'10", 170 lbs. to Hughes' 5'10", 174 lbs.
Oh yeah, they also had insane production in their draft years. Hughes racked up 29 points in 37 games as a freshman at the University of Michigan in his freshman year, the highest points per game by a draft-eligible NCAA defenseman since the 80s. It was a historic campaign for him.
Gulyayev put up 25 points in 22 games in the MHL, Russia's junior league. No draft-eligible defenseman with 15 or more games has ever had more points per game in that league's history. Even his four points in 12 VHL games (the AHL analog to the KHL) is impressive. It's also the highest points per game of any draft-eligible VHL defenseman with five or more games. 

That production suggests Gulyayev is every bit of the prospect Hughes was. The prospect rankings, on the other hand? Not so much. The major publicly available outlets generally have him ranked from somewhere in the 20-30 range. Some scouts flat-out don't see it, with TSN's Craig Button ranking him as low as 41st in this class.
Even the outlets that are highest on his skillset are weirdly cool on him. For example, McKeen's Hockey calls him the second-best skater in the draft, its' best offensive defenseman, and even the fifth-smartest defender in the class. On the 20-80 scale, they rate his skating a 65 and give his shot and skills a 60. Those are legit, plus skills.
And yet, McKeens just has him at 19th in this draft class. Prashanth Iyer is tracking the 2023 class' draft stock throughout the year, and Gulyayev got increasingly less hype as the season went on. Prashanth pegs Gulyayev as having a 64.4% chance of being available at Pick 21, where the Wild currently sit.

If your Brackett alarm bells aren't ringing off the hook right now, it's hard to imagine a prospect who will set them off. As we talked about with Matthew Wood two weeks ago, the two things Brackett's gravitated to in his time with the Wild are talented prospects who drop, and players that bring strong production to the table. Gulyayev fits both bills.
We know two more things that are in Gulyayev's corner when considering whether Brackett would draft him. The first is that Brackett's not afraid of drafting Russians. From Vasili Podkolzin in Vancouver, to Marat Khusnutdinov and Danila Yurov in Minnesota, Brackett clearly believes the Russian factor is a market inefficiency for him to exploit.
The other is that Gulyayev has these strong parallels to Hughes, arguably his greatest draft success. It's not just the build and production. Hughes' game is also built on top-tier skating and his skills. Other than Calen Addison, who is often in the rumor mill, the Wild don't have a pure power play quarterback in their system. 
The knocks on him aren't even so much his defense. He skates well in his own zone, which enables him to quickly get the puck out of his own zone. The knock is, as always, size, but we've seen in Minnesota how a smaller defenseman can work out if they can skate well enough to cut off lanes, retrieve pucks, and move up the ice.
Don't be surprised if the Wild jump all-in on Gulyayev. In fact, it's probably going to be more surprising to see Gulyayev on the board and have Brackett take a pass. 
2