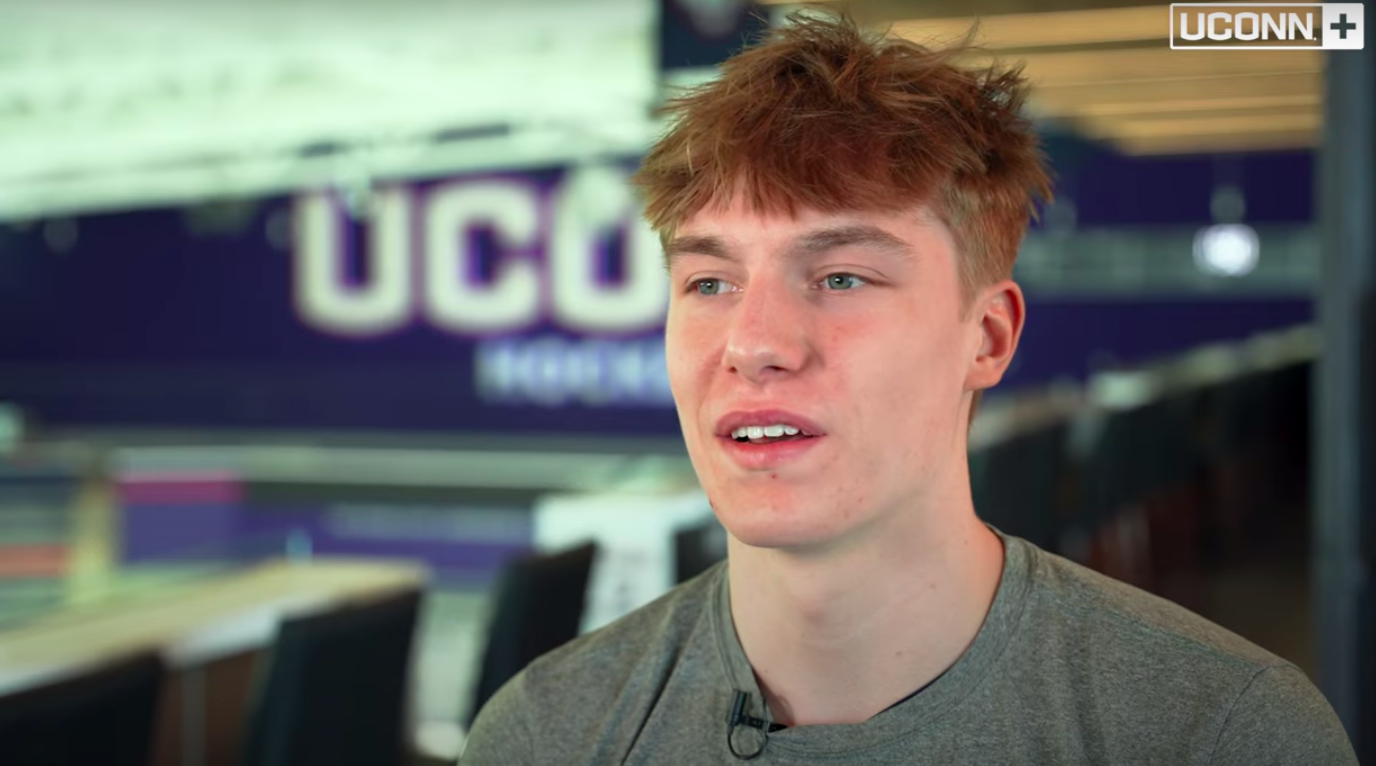 Image courtesy of UConn YouTube screenshot
With the NHL Draft weeks away, it's time to start cramming for the big event and figuring out what shiny new prospect the Minnesota Wild are going to bring into the fold. The organization is entering its fourth draft with director of amateur scouting Judd Brackett at the helm, and his history can offer clues as to who it might be.
Looking at Minnesota's past three draft classes, we can see a pattern of two types of players emerging as favorites of Brackett's staff. The first tendency is that of grabbing high-upside players with lots of production backing them up. According to Hockey Prospecting, which uses an NHL equivalency (NHLe) model to project future performance, Wild first-rounders tend to score high in star potential.
At the 2020 Draft, Marco Rossi had a 77% chance of becoming a star according to the Hockey Prospecting model. He was tied with No. 2 overall selection Quinton Byfield for the highest star probability in the class. In 2022, the Wild scooped up Danila Yurov at No. 24 overall, and his 61% star probability was second among his peers. 
The other category of player the Wild tend to zero in on is the Top-10 talent that takes a tumble come draft day. In 2021, Minnesota used their first of two first-round picks on Jesper Wallstedt. Scouts hyped Wallstedt as one of the best goalie prospects in recent memory, but he wasn't the first goalie to get picked that year. The Wild then snagged Carson Lambos with their second first-rounder, a defenseman whose tough year bumped him from potentially going into the top-10 to 25th overall. Yurov even falls into both categories.
If you're looking for likely names for the Wild to call, those are the two starting points we have to look at. Who is that player going to be this year?
There are a surprising amount of options for high-upside players by the time the Wild pick. Hockey Prospecting has 17 players in this class who carry a 40% or higher star probability. They won't go all go in the top-17 picks, and there will be many available to Minnesota at 21 overall. There are quite a few of those prospects who scouts, at one time, projected as contending for the top-15 or so before falling into the 20s, or further.
But Matthew Wood is the one player who seems to truly fit both of Brackett's MOs — the high-upside player who is falling in draft rankings. Prashanth Iyer of the Expected By Whom Podcast is tracking the draft stocks of the 2023 class over the past year. Here's how Wood's ranking fluctuates over time: 

Wood started out the 2023 draft cycle as a contender for the first 10 picks. Since then, the 6'4" winger dropped to the back end of the first round before rebounding a bit to settle in at around a 19th overall ranking. Wood may still be a top-10 pick because some scouts seem to love him. However, others are much more tepid on him. There's a range of outcomes here.
It was the same with Yurov last season. No one quite knew where he was going to ultimately land, despite his talents. Wood may not have a KHL contract and an uncertain geopolitical situation hanging over his head. But in a draft class this deep, high-priority positions like center and defense might send Wood tumbling down the board.
We might be getting ahead of ourselves, though. Why should Wild fans want their team to select Wood? For one, Wood looks like a right-shot version of another large, skilled Hockey East product: Matt Boldy. 
Like Boldy, Wood also combines a very good shot with the ability to thread passes in traffic, and both muscle through and dance around defenders. Sometimes Wood does both in the same play. You can see those traits on display while watching highlights of his freshman season. Don't worry about not being able to find Wood in these videos: He's the giant dude wearing "71."
The shot and fancy plays stand out, but most impressive is how smart Wood is on the ice. He can draw defenders to him to open up space while finding soft spots in the offensive zone for himself. Wood can show off brawn and muscle through players and still know where his teammates are, seting them up with a nifty pass. You can see him use the threat of the pass to get defenders to bite as he turns toward the net. It's all on display.
Even better, Wood isn't going to worry Wild fans with a slow transition to the NCAA game like Boldy did in his freshman year. Wood turned 18 in February, but he's already made the leap at UCONN. He led the team in scoring with 34 points in 35 games, including being tied for third on the team with 11 goals. He's also showed up in international tournaments, scoring 13 points (tied for sixth) in the Under-18 World Junior Championships.
It's hard to succeed in the NCAA at such a young age. Even players like Jack Eichel, Phil Kessel, and Adam Fantilli were true 18-year-olds for most of their freshman seasons, with birthdays in the September to November range. There was only one other draft-eligible NCAA forward born after January 1 who stands on even footing with Wood production-wise this century.
That's Jonathan Toews, who put up 39 points in 42 games for the University of North Dakota leading up to the 2006 Draft. Not a bad player to be the only other guy on a list with. Even when opening up the floor to all draft-eligible prospects, Wood's 0.97 points per game is in the top-10 for prospects since 2000, right up there with recent top picks Kent Johnson (1.04) and Matt Beniers (1.00).
What's more, all of these wildly successful prospects end up at the highest of high-tier programs. Wood put up his numbers in a relative backwater in UCONN. 

There are probably going to be two knocks on him, one from a scout's point of view and the other from a Wild-centric perspective. Speed is most scouts' concern, which can seem worrisome to those who remember the days of, say, former first-round bust Zack Phillips. 
But that was also a knock on Boldy's game, as well as another former top Wild prospect Alex Tuch. Legs can get stronger, and they often do. Wood can get separation at the college level against older, stronger competition, which is a good sign for now. And also, teams don't get the chance to draft someone with Wood's size and skill every year, especially not at 21.
The other is the fact that Wood is a winger, not a center -- something we hinted at earlier. He only took five faceoffs at UCONN in his freshman year, so we can't really expect a shift to the middle going forward. Fans might be hesitant to see the Wild draft a wing, but there likely won't be slam-dunk center options at 21. Instead of forcing an unideal solution into an area of weakness, Brackett might be better off solving the problems he can address.
With Boldy (6'3"), Yurov (6'1"), and Liam Öhgren (6'1"), Wood adds to a stable of bigger wingers to offset the smaller statures of 5'9" center prospects Marco Rossi and Marat Khusnutdinov. Besides, by the time Wood is ready for NHL minutes, who knows? Rossi, Khusnutdinov, and Joel Eriksson Ek might be established centers, and there may well be a need for a skilled wing prospect. It's hard to project needs for two-to-three years out. Just get the best players you can.
Wood has good offensive upside and fits the organization's identity as a team with size and skill. Best of all, he might fall into Minnesota's lap this month. If he's there for the taking, this has all the makings of a classic Brackett selection.
All stats via Elite Prospects unless otherwise noted.
2