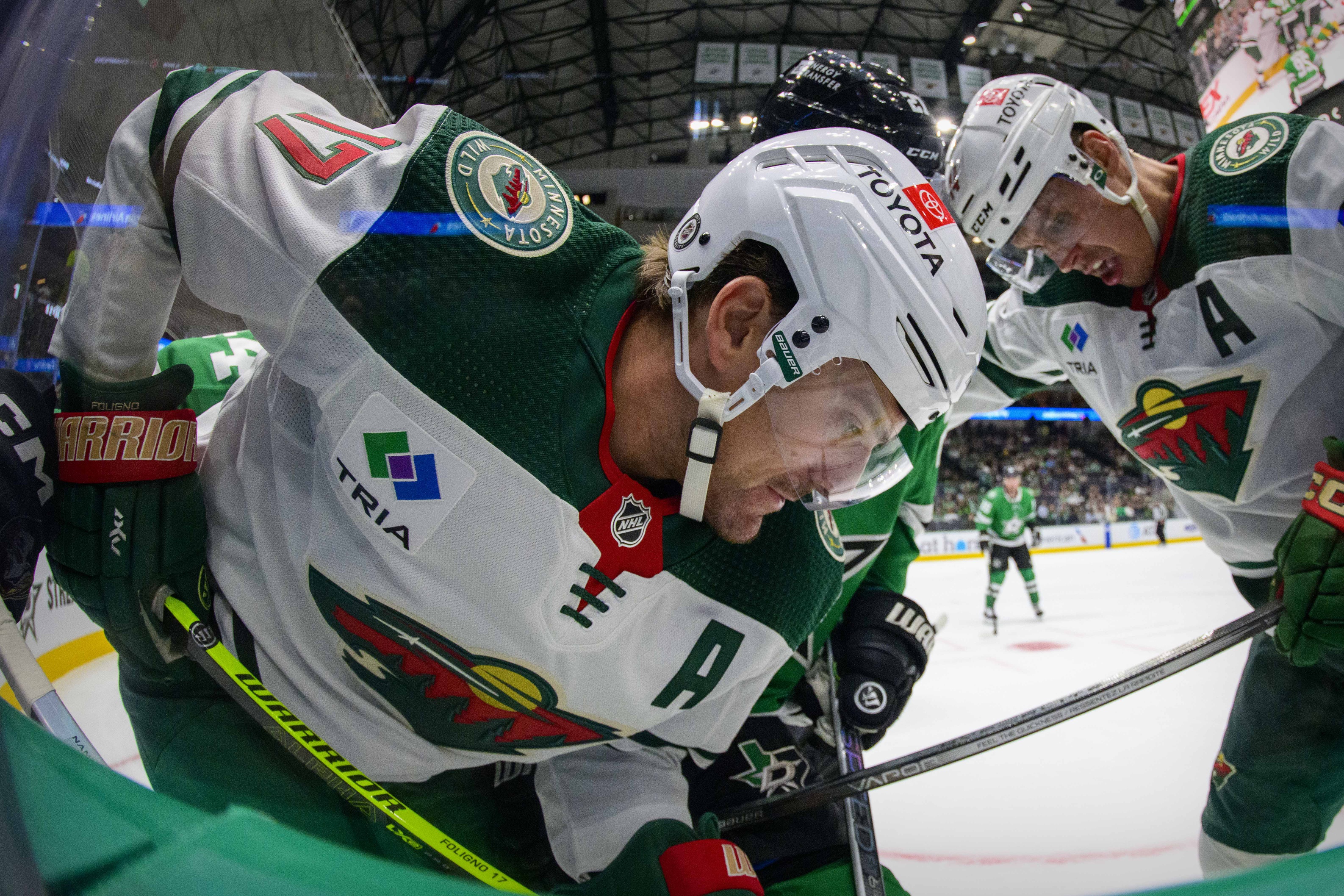 Image courtesy of © Jerome Miron - USA TODAY Sports
The Minnesota Wild decided to invest long-term in Marcus Foligno this offseason. They signed him to a four-year, $16 million deal that keeps him in Minnesota through the 2027-28 season when he turns 36. They extended Foligno coming off a season where he was not as productive as he had been and faced injuries for most of the year.
Foligno is in his seventh season in Minnesota, and he seems to be returning to what made him so successful in 2021-22. As a key cog in the 'GREEF line' with Joel Eriksson Ek and Jordan Greenway, Foligno potted a career-high 23 goals and 19 assists that season. 
Last year, Foligno followed up his career season with a dud. Foligno tied his lowest goal total (7) since joining Minnesota in 2017, registering 21 points in 65 games. While the goal total of seven in 2022-23 is a little low, those numbers are not far off from what Foligno had done in Minnesota before his breakout year, when he had 23 goals. During Foligno's career, he's never scored more than 13 goals in a season. 
Foligno would have put up better numbers if he wasn't hurt last season. Something in the range of the low 30s points-wise would be a solid year for him and an elevation of his career stats up to that point apart from his career season. Before Folgino's big year, he only averaged 20.9 points a season over 10 years in Buffalo and Minnesota. 
Bill Guerin and the front office had seen enough from him to believe that their power forward could be a 35-40 point player every year. No team would sign a player who only scores 25 points a season to that kind of contract. 
Foligno is also more than a scorer. He's one of the best defensive players in the league when he's healthy and is relentless on the forecheck. The 6'3", 226 lbs. winger fits what Dean Evason wants to do. He is an integral player in any lineup because of his physical play and grit [italics]. 
There's more to Foligno than what he brings on the ice. The Buffalo native is a vocal leader in the locker room. He's often the last one off the ice after games and hypes up his teammates pregame. Foligno is active in community outreach and is often the face of the Wild's humanitarian initiatives.  
Although he didn't need to sign him to an extension, Guerin would make sure his emotional leader was not going anywhere. He had Foligno signed through this season, so he could have extended him in the offseason. After wisely letting Ryan Reaves go north for Toronto after wanting to retain him and watching longtime Wild leader Matt Dumba depart for the desert, Guerin retained an integral locker room leader. 
While the Wild paid a premium for him, Foligno is living up to that deal so far this season. The winger is not just producing on the stat sheet with five points in nine games; the analytics and underlying numbers back up what we're seeing on the ice. 
Currently, Foligno is on pace for 41 points, which would be near a career-high. Along with that, Foligno is one of Minnesota's best players at driving play. He ranks third on the team in Corsi % at 49.79%, fourth in GF% at 57.18, and second in xGF% at 54.8. Foligno's defensive numbers are also as strong as ever. The alternate captain ranks first on the team in goal against/60 at 1.67 and shots against/60 with 28.78. Foligno's defensive effort certainly isn't lacking. 
So, while Foligno is playing at a high level right now, the Wild are largely paying for what Foligno brings when he is at his best. Guerin has argued that Foligno's impact goes beyond just the stat sheet, which is true. It's hard to put a number on the impact that Foligno makes in the locker room. 
That $4 million per year contract will lose significant value when Foligno is on the fourth line soon. It will be almost impossible for Foligno to keep up his rugged style of play as he gets older. And the Wild have many skilled prospects who may crack the roster in the next few seasons, forcing Foligno down the lineup. 
But Foligno is currently rewarding the faith Gurein showed in him.
All stats and data via Evolving Hockey, HockeyDB, and Capfriendly. 
1