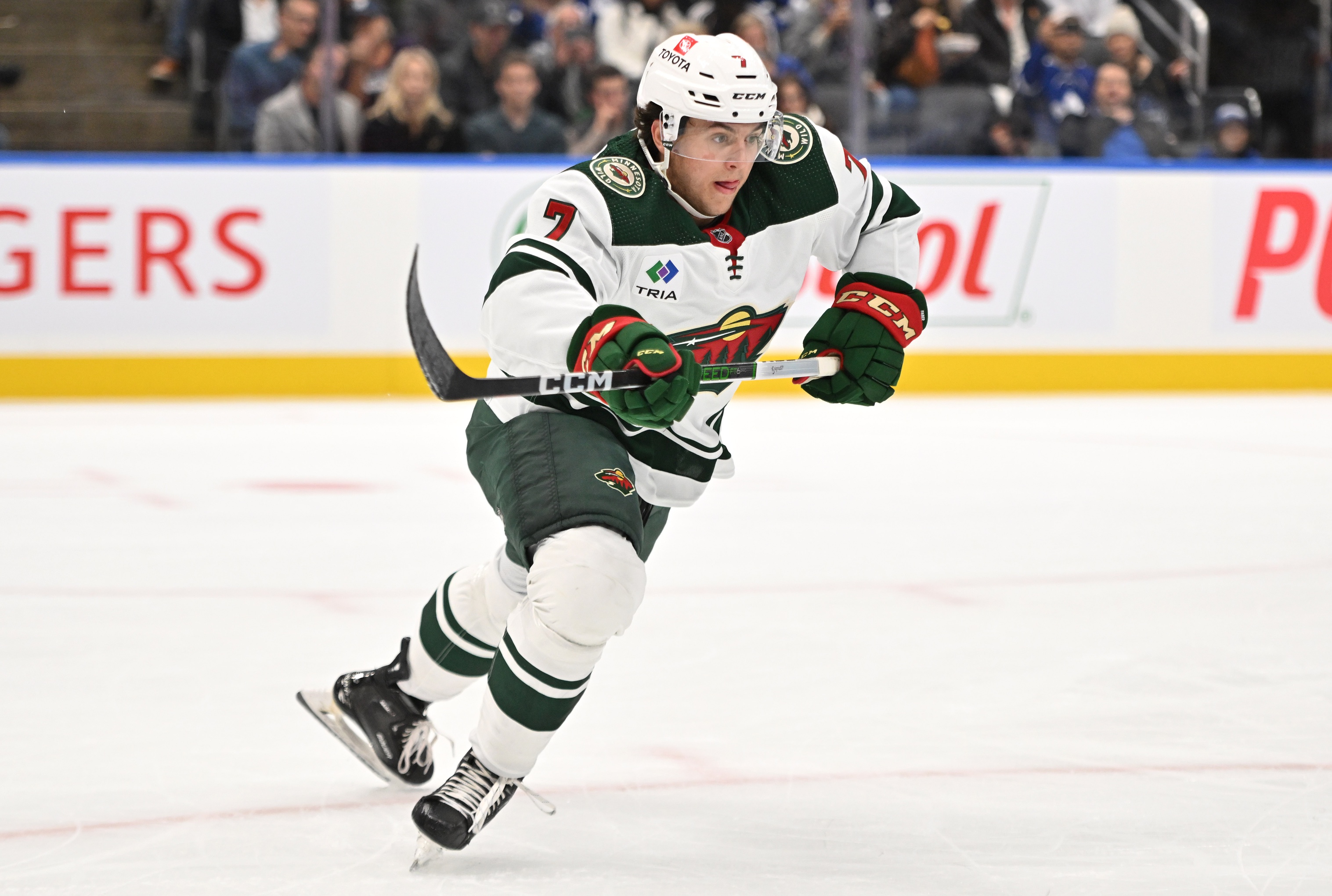 Image courtesy of Dan Hamilton-USA TODAY Sports
To say the Minnesota Wild threw Brock Faber into the deep end is an understatement. Between leaving the University of Minnesota and entering the lineup in Game 1 of last year's playoff series, Faber had exactly two games of regular season NHL experience. he wasn't a 23-year-old college senior, either. Faber was only 20 when he was competing against the Dallas Stars.
It's downright shocking, given how dedicated the Wild have been to slow-rolling their prospects. They didn't put Matt Boldy straight into the playoff fire when he left Boston College in 2020, even after 14 spectacular AHL games. Highly-touted prospects like Calen Addison, Marco Rossi, and now Jesper Wallstedt spent multiple years in the wading pools of Des Moines. 
But despite coming into a situation that could easily have been too much, too soon, Faber excelled. With almost no on-the-job training, he shone in a playoff series that others faltered in. He looked ready to step into a top-four, shutdown defensive role in his age-21 season.
Instead, the Wild decided to not just be content with throwing him in the deep end last season. They flew him out to the middle of the ocean and dropped him in. Without Jared Spurgeon (week-to-week with injury), Faber needed to come out of the gate stepping into his role as a No. 1-type defenseman.
Sure, having Jonas Brodin, one of the league's best shutdown defenders, should have been a useful life raft. And it was, until the rest of the Wild's defense collapsed in Game 2 of the season, necessitating Brodin to move with Addison. Meanwhile, Faber was assigned to being a struggling Jacob Middleton's partner. Forget about Faber keeping himself above water in the ocean. The Wild have promoted him to lifeguard 11 games into his career.
In a situation where anyone else could have drowned, Faber swam Middleton to safety in another brilliant performance against the Montreal Canadiens. The rookie logged over 23 minutes while holding a staggering 17-8 shot attempt advantage at 5-on-5, and an 8-3 scoring chance differential, according to Natural Stat Trick. Faber was not on the ice for either Canadiens goal.
It's mind-blowing for such a young player. Even more so when you consider that last night's game might somehow be Faber's least impressive of the season.
Faber scored a goal on Opening Night, logging 21:33 of time on ice while and his team hold the Stanley Cup runner-up Florida Panthers to a shutout. Then Faber came away with a 3-0 goal advantage at even-strength in a 7-4 beatdown by the Toronto Maple Leafs, getting tagged for only a power-play goal against. Faber also recorded an assist to go with several strong plays on the night, including springing Rossi for a breakaway on an incredible stretch pass.
Three games into the season is a bit early to make any conclusions, but let's have fun anyway. Faber is currently tied for second among rookies in points.Connor Bedard and Logan Cooley, the two early Calder Trophy favorites only lie one point ahead of him. And Bedard has one more game than Faber!
Playing as a defenseman is about a lot more than the points you compile, though. That was never where Faber truly excelled at, it was his all-around impact. That's the area where Faber has truly shined. His 4-0 goal differential at 5-on-5 play is more-or-less backed up by a 66.0% expected goal share. It's a small sample, yes. But that's 13th in the NHL among the 167 defensemen that have 30 or more minutes at this stage of the season. Even early on in the season, it's notable that he's able to best the likes of Miro Heiskanen, Alex Pietrangelo, and Cale Makar.
Now, NHL coaches often help young defensemen (or ones with shortcomings in their own end) by "sheltering" them. That is, putting them in favorable positions, limiting their minutes, and avoiding poor matchups. As impressive as Faber was in the playoffs, there's no doubt they sheltered him against the Dallas Stars last year, which made his numbers look better than they otherwise would be.
Not anymore. Faber is averaging 23:06 a night, which is 37th in the NHL, per Natural Stat Trick. It's really hard to shelter players with that workload, unless they're soaking up tons of power play time. Nope, not Faber. He has just 43 seconds of power play time on the season. Instead, his 19:55 of even-strength time per game is 16th in the NHL.
There are no easy assignments for Faber, either. In each of the first three games, he's been shut down the opponent's most explosive line. He saw the most minutes against the Sasha Barkov line, Auston Matthews' line, and the Cole Caufield-Nick Suzuki duo on Tuesday. That's correct: Dean Evason tasked Faber's pairing, not Brodin's, with shutting down Montreal's best players.
Again, this is all coming at a moment where Minnesota needs it most. Spurgeon was supposed to ease Faber into a full-time NHL gig, taking at least some of the workload off his plate. Instead, the Wild have struggled without his steady play.
Or rather, they would be struggling if not for Faber. Without Faber on the ice at 5-on-5, the Wild have been outscored by a 7-1 margin. Much like Faber's underlying numbers, Minnesota's defense has earned their luck. Their 35.4% expected goal share means they essentially flip from having a two-to-one advantage with Faber, to a two-to-one disadvantage the moment he steps off the ice. 
It's such a staggering, obvious impact that the rookie has clearly earned his coach's trust immediately. After the loss to Toronto, Evason -- who is loathe to call anyone out by name, good or bad -- told the media, "Brock Faber can't be our best player every night."
At this point, though, it's getting hard to watch Faber excel with every challenge he faces and not respond to that good, reasonable statement with a simple question: Why not? He's been their best player every night so far, and he's playing so well that this trend might continue even when Spurgeon returns. We might be spoiled with having a debate on which talented, poised right-shot defenseman is better soon. But for now, the Wild defense is firmly Brock Faber's property. 
1