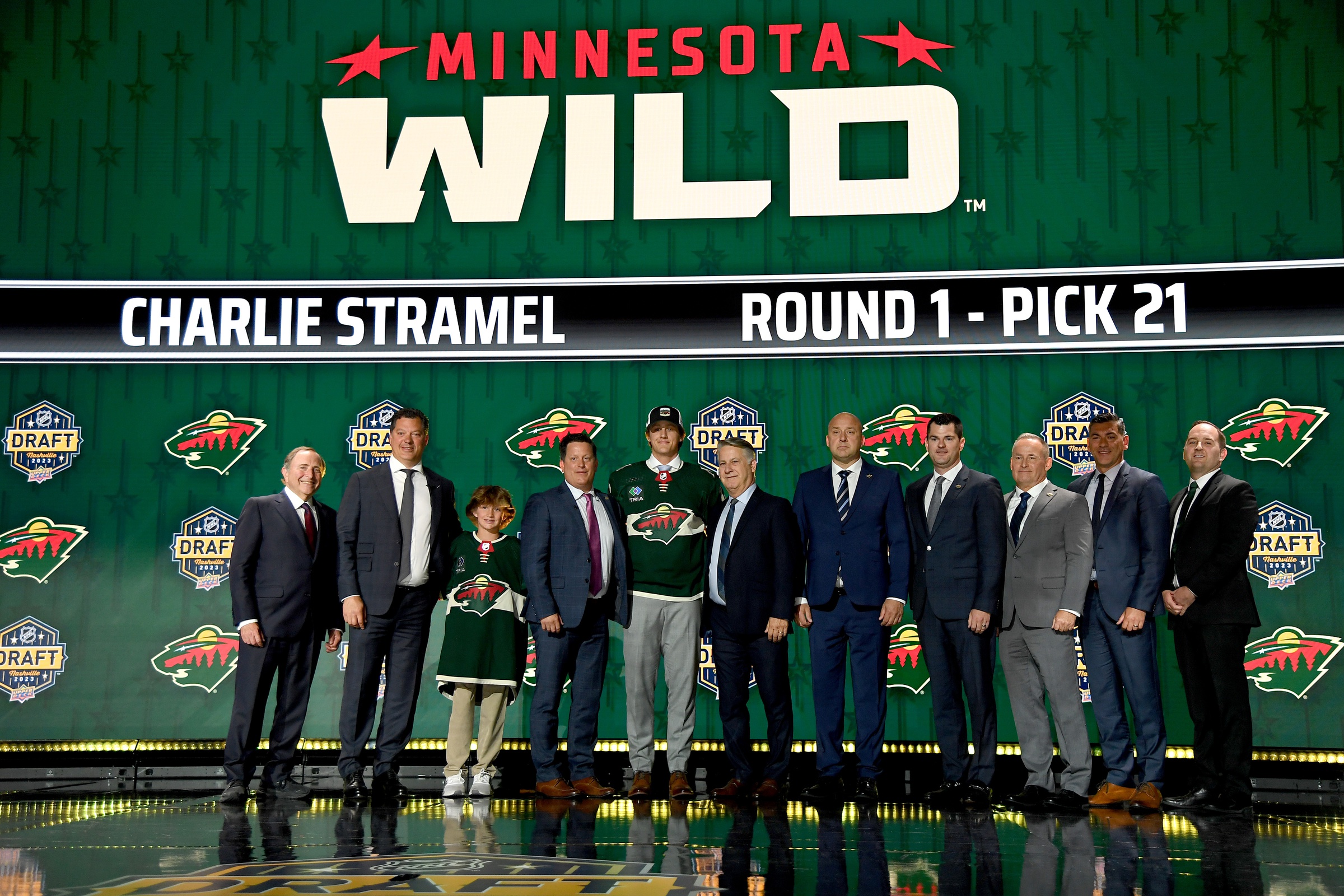 Image courtesy of © Christopher Hanewinc-USA TODAY Sports
It's extremely hard to judge picks immediately after a draft, and it may take years for a player to realize their full potential. So, now that it's been a few weeks since the 2023 NHL Draft, it's time to do some judgin'. 
The Minnesota Wild entered June with one of the best prospect groups in the league, with a shot to add more high-end talent in Nashville. With three picks in first in the first two rounds, the Wild were able to enhance their already well-established ensemble. So, how do Minnesota's new prospects mix in with their existing group? 
As we said, the Wild's prospect pool was already pretty stacked. They had:
Two small two-way centermen who can skate: Marco Rossi and Marat Khusnutdinov

Big wingers who are strong on the puck: Danila Yurov and Liam Öhgren

Capable two-way defenseman: Brock Faber, Carson Lambos, and Daemon Hunt

Puck-moving defensemen: Jack Peart and David Spacek

An elite goaltending prospects: Jesper Wallstedt

A couple of projected top-nine forwards who are close to NHL-ready: Adam Beckman and Sammy Walker
The cupboards weren't just stocked, they were overflowing to the point where you could barely close them. However, the Wild are missing a top-end defensive prospect and a big, skilled center prospect. But that's about it. The group has depth and skill; many teams would be thrilled to have Minnesota's prospect pool. So instead of doubling-down on what they already had, they added what they thought they needed.
The Wild made a total of six selections in this year's draft. That included a pair of second-rounders, but no third or fourth-round selections because they used those picks to trade for gritty players Oskar Sundqvist and Nic Deslauriers. The Wild got size, centers, and some centers with size.
Minnesota targeted positions and traits with this draft. They admitted that they may have passed on more skilled players that ranked higher on their draft board to get the type of player they wanted. "Need trumps a little more than the skill value," said the Wild's director of amateur scouting, Judd Brackett. 
While Brackett says that the plan was to target centers, he followed that statement up with a remark saying that they are all very different players. So let's take a look at this incoming class and see how they fit into the Wild's long-term future.
Charlie Stramel
Starting with the first selection of the night, the Wild took Stramel out of Wisconsin with their first-round pick. Stramel was seen by many as a reach at 21. Stramel even said in an interview that he heard "proud to select…from Wisconsin" on draft night, his mother asked, "Who from Wisconsin is being drafted?" It says a little about where he thought he would go in the draft.
Guerin said Stramel was Minnesota's target all along. As to the question of why they'd reach for him at 21 instead of auctioning off the pick and moving back, keep in mind that it was challenging to trade back in this draft. There was almost no movement on draft day. Besides, the Wild felt they could afford to reach a little bit on a player they loved and thought they needed. To their point, a player with Stramel's tools and traits is rarely available. Certainly not to Minnesota. No one in the Wild's system had his combination of size and skill. 
Rasmus Kumpulainen
Next they took Kumpulainen, another 6'3", 200-pound center, in the second round. Kumpulainen does not play a heavy game as often as Stramel, but he is still physically engaged. He's more similar to Joel Eriksson Ek, another prototype that the Wild didn't really have in the system, and with Eriksson Ek seemingly cementing himself in Minnesota's top-six, there's a need for someone to take that spot.
Riley Heidt
Heidt plays similarly to Marat Khusnutdinov but with a little more offense and a little less defense. Heidt is almost a purely offensive player. The Wild already had small scoring centers, but Heidt falling to the end of the second round was such good value that they couldn't pass it up again. Every team can stand to add more scoring, and Heidt certainly brings that to the prospect pool. While he may not stick out as the type of player that's new to the system, he adds a needed top-end offensive potential that every team craves. 
Aaron Pionk
The Wild took Pionk in the fifth round, an overeager who switched from forward to defense only very recently. It's a unique resume. His skill on the back end and his progressing defensive game are encouraging. He doesn't add anything super unique to Minnesota's prospect pool, but he's an excellent bet for a fifth-round pick. 
Kalem Parker and Jimmy Clark
The following two picks are guys who just play hockey. Nice guys, try hard, and love the game, if you will. They're both young players that the Wild liked. Nothing is crazy unique about their games, but they add some solid depth to the Wild prospect pool. 
Minnesota could not add a top-end defensive prospect, but that's easier said than done. They chose to bolster their center depth instead of defense, and that's fine. They only had six picks and decided to attack one position group heavily.
The Wild had a goal with this draft. They wanted to add players to the prospect pool they did not already have. More specifically, they wanted to add big, two-way, skilled centers. They accomplished this goal with their first two picks. The luxury of having such a deep group of young players in the system is you can get picky, and the Wild earned that luxury.
All stats and data via Elite Prospects.
3